Start your day with the delightful and nutritious Upma, a savory semolina pudding recipe. This easy and flavorful South Indian dish is the perfect breakfast option, offering a taste of the aromatic world of Upma. Discover the joy of this wholesome meal now.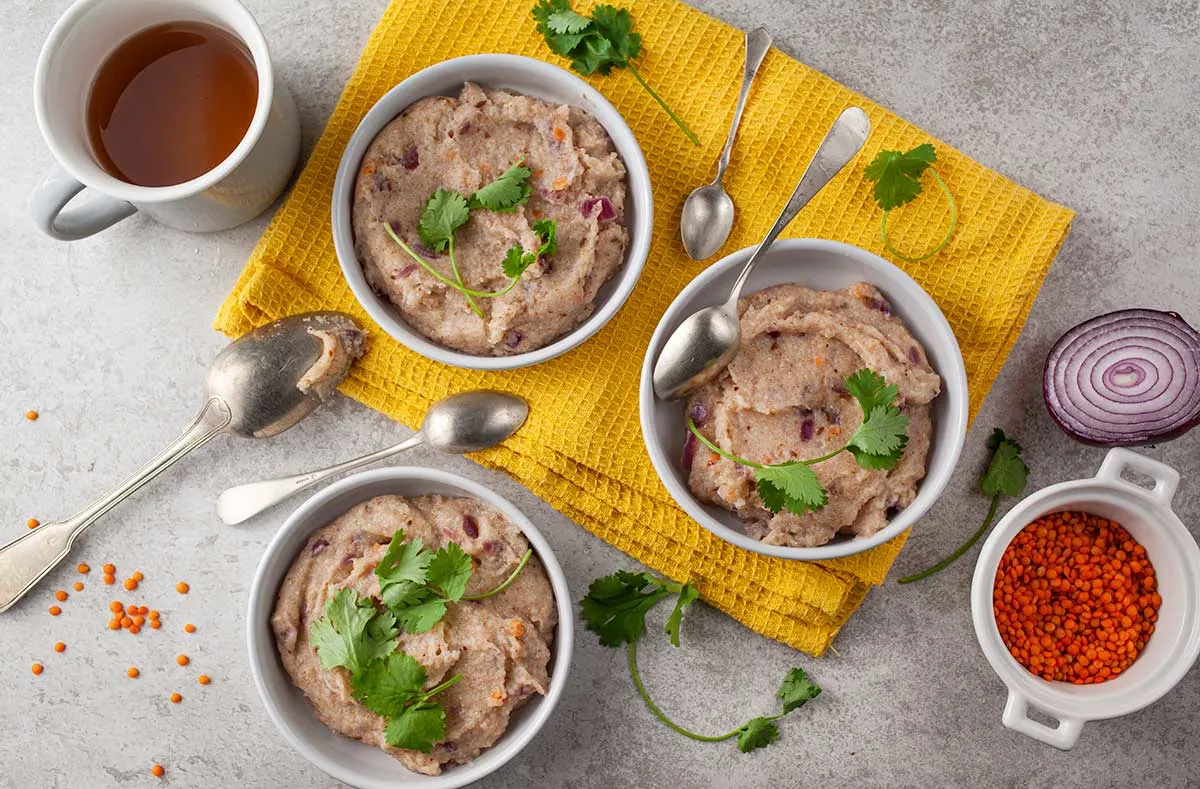 Today I want to tell you about a delicious South Indian breakfast recipe – Upma, also known as "savory semolina pudding".
Upma has a special meaning in South Indian culture, being a beloved and popular food among the locals. Originally from the Karnataka region, this recipe has traveled over the years and has become a breakfast staple throughout the area.
Why is Upma so special? Well, it is a unique combination of fried semolina and fresh vegetables, with wonderful flavors and mouth-watering textures. It is usually cooked with onion, carrot, peas and spices such as mustard seeds and curry leaves. But let's keep things interesting – you can add your own twist depending on your preferences.
But what makes Upma so suitable for breakfast? Well, besides the fact that it is delicious, it is also a nutritious and filling option. Semolina is a good source of carbohydrates, and vegetables add essential vitamins and minerals. It is an ideal breakfast to energize you for the day that is just beginning.
So, let's bring a piece of South India into our own kitchens by preparing a generous serving of Upma. I'm sure you'll fall in love with this savory semolina pudding as much as I do.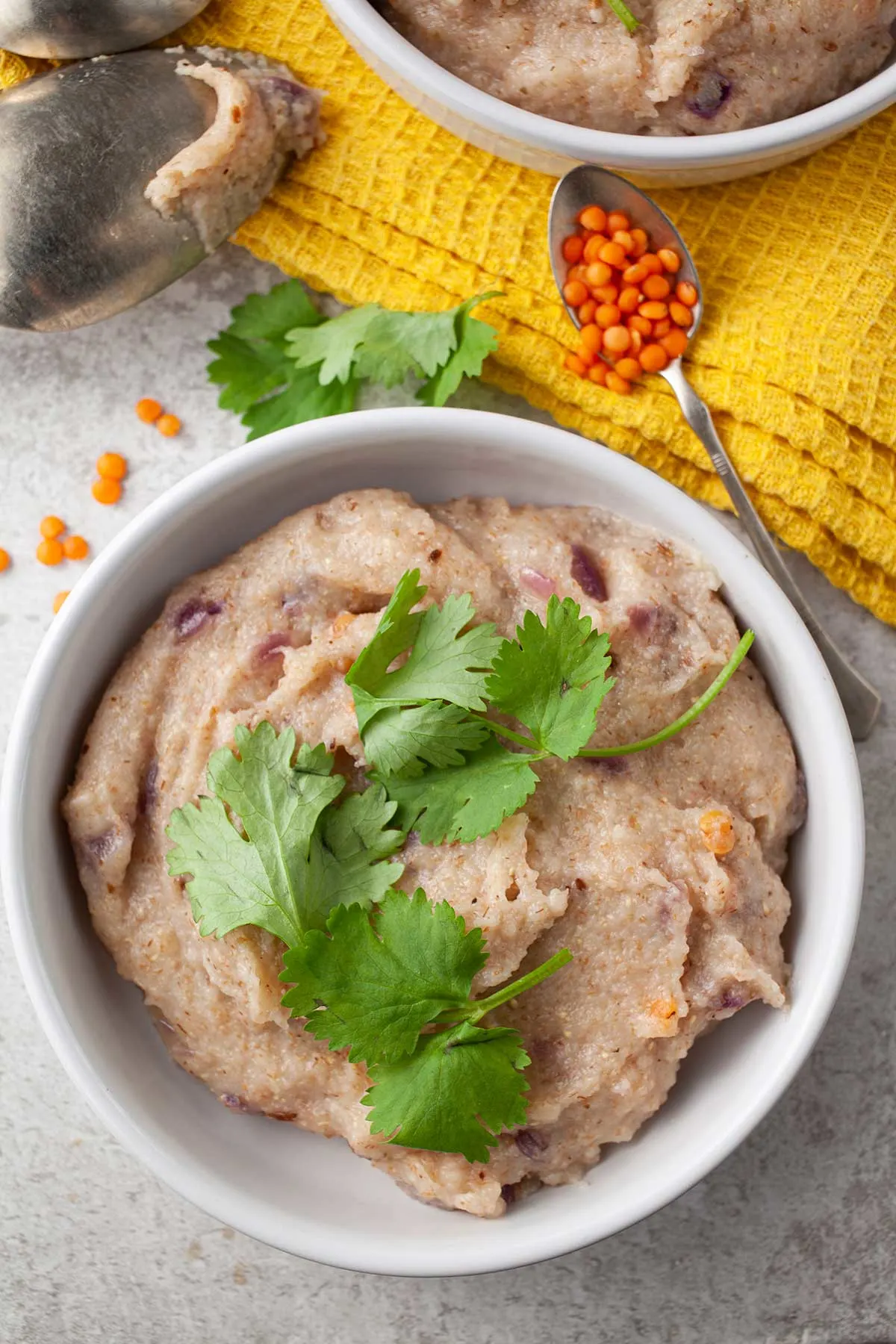 Upma recipe variations – savory semolina pudding flavors
Upma is a versatile recipe, which can be adapted according to preferences and available ingredients. Here are some popular variations you can try:
Vegetable Upma: This is the classic version of Upma, which involves adding fresh vegetables such as carrots, peas, green beans and peppers to the recipe. Vegetables add more color, texture and nutritional value.
Tomato Upma: If you are a fan of tomatoes, this option is perfect for you. Instead of adding the usual vegetables, add fresh tomatoes or diced tomatoes to Upma. They will give a slightly sour taste and a beautiful color to the dish.
Masala Upma: If you want to add a little intensity to the dish, try the Masala version. Add a little tomato paste, curry masala or coriander powder and garam masala to get a more spicy and aromatic taste.
Poha Upma: Poha is a type of flattened rice flakes, which can be used instead of semolina to prepare a lighter and gluten-free version of this. This variation is prepared similarly to the traditional version, but with the use of rice flakes instead of semolina.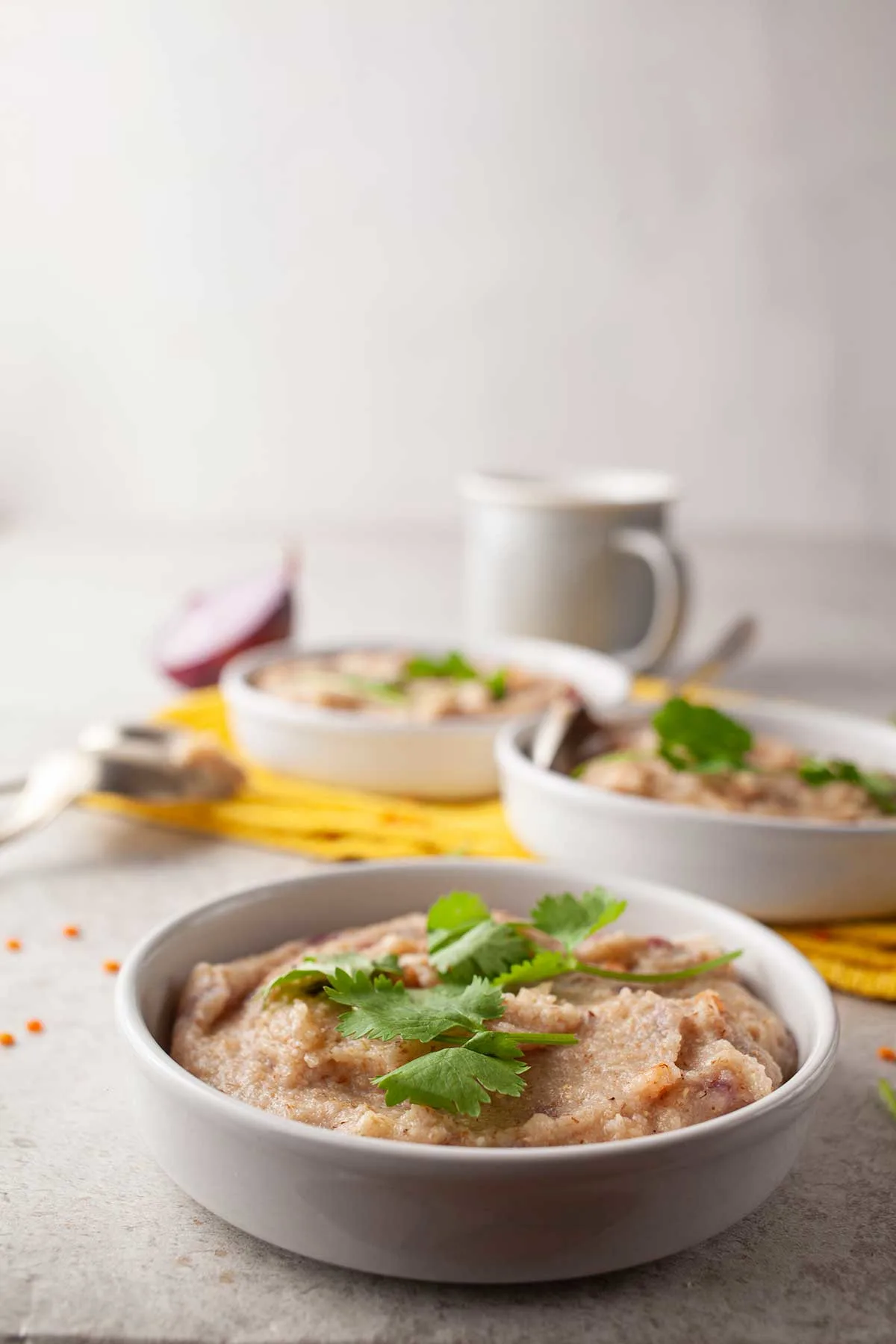 How to serve the savory semolina pudding
When it comes to serving Upma, there are some delicious suggestions that you can try.
Classic Savory Semolina Pudding with Coconut Chutney: Upma goes wonderfully with a fresh and aromatic coconut chutney. Prepare a coconut chutney with a little pepper paste, coriander, ginger and salt. Serve it with a generous portion of chutney on the side to add a refreshing and aromatic note.
Savory Semolina Pudding with Tomato Chutney: Replace the coconut chutney with a slightly spicy tomato chutney. You can cook a tomato chutney with mustard seeds, cumin seeds and Indian spices to get a vibrant and savory taste. This chutney will go perfectly with the flavors of Upma.
Semolina pudding with yogurt: Another delicious way to serve this is with a portion of fresh yogurt. The creamy and refreshing yogurt contrasts nicely with the salty and spicy taste of the semolina pudding. You can add a little salt and freshly chopped coriander to the yogurt to give it extra flavor.
Upma with papad chips: If you want to add a crunchy texture, serve it with papad chips. These are thin and crispy Indian chips, usually made from lentil flour. They will add a new and delicious dimension to every bite. You can find them at Indian or Asian grocery stores.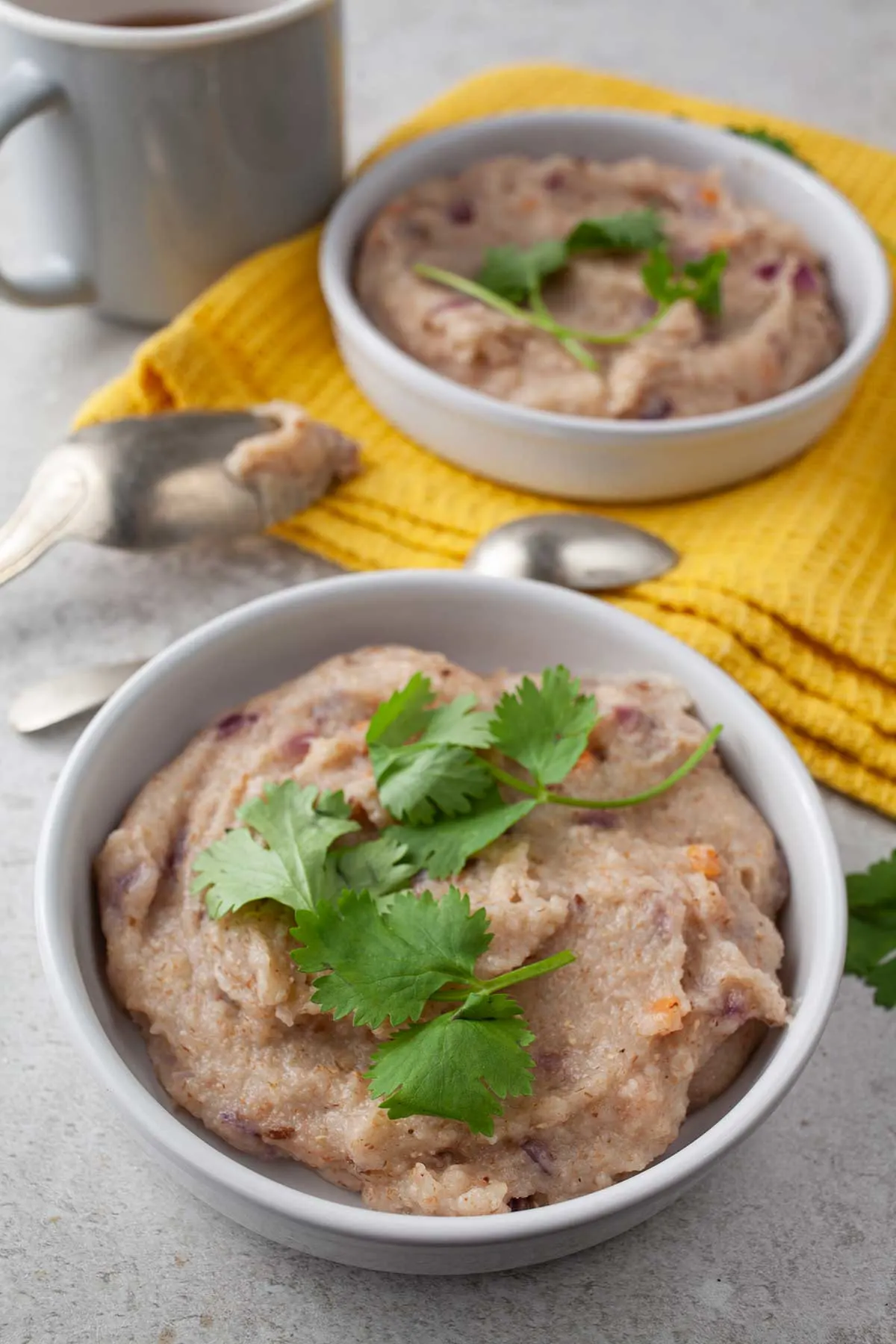 So, Upma is a savory breakfast that will not only delight your taste buds, but will also give you the energy and nutrients you need to start your day strong. The fact that you can customize it according to your preferences makes this recipe even more interesting and adaptable to various tastes and dietary needs. I encourage you to venture into the kitchen and try this wonderful Upma recipe. I promise you that you will enjoy a tasty, nutritious breakfast full of exotic flavors.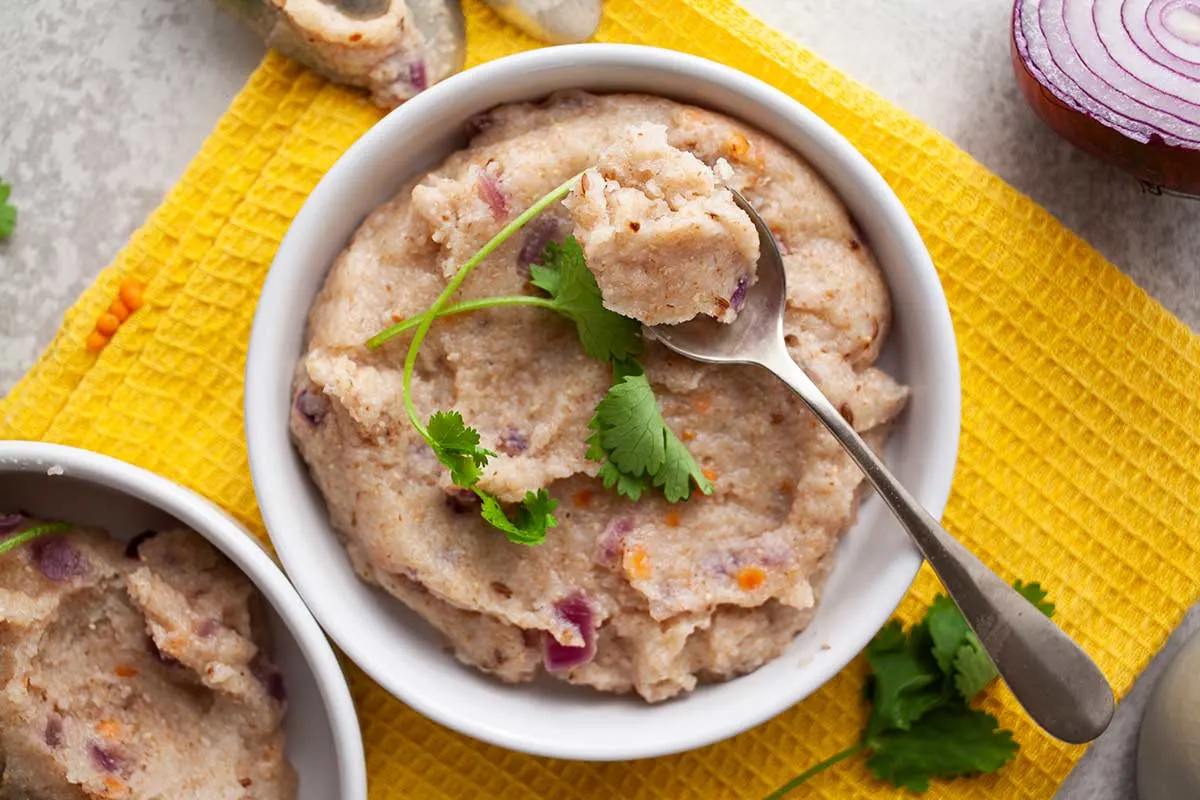 How to make Indian upma recipe
Yield: 3 servings
Upma - Savory Semolina Pudding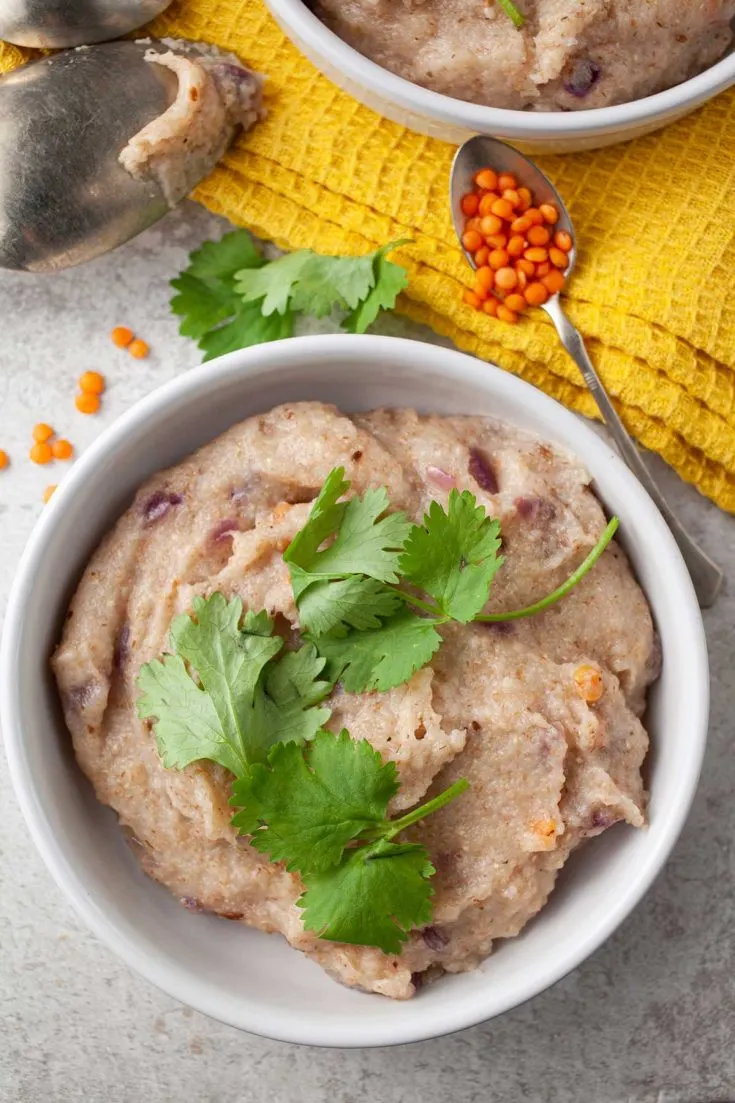 Start your day with the delightful and nutritious Upma, a savory semolina pudding recipe. This easy and flavorful South Indian dish is the perfect breakfast option, offering a taste of the aromatic world of Upma. Discover the joy of this wholesome meal now.
Ingredients
1 cup semolina
2 tablespoons of ghee
1 teaspoon of mustard seeds
½ teaspoon cumin seeds
2 teaspoons of red lentils
2 tablespoons cashews, finely crushed
2 tablespoons red onion, finely chopped
½ teaspoon of hot pepper, finely chopped
1 teaspoon of fresh ginger, finely chopped
3-4 curry leaves
a small bunch of fresh cilantro
Instructions
Heat a pan on medium heat. Add semolina. Heat the semolina in the dry pan, stirring, until it has a pleasant smell and looks even drier. Transfer it to a bowl and set it aside.
In a clean frying pan, heated to medium heat, add ghee. Once it melts, add the mustard seeds. When they start to crackle, add the cumin seeds and lentils. Fry them, stirring, until they turn brown.
Add crushed cashew, chopped onion and cook until the onion becomes translucid.
Add the hot pepper, ginger, curry leaves and salt to taste.
Mix to incorporate and add two and a half cups of water. When the water boils, leave the heat on low and add the semolina, sprinkle small amounts at a time, stirring continuously.
When a thick pudding forms, put the lid on, turn off the heat and leave the pudding under the lid for 3-4 minutes before serving.
Place the Upma on plates and serve with fresh coriander and a squeeze of lime juice.
Nutrition Information
Yield
3
Serving Size
1
Amount Per Serving
Calories

321
Total Fat

12g
Saturated Fat

6g
Trans Fat

0g
Unsaturated Fat

5g
Cholesterol

22mg
Sodium

46mg
Carbohydrates

45g
Fiber

3g
Sugar

1g
Protein

9g
I strive to keep the information as accurate as possible but make no warranties regarding its accuracy. I encourage you to make your own calculations using your preferred nutrition calculator.