If you love salted caramel as much as I do, then trust me on this and try this amazing salted caramel chocolate tart. It's the ultimate combo!
I've had my fair share of healthy desserts on this channel, but let's face it: every once in a while, it's good to have a treat. A real treat. And what's a real treat without chocolate?
If you came to know me just a little bit from this blog, then you must know I'm a huuuge chocolate fan. I love chocolate to the point where I can't really wrap my mind around how there are some people who don't really like this flavor. It just baffles me.
Another thing I'm a huge fan of, besides chocolate? Caramel. Especially the salted version. And when the two of them are combined? Chocolate and salted caramel? That is Heaven, my friends. Or Nirvana. Or whatever you wanna call it. It's just perfect, okay? By the way, this recipe is inspired by Prajiturela's salted caramel tart, only I've turned it vegan (the original recipe is in Romanian only, sorry!).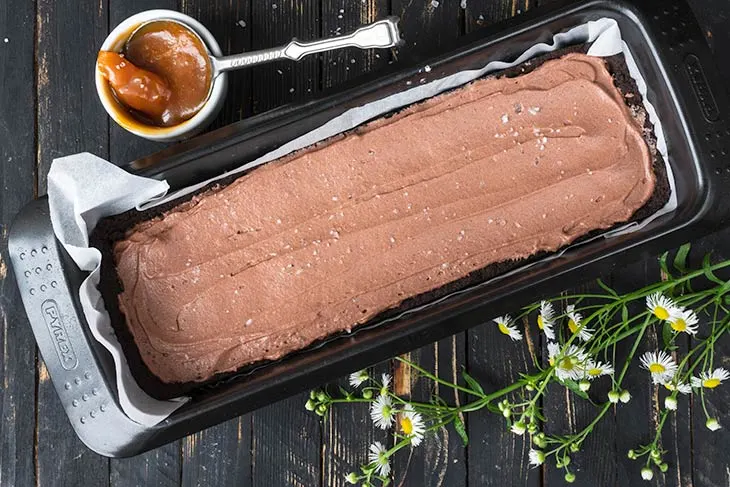 I've talked before on this blog about why we're so into these types of flavors, such as salted caramel or salted peanut butter. And it's got something to do with the fact that our brains simply love contradicting flavors. First salty, then sweet… our brains (and tastebuds) are intrigued by this kind of thing, and that's why we seemingly can't stop eating it.
But let's talk a bit more about salted caramel. How the heck did anyone manage to come up with this thing?
Caramel is a medium to dark-orange confectionery product made by heating sugar slowly to around 170 degrees Celsius. As the sugar heats, the molecules break down and re-form into compounds with a characteristic color and flavor, and, well, a sweet taste – we're talking about sugar, after all.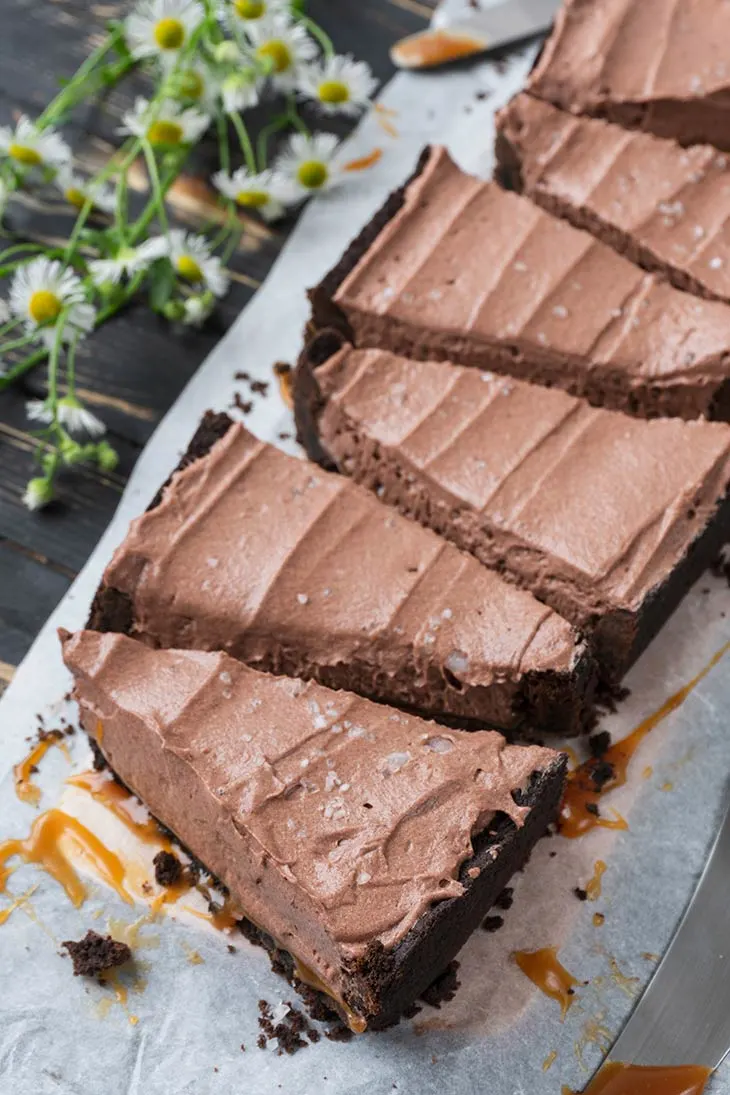 As it is the case with most gourmet patisserie treats, we can trace salted caramel back to France, as well, where it was invented by a chocolatier named Henri Le Roux. The way he found out that caramel and salt go amazing together was by finding a really good salted butter.
After months of testing, he came up with the thing which would make him famous – a salted butter caramel with crushed nuts. The thing sold like crazy. In 1981, Le Roux registered the name for caramel au beurre sale (salted butter caramel) to prevent copycats. And that was pretty much it. The thing only grew in popularity, up to this day.
Nowadays, salted caramel is probably more popular than ever.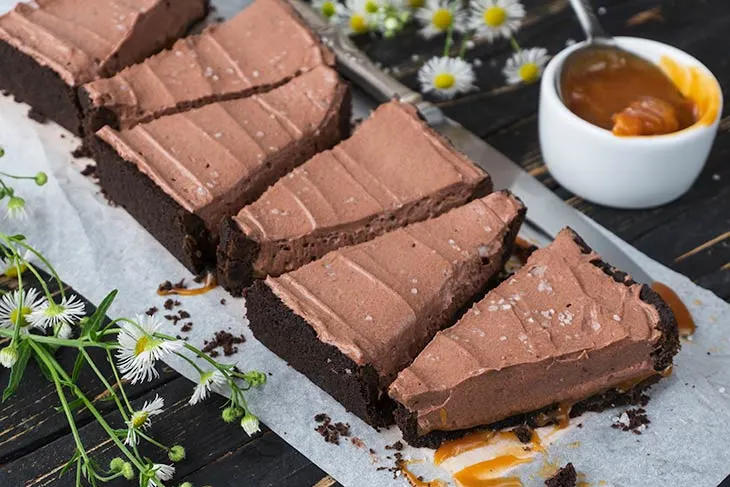 Sweet is pleasurable to our bodies, signaling calories, and energy. Salt is also pleasurable because it's a compound our bodies need to function. It is also a flavor enhancer – ever wondered why that chocolate milkshake always tastes better with a pinch of sea salt added to the mixture? So yeah. All in all, I think we're talking about a great invention that benefitted all of humankind, end of the story.
That's why today I chose to share with you this wondrous salted caramel chocolate tart. I like to think of this dessert as appealing to kids and adults as well, while still maintaining that elegance and subtleness only an 'adult dessert' can have.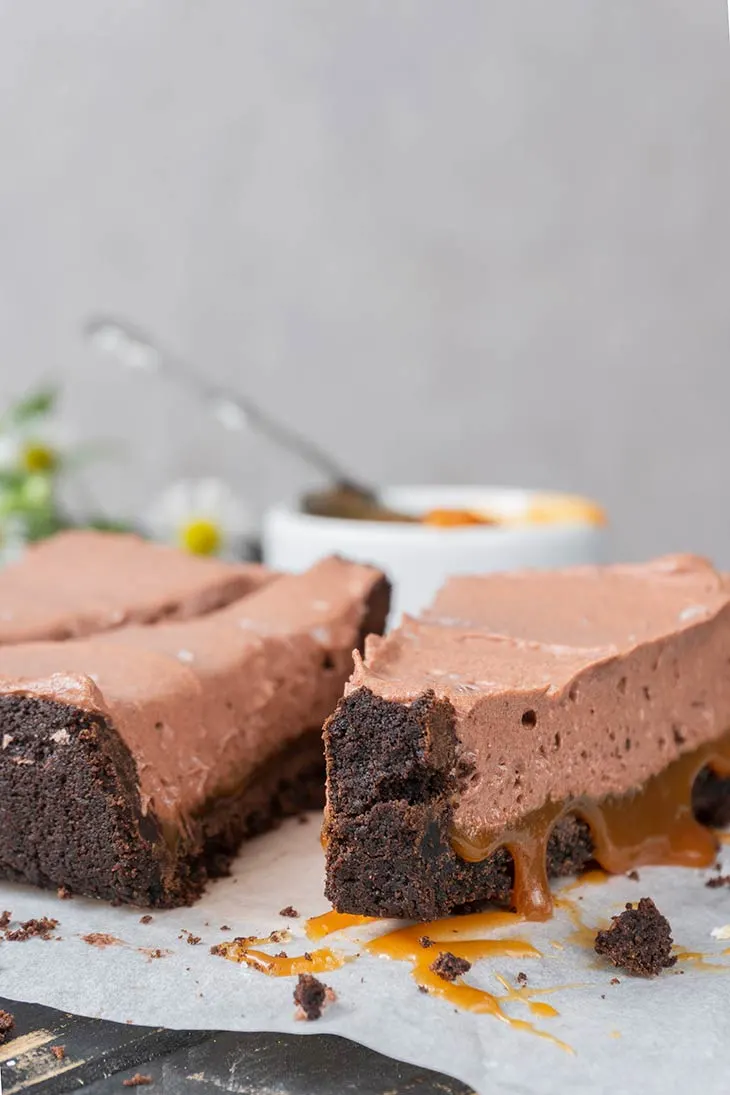 These being said, this tart is perfect for any occasion, be it a kid's birthday party, your family brunch, or a fancy dinner party. 🙂
If you want to make this recipe even simpler than it already is, you can actually buy a premade tart crust and just deal with the filling which you're then going to pour right in.
However, I highly suggest you try to make the crust at home, as well. It's a pleasurable experience and you might me surprised with yourself at what you can do with so little. It's not that hard to make, either – take my word on that.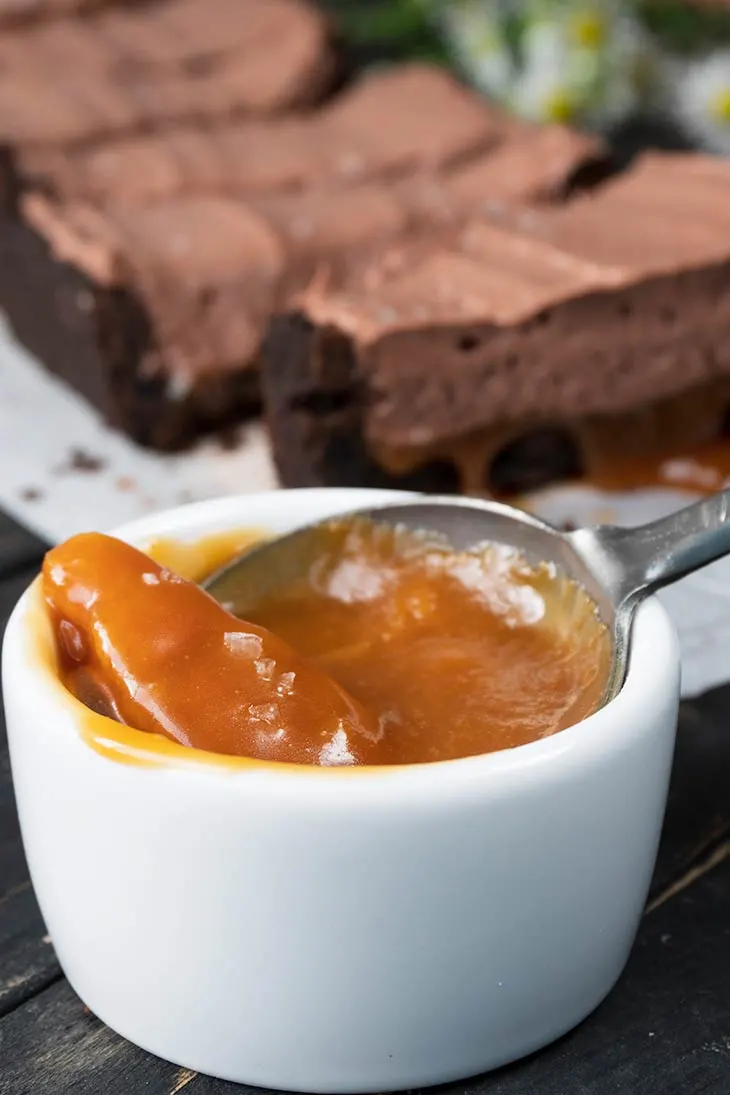 The caramel, I believe, is the trickiest part when it comes to this recipe. And that's because the more you leave it on the stovetop, it's going to change its consistency once it's cooled – but it's going to look absolutely the same in the pot. Cook it for just a bit and you get caramel sauce, cook it a bit longer and you get caramel cream. Pass that time by even just a minute and you get hard candy.
So how can you be completely accurate and not mess up your caramel cream? By using a candy thermometer. You can find these just about anywhere. They're not expensive and they're a lifesaver in the kitchen.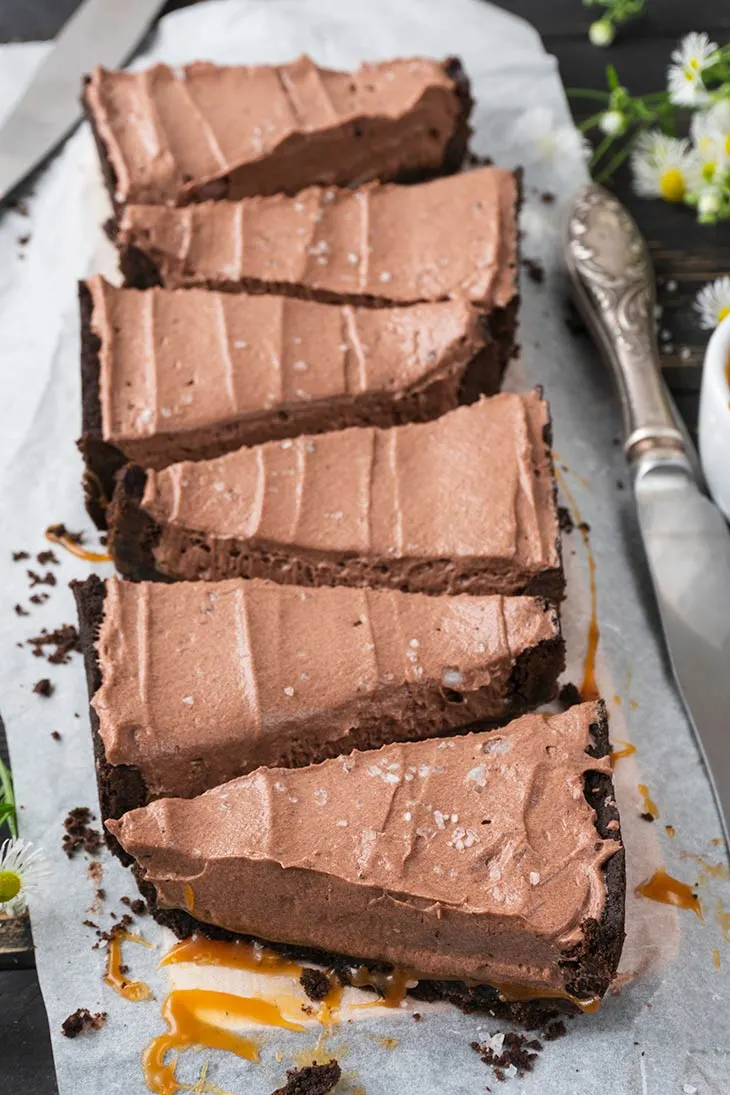 These being said… this tart is the best. But don't take my word on it. Try it and see for yourself! 🙂
---
Personalized meal plans and workout videos | Get your customized meal plan today! [x_button shape="square" size="mini" float="none" target="blank" href="https://shop.gourmandelle.com/?utm_source=mainsite&utm_medium=site&utm_campaign=inpost" info="none" info_place="top" info_trigger="hover"]I WANT A MEAL PLAN![/x_button]
---
Yield: 6
Salted Caramel Chocolate Tart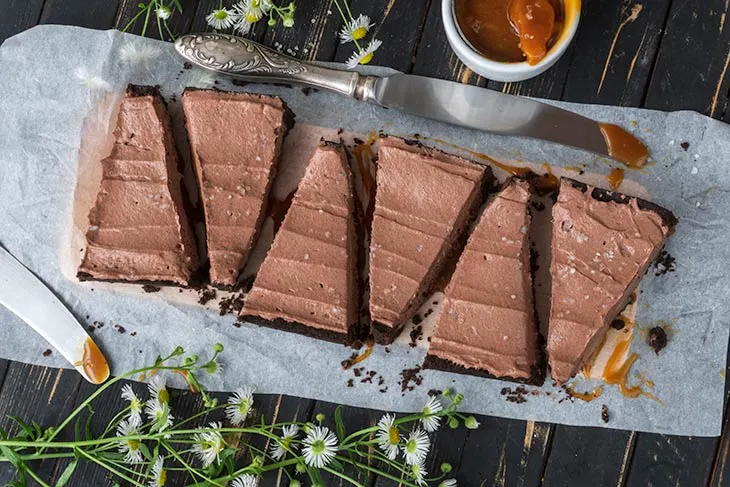 If you love salted caramel as much as I do, then trust me on this and try this amazing salted caramel chocolate tart. It's the ultimate combo!
Ingredients
For the crust
240g (2 cups) Oreos, remove the filling
70g (4-5 Tbsp) vegan butter, melted
For the caramel:
200g (½ can) coconut milk
75g (⅓ cup) brown sugar
¼ tsp vanilla bean paste
1 tsp sea salt
For the ganache
220g (8 oz) vegan dark chocolate
200g (½ can) coconut milk
¼ tsp vanilla extract
Instructions
Add the Oreos to a food processor (remove the filling) and grind into crumbs.
Combine the Oreo crumbs with the melted butter.
Line a rectangular baking dish with parchment paper.
Pour the Oreo mixture on the bottom and up the sides. Press an even layer.
Bake for 5-7 minutes at 180 C.
Meanwhile place the coconut milk, sugar, and vanilla in a pan. Bring to a boil and stir for 20 min.
The sauce will thicken and darken in the cooking process. Take it off the heat and add the sea salt.
Pour the caramel over the Oreo crust. Let it cool. It is gonna be the first layer.
For the second layer make the chocolate ganache.
Chop the chocolate. In a saucepan, over medium heat, heat the coconut milk.
When it is just about to boil, pour it over the chocolate. Let it stand without stirring for 5 min.
After 5 minutes, whisk to combine until the mixture is smooth.
Add the vanilla extract.
Pour the ganache over the caramel layer.
Refrigerate for 1,5-2h.
Nutrition Information
Yield
6
Amount Per Serving
Calories

527
Total Fat

29g
Trans Fat

0g
Carbohydrates

62g
Fiber

0g
Protein

4g
I strive to keep the information as accurate as possible but make no warranties regarding its accuracy. I encourage you to make your own calculations using your preferred nutrition calculator.