This recipe is for all chocolate lovers out there – here's how to make the BEST vegan chocolate tart in the world! It's decadent and healthy and everything you wish for!
Are you in the mood for something sweet? I know I always am! And because I had some free time on my hands, I decided to celebrate (and feed) these cravings with a much-deserved chocolate tart!
Nothing completes a meal better than a perfect chocolate tart as dessert. Nothing completes a party better than a tasty chocolate tart. Nothing completes a picnic better than a chocolate tart. In the end, nothing completes the day better than a chocolate tart! 🙂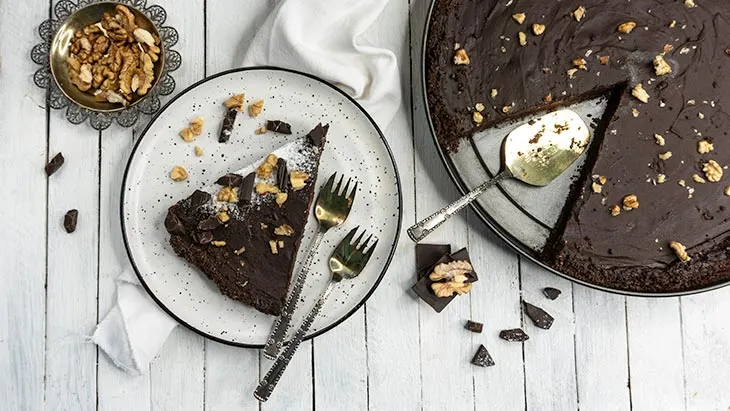 If you agree with me, then you're in the right place. Because today I prepared for you the most amazing recipe for a vegan chocolate tart! And I mean it – it's so good that you won't even believe that something so delicious came out of your own hands.
Nothing compares to some homemade goodies, and this vegan chocolate tart is no exception. Having the power to personally control everything you put in your food really makes a difference.
The better quality the ingredients – the better the result. As simple as that. No funny business with processed ingredients and other non-healthy stuff. This is why I would always prefer a home-baked tart to a store-bought one. Period and no exceptions.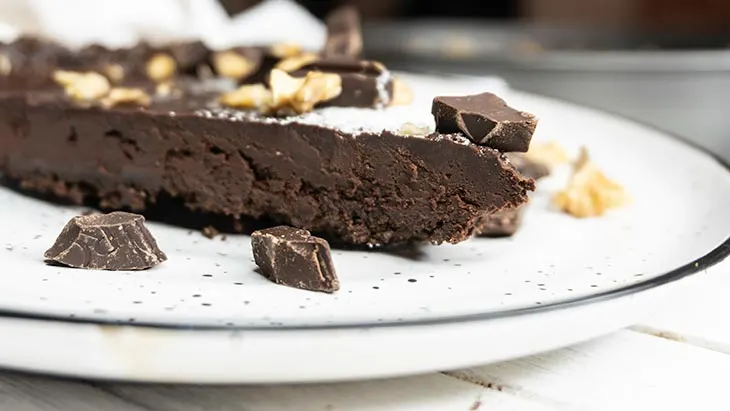 What really makes this tart stand out is the perfect combination between the crumbly bottom and the creamy filling. If there is such a thing as a perfect balance between the two textures, then this vegan chocolate tart brilliantly achieves it! A delight for your taste buds, this tart is the stuff of dreams!
The rich chocolate taste is powerful without being too much, while the crumbly dough beautifully helps the taste of the chocolate stand out. If you're a chocolate person (I am!!), you will probably end up memorizing this recipe by heart. And even if you're not, this tart might just convince you.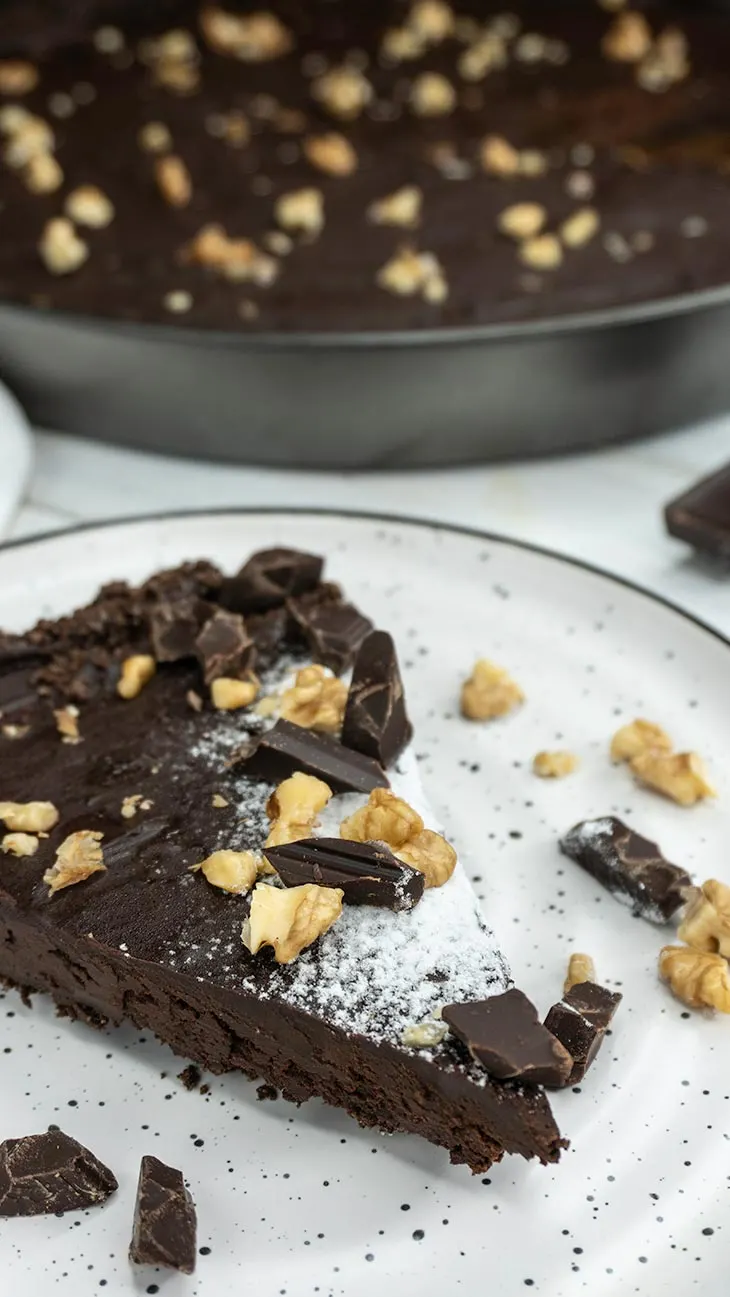 I think tarts are one of the perfect forms of dessert. And it's not only my personal opinion, so many of my friends feel the same. Maybe it's something about the creamy-crumbly combination.
Okay, but what's the history of this beautiful form of food? Technically, a tart is a dish consisting of a pastry bottom with some filling over it, the filling not being covered in pastry.
While I don't want to sound overly technical, I think this is quite an important aspect. Because it's all about filling this way. Too much bottom and you might end up missing the more subtle tones of the filling.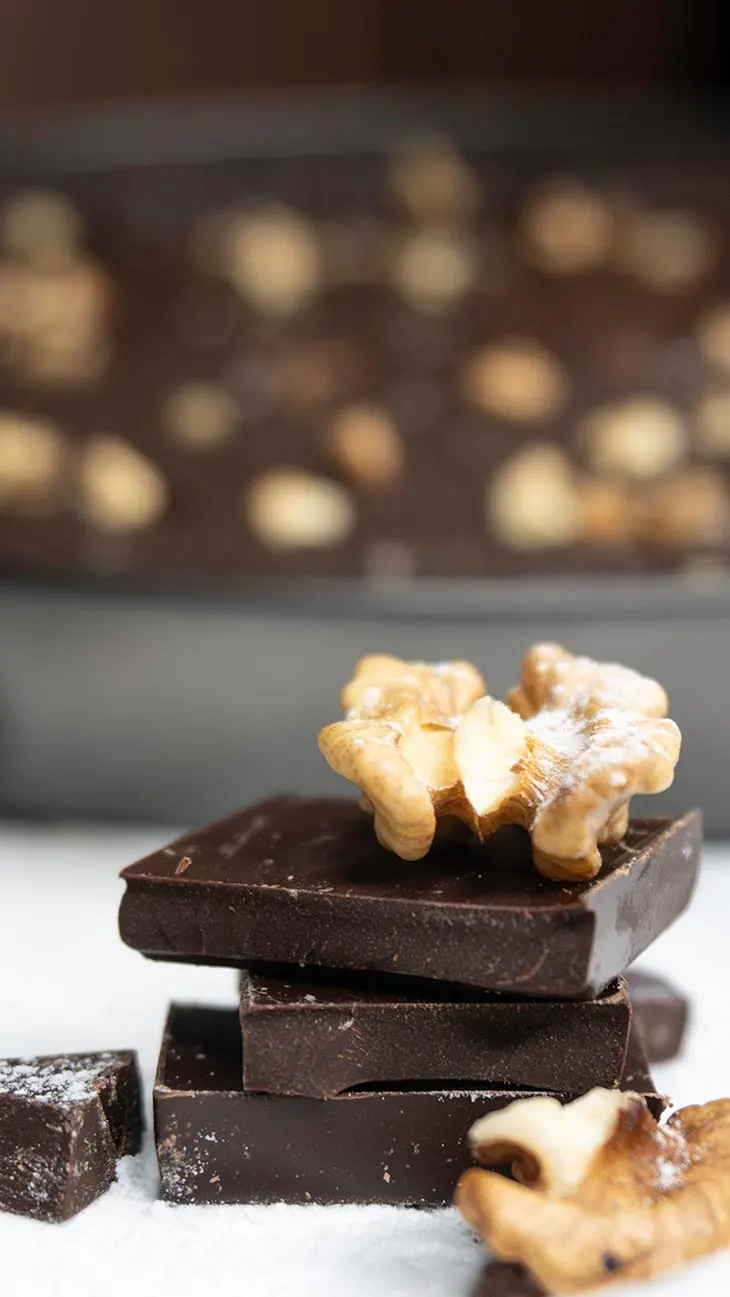 Tarts are thought to be the product of the pie baking from the medieval times. Later, in the 1550 France, tarts were considered a high-cuisine product.
They originally had savory fillings, but as the preferences of the consumers evolved, tarts with sweet fillings such as custard and fruit started to prevail. Centuries later, tarts are a popular favorite dessert and there are hundreds (if not thousands) of varieties available. Luckily, vegan options are widespread, and we can enjoy the delicious tarts in their full glory.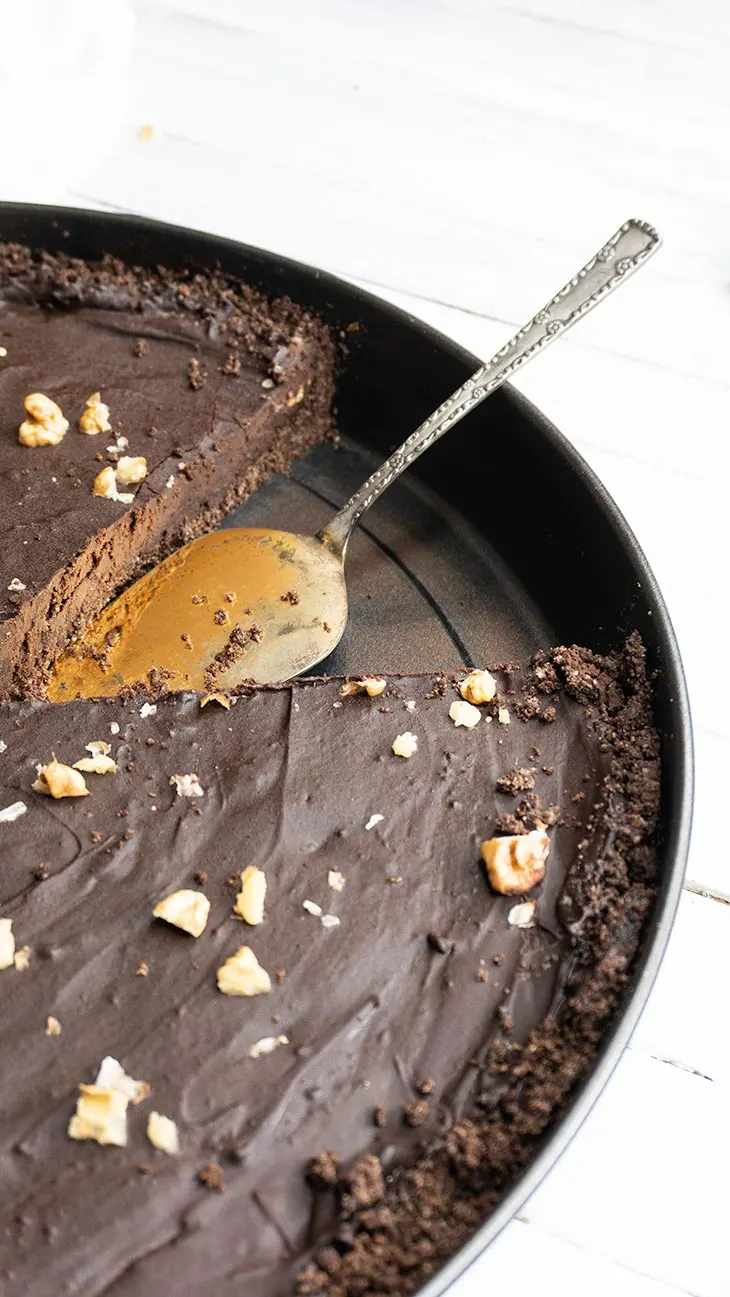 My tart here is a worthy descendant of the medieval high-cuisine tarts. Here's what I love about this vegan chocolate tart:
The filling is super creamy and soft, in perfect balance with the crumbly bottom
It's easy to make and you won't have to spend a whole day in the kitchen
It's customizable and you can substitute ingredients according to your dietary needs and preferences (for example you can make a gluten-free version)
It's simply beautiful. While I am not really the food-on-Instagram kind of person, I simply can't resist this tart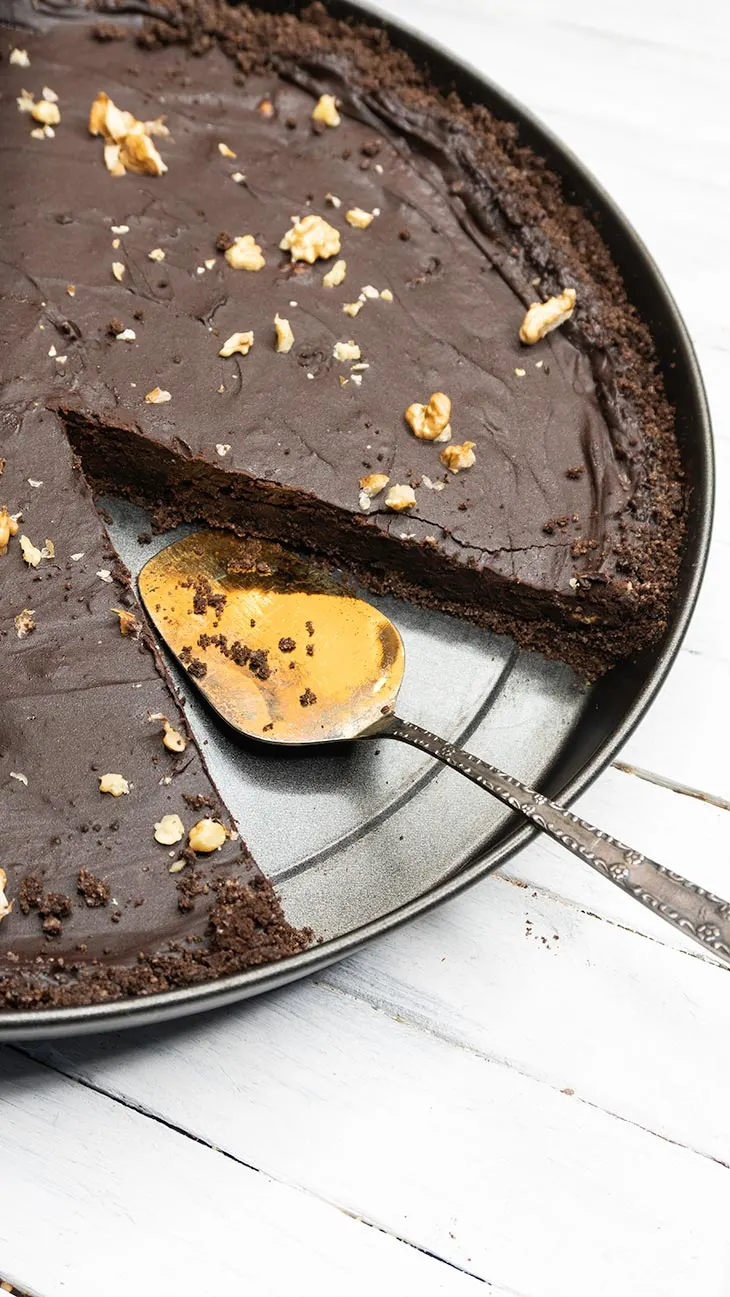 I can't really see any downsides to this recipe. But maybe I am biased, as it's one of my favorites ever. I guess you just have to try it and judge for yourself! 🙂
All this being said, it's time to gather the ingredients! Luckily, everything is super simple to find so you won't need to do much shopping. I hate it when I have to run around all town to gather some ingredients and by the time I get home, I am already tired and in no mood for cooking. But this won't be the case here!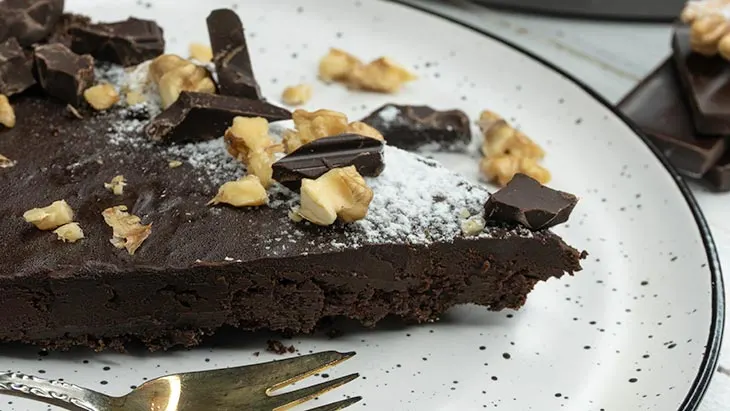 You can find detailed instructions below. You can follow them exactly but don't be afraid to throw in there something that you love! Maybe your favorite nuts or sprinkles. This vegan chocolate tart is really about your cravings! I hope you will enjoy it and don't forget to comment and let me know what you think about it!
Yield: 10
Vegan Chocolate Tart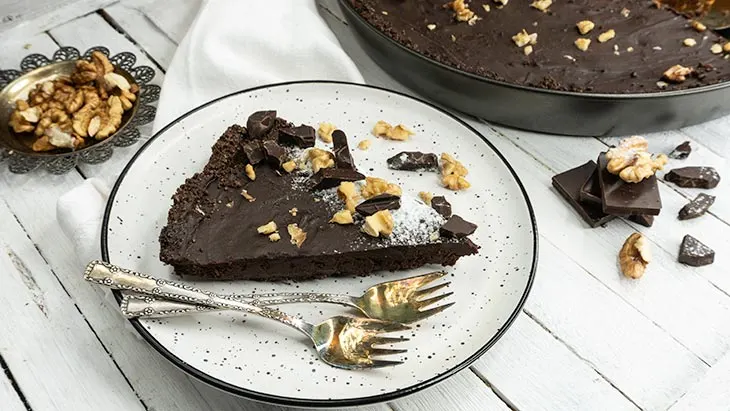 This recipe is for all chocolate lovers out there - here's how to make the BEST vegan chocolate tart in the world! It's decadent and healthy and everything you wish for!
Ingredients
25 Oreos
220g (1 cup) vegan butter, melted
180ml (¾ cup) coconut milk
500g (3 ½ cups) vegan dark chocolate, melted
120g (1 cup) walnuts
1 tbs espresso powder
1 tsp lemon zest
½ tsp vanilla extract
Instructions
Blend the Oreos (with the cream) in a food processor until crumbs are formed.
In a bowl, mix the crushed cookies with half of the melted butter, espresso powder, and lemon zest.
Transfer the mixture to a tray and form the crust making sure to press well.
Melt the chocolate, add the coconut milk, the rest of the butter and vanilla extract. Mix well until creamy.
Add most of your walnuts to the ganache.
Pour the mixture over the crust, sprinkle the remaining nuts and cool in the fridge for at least 4 hours or overnight.
For clean slices, warm up the knife under hot water.
Nutrition Information
Yield
10
Amount Per Serving
Calories

491
Total Fat

26g
Unsaturated Fat

0g
Carbohydrates

55g
Fiber

9g
Sugar

35g