Learn how to make Socca Farinata, a savory and gluten-free chickpea flatbread with this simple recipe. Perfect for a quick snack or appetizer, this Mediterranean-inspired dish is sure to impress. Try it today!
Socca Farinata is a traditional dish originating from the coastal regions of Liguria, Italy. Made with just a few simple ingredients, this savory, crispy, and delicious flatbread is perfect for those who are looking for an easy, gluten-free, and vegan dish.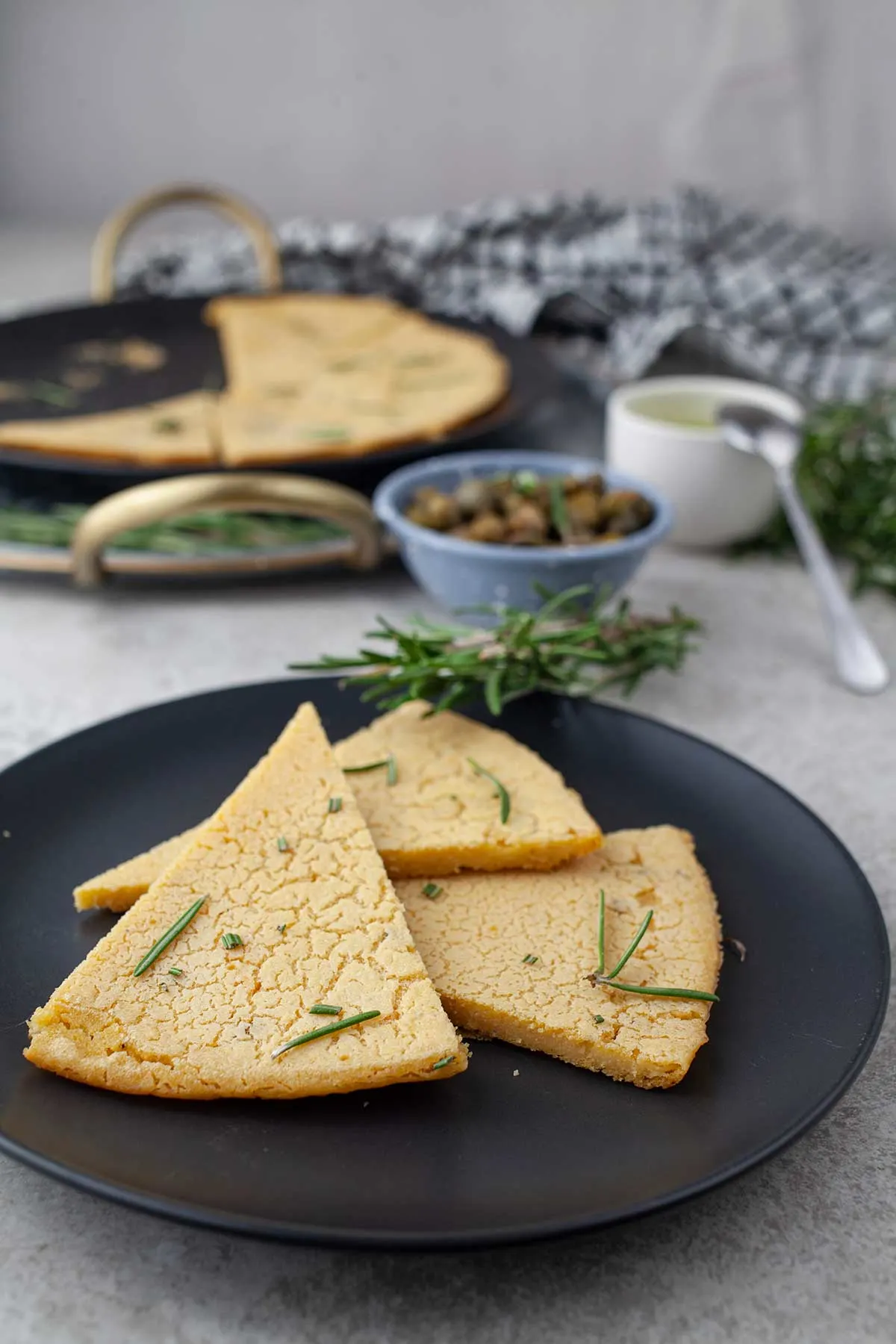 The origins of Socca Farinata can be traced back to the ancient Roman Empire where it was made as a simple and nutritious food for the soldiers. Over time, the dish evolved and became popular in the coastal regions of Italy, especially in the city of Genoa, where it was known as "Cecina".
To make this GF flatbread recipe, you will need chickpea flour, water, olive oil, salt, and pepper. Simply mix the ingredients together and pour the batter into a preheated oven-safe pan. Bake for about 20 minutes, or until the edges are crispy and the center is cooked through.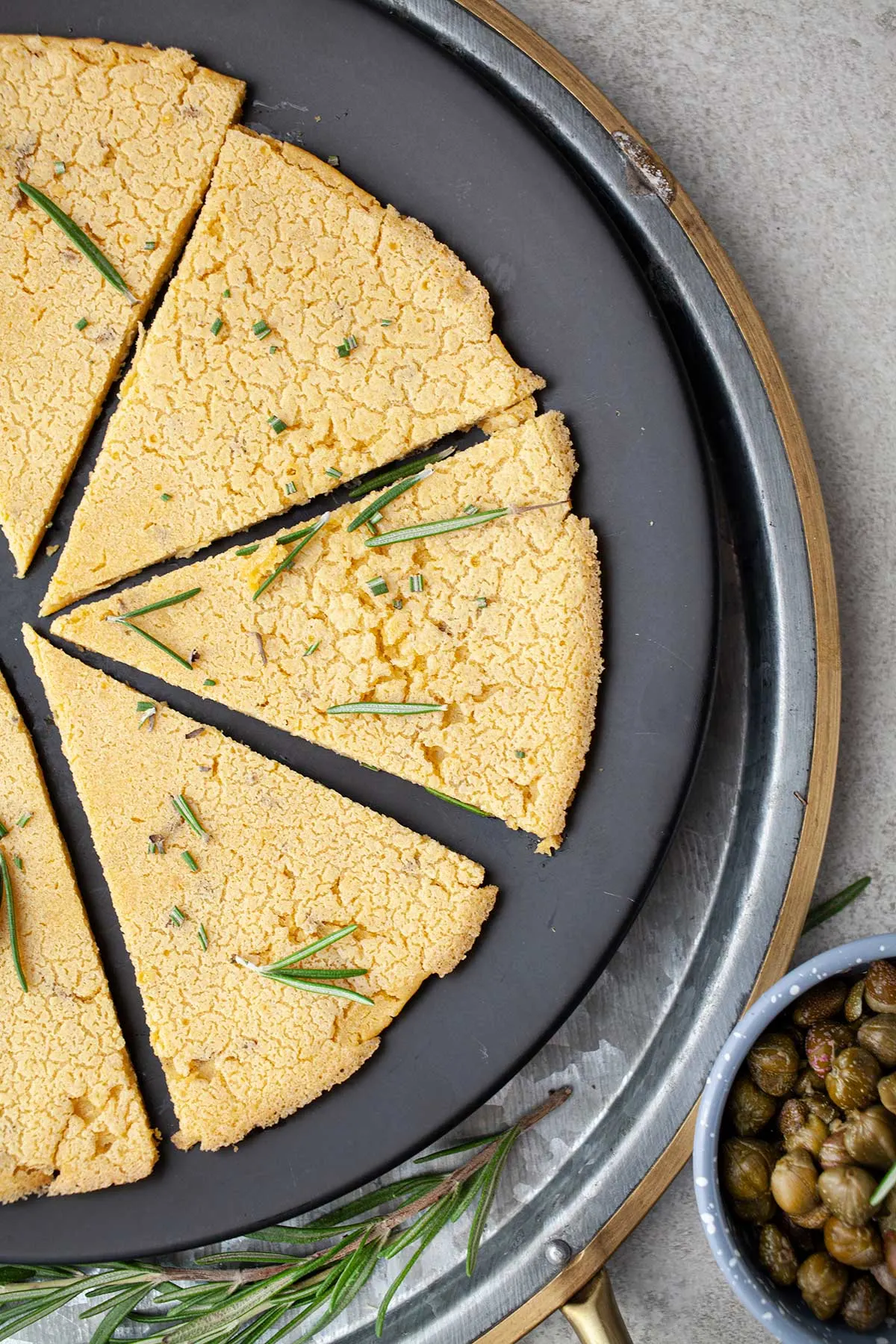 Socca Farinata is usually served as a snack or an appetizer, but it can also be used as a pizza crust or a wrap. You can customize the flavors by adding spices, herbs, or even toppings like cheese, vegetables, or meat.
Tips for the perfect Socca Farinata:
Use high-quality olive oil: Olive oil is a crucial ingredient in this dish and it is important to use high-quality oil to get the best flavor.
Don't over-mix the batter: Over-mixing the batter will result in a dense and rubbery texture, so it is important to mix just until all the ingredients are combined.
Use a non-stick pan: To make it easier to remove the Socca Farinata from the pan, use a non-stick pan or line the pan with parchment paper.
Be patient: It takes time for the Socca Farinata to cook properly, so be patient and don't try to remove it too soon.
Get creative with toppings: You can add any toppings you like to the Socca Farinata, so feel free to get creative and try new flavor combinations.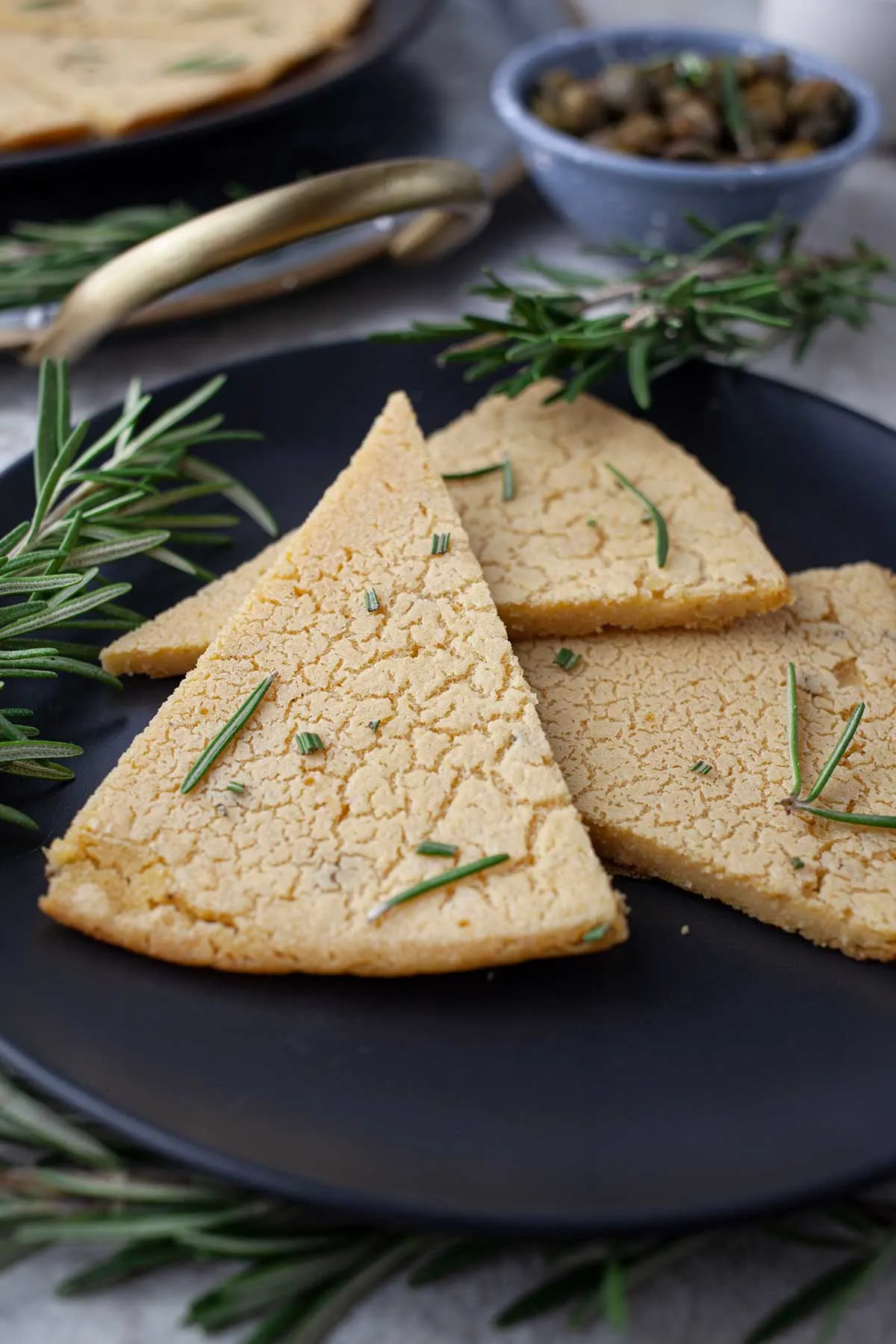 Facts about Italian chickpea flatbread
Chickpea flour is the main ingredient in socca, giving it a nutty, slightly earthy flavor and a soft, chewy texture.
Socca is gluten-free and can be a good option for people with celiac disease or gluten intolerance.
It's typically served as a snack or appetizer, cut into small pieces and topped with various ingredients such as herbs, spices, or cheese.
The batter for this chickpea flatbread is easy to make and can be prepared in advance, making it a convenient dish to cook for a crowd.
Socca is considered to be a healthy and nutritious food due to its high protein and fiber content and its relatively low calorie count compared to other types of bread.
Overall, socca is a versatile and tasty dish that can be enjoyed in a variety of ways, making it a great option for people who are looking for a healthy and flavorful food that can be prepared quickly and easily.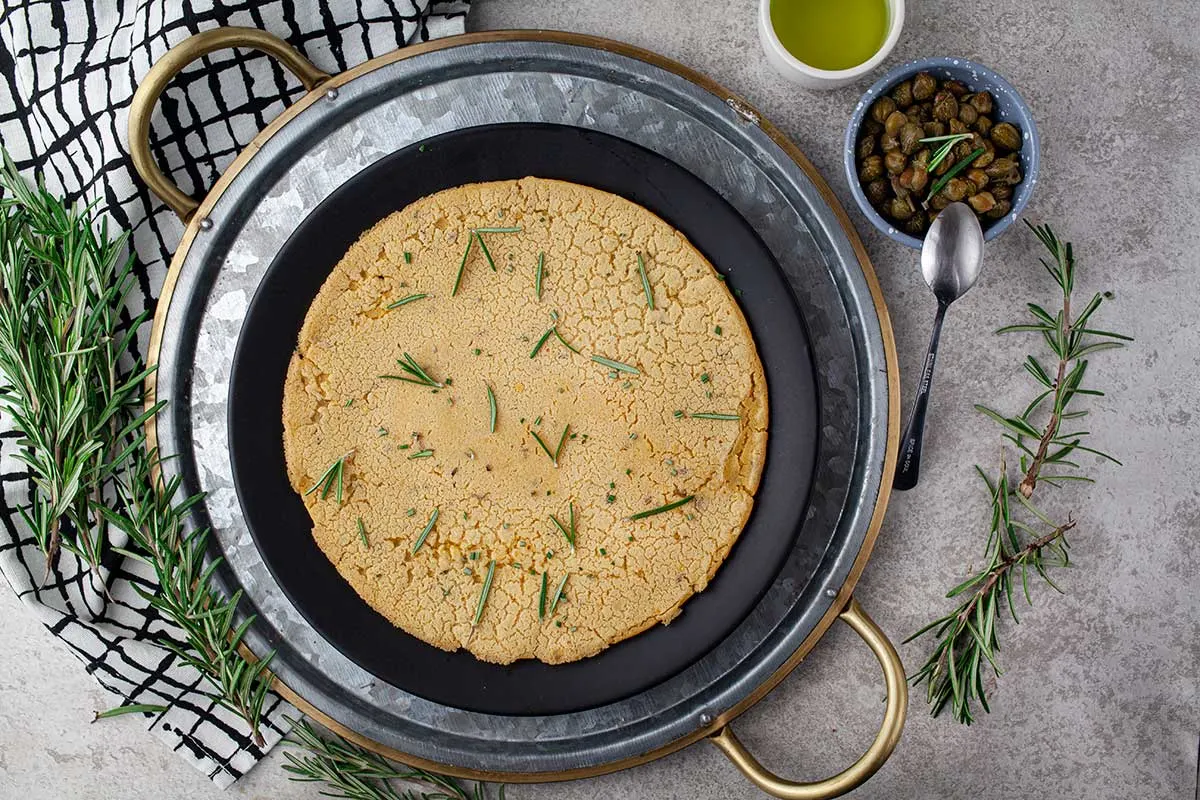 Is Socca French or Italian?
Socca is a traditional dish originating from the coastal regions of Liguria, Italy. However its origins also trace back to the Nice region of France.
Is socca good for you?
Socca is considered a healthy dish due to its main ingredient, chickpea flour, which is high in protein and fiber. Chickpea flour is also gluten-free and a good source of vitamins and minerals, making it a great alternative for those who are gluten intolerant. Additionally, it is often prepared with olive oil, which is a healthy fat, and can be topped with various vegetables, further increasing its nutrient content.
How do you pronounce socca?
It is pronounced as "soh-ka".
How much protein is in a socca?
The amount of protein depends on the recipe used, but on average, a 100-gram serving contains about 6 grams of protein. The main ingredient is chickpea flour, which is a good source of protein, making it a nutritious addition to a balanced diet. Keep in mind that the amount of protein may vary depending on the other ingredients used, as well as the serving size.
Whether you are looking for a gluten-free, vegan, or simply delicious dish, Socca Farinata is a great option. Give it a try and enjoy this traditional Italian recipe in your own kitchen!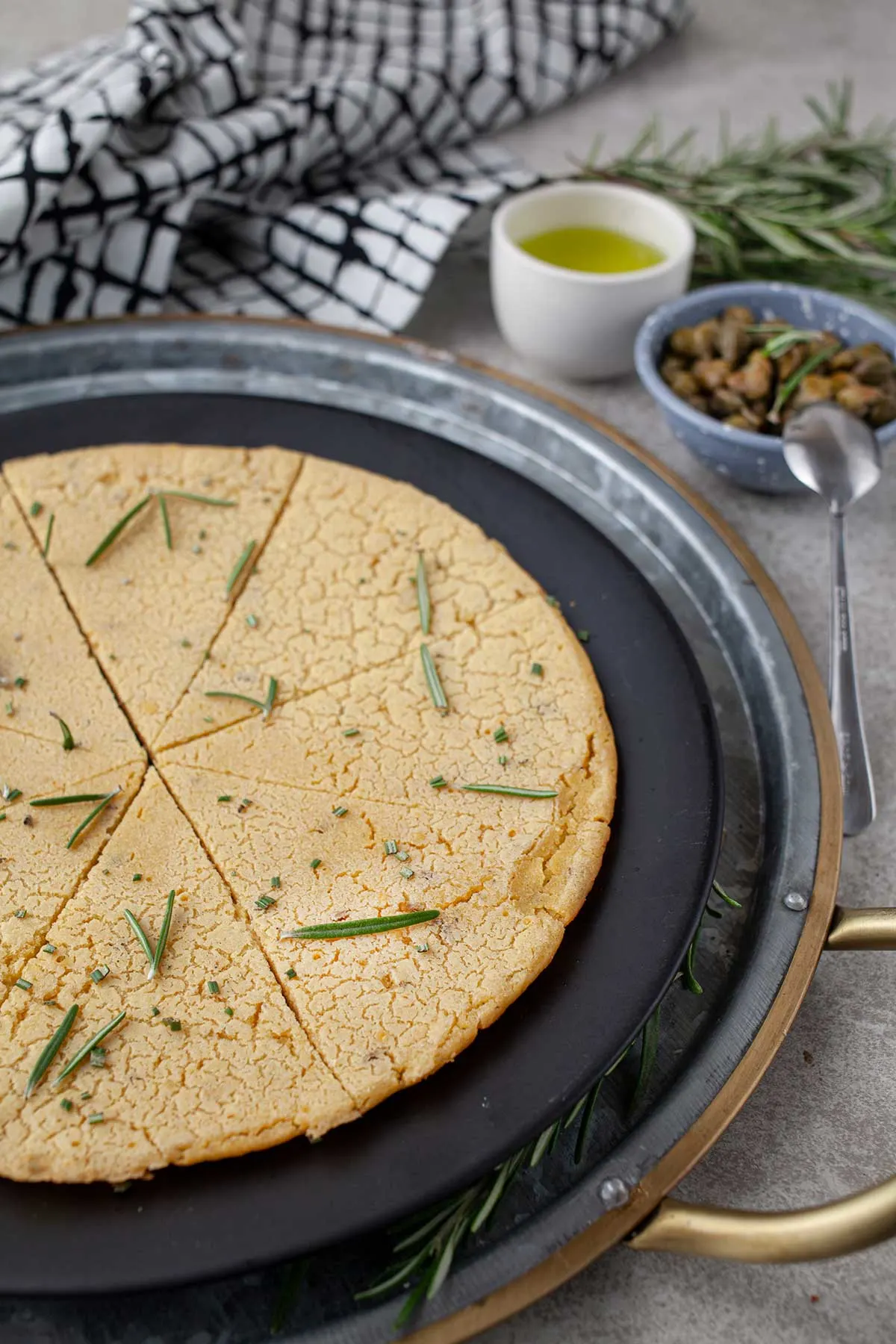 Yield: 6
Socca Farinata (Chickpea Flatbread)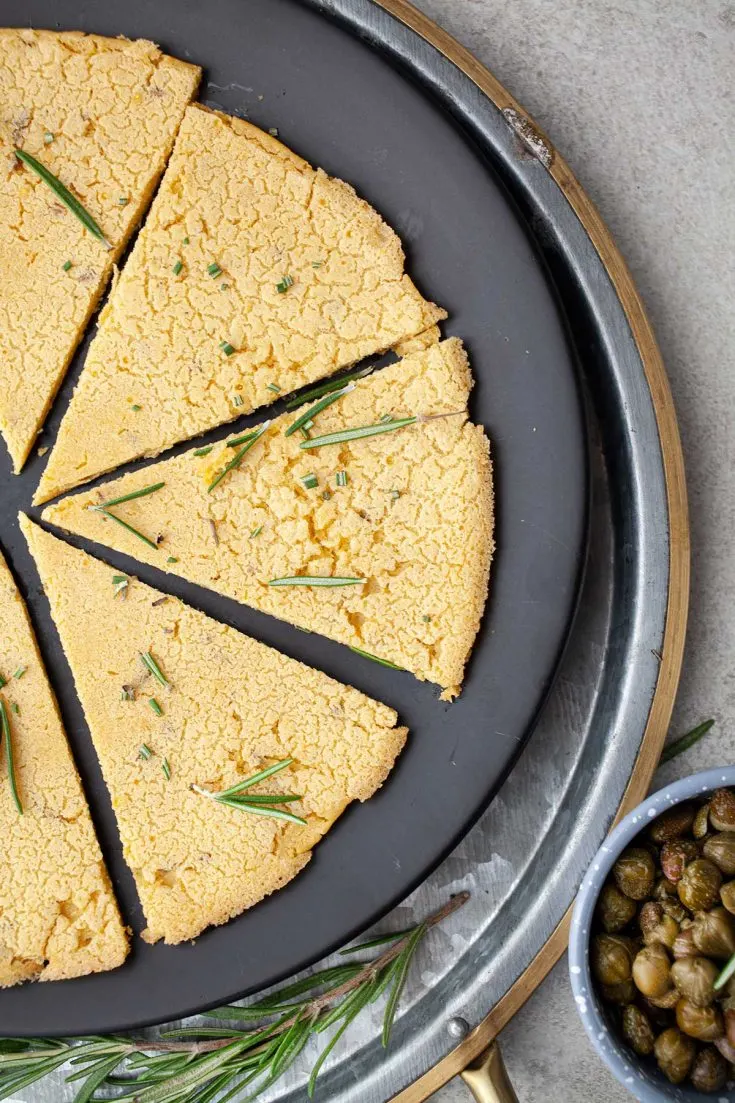 Learn how to make Socca Farinata, a savory and gluten-free chickpea flatbread with this simple recipe. Perfect for a quick snack or appetizer.
Ingredients
1 cup chickpea flour
1 cup water
1 tablespoon of olive oil + extra oil for the pan
½ teaspoon of salt
1 teaspoon fresh rosemary, finely chopped
Instructions
Heat the oven to 200C (375F) with the cast iron pan in it.
In a bowl, combine chickpea flour, water, salt, rosemary and olive oil. You can use a food processor to speed up the process and make sure the batter doesn't have any clumps. Use the Pulse function a couple of times, do not over-process the batter.
Cover the bowl with a towel or a lid and let it sit for at least 30 minutes.
Using oven gloves or a towel, carefully remove the hot pan from the oven, grease it well with olive oil, pour the chickpea flour mix into the pan and return it to the oven.
Bake the socca in the oven for around 15-20 minutes, until it becomes well browned at the edges.
Serve socca with fresh greens, vegetables or your favorite sauce.
Nutrition Information
Yield
6
Serving Size
1
Amount Per Serving
Calories

100
Total Fat

6g
Saturated Fat

1g
Trans Fat

0g
Unsaturated Fat

5g
Cholesterol

0mg
Sodium

188mg
Carbohydrates

9g
Fiber

2g
Sugar

2g
Protein

3g
I strive to keep the information as accurate as possible but make no warranties regarding its accuracy. I encourage you to make your own calculations using your preferred nutrition calculator.