Craving pizza? This is the best gluten-free pizza crust recipe you can make – no knead and vegan!
As you may have heard, May is the International Gluten-Free Month, and besides hosting the gluten-free cooking campaign for Schar Romania (*link in Romanian), I was also invited to participate in the campaign organized by AlimenteSpeciale and TheSmartCuisine. I immediately accepted because their campaign #ManancResponsabil (*link in Romanian) has the purpose of educating the public regarding the problem of special dietary needs, such as gluten intolerance, lactose-free diet, diabetic diet and so on.
The statistics are pretty worrisome. More and more people are continuously diagnosed with food intolerances and allergies. The worst part is that many people actually live with food intolerances and are never properly diagnosed, thus increasing the risk of health complications.
I chose to cook vegan and gluten-free recipes, as part of this campaign. This means that my recipes can be made by celiacs and lactose-intolerants as well. I hope that my recipes will inspire you! They are also suitable for those of you who don't have any food intolerances but want to eat healthier.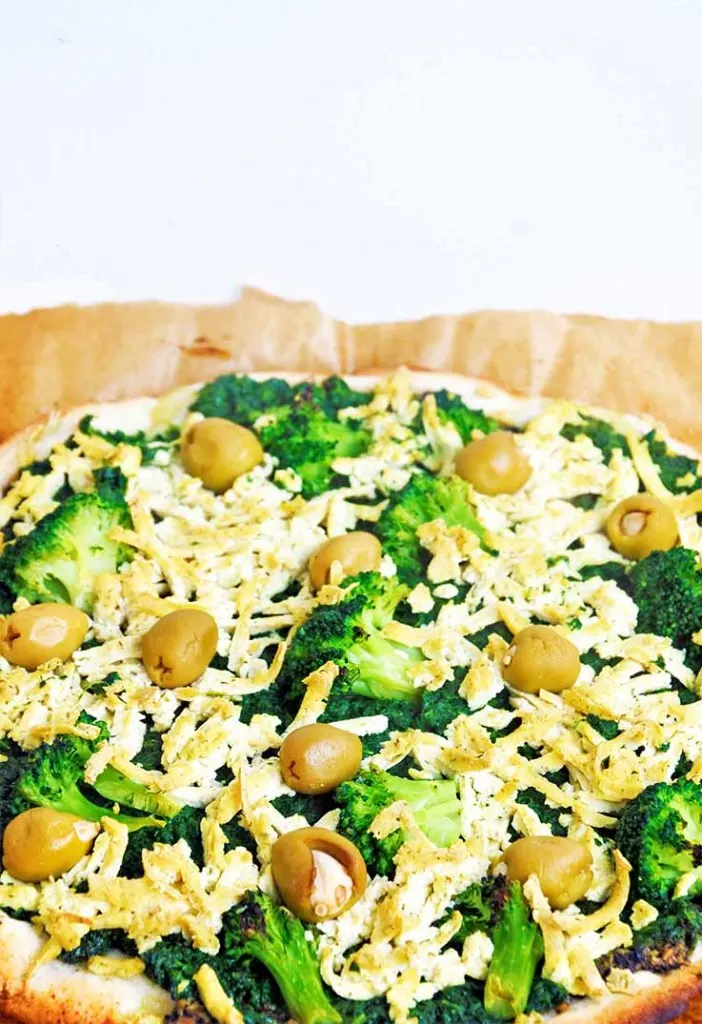 My first recipe for this campaign is this green vegan pizza, which comes with one of the best gluten-free pizza crust recipes I have ever made! Who would have thought that a green vegan pizza with spinach, broccoli and tofu can be SO GOOD?! I was extremely surprised by the result. This definitely became one of my favorite vegan pizza recipes!
For this green vegan pizza recipe, I used vegan, GF pesto from Meridian, gluten-free flour MixIt Universal from my fav GF brand – Schar, dry yeast from Schar and garlic-stuffed green olives from Organico, all of them offered by AlimenteSpeciale.ro.
P.S. The garlic-stuffed green olives are absolutely BRILLIANT! I am a huge olives fan and these were just dreamy!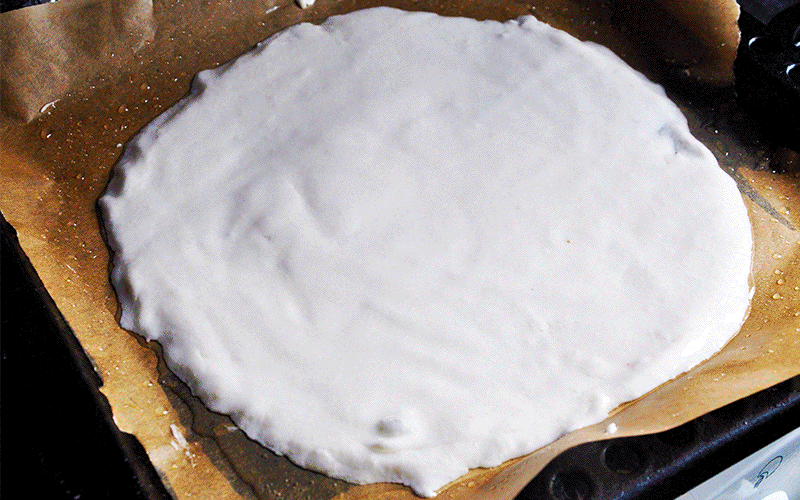 The gluten-free pizza crust recipe is a special creation of mine. I recently discovered this super-simple gluten-free pizza crust recipe which doesn't require any kneading at all and it is ready in just 5 minutes! Plus, the pizza crust turns out just perfect, crunchy on the outside and fluffy on the inside. Note: The pizza crust will most likely have a different texture if you're using regular wheat flour.
I've been cooking vegan gluten-free pizzas like crazy since I discovered this pizza crust recipe! Don't know if that's good for my figure, though… 🙂
Hope you'll give it a try!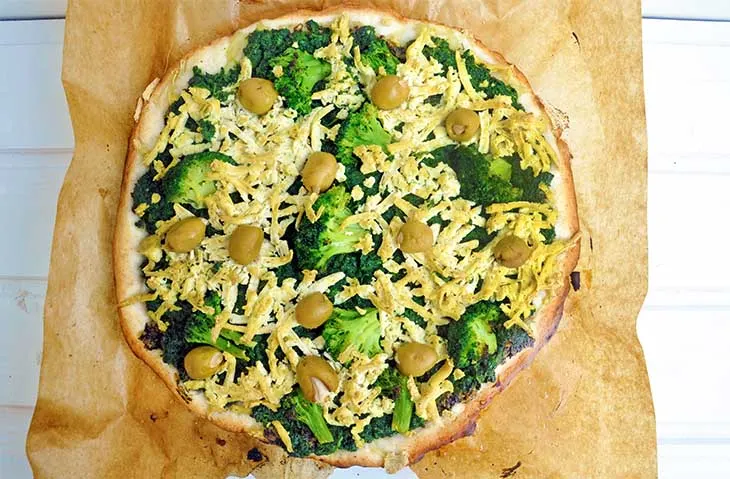 Yield: 2
Green Vegan Pizza + The Best 5-Minute Pizza Crust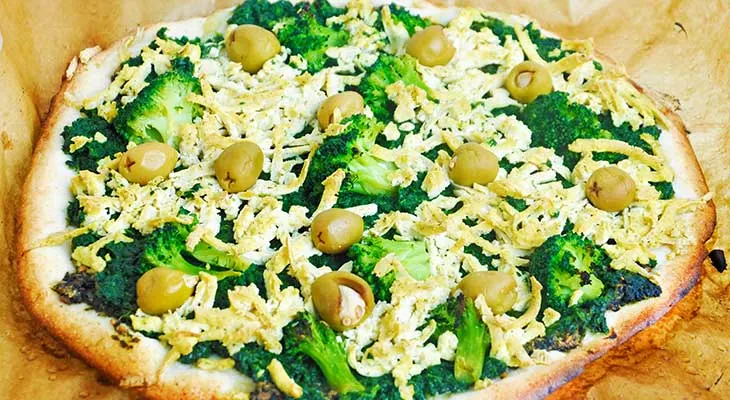 Craving pizza? This is the best gluten-free pizza crust recipe you can make - no knead and vegan! Try this green vegan pizza; you'll love it!
Ingredients
For gluten-free pizza crust:
300g (10.5oz) gluten-free flour MixIt Universal by Schar
250ml (1 cup) warm water
2 Tbsps olive oil
½ tsp sea salt
1 dry yeast pack by Schar
+ 1 Tbsp sunflower oil for greasing
For topping:
6 frozen spinach cubes, defrost
5 small-medium pieces of frozen broccoli florets, defrost
150g (¾ cup) tofu, simple or smoked, (smoked tofu tastes better in this combination)
some garlic-stuffed green olives by Organico, These are awesome!!!
about 4 Tbsps vegan, GF pesto by Meridian
Instructions
Mix all pizza crust ingredients into a large bowl. Mix using a spoon.
The dough will be extremely sticky and moist. Don't worry, this is just as it is supposed to be.
Cover an oven tray with some parchment paper and lightly grease it.
Pour the dough right in the middle.
Start spreading it using the tablespoon, using circular motions, from the inside to the outside. You want to give it a somewhat circular shape.
When the pizza crust has a round shape, grease your hands with some oil and start shaping its margins and make it even rounder. You can even press it on top. If it gets sticky, just grease your hands some more.
Add pesto all over the pizza crust and spread it with a spoon.
Add spinach puree and spread it all over, then broccoli florets, grated tofu and olives.
Put the pizza in the oven at medium heat for about half an hour.
Notes
If you can't find MixIt Universal GF flour mix by Schar, you can use another GF flour mix of choice. Just make sure it's a GF flour blend and nut just a simple GF flour. Also, if you try this pizza crust recipe with regular all-purpose flour containing gluten, it may not work. Gluten makes the crust more elastic and it may not have the same texture, so the technique cannot be applied.
Nutrition Information
Yield
2
Amount Per Serving
Calories

1816
Total Fat

70.4g
Carbohydrates

177g
Protein

118g