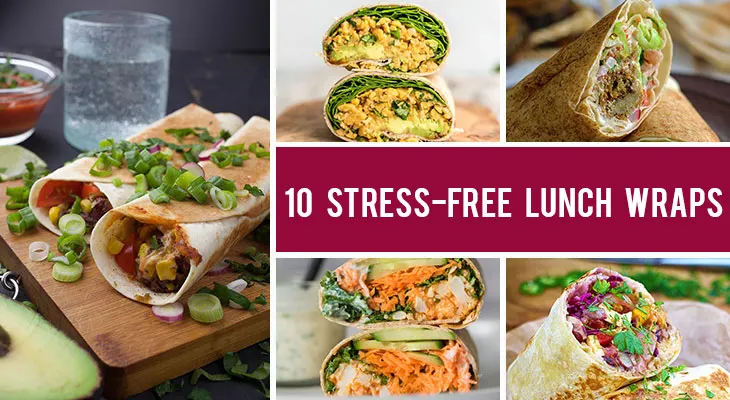 Are you looking for some recipe inspiration? In this list, you will find 10 stress-free lunch wraps for when you're in a hurry – yummy, super easy, and quick to make! Give them a try!
Lunch is one of my favorite meals of the day because it offers me the possibility to indulge in some yummy food after breakfast. But there are times when I don't have enough time to put together a complicated lunch – and I'm sure there are days when you feel the same.
No worries, as I have the perfect solution for both you and me! After testing many dishes for lunch, I realized that the most stress-free option would be to make wraps. Yes, wraps! They're extremely simple and super effective.

Just think about it: you just need some wraps and your favorite ingredients, maybe some sauces and you're good to go! And trust me, there are so many awesome taste combos out there, that you'll never get bored with your lunch wraps. It's a promise! 😉
I want to offer you some yummy inspiration today, so I have put together this list with some of the best stress-free lunch wraps I could think of! You will find here 10 lunch wraps for when you're in a hurry that I usually prepare when I don't have time or patience to put together something complicated. So the best solution is to get some wraps, gather some delicious ingredients, and combine them into what I like to call the ultimate comfort lunch! 🙂
From burritos to fajitas and tacos – you'll find everything you wish for here and more!
I hope you'll find enough inspiration here for your next lunch wrap, as I tried to add recipes for each and every taste! 🙂
Click on the linked titles in order to access these amazing stress-free lunch wraps. You will find here many unique and delicious recipes created by some of my favorite food bloggers out there, but also 5 of my own recipes that I totally recommend you try.
Here we go:
Stress-Free Lunch Wraps Recipes
If you've ever been to Greece, then you surely had their world-famous dish called 'gyros'. And today I want to present to you my best vegan take on this classic wrap. Here's how to make vegan gyros – easy, quick, and bursting with Greek flavors. What's not to love?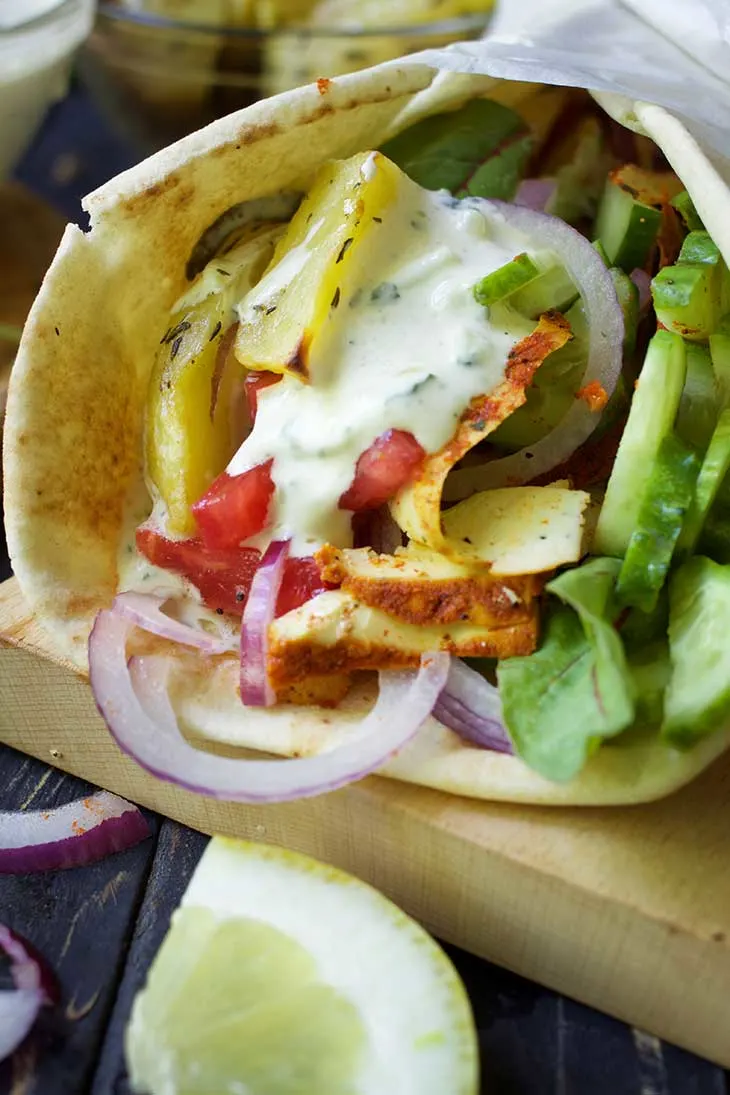 I've been a huge fan of falafel ever since I was little. Those little bites of heaven make for the perfect breakfast, lunch, or dinner. But have you ever tried putting them into a wrap? It's an awesome idea and it makes for the best stress-free lunch. But you don't have to believe me, just give it a go and you'll be impressed!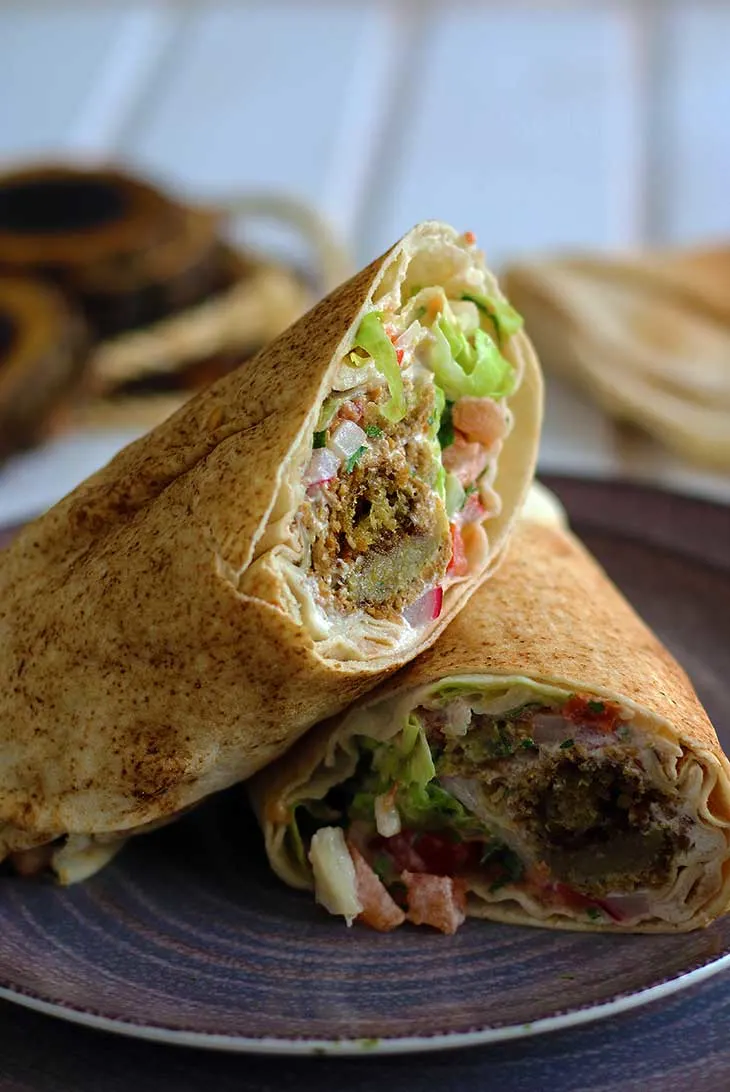 If you're a fan of the Tex-Mex cuisine, then you surely know what are fajitas – one of the best wraps out there! This awesome vegan fajita recipe is extremely easy to make and you can adapt it to whatever ingredients you have in your fridge or pantry. Give it a try, it's super delicious!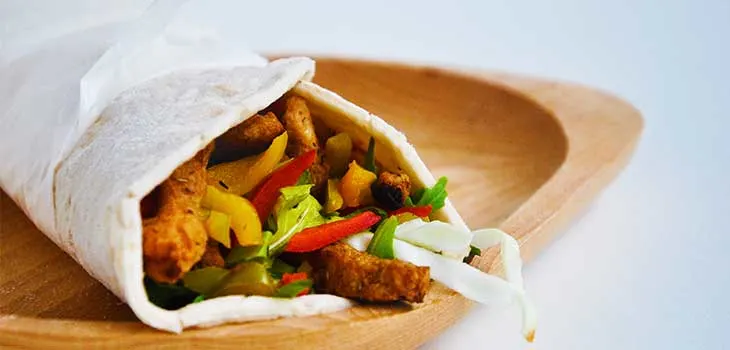 Burritos are another type of Mexican wrap that's bursting with incredible flavors! What I love most about wraps is that you can fill them with as many ingredients as you wish, as long as you can still close the wrap and put it in a Tupperware or some foil and take it with you to work or school, if necessary. I truly believe this recipe combines all the best ingredients out there!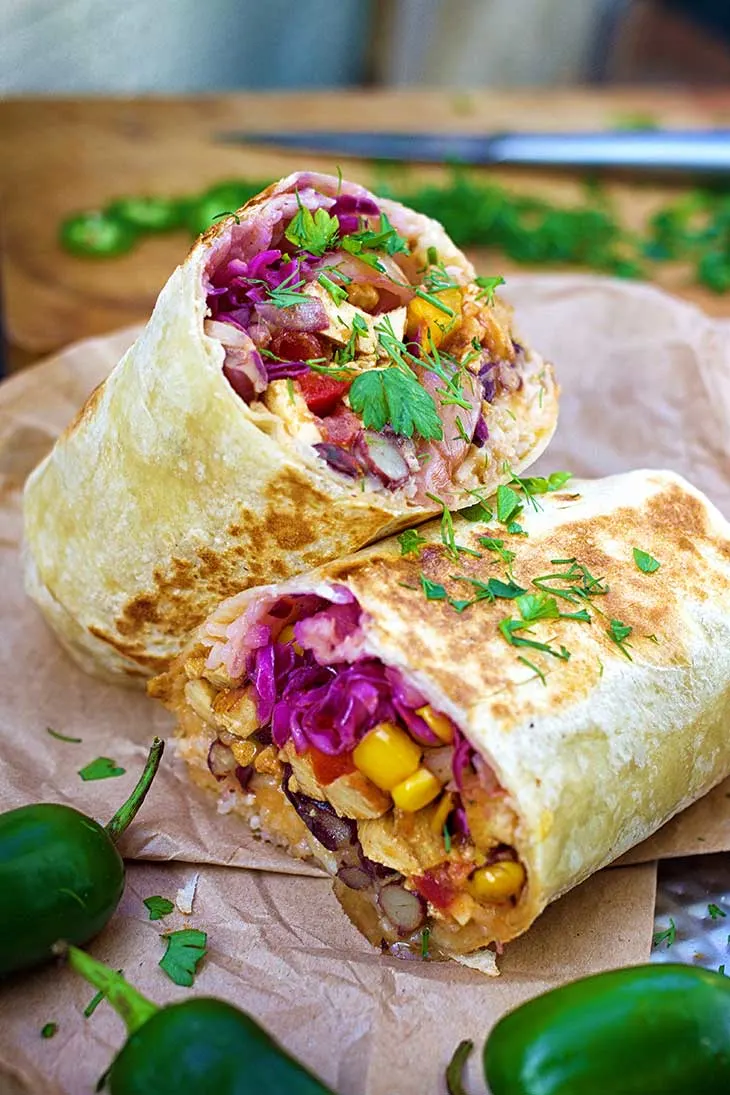 In case you like tacos, then you will surely fall in love with taquitos! Yes, you guessed it right – taquitos are a smaller type of taco – but just as delicious. They're just cuter and easier to it, so I think that's a win-win situation for everyone. Serve these with a spicy sauce and you'll be in heaven! 🙂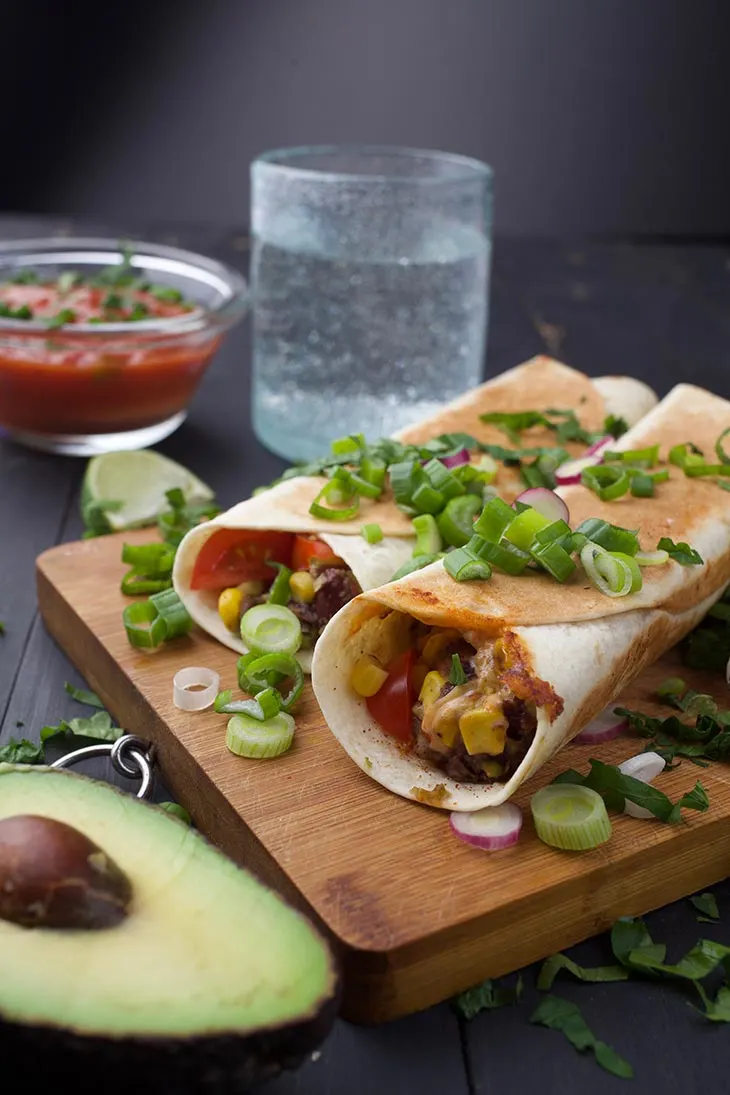 Chickpea and avocado go together perfectly – and if you add some spinach into the mix, you will reach the ultimate combo! These chickpea wraps with avocado and spinach are crunchy, creamy, yummy, and spicy – everything you can wish for when thinking about a filling lunch, am I right?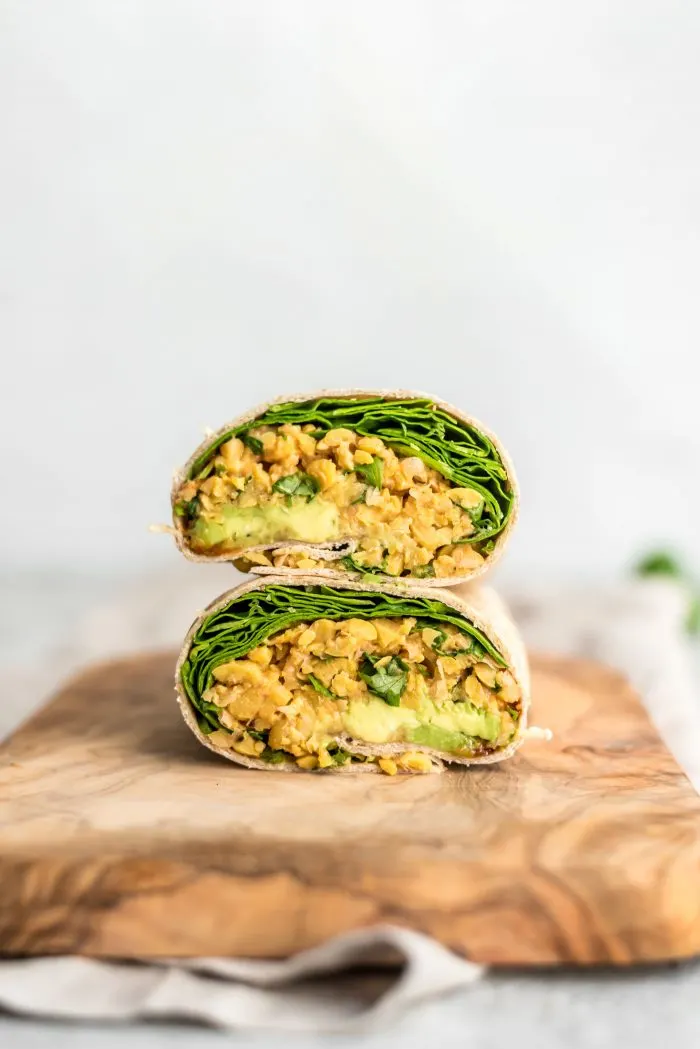 If you love some good crunch into your wrap, here's the perfect recipe for you! Tofu, beans, queso, tostadas, lettuce, tomato, creamy avocado, and whatever else you might crave. Throw them all on a wrap, fold it with another wrap and place your 'crunchwrap' into a hot skillet. That's it, the ultimate lunch will be ready in no time!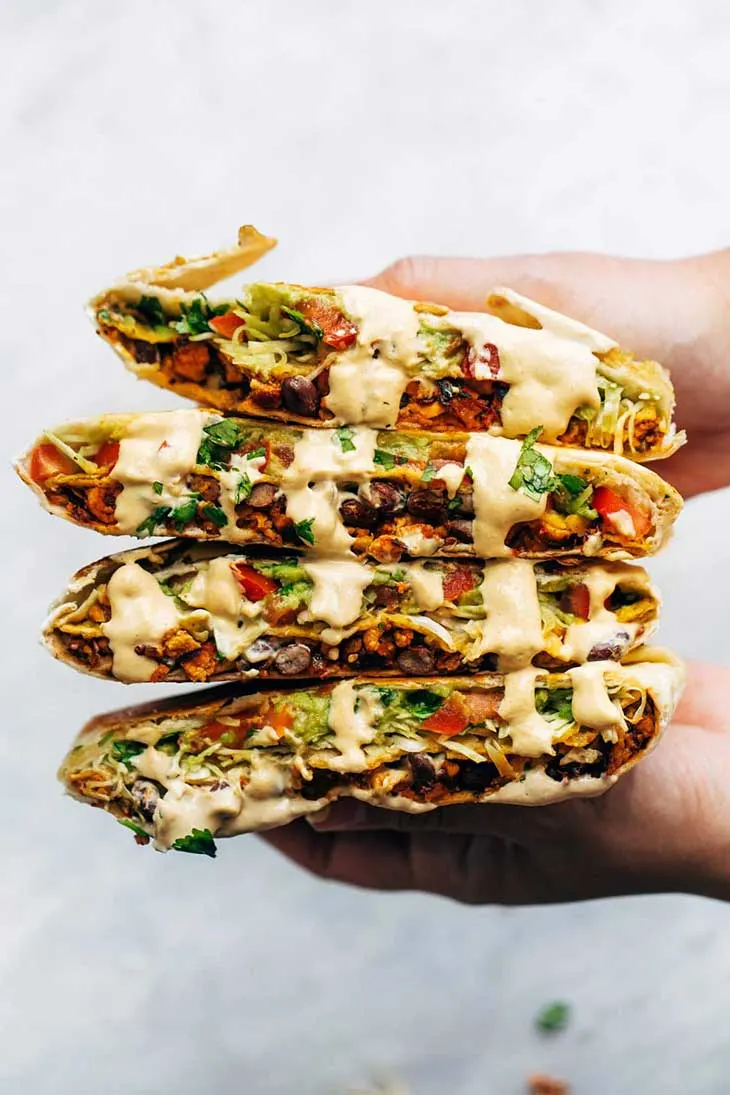 I love all types of BBQ-flavored meals, but I think these crispy BBQ tofu wraps are the ultimate combo for lunch! I invite you to think of tofu combined with cornflakes and BBQ sauce, thrown into a wrap together with your favorite veggies. Seriously, what's not to love here?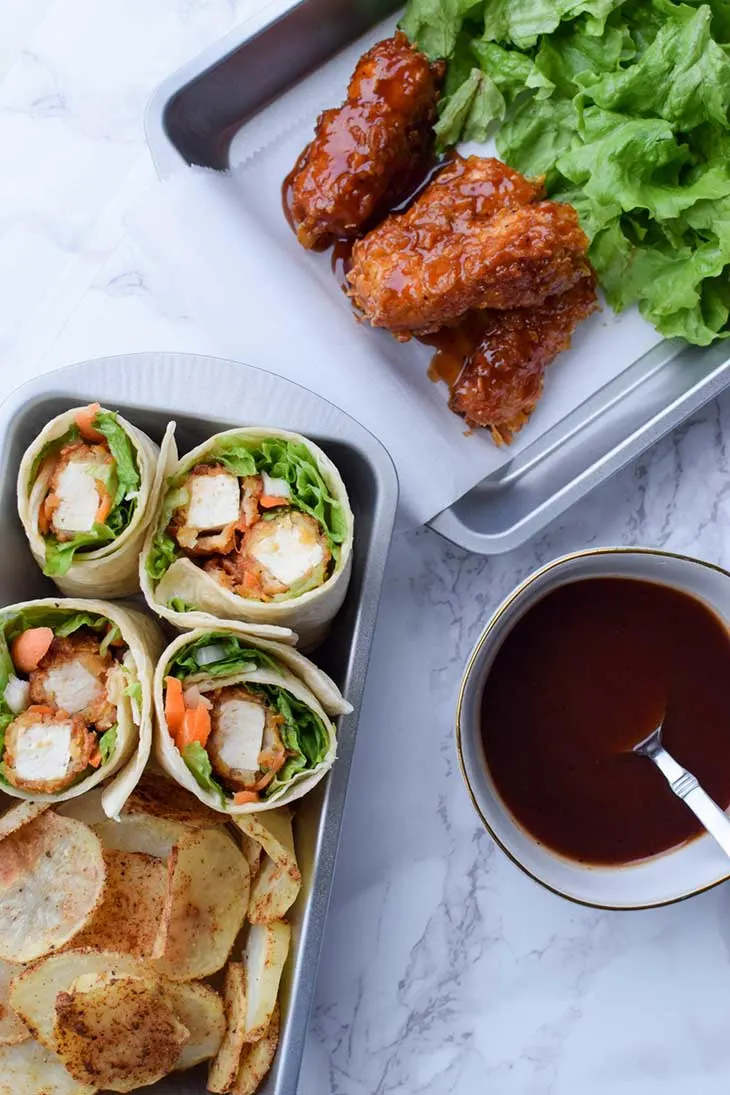 I mentioned my love for tacos many times before, and if you're craving some Mexican dishes, I urge you to try this vegan recipe! It's crunchy, it's yummy and it's bursting with special flavors. Best of all? It's extremely easy to make! 😉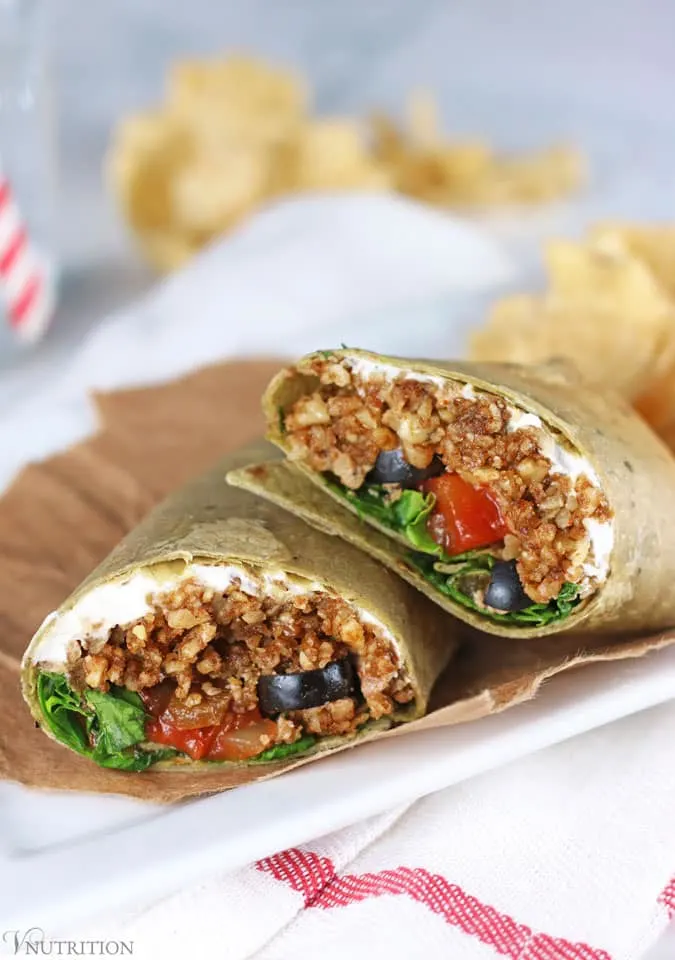 In case you never tried cauliflower as a meat replacement before, you're in for a real treat! And the best way to experience it would be this awesome vegan buffalo cauliflower wraps. To say they're super delicious would be an understatement, trust me!