Let's indulge in a fragrant roasted tomato soup with feta cheese. Healthy, quick, and extremely delicious!
Today's recipe is all about reminiscing summer with one of my last batches of fresh tomatoes. I had 1 kilo of fresh cherry tomatoes left from this summer's harvest and I thought today was the perfect occasion to put them to use. This is how this roasted tomato cream soup came to life and I can whole-heartedly say that it's one of the best soups I ate this year!
You may already know that I'm a big fan of soups – and of cream soups especially. Some of the best ones I made in the past include this Cream of Parsnip Soup, Cream of Avocado Soup, or this Cream of Vegetables Soup. All of them were yummy and filling, but this roasted tomato soup with feta cheese is… something else!
And I'm sure you can guess the inspiration behind this soup recipe, right? It's this Roasted Tomatoes and Feta Cheese Pasta, one of the recipes that became famous of Tik-Tok this summer. Everybody was testing it all around the world and I made it too. It was absolutely delicious!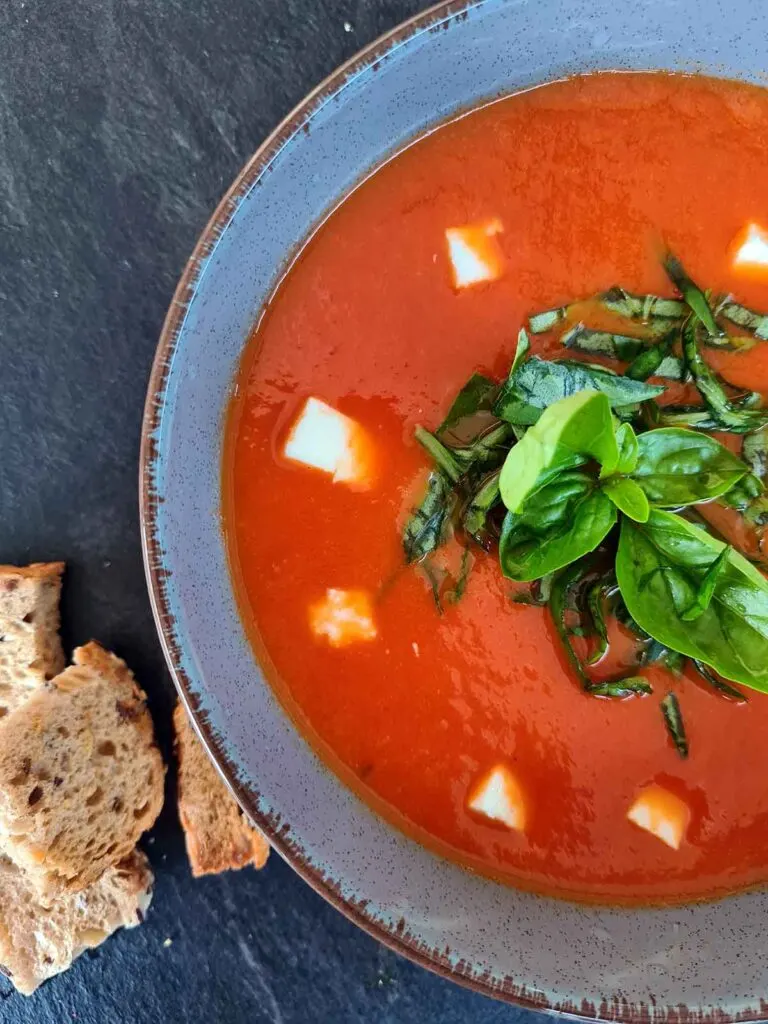 So one day, when I was just looking at the juiciness inside the pan of cherry tomatoes and feta, freshly taken out of the oven, I immediately knew that I HAVE to transform this combo into a soup – and I'm so glad I did!
If you're dreaming of making the ultimate tomato soup in the world, one of my best advice is to roast the tomatoes in the oven before putting them in the blender. This is a real game-changer that will transform a simple tomato (which can be super delicious on its own, don't get me wrong) into an entire universe of flavors.
Roasting tomatoes will give a more intense flavor and a creamier consistency, which is exactly what we're looking for in a creamy tomato soup!
And yes, this recipe is not vegan. I combined the deliciously sweet tomato taste with some salty, tangy cubes of feta cheese, which is a combo that I absolutely adore. BUT! In case you want to transform this recipe into a vegan one, you can replace the classic feta cheese with a vegan cheese alternative – or you can serve the soup with tofu cubes on top, which will be equally delicious!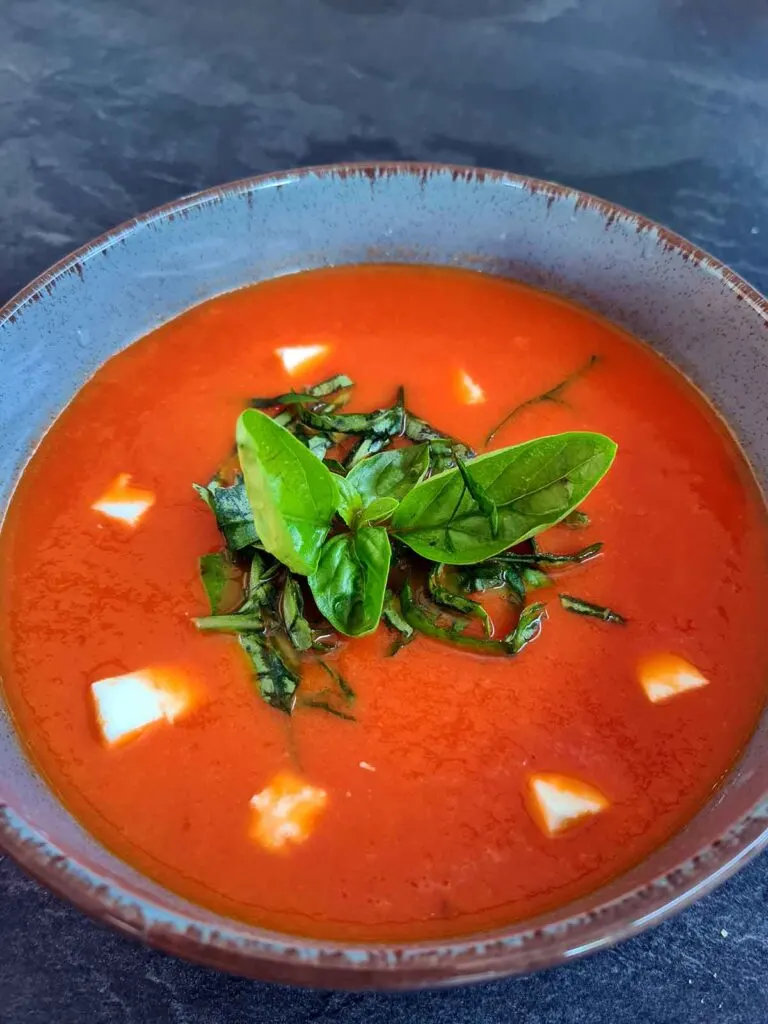 I chose to use cherry tomatoes for this recipe because they have a sweeter taste and smaller seeds, but in case you don't have them, you can use any type of tomatoes you want. All tomatoes are equally good, we don't discriminate any veggies and fruits here on Gourmandelle!
And if you want to truly indulge and forget about that diet, you can also roast a couple of bread slices in the oven and drizzle some olive oil on top. The contrast between the warm, creamy soup and the crunchy bread is one of my favorite things in the world!
Wondering if you can make this soup with canned tomatoes? Sure! After all, it's your kitchen, your rules, but I'd strongly recommend against using canned tomatoes for tomato soups. I know they're super accessible and easy to use, but trust me, the taste won't be the same!
The entire idea behind this soup is to feel the real taste of the tomatoes, which are the star of this dish, after all, right? Canned tomatoes are good, but just not the same.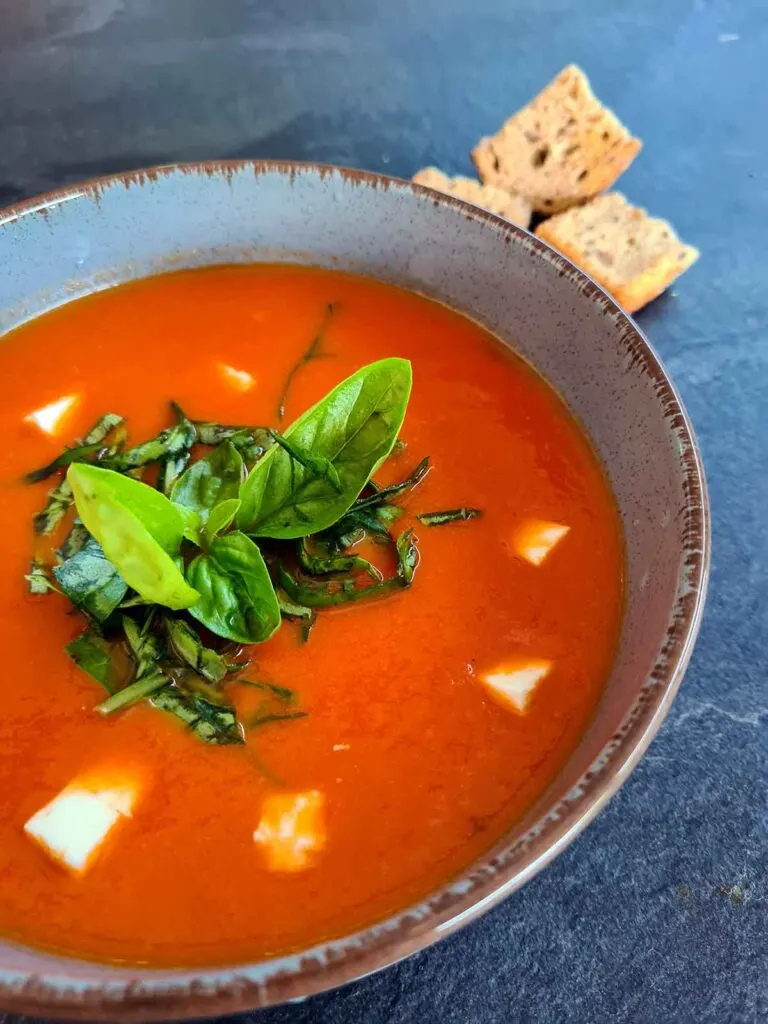 This roasted tomato soup with feta cheese can be served for lunch or dinner and you can pair it with your favorite main dish. In case you don't have inspiration, I'm sure you'll find it here on the blog if you take a look at all my recipes! Or, even better, you can also take a peek at my newest special series – What I Eat in a Day. I'm sure you'll find plenty of ideas there for quick and uncomplicated dishes that can be made any day of the week without wasting much time.
This being said, I really hope you'll try making this recipe soon – as soon as you have some fresh cherry tomatoes in your pantry. I'm sure you'll love the sweet and tangy combo of the tomatoes and feta cheese and I'm sure you'll want to eat it again and again.
Bon appetite!
Yield: 4 servings
Roasted Tomato Soup with Feta Cheese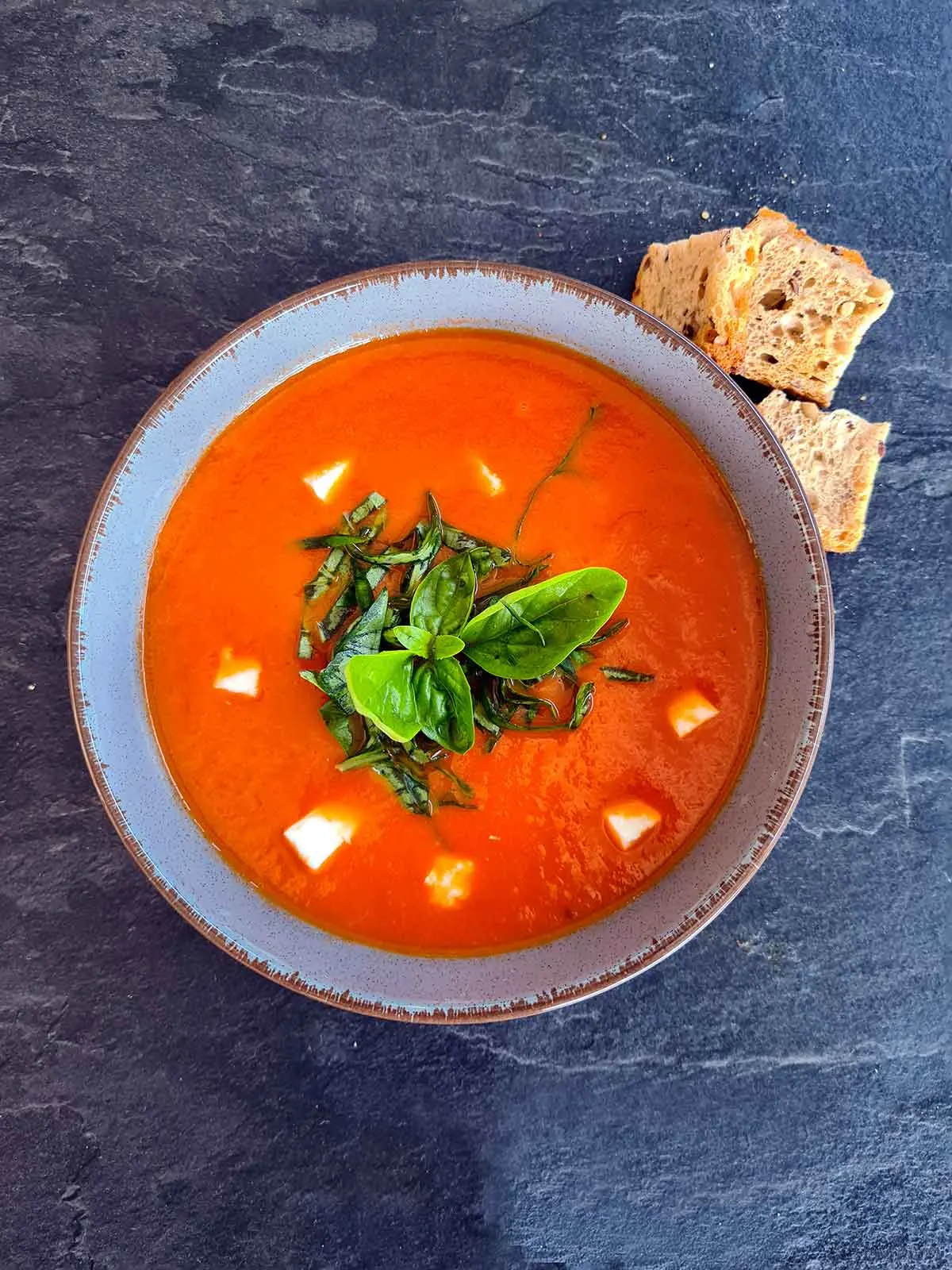 Let's indulge in a deliciously fragrant roasted tomato soup with feta cheese. Healthy, quick, and extremely delicious!
Ingredients
1kg (35oz) cherry tomatoes - you can use any other types of tomatoes you like, I prefer cherry tomatoes because they're sweeter and have smaller/less seeds
3 Tbsps olive oil
6 garlic cloves
fresh basil
salt and pepper, to taste
100g (½ cup) feta cheese, cut into small cubes
whole-grain croutons
Instructions
Put the cherry tomatoes in a large ceramic oven casserole and drizzle them with olive oil. Add the garlic and sprinkle with salt and pepper. Roast on the oven at 200C for 30 minutes.

Pour everything into a food processor and blend until smooth - for about 5 minutes.

Use a large strainer and strain the contents over a soup pot. This step will make the soup extra creamy and smooth.

Serve with feta cubes on top, croutons and fresh chopped basil leaves.
Nutrition Information
Yield
4
Amount Per Serving
Calories

148
Total Fat

13g
Saturated Fat

3g
Trans Fat

0g
Unsaturated Fat

10g
Cholesterol

7mg
Sodium

161mg
Carbohydrates

5g
Fiber

1g
Sugar

1g
Protein

3g
I strive to keep the information as accurate as possible but make no warranties regarding its accuracy. I encourage you to make your own calculations using your preferred nutrition calculator.