Give your kitchen a Filipino flavor with this vegan Filipino spaghetti recipe! Discover the vibrant flavors of this traditional Filipino dish, reinterpreted in a completely veggie-friendly version. Try it today and teleport your taste buds on the colorful streets of the Philippines.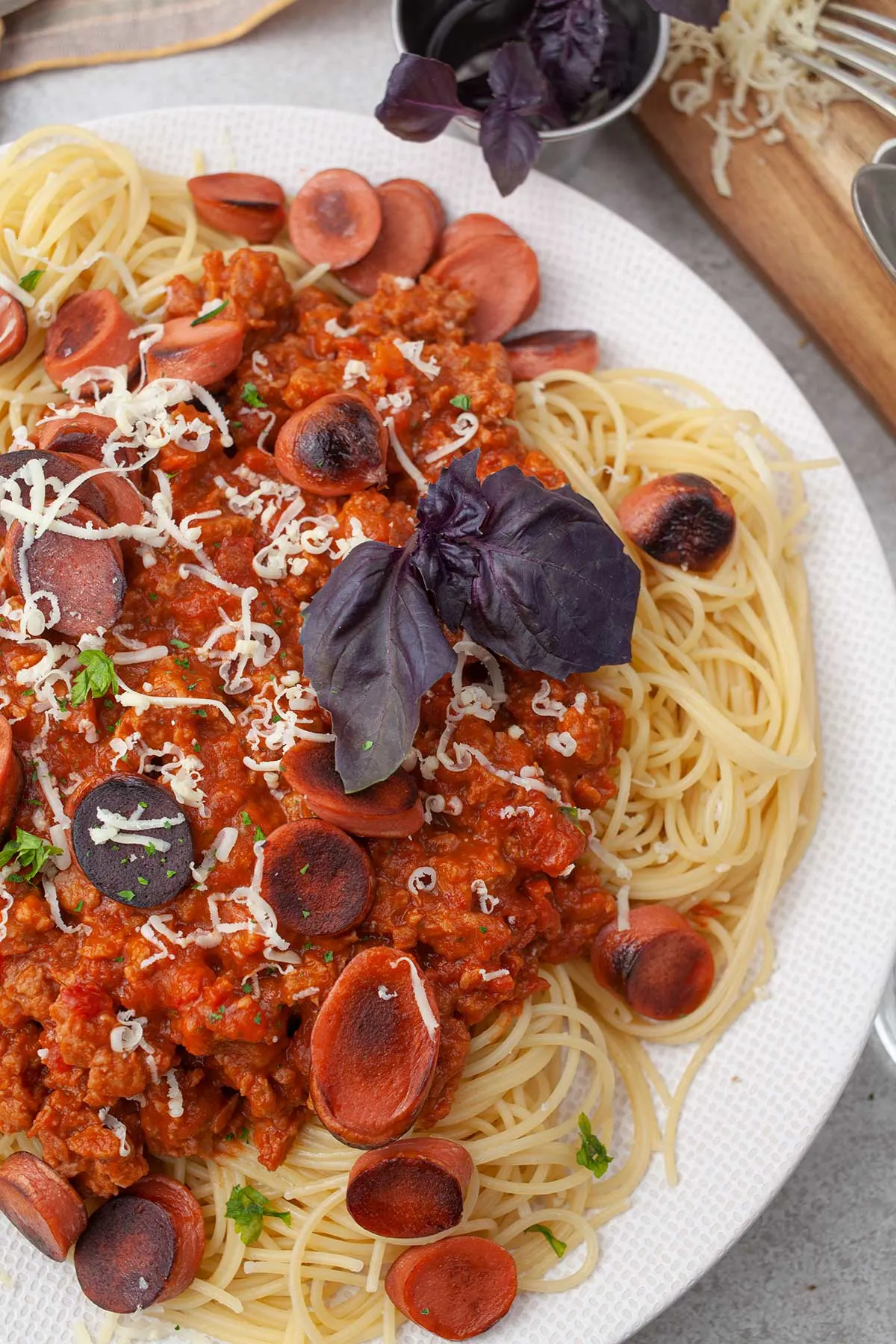 Today I want to tell you a little about the culture and the fascinating culinary traditions of the Philippines, because this wonderful country was my inspiration for this vegan Filipino spaghetti recipe.
Filipino cuisine is a fascinating mix of cultural influences, rich history and delicious ingredients and is closely linked to the cultural diversity of the islands and the contact with different civilizations. Traditional Filipino dishes combine elements from Chinese, Malaysian, Spanish and American gastronomy, creating a distinctive culinary identity.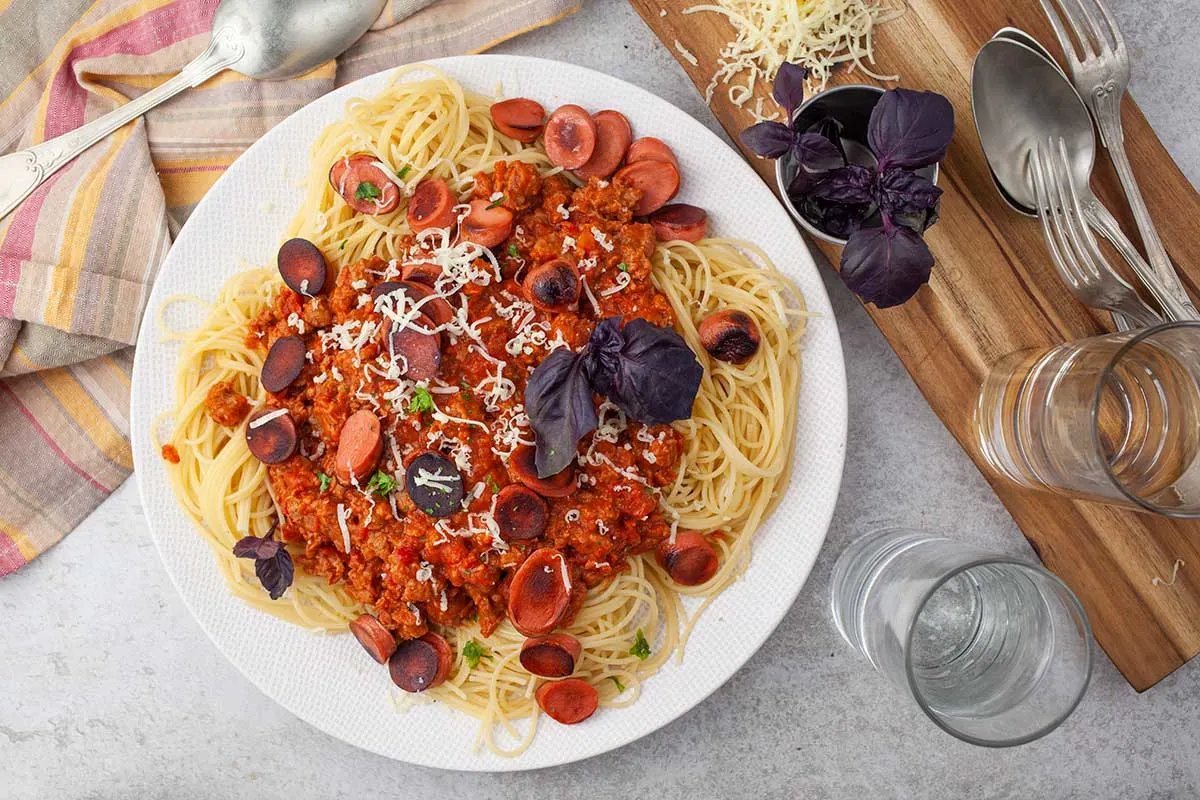 Exploring the Distinctive Characteristics of Filipino Cuisine
Cultural influences are reflected in the way Filipino food is prepared and served. Here are some of the main features of this Asian cuisine:
Rich aromas in unique combinations: Filipino cuisine is recognized for its strong and complex aromas. The generous use of spices and sauce mixes, such as adobo, sinigang or lechon, add a distinct note to each dish. Also, the foods are often both sweet and salty, with sour or spicy influences.
Use of fresh ingredients: Filipino cuisine emphasizes the use of fresh ingredients, such as seafood, meat, vegetables and tropical fruits. Due to the tropical climate, the products are often grown locally and have an authentic taste.
Diversity of dishes: Filipinos have a wide range of dishes, from basic dishes and soups to street snacks and desserts. Adobo, kare-kare, pancit, lumpia and halo-halo are just a few examples of popular Filipino dishes.
Various cultural influences: Filipino cuisine combines Spanish, Chinese, Malaysian and American culinary influences. This results in dishes with unique tastes and textures, which reflect the multicultural history of the Philippines.
Varied textures and cooking techniques: Filipino cuisine includes fried, steamed, baked or fermented dishes, which adds an interesting variety of textures and flavors to every meal.
Street food: Filipinos are known for their delicious and affordable street snacks. From balut (boiled egg with duck embryo) to isaw (chicken heart on a stick), these snacks are an important part of the Filipino culinary experience, even if they may seem extremely strange to a Westerner.
The importance of rice: Rice is the basis of the Filipino diet and is served at almost every meal. Rice dishes, such as adobo rice or sinangag, perfectly complement the main dishes.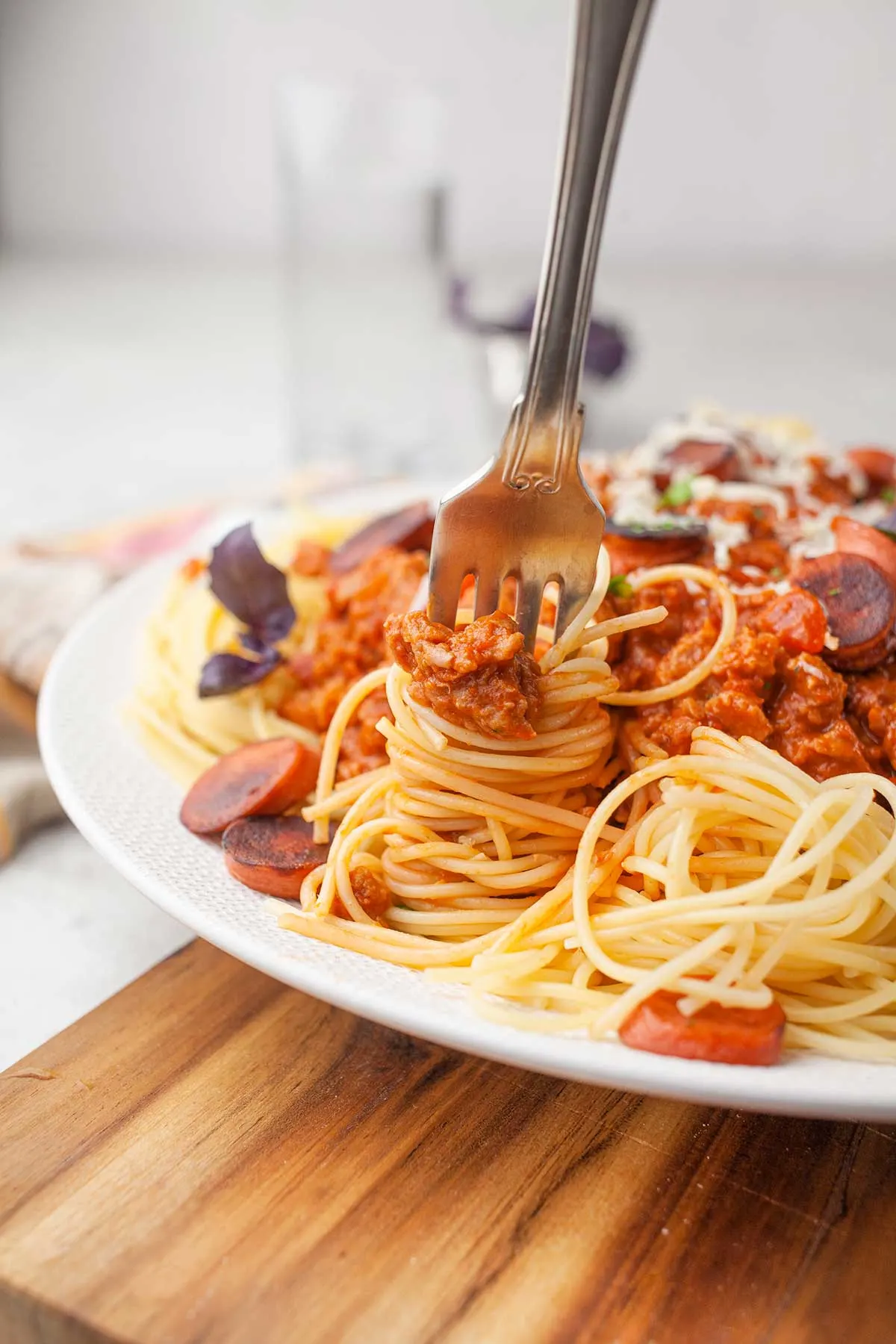 Who invented Filipino style spaghetti?
Filipino-style spaghetti is believed to have been influenced by the American spaghetti, but it has evolved into a unique and distinct dish in the Philippines. The dish dates back as early as the 1940s to the 1960s. General Douglas MacArthur was served an improved version of the Japanese Neapolitan, thus resulting in this sweet spaghetti recipe. Since then it has become a popular and beloved dish in Filipino cuisine, showcasing the fusion of local and international flavors.
What is Filipino spaghetti called?
Filipino spaghetti is also known as Jolly Spaghetti and McSpaghetti. Its unique feature is the combination of the sweet and spicy banana ketchup sauce with sliced hot dogs.
Why do Filipinos eat spaghetti on birthdays?
Did you know that filipinos eat spaghetti on birthdays because they believe that the long noodles symbolize long life and good luck, making it a customary dish for birthday celebrations. Filipinos embrace the idea of incorporating meaningful symbols and traditions into their festivities, and spaghetti has become a cherished part of birthday traditions, bringing joy and good wishes to the celebrant. I love this!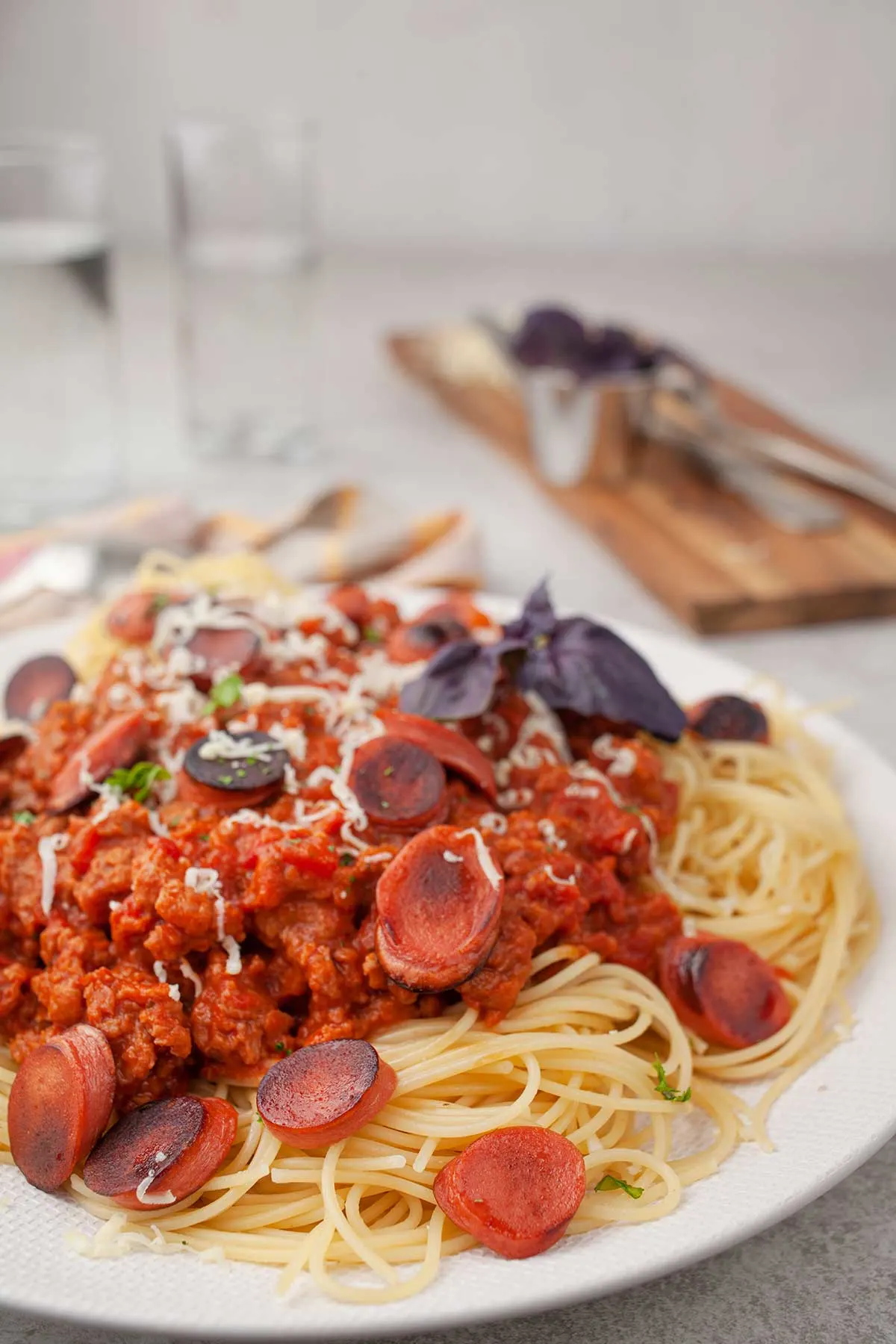 Transforming Filipino Recipes into Vegetarian/Vegan Delights: A Meat-Free Twist
In the case of this Filipino spaghetti recipe, American and Asian influences are harmoniously combined. The taste can be slightly unusual for a European, being slightly sweet, but I was delighted! I chose to make the vegan version using meat substitutes.
With the help of small adjustments, you can transform traditional Filipino recipes into delicious and vegan options. For example, if a recipe calls for meat, you can use vegan substitutes such as textured vegetable proteins, tofu or tempeh. These ingredients absorb the wonderful flavors and sauces of Filipino cuisine, adding texture and flavor to the dishes.
You can also experiment with vegetables and aromatic herbs specific to Filipino cuisine, such as achiote (annatto), calamansi (small and acidic fruits) or patis (fish sauce) in vegan versions. Replace fish sauces with flavorful vegetable sauces, such as soy sauce or tamari sauce.
I hope these tips will inspire you to try Filipino cuisine in its vegan version and discover new culinary delights.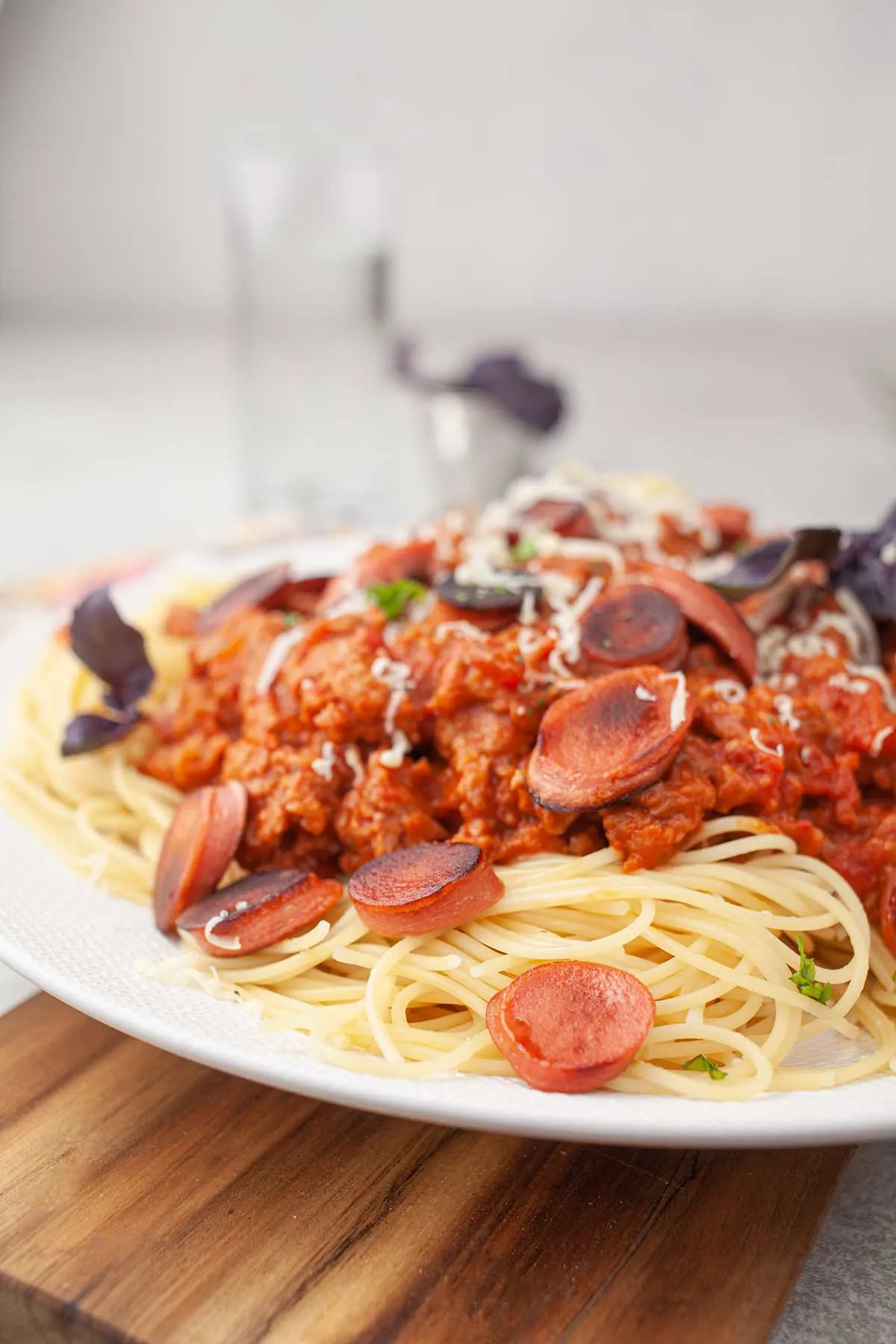 Yield: 6
Filipino Spaghetti Made Vegan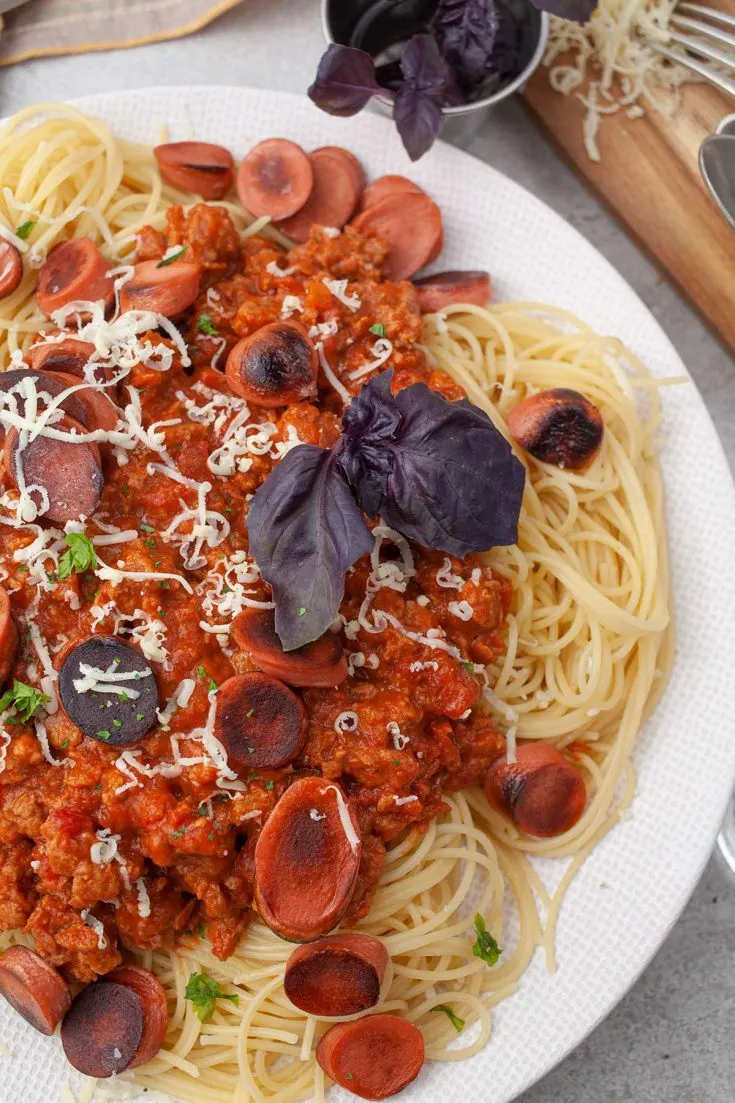 Give your kitchen a Filipino flavor with this vegan Filipino spaghetti recipe! Discover the vibrant flavors of this traditional Filipino dish, reinterpreted in a completely veggie-friendly version. Try it today and teleport your taste buds on the colorful streets of the Philippines.
Ingredients
400 g spaghetti
1 tablespoon of olive oil
4 vegan hotdogs
1 small onion, chopped
2 cloves of garlic, chopped
1 red bell pepper, finely diced
400 g vegan minced "meat"
400 g canned tomato sauce
100 ml vegetable stock or water
1 teaspoon maple syrup
½ teaspoon salt
½ teaspoon pepper
4 tablespoons vegan grated cheese
Instructions
Slice the vegan hotdogs. In a frying pan, on medium heat, fry them for 1-2 minutes on each side and transfer them to a bowl.
Leave the pan on the stove, add the oil and when it is hot, add the onion, garlic and bell pepper. Sauté the vegetables until soft, 4-5 minutes, stirring frequently.
Add the vegan minced meat, and crumble it with the help of a wooden spoon or spatula, as you cook.
Cook it, stirring until it darkens in color, then add tomato sauce, banana ketchup, stock/water, ketchup and maple syrup. Cook until the liquid evaporates and the sauce thickens.
Cook the spaghetti according to instructions on the package.
Serve the spaghetti on a large plate, top with the sauce, chopped chives and sprinkle with vegan cheese and other herbs of your choice.
Nutrition Information
Yield
6
Serving Size
1
Amount Per Serving
Calories

484
Total Fat

26g
Saturated Fat

9g
Trans Fat

1g
Unsaturated Fat

13g
Cholesterol

83mg
Sodium

907mg
Carbohydrates

35g
Fiber

3g
Sugar

9g
Protein

28g
I strive to keep the information as accurate as possible but make no warranties regarding its accuracy. I encourage you to make your own calculations using your preferred nutrition calculator.