In case you want to experiment with veganizing recipes, here's where you start! In this list, you will find 20+ best vegan versions of popular meat-based meals. From bacon to salmon and pulled pork, this list has everything!
When you think about it, there are tons of vegan recipes out there. In fact, a lot of them are actually inspired by non-vegan dishes! But how do you know if a recipe can be easily veganized? Or more importantly, how do you make the switch from animal products to plant-based ones?
Well my friends: I'm here to help. Today we're going over some tips on how to swap meat for veggies in your favorite meals. And yes — it's easier than you think! 🙂
Truth be told, not all recipes can be veganized, but 99% of them can. If I was able to make a vegan rack of lamb or a vegan fish and chips, I'm sure by now that almost nothing is impossible! 🙂 Veganizing a recipe is a great way to make your favorite dishes healthier, reduce your carbon footprint and even save some money.
One of the great things about vegan cooking is that it's super adaptable. If you've got a favorite recipe, you can usually easily tweak it to become veggie or vegan. Here's how!
How to veganize recipes
Here are some general rules and suggestions to keep in mind:
Use animal-based meat substitutes like tofu, tempeh, or seitan. They're high in protein and work well in recipes where you'd normally use meat like stews, soups, chili, and casseroles.
Textured soy protein works especially well in recipes that call for ground meat. You can also use beans or legumes such as lentils or black beans as part of your dish (for example for tacos or chili).
You can also try using jackfruit as a vegan meat substitute. Just cut up the fruit into chunks before cooking with them!
If you want to add some texture and cheesiness to your dish but don't want any extra fat or calories on your veggies, try sprinkling them with some nutritional yeast instead – it's packed full of B vitamins so will give you energy too!
Replace cow's milk with nut milk such as almond milk. You can also make homemade versions – see here how: 10 Nut Milk Recipes You Can Make At Home
Use vegan alternatives to dairy products. Cheese is easy enough: some cheeses are already available in dairy-free versions that taste just like their traditional counterparts. If you want to make your own cheese substitute, you can do so with cashews or other nuts (find my step-by-step recipes in the list below).
Use coconut oil instead of butter or lard in baked goods.
Use vegan alternatives to eggs when baking things such as cookies or cakes. Flaxseed meal mixed with water can be used instead of whole eggs, as well as coconut oil for buttery doughs such as shortbread cookies. You can also try using silken tofu instead of egg whites for binding ingredients together when baking.
Tips for veganizing recipes
And here are some of my personal tips, after years of experimenting with veganizing recipes:
Always follow the instructions, especially if you're just beginning your vegan journey! Most recipes only require swapping the meat or dairy with a vegan substitute, but some of them are definitely more complex than that.
Take your time. Veganizing a recipe is not something that happens overnight — there's a lot of trial and error involved, so give yourself time to figure out what works best for you.
Get creative with ingredients. The best way to learn how to veganize recipes is by experimenting with different ingredients until you find what works best for your needs (and tastes!). There are some great resources online that can help guide your journey as well – including this article right here! 🙂
Whether you're an experienced vegan or a total newbie, it can be intimidating to veganize recipes that call for meat. However, it's much easier and more doable than you might think! With the right ingredients and tools, you can be on your way to making delicious vegan meals in no time!
And in case you need some recipe inspiration, scroll down to find my best vegan versions of popular meat-based meals. All of the recipes below are healthy, yummy, and very easy to follow.
Veganizing Recipes | Popular Meat-Based Meals Made Vegan
Links to full recipes are in each recipe title.
Nothing is impossible when it comes to being vegan, not even enjoying bacon! Yup, you read that right – here is how you can make vegan bacon in 5 different ways.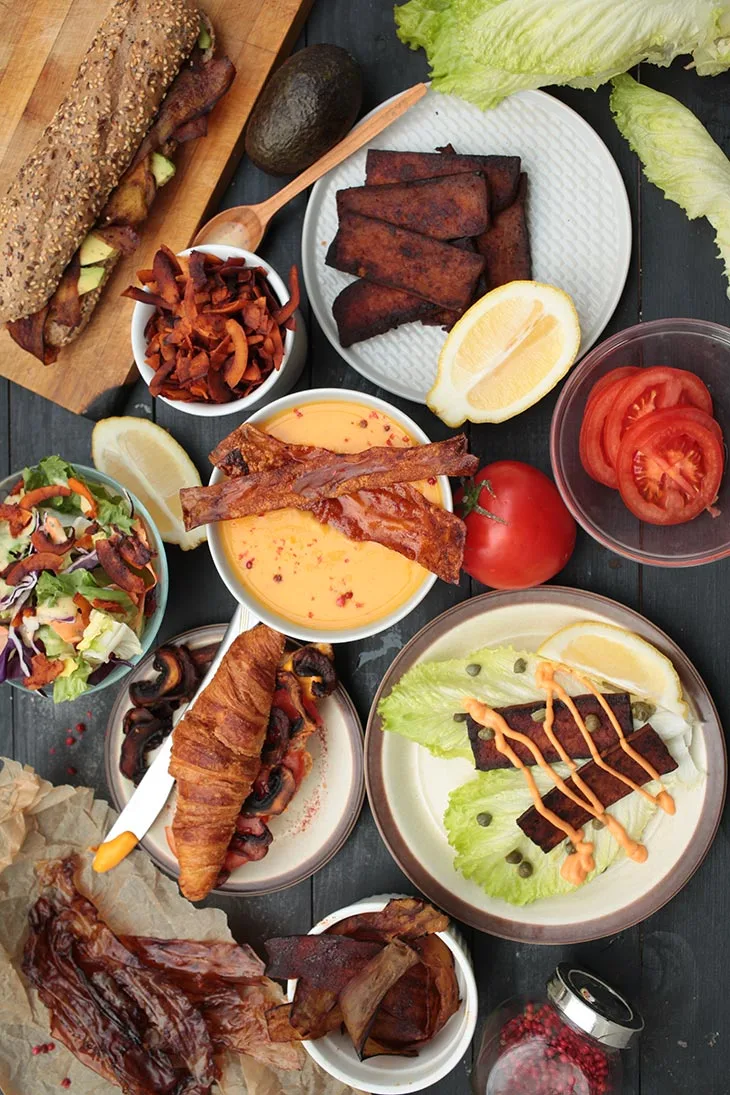 If you crave a delicious, healthy, no-gluten vegan steak, this is the recipe you'll want to make! It has a great texture and delicious barbecue steak taste!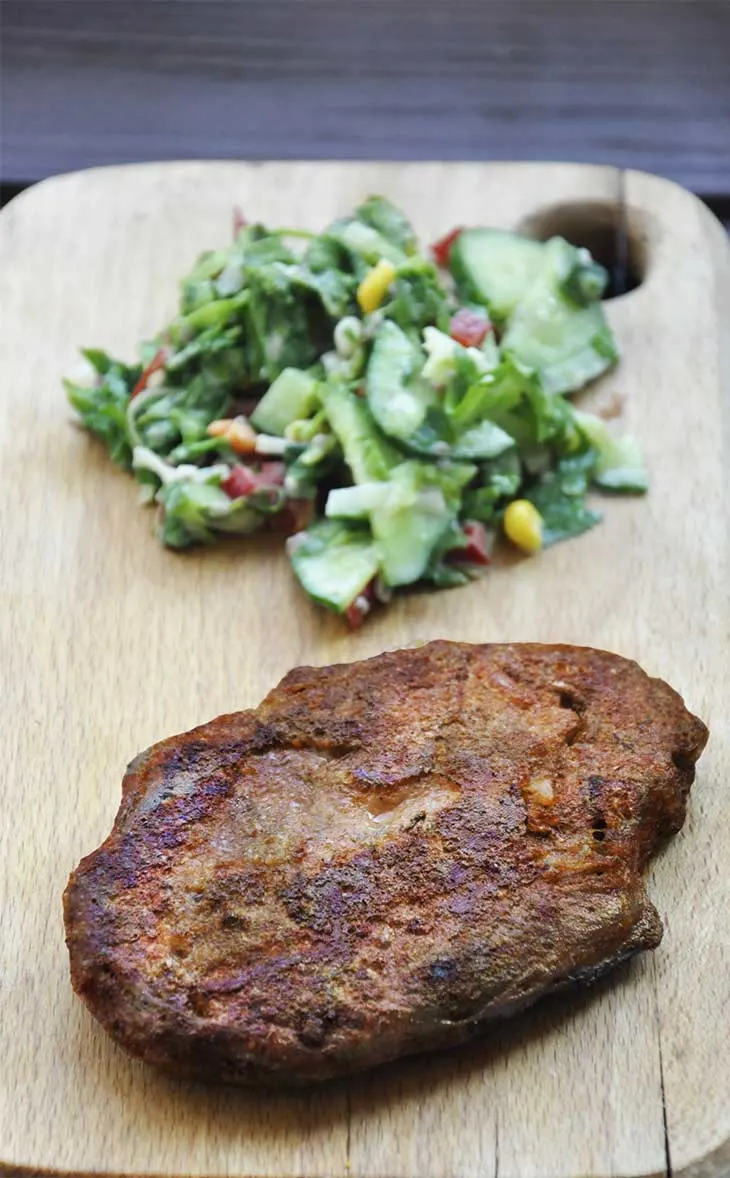 How to make stretchy vegan mozzarella cheese | Tastes like cheese, looks like cheese and melts like real cheese! Plus, it's budget-friendly and healthy!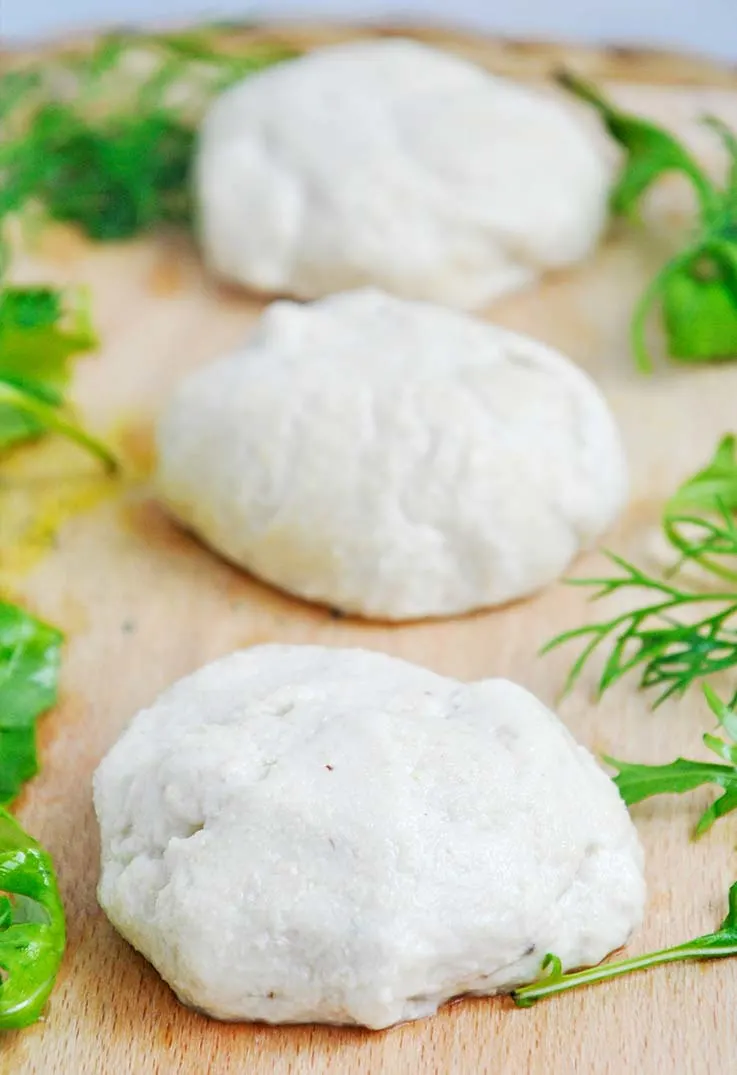 Yes, you can make vegan rack of lamb for Easter! Check out this step by step recipe and make a delicious, cruelty-free, gluten-free, vegan rack of lamb that actually looks and tastes like the real thing!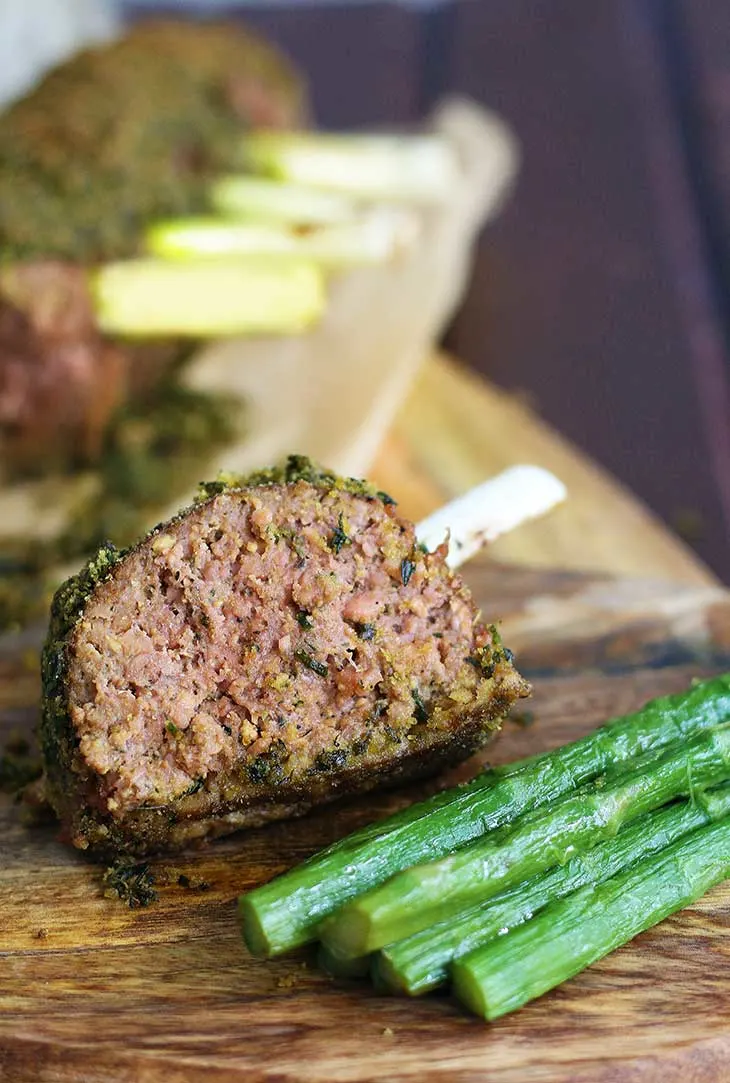 In need of a quick fix? Here's how to make faux tuna salad – simple, healthy and super yummy, you won't even believe it!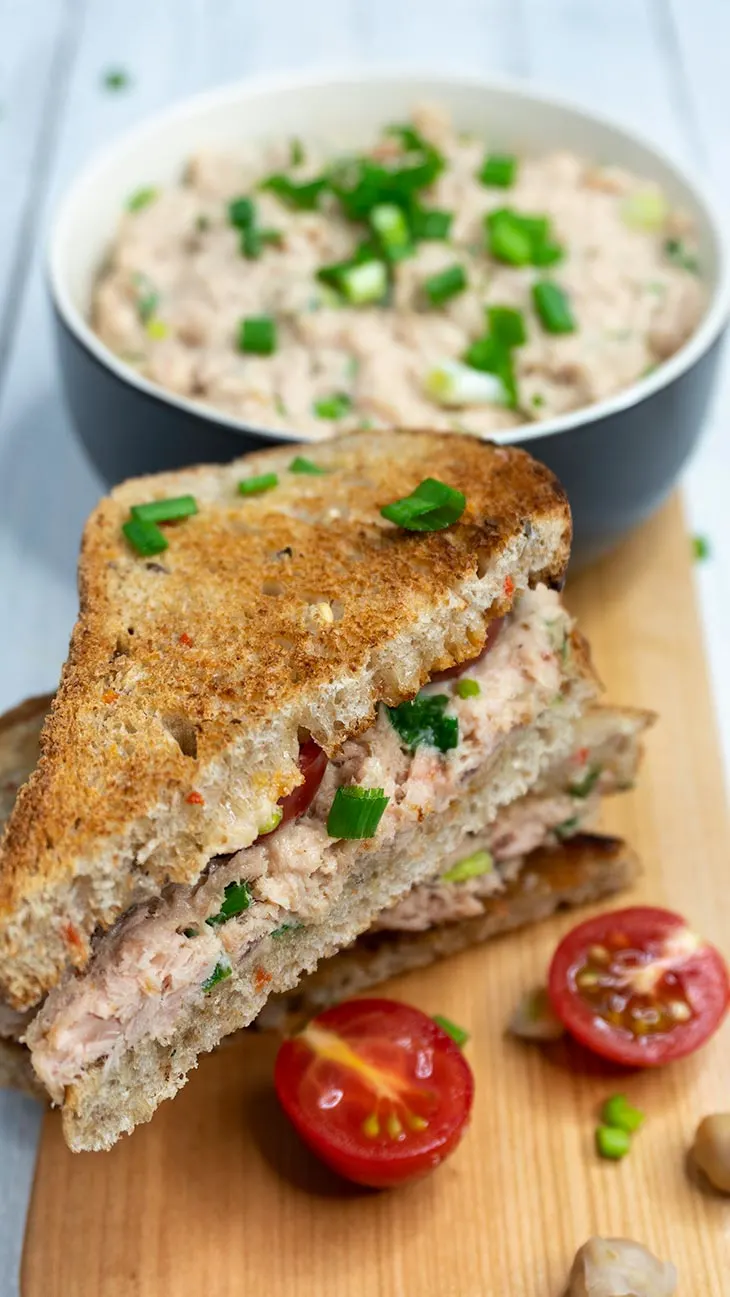 Are you in the mood for a finger-licking good dish? Here's how to make the absolute best vegan Teriyaki wings! Simple, quick, and extremely yummy!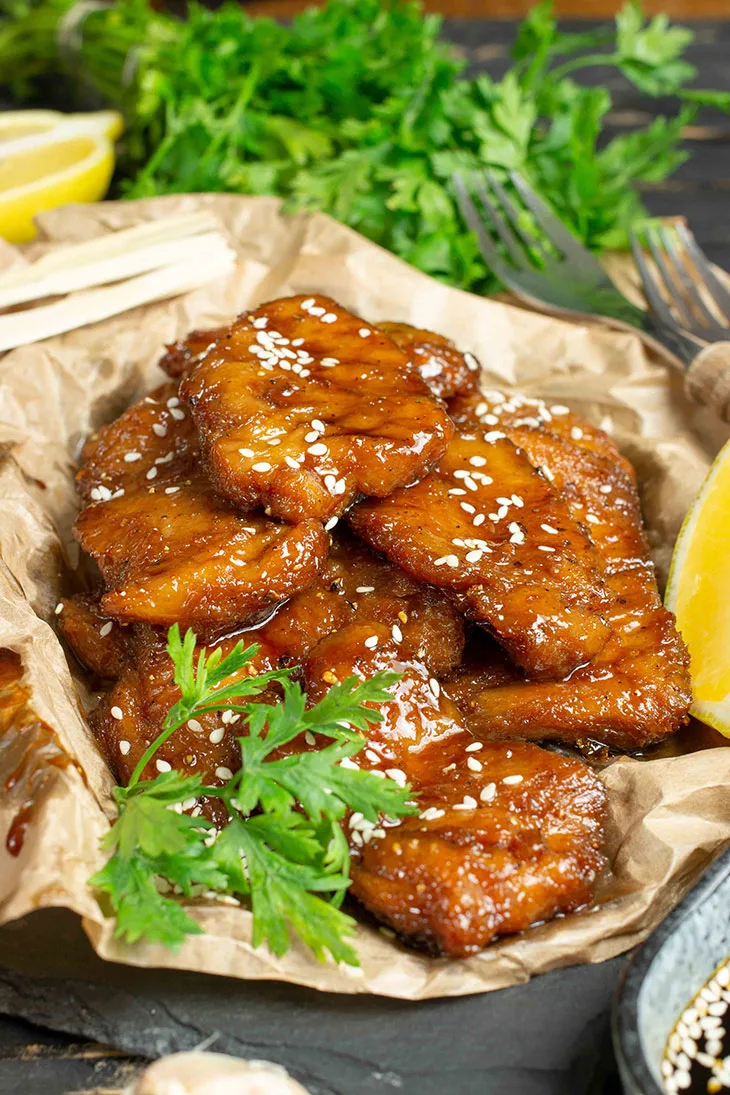 When people think of comfort food, they immediately imagine a plate of fish and chips – and with good reason! Learn how to create the most delicious vegan fish and chips using this recipe – quick, healthy and super tasty!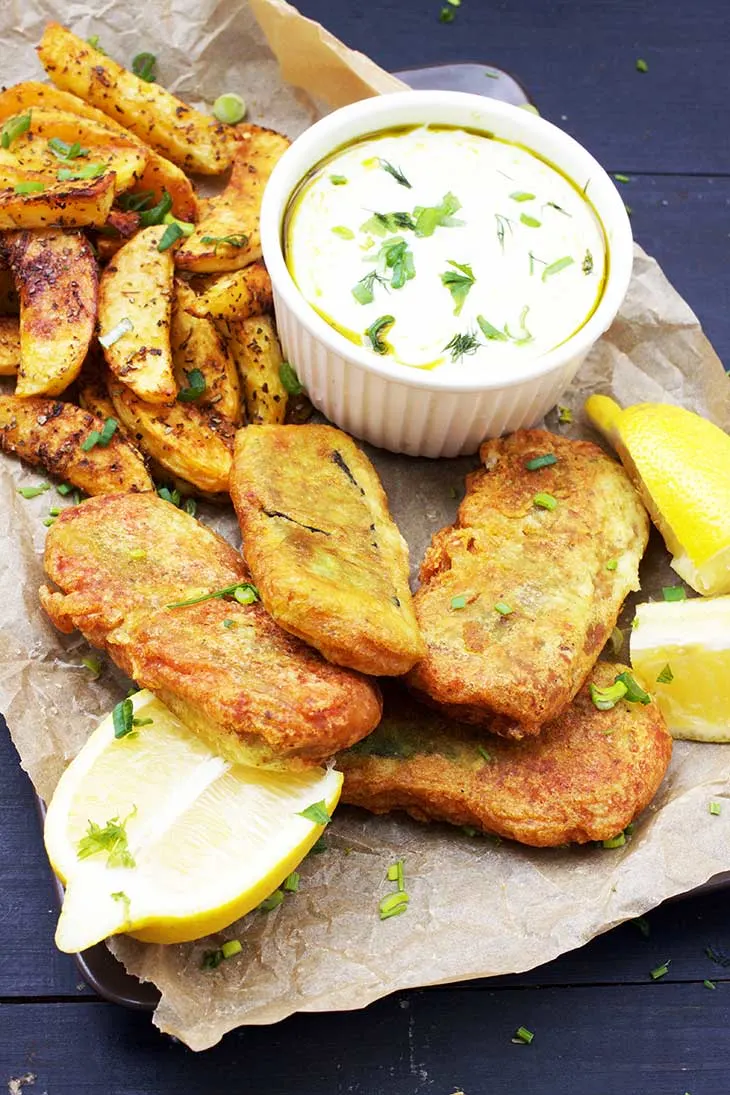 Sounds crazy, but it can be done! Let's learn how to make vegan salmon using two different recipes that will help you achieve the same taste, texture, and versatility as real salmon! Give it a try!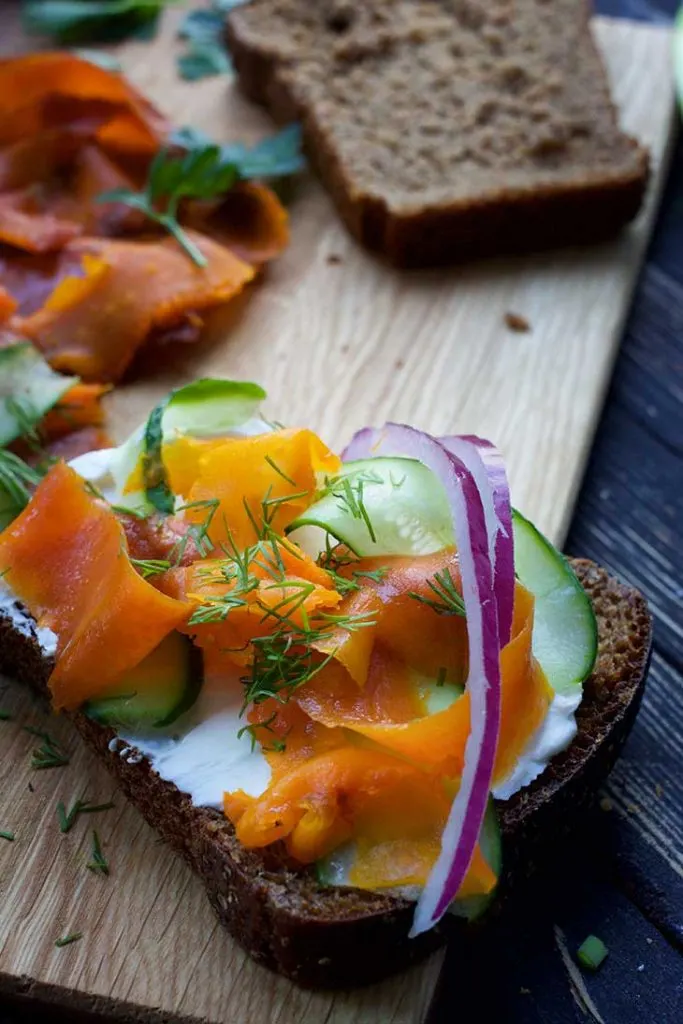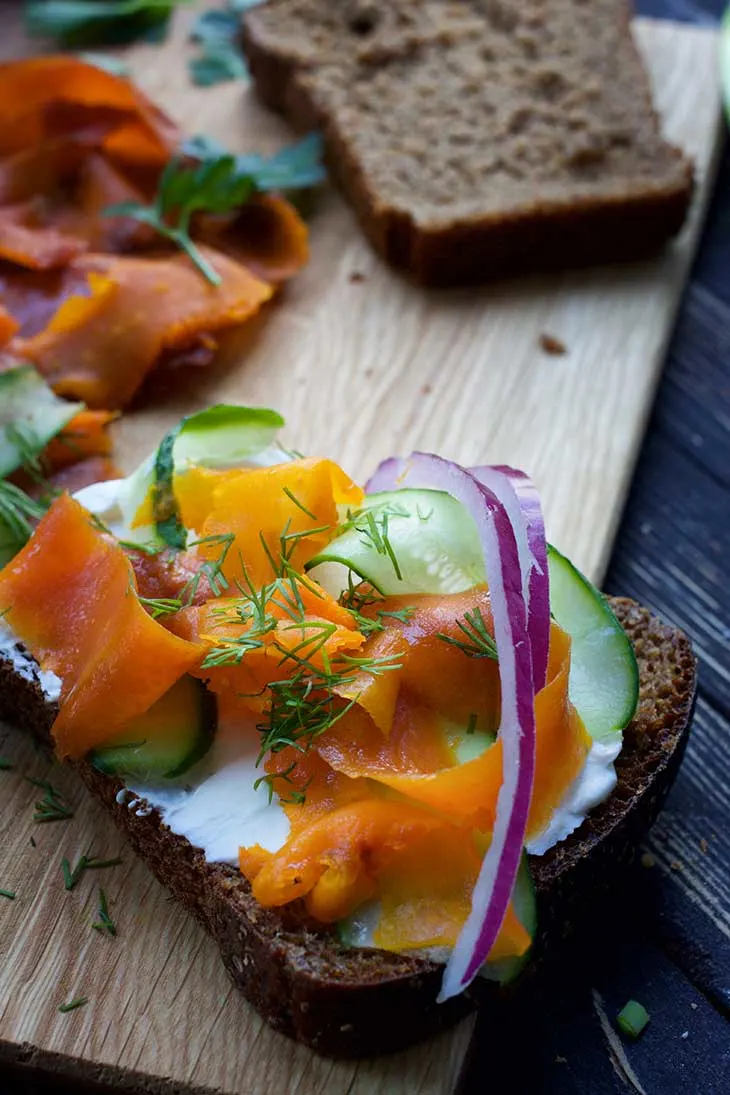 In the mood for some good ol' chicken nuggets? Why not try the healthy version? This is how to make the ultimate chick'n tofu nuggets – super tasty and quick!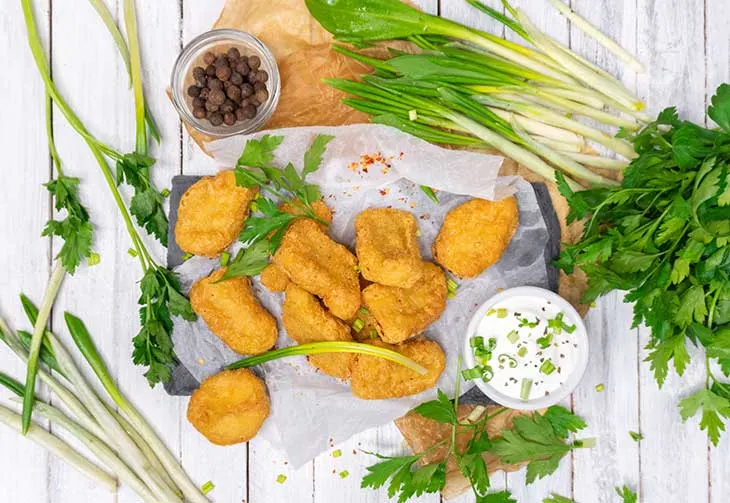 You won't believe how incredibly similar this vegan beef bourguignon is to the original French recipe! Give it a try and enjoy a delicious, comforting French stew recipe.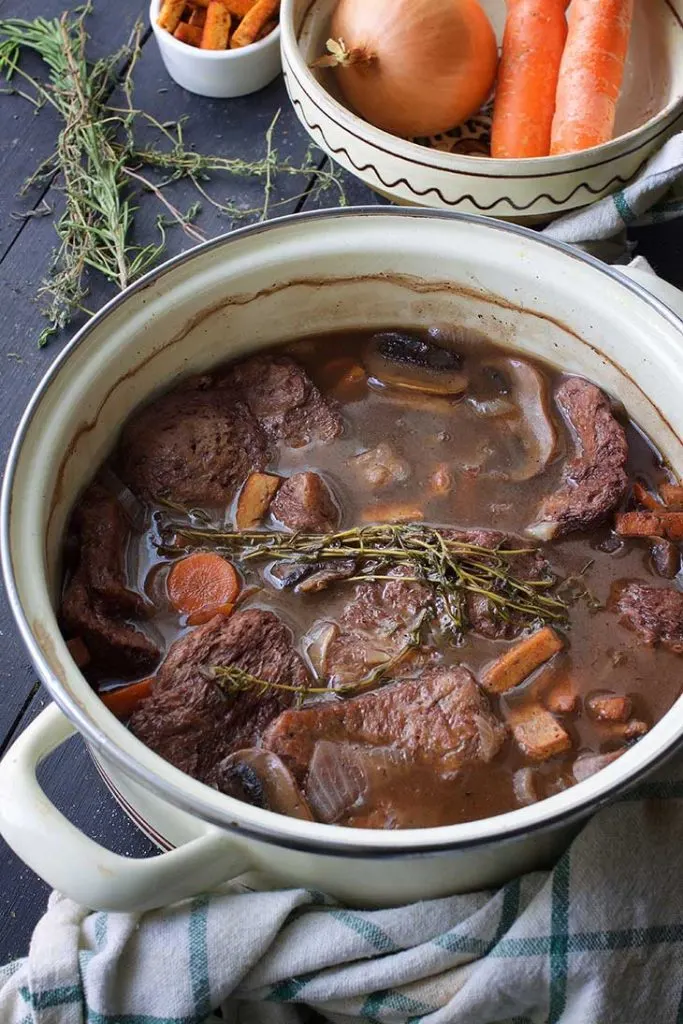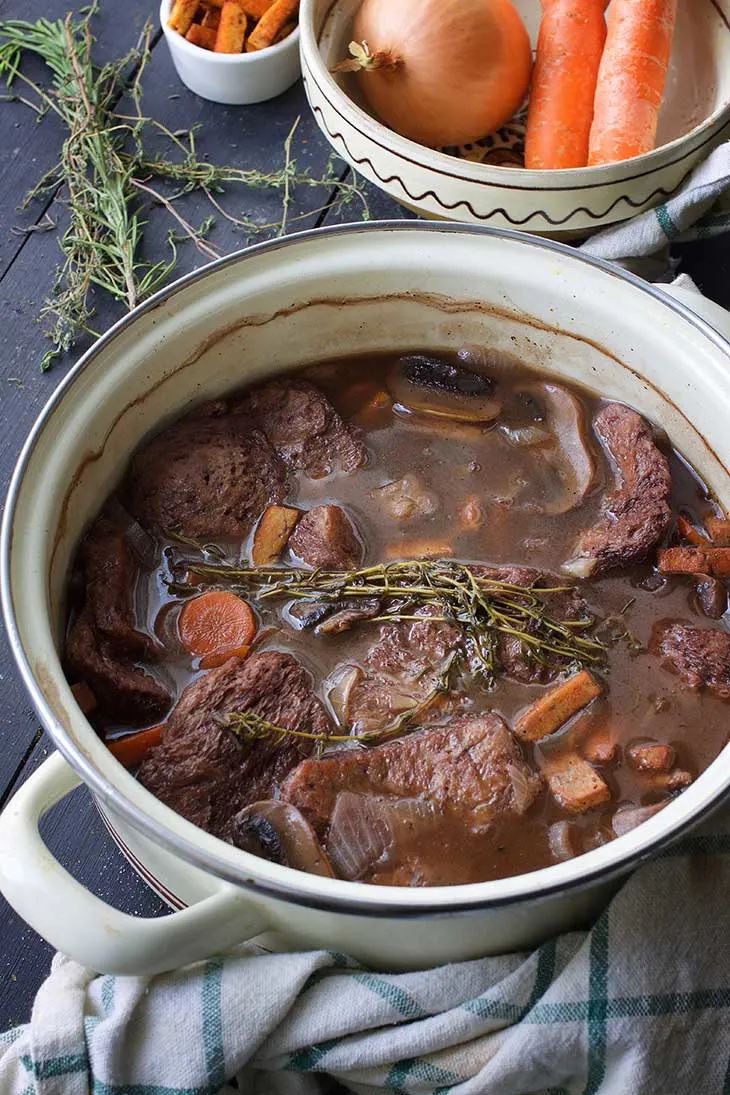 This is the best vegan pulled pork burger recipe you'll ever make! Made with no exotic and expensive ingredients, just with simple, affordable foods.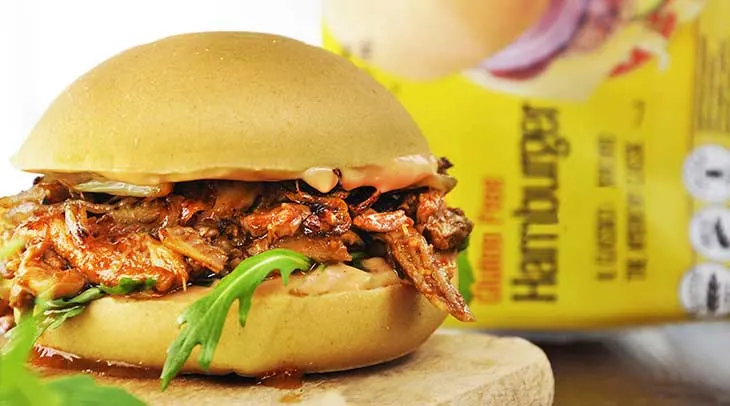 Here's how you can make vegan scallops that look and taste like real scallops! This recipe is so much easier than it looks and tastes amazing!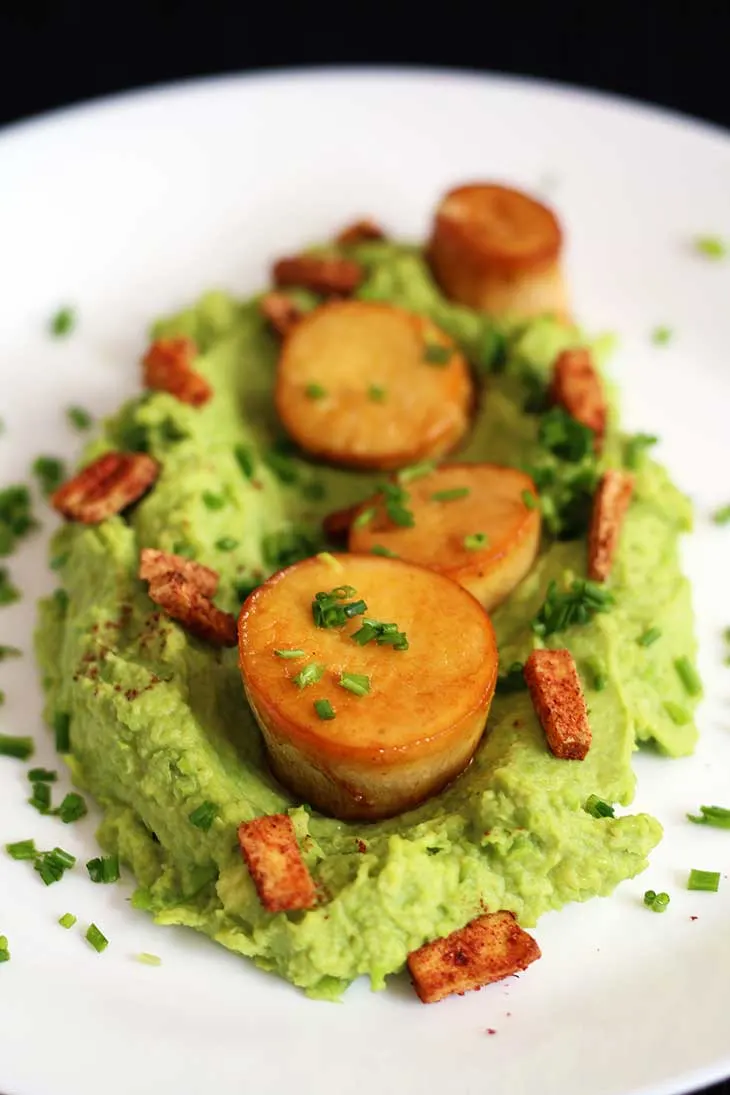 Try these vegan minced meat rolls for your next picnic or vegan barbecue and impress even your non-vegan friends! This popular Romanian recipe turned vegan will surely become your favorite!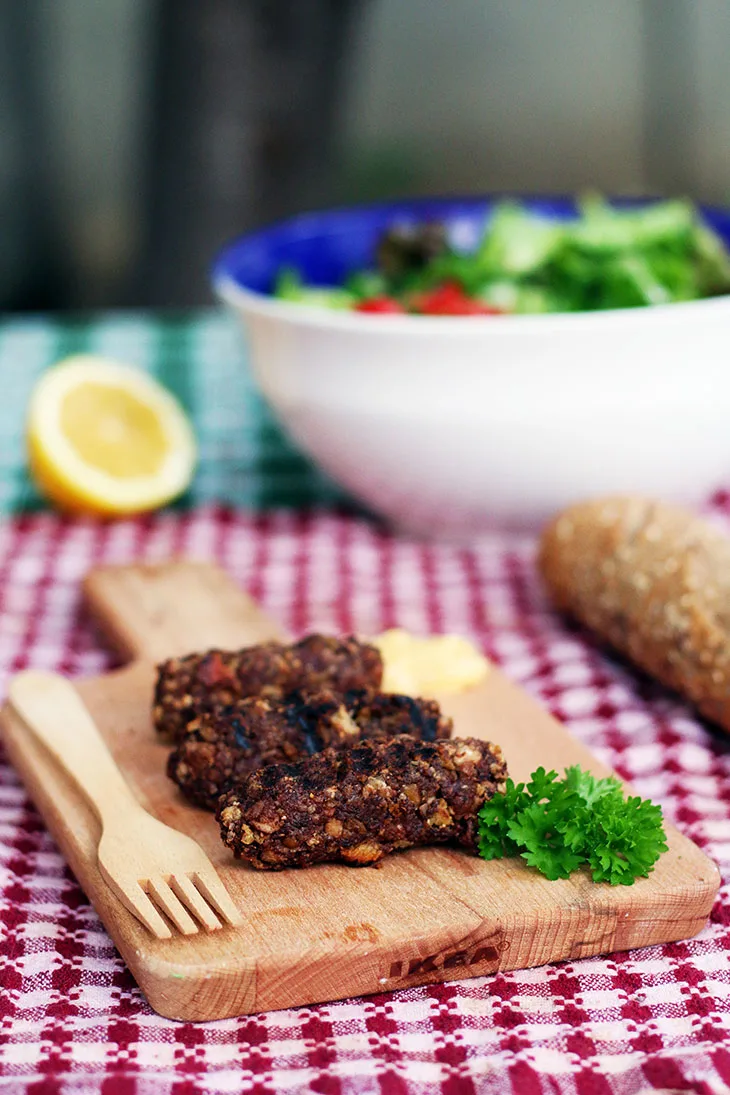 Are you in the mood for some comforting Mexican dishes? Then you have to try this veggie taco bowl full of amazing flavor. Needless to say, it's super healthy!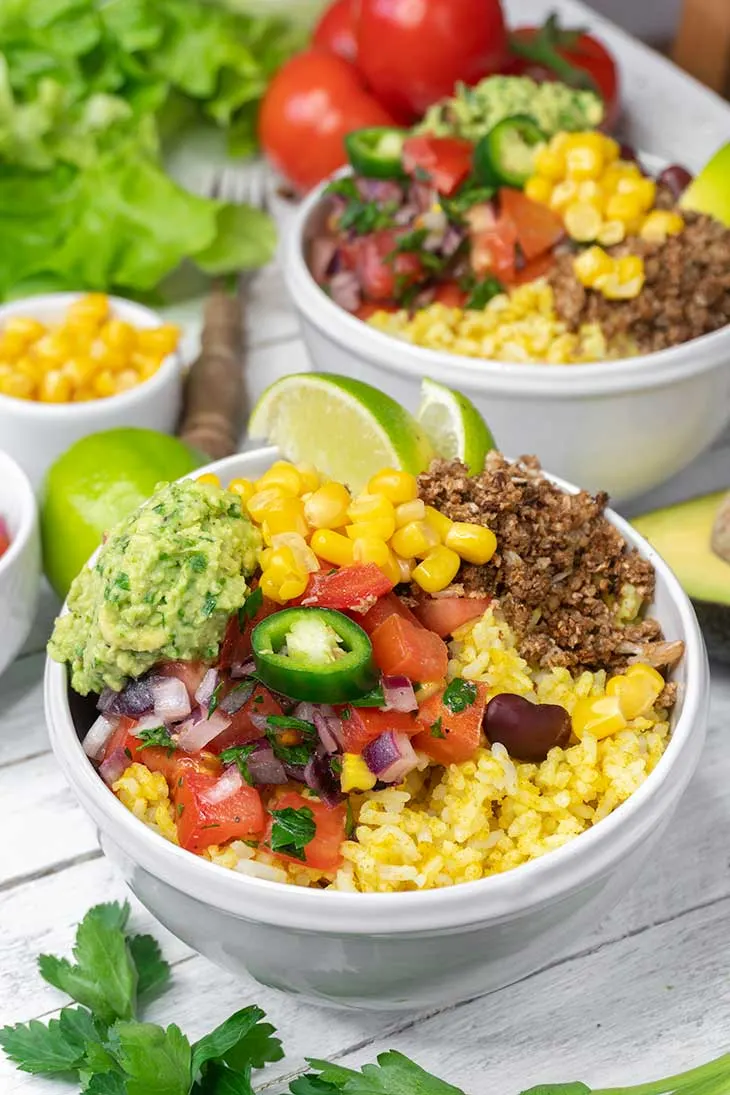 Craving chili? Try this vegan Chili Con Carne (or Chili Sin Carne) recipe that's full of flavors, comforting and filling.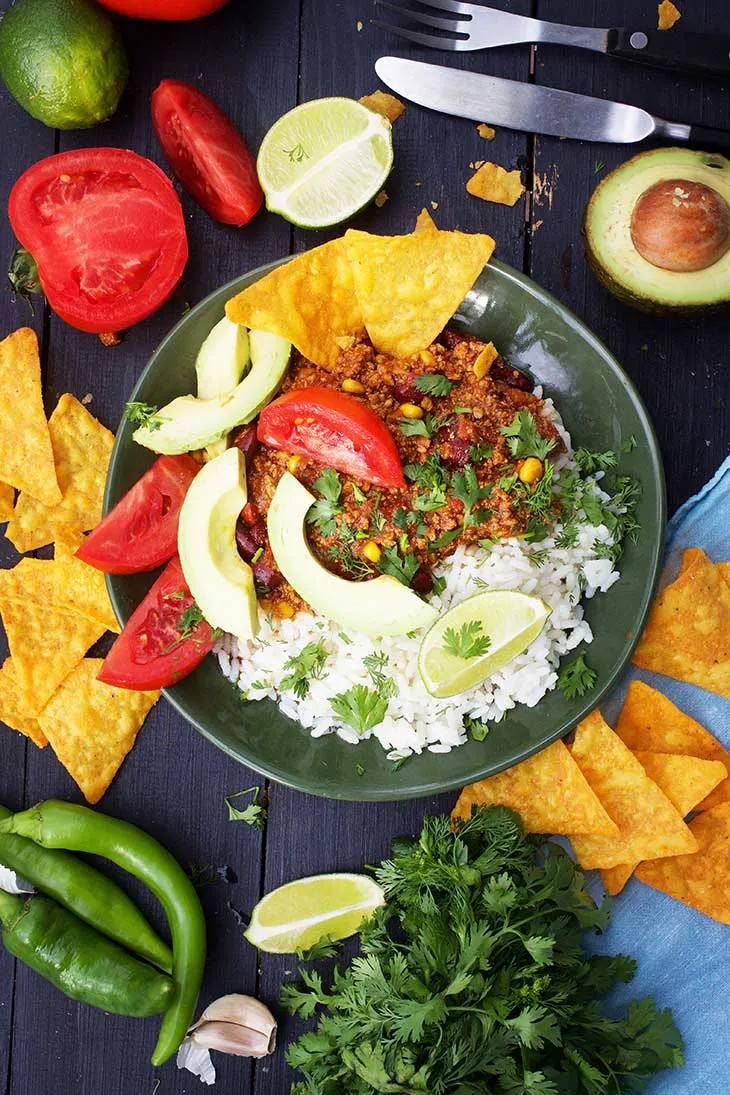 Learn how to make the most delicious vegan Swedish meatballs using this easy recipe. Enjoy a comforting, healthy and high-protein vegan meal, perfect for the whole family.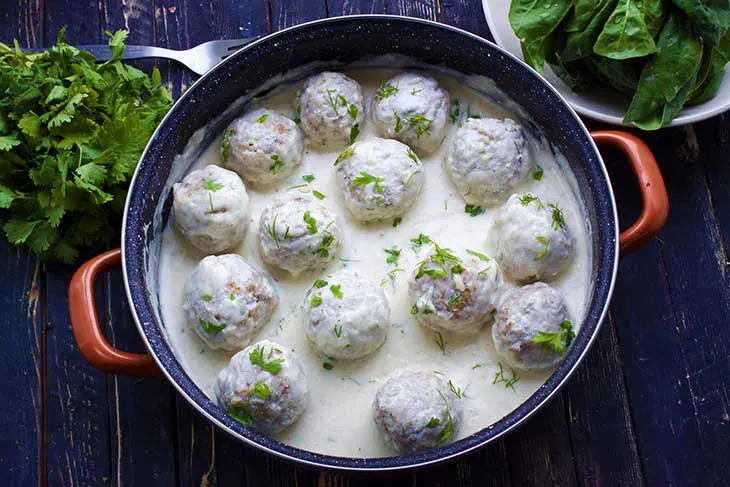 This is the easiest and quickest vegan Bolognese pasta recipe you can make, plus the vegan Bolognese sauce has a very similar texture to the traditional, meat-based recipe!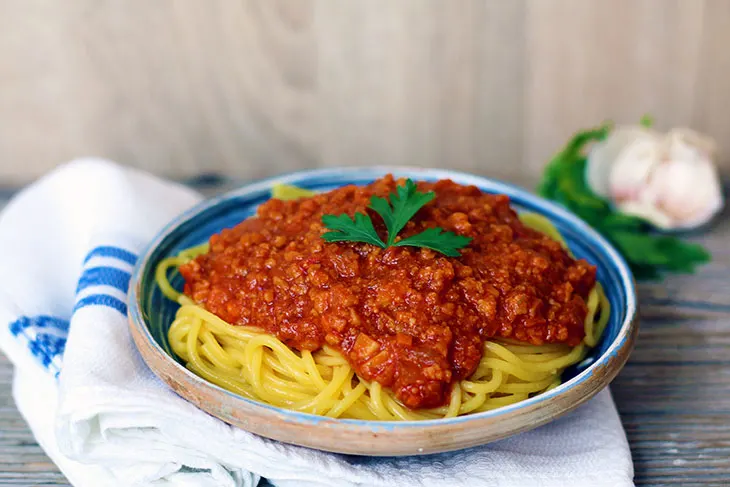 Here's how to make the vegan fried "chicken" that mimics the world-renowned southern fried chicken recipe! It's also secretly healthy and will surely become one of your favorite faux-fast food meals!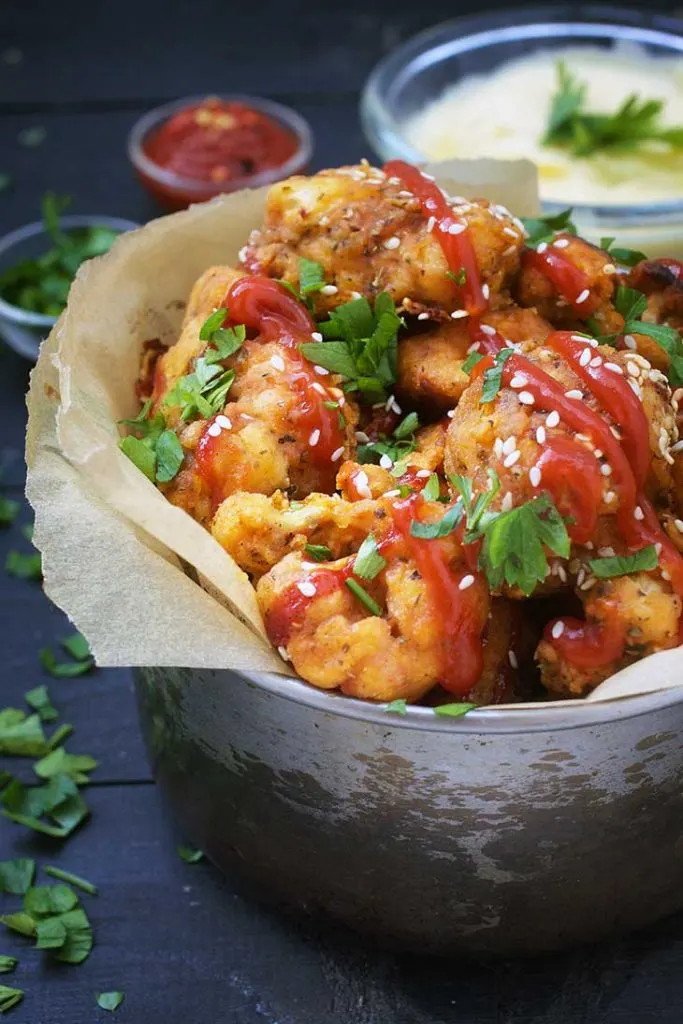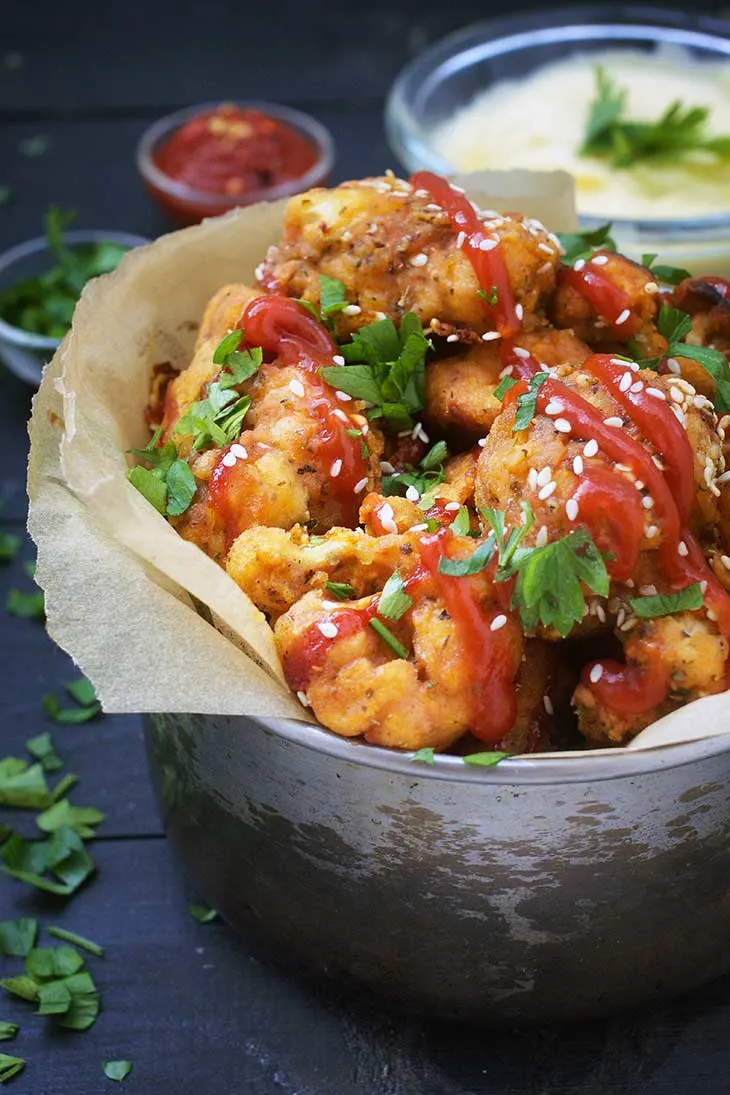 This is the best vegan chicken tikka masala recipe you can make and it really resembles the original, meat-based recipe. It's ready in just 20 minutes and you can serve it over basmati rice. Enjoy!