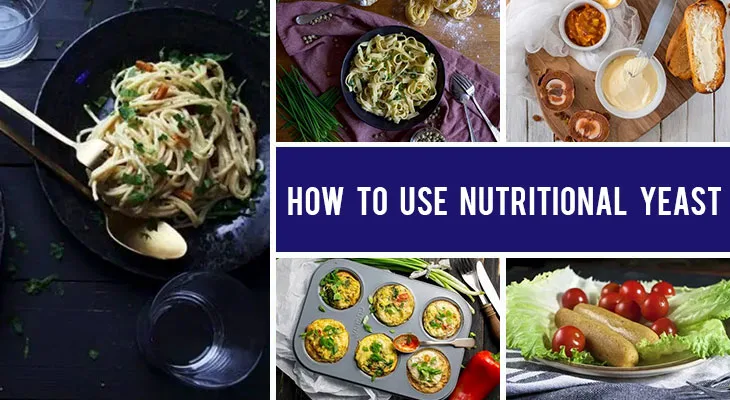 Are you curious to find out everything you need to know about how to cook with nutritional yeast, this magic vegan ingredient? This article is your answer! You also get 10 inspiring recipes!
Nutritional yeast is becoming a more and more common ingredient, especially when it comes to vegan recipes and cooking methods. But let me start with the beginning:
What is nutritional yeast?
Nutritional yeast is, indeed, a type of yeast coming from a species called Saccharomyces cerevisiae. Leaving the fancy words aside, nutritional yeast comes from the same 'family' of yeast used for bread making and beer making, but it's very different from those. Nutritional yeast doesn't contain any "alive" yeast cells, so it's safe for eating plain or cooking with it.
Nutritional yeast comes in the shape of tiny, thin, dry flakes of light yellow color and it has a cheesy, nutty flavor. There are two main types of nutritional yeast – fortified (some vitamins and minerals are added to boost its nutritional benefits) and unfortified (nothing is added, just the vitamins and minerals that are naturally found in the yeast cells).
How to cook with nutritional yeast
As I mentioned before, nutritional yeast doesn't necessarily need to be cooked in order to be consumed safely. You can sprinkle the raw flakes on top of pasta, casseroles, French fries, veggie patties, and everything in-between. You can also use heat and cook it inside sauces or ingredient mixes such as the ones used to make homemade chickpea patties, for example.
Nutritional yeast offers a delicious cheesy flavor and A LOT of umami to the dishes. I 100% recommend you try it at least once in your lifetime!
In order to clear the air for you, let me list some ways of using nutritional yeast in your day-to-day cooking and recipes:
Use it raw – sprinkle the flakes over pasta instead of parmesan or pecorino cheese, on top of popcorn in order to give it an extra kick or on top of a hot bowl of soup for boosted flavor. The flakes will melt just like cheese! I think I have a mild addiction because I honestly add nutritional yeast on top of almost all my savory dishes, from pasta to salads and even falafel and mashed potatoes!
Add it to sauces for a cheesy flavor – any type of vegan sauces that you want to make 'cheesy'
Use it as a thickener – in various types of cream soups or sauces;
Usually, one to two tablespoons are enough per serving. But it's also safe to go a little crazy if you like the flavor!
In short, you can use nutritional yeast the very same way you would use any type of grated cheese. You can think of it like bagged Cheeto dust. Yum!
Pssst: do you know you can also sprinkle nutritional yeast flakes on top of your pet's food bowl for a boosted portion of nutrients? Yep, not only humans can benefit from this magical ingredient. This brings me to my next point…
Is nutritional yeast good for you?
YES! Definitely yes! Nutritional yeast is not only delicious and easy to use, but it is also full of nutrients and it comes with some health benefits as well. For example, it's rich in protein (2 grams per 1 Tbsp), which makes it an excellent addition to the vegan diet. It's also rich in B vitamins (especially the fortified versions), especially vitamin B12 and B6.
By the way, did you know that nutritional yeast is a complete protein? How awesome is that?!
Now that I told you some very useful and fun ways of using nutritional yeast, I'm pretty sure you're already excited to give it a try and make some wonderful, vegan cheesy recipes with it, right? If you agree, then you should definitely check out the list I put together for you below where I reunited my 10 favorite recipes that have nutritional yeast as an ingredient. Or a game-changer, if you may.
From cheesy pasta sauces to vegetable-rich casseroles and even my special recipe for vegan homemade butter recipe, I'm sure you'll find something to love down below. All you need to do is choose your favorite recipes and get to the kitchen.
Happy cooking! 🙂
How to Cook with Nutritional Yeast
Are you curious to find out everything you need to know about how to cook with nutritional yeast, this magic vegan ingredient? This article is your answer! You also get 10 inspiring recipes!