Appetizer? Lunch? Dinner? These healthy and delicious zucchini rollups can be anything you wish for and more! Plus, they're super fun to make!
Zucchinis are one of my favorite summer vegetables! In case you're wondering why do I love them so much, there are a few reasons: they're light, they're yummy and they're extremely versatile. There are countless recipes out there based on zucchinis: zucchini lasagna, a type of Mexican soup, stuffed zucchini boats, salads, and even zucchini fries!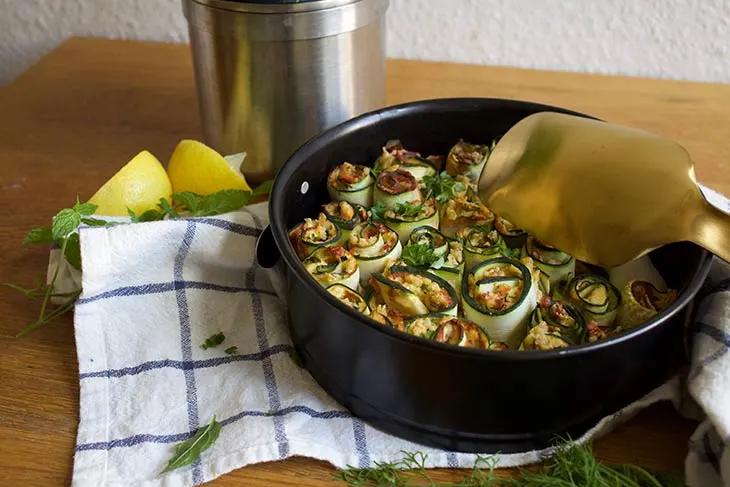 So, yes, there's more to zucchini than just cutting them into strips and throwing them on the grill! 😉
And if you're wondering about the next amazing recipe you're going to prepare with zucchini, I have the answer for you: these yummy vegan zucchini rollups with one of the most flavorful fillings in the world!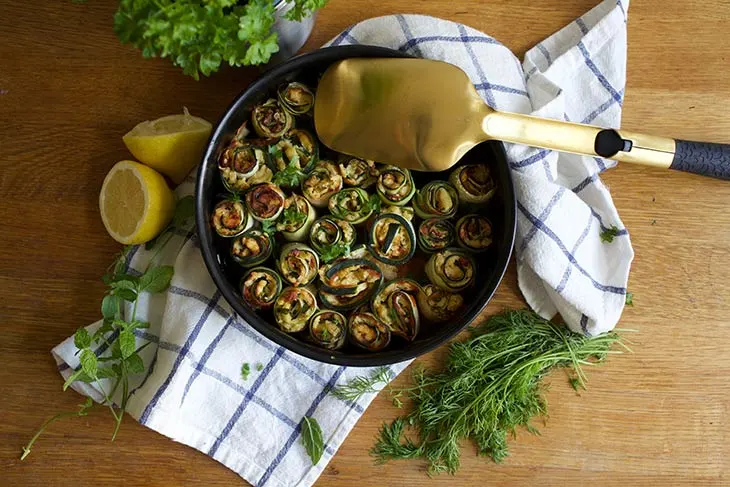 This recipe for zucchini rollups is a bit similar to one of my oldest recipes on the blog – eggplant involtini. And it's also similar to my skinny zucchini lasagna. Let's say this is a mash-up between the two. You get the best out of zucchinis, it's less time consuming than lasagna and the end result will also look funky. Just look at the pictures! 🙂
What about the process of making these zucchini rollups? Well, while it may look complicated, it's actually super easy and fun if you get used to the actual rolling and if you'll follow my advice below.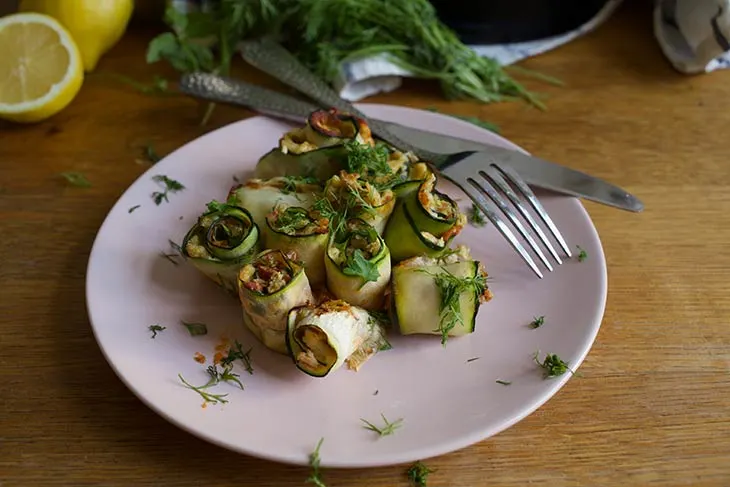 The first step is making the zucchini strips. This will be a super easy task if you have a mandolin. If not, do not worry: cutting zucchinis into strips can be done with a super sharp knife or, even easier, with a veggie peeler. Just cut them lengthwise. Not too thick, not too thin either. Easy peasy lemon squeezy!
But I have some advice for you as well. We do not want our zucchini strips to be full of water (zucchinis are naturally high in water) because the end result can be soggy, which is why we must get rid of the excess. To do so, you need to salt them and leave them to rest for a bit (about 15 minutes). Or, if you have some more time on your hands, you can put them on the grill for a bit. This will offer some extra flavor as well!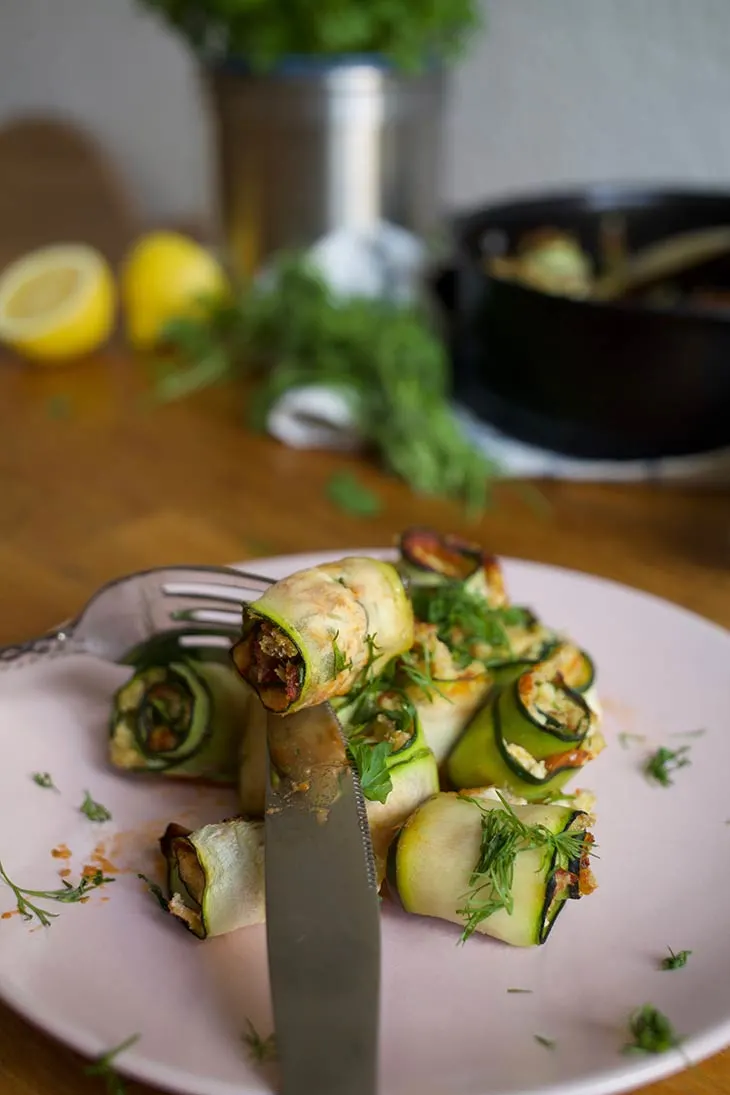 After you have the perfectly sized zucchini strips, it's time for the fun part: fill them with the best filling you can think of! It must be (ideally) creamy and flavorful, so keep that in mind.
You can use anything you like such as mushrooms, ricotta, vegan mozzarella, or tofu, but here's what I used for the best combo: smoked tofu, nutritional yeast, dry tomatoes, miso paste, and lots of different greens such as green onion, mint, dill. The result? To die for!
Here's another useful tip: if you have problems with rolling your zucchinis, aka the rolls won't stay in place, you can use toothpicks to secure the ends! 😉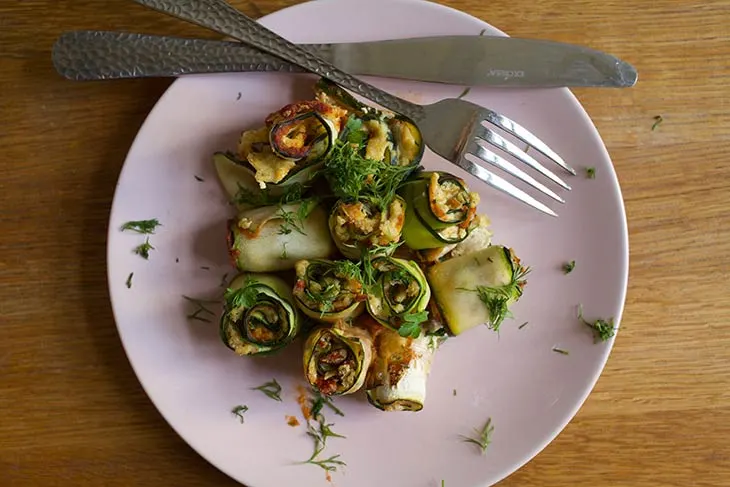 The last step is baking everything in the oven. Once ready, you can top everything with some shredded vegan parmesan and leave it again in the oven for 5 more minutes. Vegan parmesan makes everything better, trust me!
Made too much? No worries, I have two solutions for you. You can always freeze your zucchini rollups for later. Afterward, whenever you're craving a portion, just heat them up in the oven and dinner's served. Another good idea is to make some kind of lasagna with them – just add tomato sauce and throw everything in the oven for a while and you're good to go.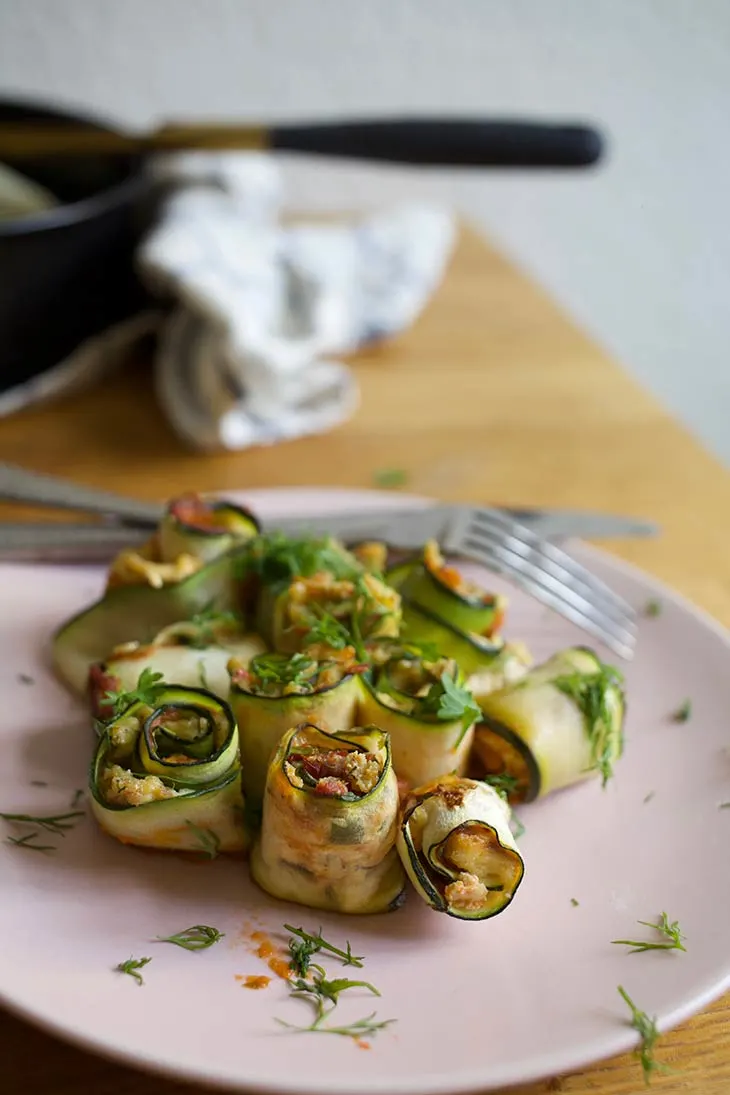 In case you're not convinced yet, let me tell you some other interesting facts about these vegan zucchini rollups. First of all, they're low in carbs, which makes them ideal even if you're on a diet. They're also super filling thanks to the smoked tofu. And, needless to say, they're also very flavorful.
And in case you're not satisfied with my filling proposal, you can always swap some ingredients and make your own version. That's the entire point when you're cooking your own food: experiment, have fun, and try to make something that satisfies your cravings and preferences!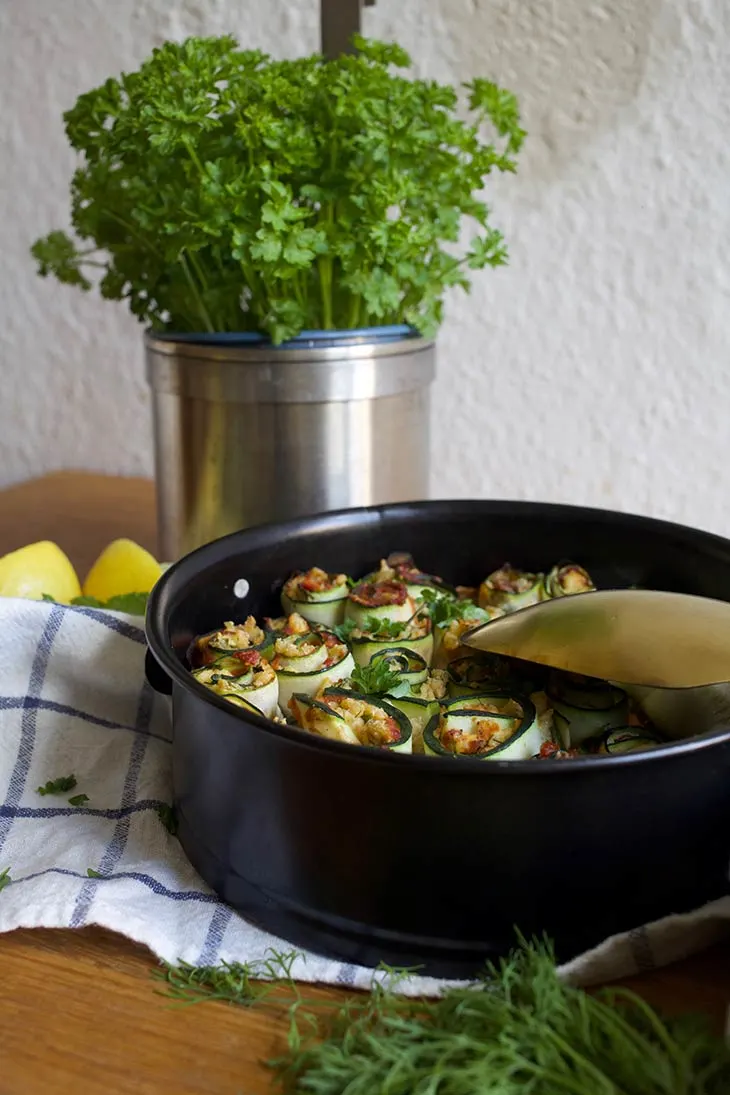 These zucchini rollups are also family-friendly and can be prepared if you're doing some meal prep. As far as I've seen, even kids are a fan if you top them with some tomato sauce and lots of melted cheese!
So that's about it about these delicious, healthy zucchini roll-ups. They're basically a healthier version of the Italian cannelloni because you'll use fresh zucchinis instead of pasta. And the best part is that they work as an appetizer or as a main dish, depending on what you need.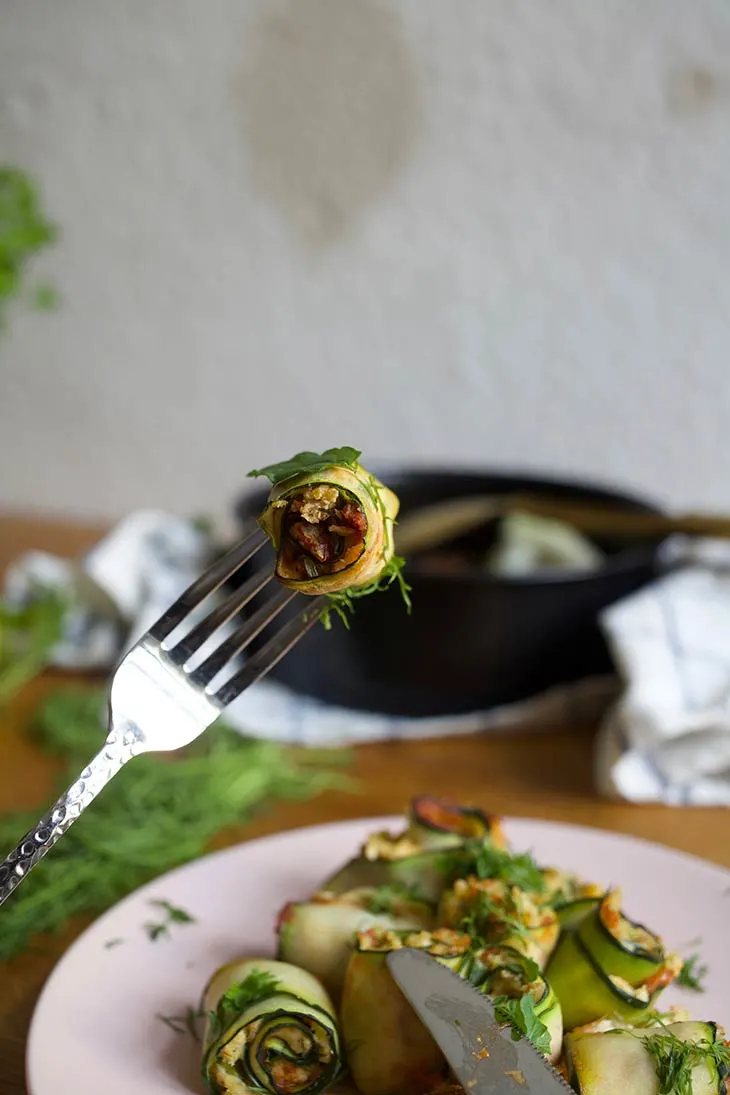 This recipe turned out so good that all I can do is urge you to try it too! 🙂 If you do so, don't forget to let me know how it went in the comment section below. Happy cooking!
Yield: 6 servings
Zucchini Rollups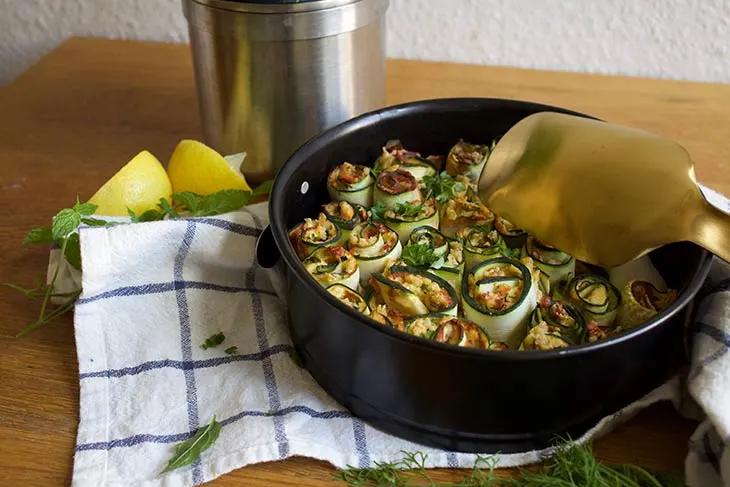 Appetizer? Lunch? Dinner? These healthy and delicious zucchini rollups can be anything you wish for and more! Plus, they're super fun to make!
Ingredients
2 medium zucchinis
250ml (1 cup) passata tomato sauce
For the filling:
1 block smoked tofu
2 Tbsp nutritional yeast
5 large dry tomatoes, finely chopped
2 Tbsp green onion, finely chopped
2 Tbsp fresh dill, finely chopped
5 mint leaves, finely chopped
1 clove garlic, minced
3 Tbsp freshly squeezed lemon juice
4 Tbsp miso paste diluted in 4 Tbsps of water
2 Tbsp vegetable oil
Pepper to taste
Instructions
Preheat the oven to 200 C.
Cut zucchinis into slices with a veggie peeler.
Add all the filling ingrediens to a food processor and pulse until texture is smooth and homogenous.
Pour ½ cup tomato sauce into a baking dish to make a thin layer on the bottom.
Lay down the zucchini slices on a cutting board. Brush each slice with a little tomato sauce, then spread on each slice about a tsp of the filling.
Roll up the zuchinni slices and place them in the baking dish, over the tomato sauce layer.
Repeat with all the remaining slices.
Bake the zucchini rollups for about 30 minutes.
Serve with some fresh herbs garnish on top.
Nutrition Information
Yield
6
Amount Per Serving
Calories

191
Total Fat

10g
Saturated Fat

1g
Trans Fat

0g
Unsaturated Fat

8g
Cholesterol

0mg
Sodium

636mg
Carbohydrates

17g
Fiber

6g
Sugar

8g
Protein

13g
I strive to keep the information as accurate as possible but make no warranties regarding its accuracy. I encourage you to make your own calculations using your preferred nutrition calculator.