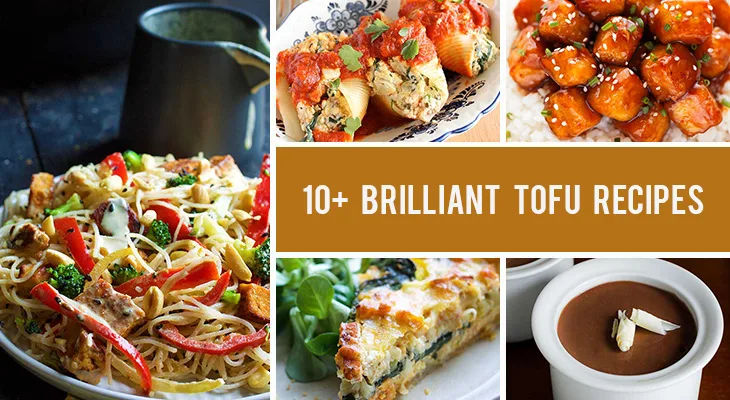 These tofu recipes are not just for tofu lovers, but for picky eaters as well! Most of these use it in such innovative ways you can't even tell it's tofu that you're eating!
If you're thinking about adding tofu to your diet, then you're reading the right article. Today we're going to take a look at tofu and learn quite a few things about it. For most of us, tofu just looks like white cheese at first glance. But it's not! It's the result of coagulating soy milk.
By now, tofu is currently mainstream enough that you can find it in many different presentations at the supermarket. You'll find it in its usual square, pressed cake or you can find it soft, silken, firm, extra firm, fermented, smoked, freeze-dried and you'll also find tofu burgers.
You probably know already that the benefits of non-GMO tofu can't be summed up in just a few words – it helps in cholesterol control, provides nutrition, lowers risks of heart disease, combats signs of aging, prevents osteoporosis and much more.
Tofu has really allowed vegans and vegetarians to experiment with meals and come up with interesting recipes of their own. Also, I gathered here in this list some macrobiotic tofu recipes as well, for those of you who are on a macrobiotic diet and need some inspiration for your daily meals.
Even if you're a picky eater, these 10+ tofu recipes will just blow your mind! Check them out below and click on the titles for the recipes.
Update: I updated this list with even more amazing and healthy tofu recipes. Give them a try and don't forget to tell me which one is your favorite!
Tofu Recipes
General Tso's Tofu is a great start to my list of recipes that make tofu truly shine as an ingredient! Once you try this super-easy dish, even the most reluctant omnivore will be sold to tofu! It's flavourful and healthier than most sodium and fat-loaded Chinese takeaway versions out there – and, of course, guilt-free!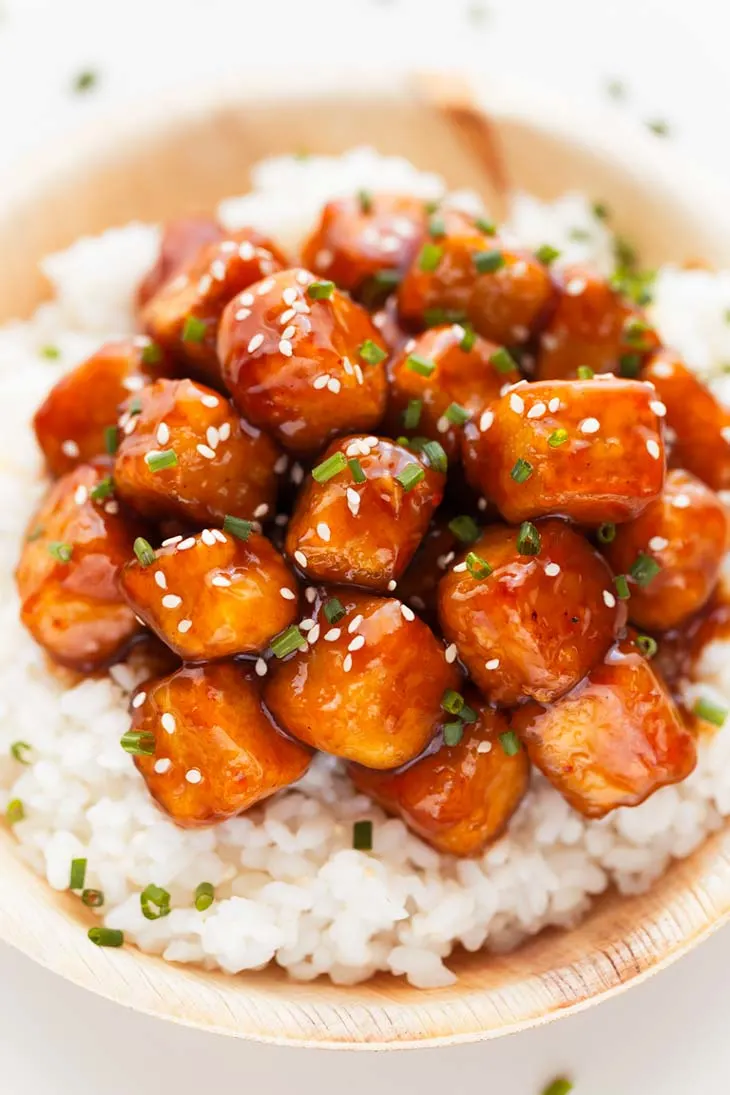 This is by far one of my favorite tofu recipes! With an egg and flour crust to account for its crunchiness, the roulade is bursting with flavor due to the coriander seeds, golden raisins, thyme, sage leaves, dill, and of course the mushrooms. One bite and you can feel the delicious flavor stimulating your taste buds!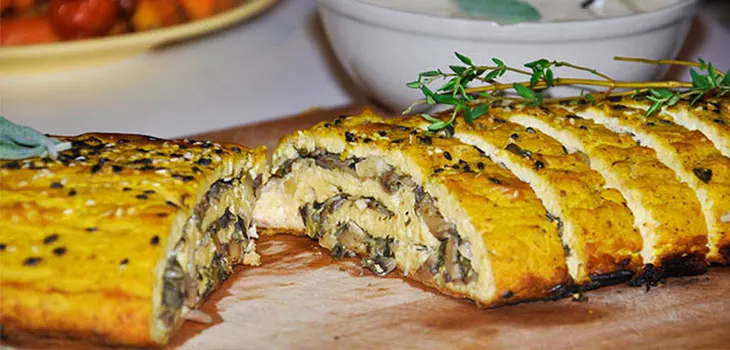 I think Asian dishes are one of the best ways to enjoy tofu! However pretentious you are, you couldn't possibly complain about tofu being plain because all these dishes are rich and bursting with flavors! The crispy smoked tofu mixed with peanut sauce, yummy veggies and noodles is a fail-proof combination. Give it a try!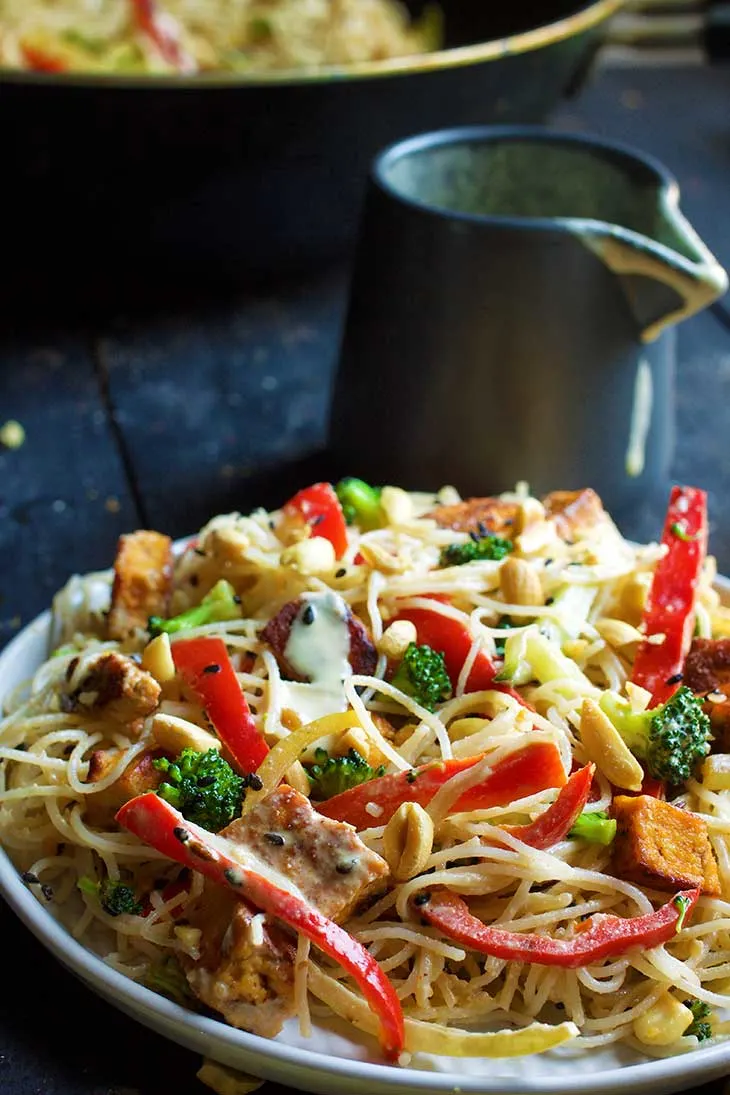 Ever tried smoked tofu? Combined with mushrooms and veggies like zucchini and tomatoes, this special pasta is a delicious snack for a casual get-together. Dill, oregano, and thyme take care of the seasoning. Sounds delicious, right?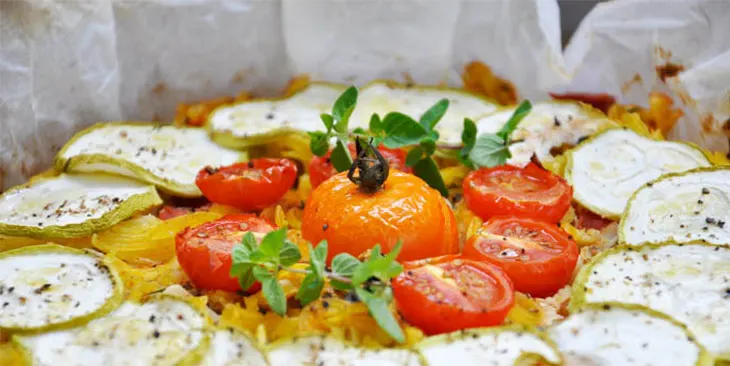 I'm obsessed with the texture of this taco filling, and to be honest, I could just spoon the tofu crumbles out of the bowl and eat them by themselves! Load up these vegan tacos with your favorite taco toppings and you won't miss meat for one second!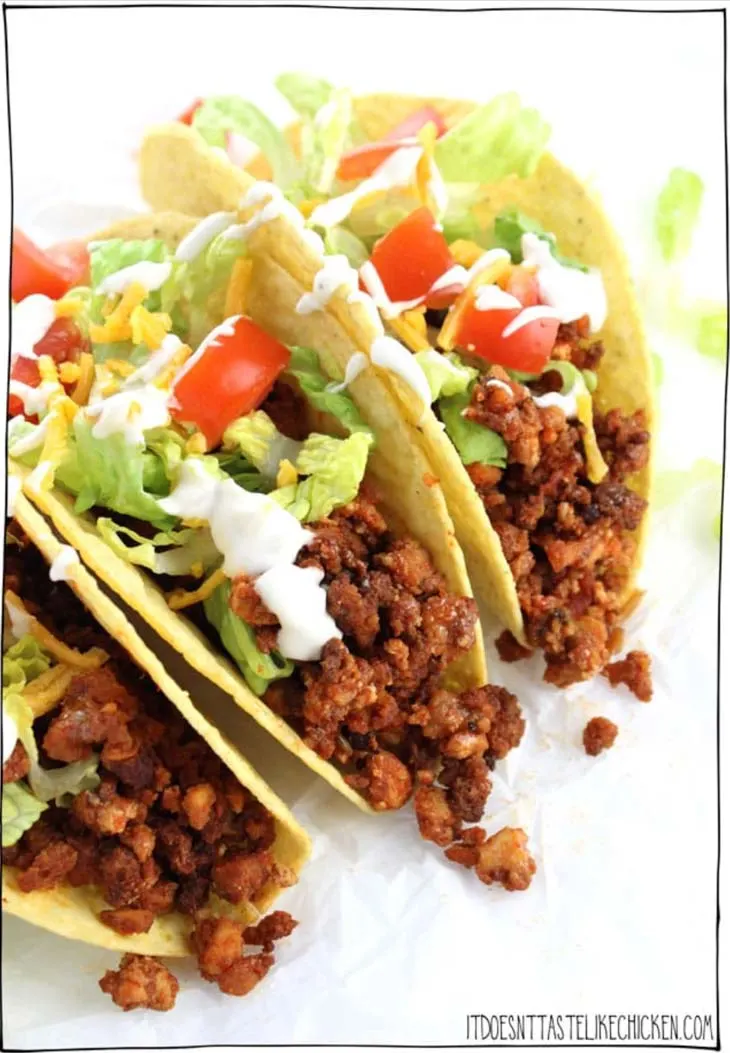 This recipe boasts a rich and creamy filling of carrot and radish, cilantro, mayonnaise, and cucumber – a vegan version of a Vietnamese sandwich. Make sure you marinate the veggies and tofu for some time in order to achieve the perfect, authentic taste!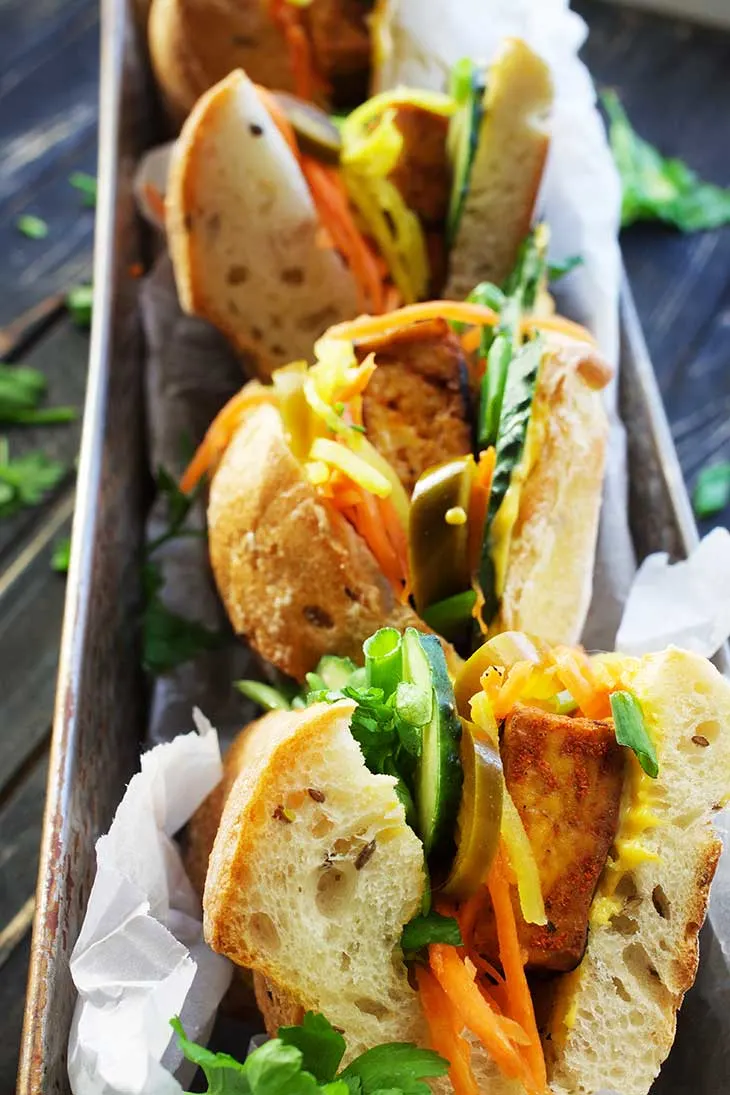 I was totally blown away by how similar in taste and texture to the authentic recipe this one is thanks to the beer batter and nori sheets. This unique recipe for fish and chips is really putting the fantastic firm tofu texture in the spotlight! While not the easiest to prepare, the result is an absolute treat so you must absolutely try it!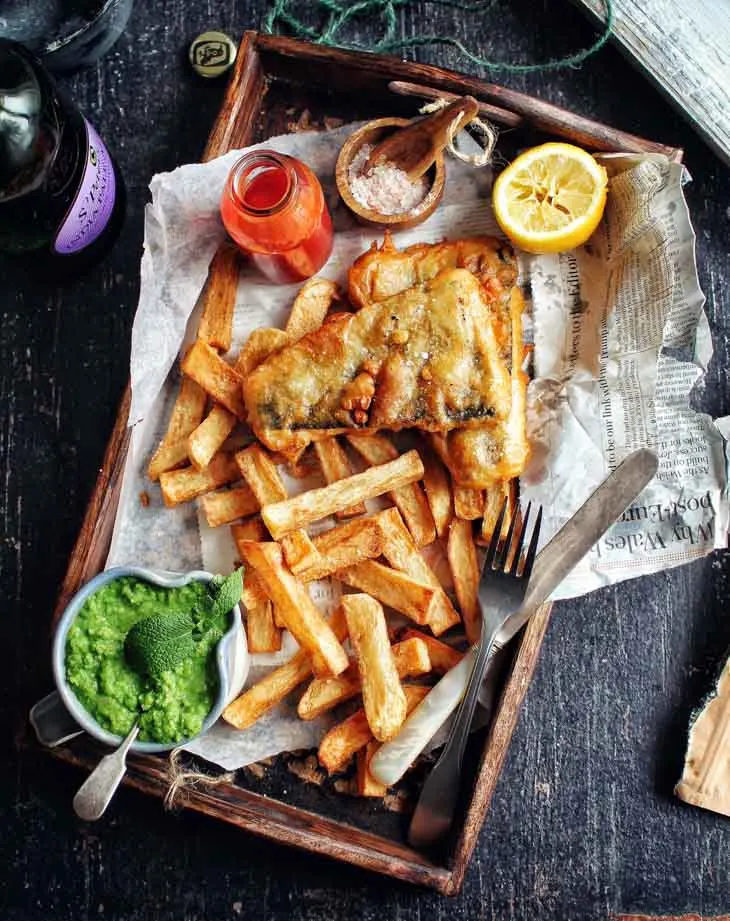 The freshness of spinach is greatly utilized here! Eggplant and tofu flavored with minced onion and garlic is ensconced in a giant pasta shell – a unique way to taste tofu indeed. Give it a go!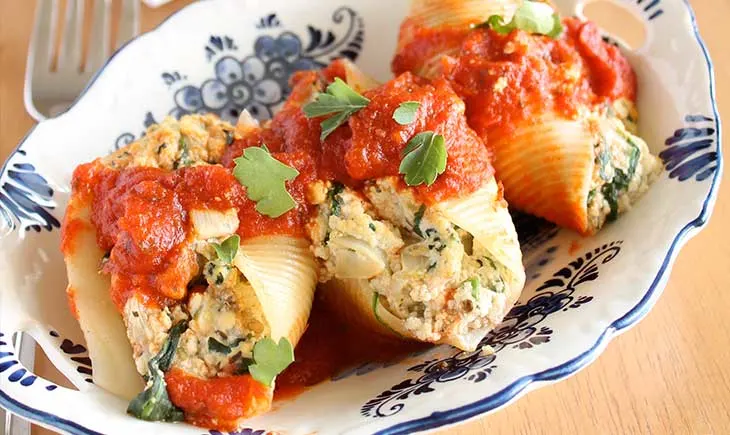 This recipe for vegan tofu fish tacos fully shows the versatility of tofu, and how incredibly delicious it is even pan-fried! I love this recipe because it takes under half an hour to make and the combination of flavors – cayenne, paprika, lime, avocado and zesty mango salsa – is to die for! Do try them out!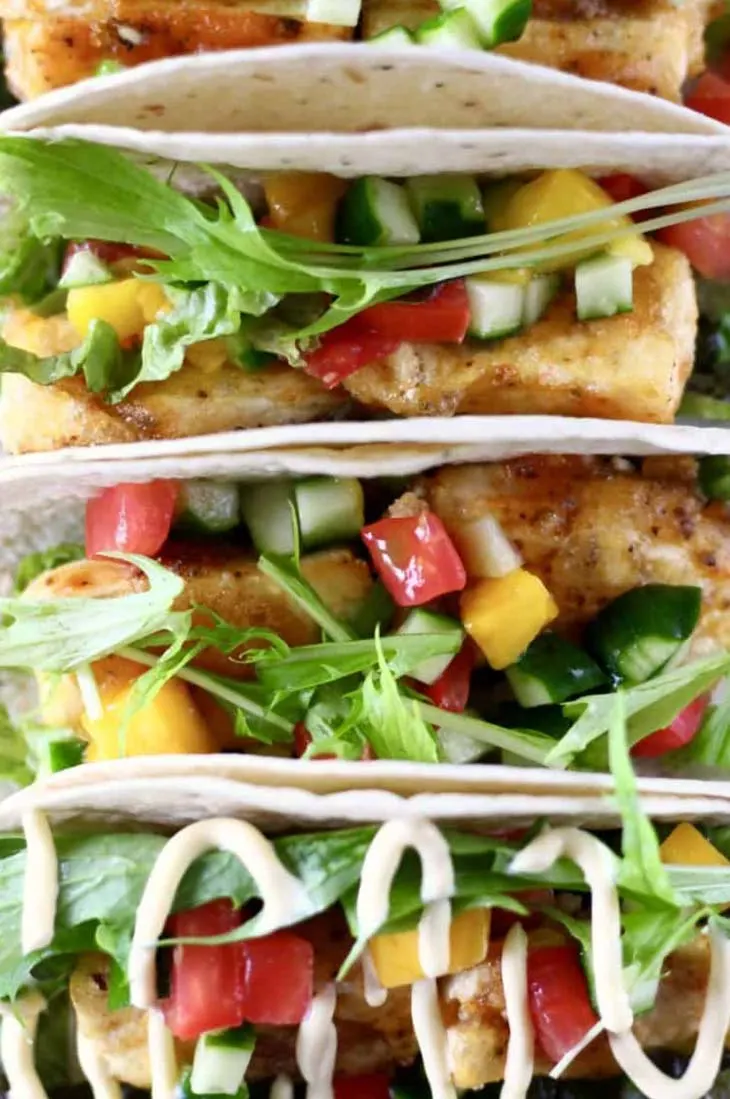 Tofu has made its way into your favorite chocolate dessert as well. Served with white chocolate shavings, you can experience the gooey silkiness of hazelnut chocolate spread, whose taste is enhanced with silken tofu and vanilla extract. This is a great dessert recipe made with tofu!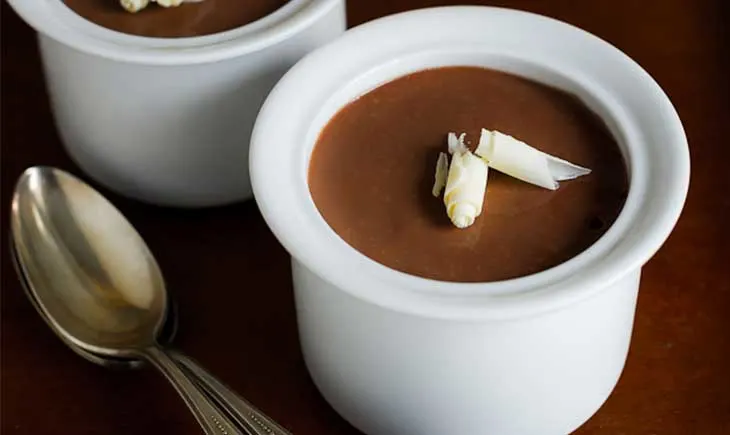 This vegan gyros recipe is my take on the original Greek wrap that will make your taste buds dance! Smoky, well-seasoned, thinly-sliced tofu drenched in creamy tzatziki replaces gyros meat and becomes the star of this deliciously messy street food dish. Don't take my word for it, you have to try it for yourself!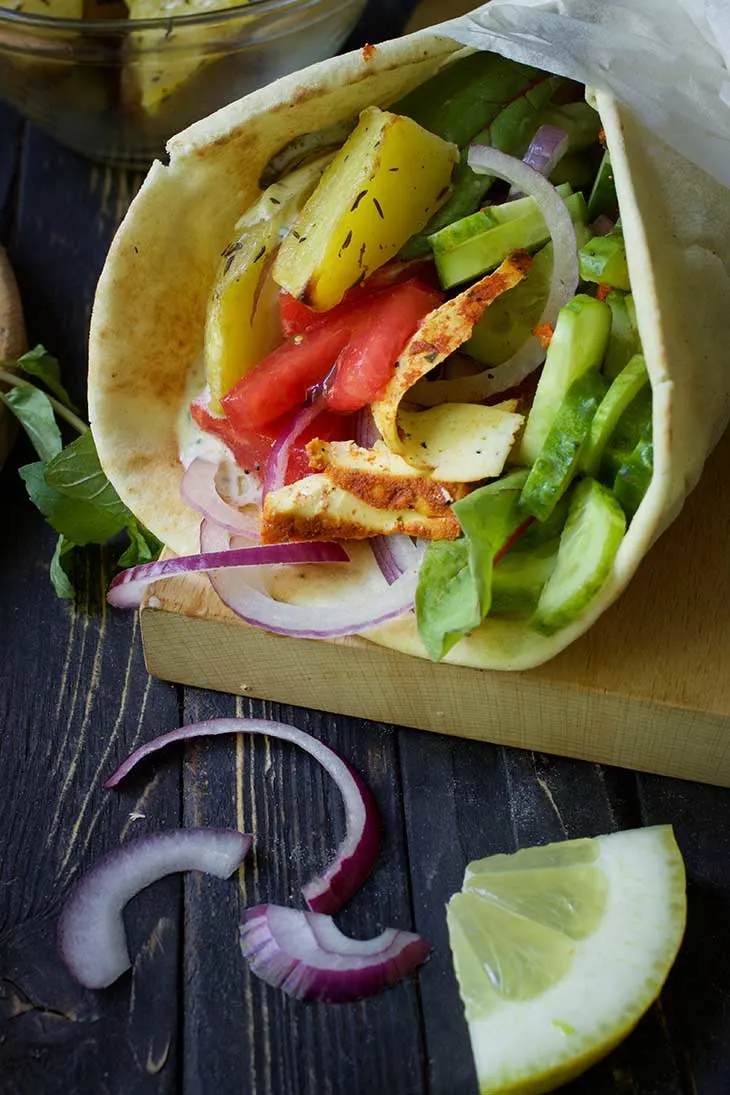 In this tofu recipe, Shiitake mushrooms, miso, tamari, soba noodles, Sriracha, tofu translate into a bowl of wholesome goodness with the right amount of vitamins, proteins, and minerals – an extremely healthy food choice!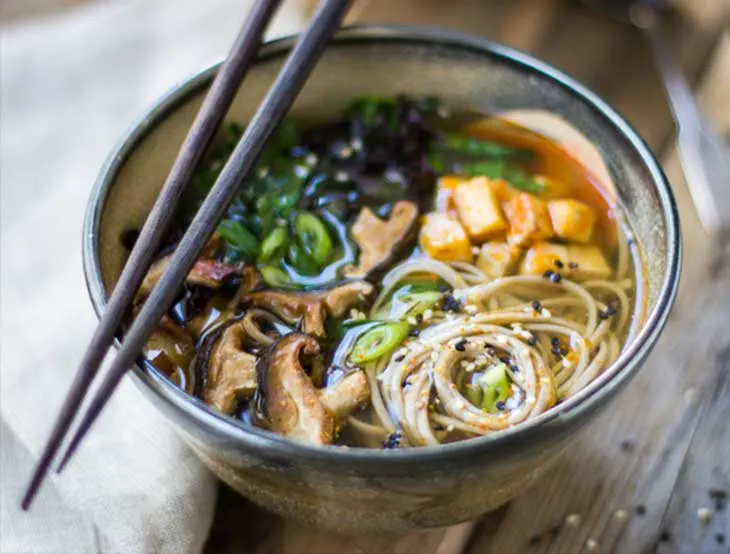 I honestly can't get enough of these pastry pinwheels, filled with spinach and tofu crumbs. If I make them as an appetizer for guests, I end up nibbling most of them myself! Preparation is super easy and proves you don't need feta cheese for an authentic-tasting dairy-free Greek pastry dish! 🙂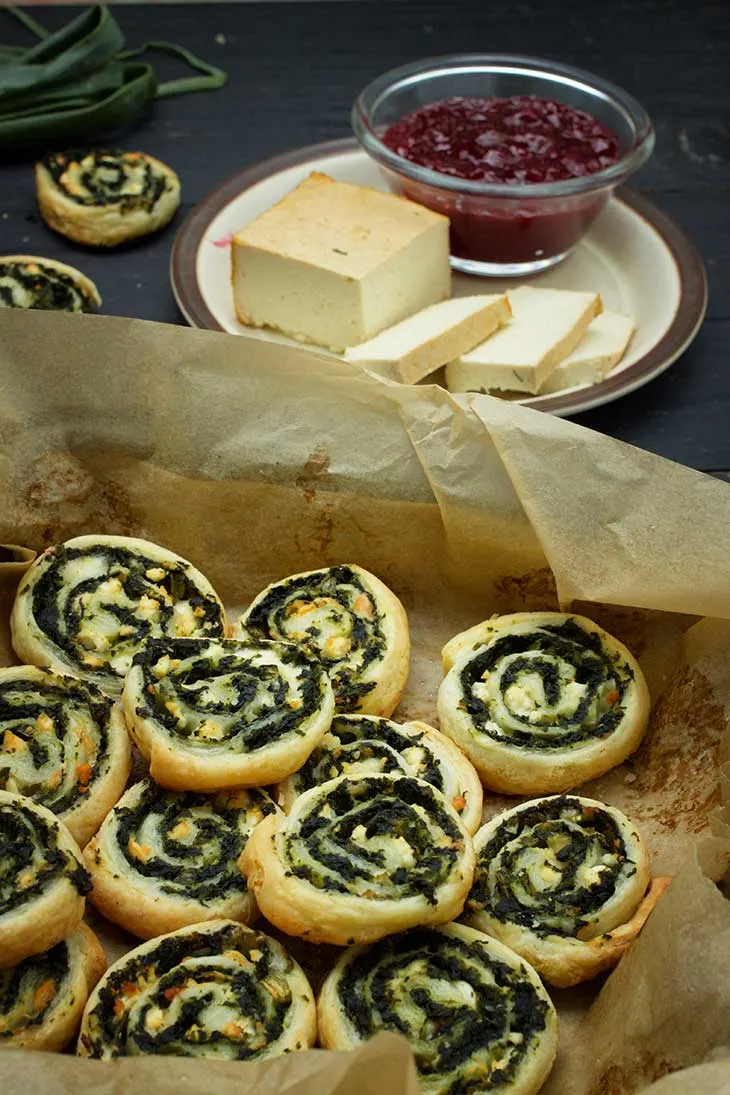 Here's how you can make the popular quiche Lorraine – vegan! This delicious vegan quiche Lorraine has the perfect 'cheesy' and 'buttery' texture of the original French recipe without any dairy!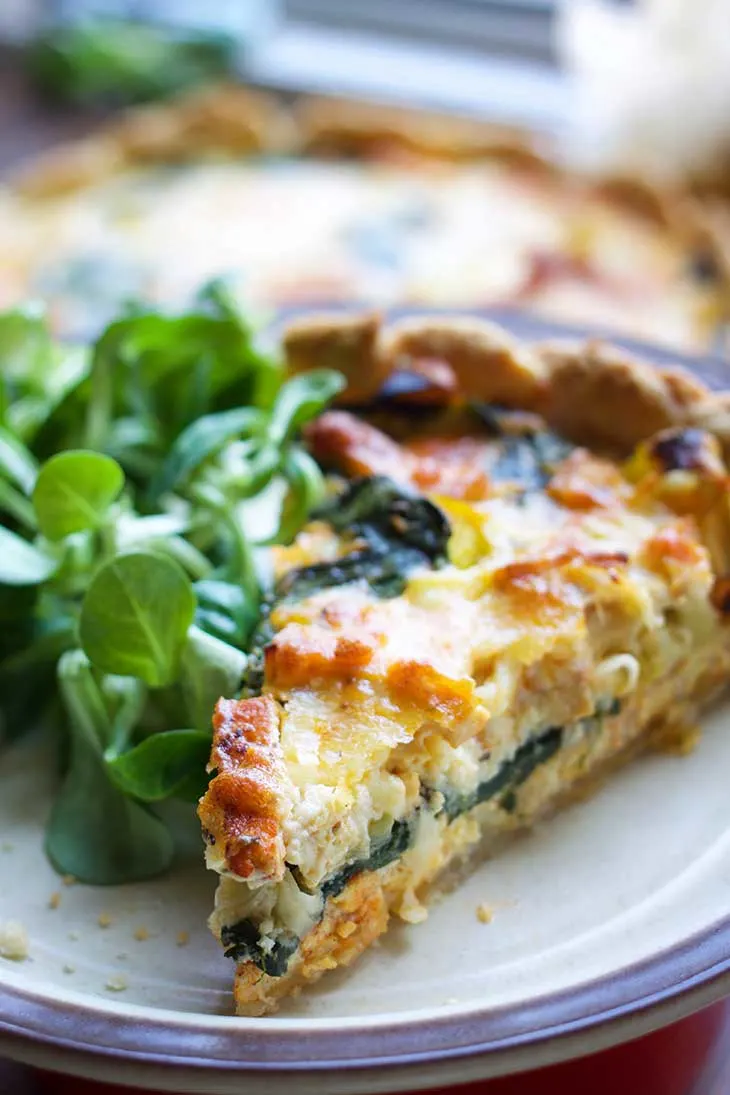 Smoky crumbled tofu sneaks into this vegan Greek spinach pie recipe and adds a great flavor and texture to the fluffy spinach filling and crunchy filo pastry! I could have this dish for almost any meal, or just a crispy savory snack suitable for vegans but still delicious and satisfying for omnivores too! Give it a try!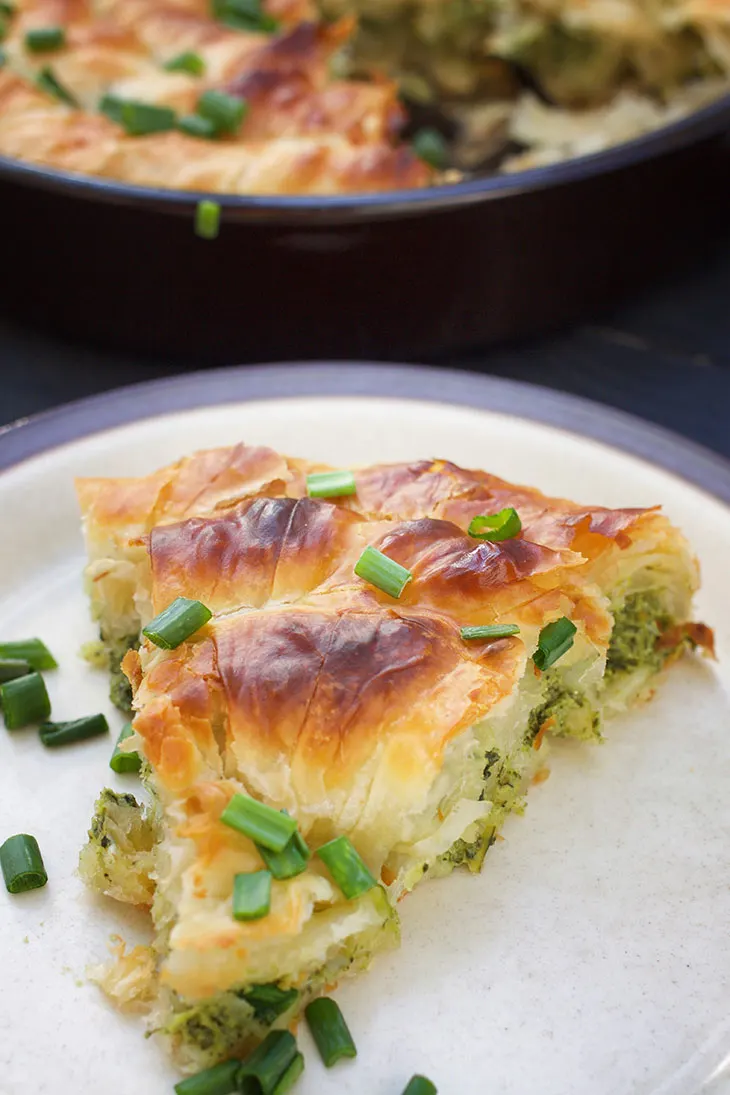 Using simple ingredients like carrot, onion, and ginger with extra-firm tofu, you can create this delicious tasting soup in minutes. For garnishing, you can use either cilantro or parsley.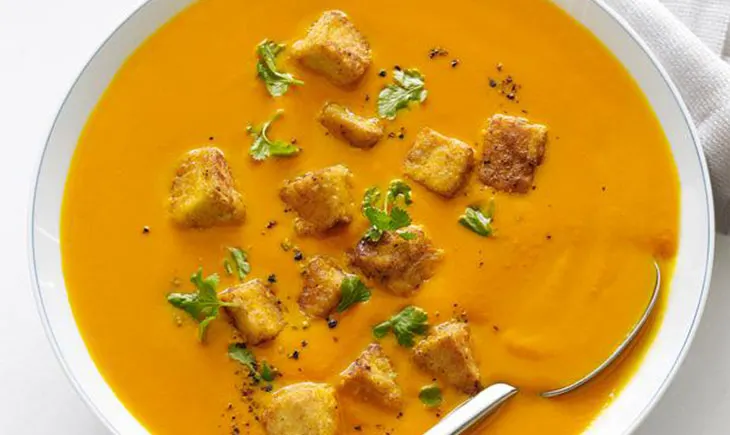 "Quiche" may sound like a fancy, complicated dish, but trust me, this is not the case! This simple vegan crustless quiche can be made by anyone! No special cooking skills required.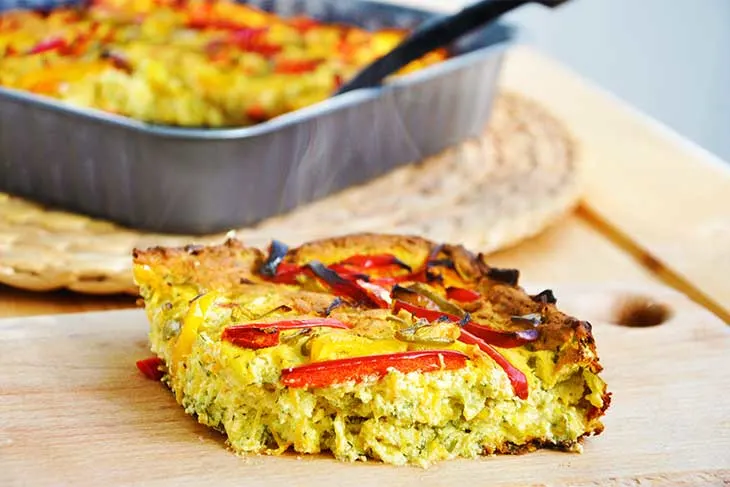 I saved the best for last in my list of best tofu recipes: I used tofu in this recipe to recreate to perfection the juicy meatiness of lamb racks, encased in a delicious herb crust and served with my vegan creamy sauce! If you don't believe me, try it for yourself! It is simply incredible!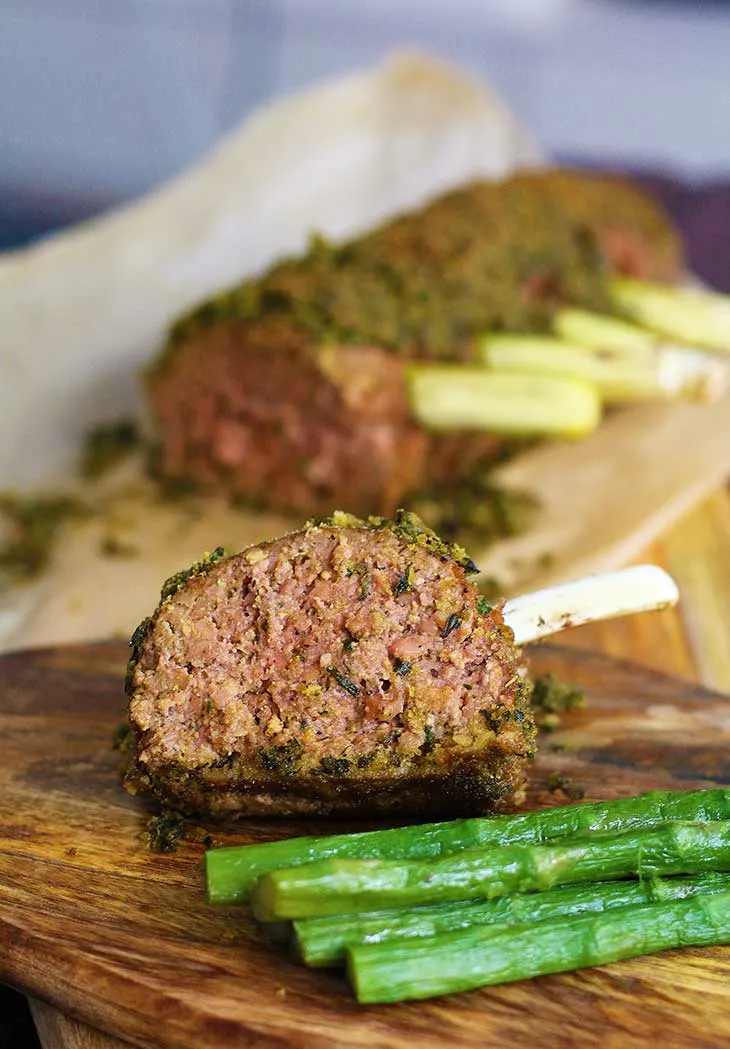 There you have it – hope you are already fastening your cooking aprons to have a go at these tofu recipes!
Get to Know Your Tofu!
Just like many other foods, the origin of tofu isn't clear. There are three main theories about where it came from. The most commonly held one is that — a rudimentary and less flavorful version of tofu – was invented in China around 164 BC by a Han Dynasty prince known as Lord Liu An. However, there's not much concrete information about this period to fully confirm this. In fact, important inventions in ancient Chinese times were often attributed to leaders and figures, so we can't know for sure.
Another origin theory states that it was discovered by accident when boiled ground soybeans were mixed with impure sea salt. This sea salt probably contained the calcium and magnesium that allowed the soy milk to curdle into a kind of tofu gel. It's likely, but it's also not proven.
Last but not least, we have that the ancient Chinese learned how to curdle soy milk by imitating the milk curdling techniques the Mongolians or East Indians used to employ. No curdling or milk processing techniques were known for the ancient Chinese, so it's not unlikely that they were interested in the process. Yes, you guessed it! There's no supporting evidence for this one either.
There's no doubt that tofu originated in Asia around 2.000 years ago. We just don't know how exactly it came into being, but we're grateful for it nonetheless!
How Is Tofu Made?
Well, I already mentioned that tofu is curdled soy milk. But how exactly does the process come about? Let's see! As you can imagine, the process of making tofu can vary quite a bit depending on what type of tofu the producer intends on making.
The standard tofu making process begins with fresh or dried soybeans. These beans are soaked, boiled and then strained to get soy milk. Many producers choose to make their own milk; some others prefer to buy it. The next step is to coagulate the soy milk; there are different methods of doing this, manufacturers can use enzyme coagulants, acid coagulants or salt coagulants. No one method is better than the other, but it is noted that the curdling method will affect the texture of tofu.
Once that's done, the milk has to be pressed to remove the excess liquid. The resulting curds will be cut into blocks to be pasteurized, that means they'll be heated in order to extend tofu's shelf life.
Facts about Tofu
Tofu is one of the oldest foods in the world!
Tofu can be used to make desserts and sweets. Believe it or not, it makes for great custards, pies, and also very moist chocolate cakes.
Tofu is great to help you on your weight loss journey! It helps you get rid of excessive weight by shedding water excess. It also improves digestion.
Frozen tofu turns yellow, but it returns to its regular color once it is thawed.
Tofu is like a chameleon for flavors! It will adopt the flavor of whatever you cook it with. That's why it's extremely versatile.
Tofu's consistency is a lot like brain tissue consistency. Sorry!
It's one of the most nutritious foods in the world; now let's find out more about this!
Health Benefits of Tofu
So why is tofu one of the most nutritious foods you can find? It has a lot to do with the fact that tofu is a complete protein; it's also cholesterol-free, sodium-free and low in saturated fats. These last three characteristics make it extremely beneficial for heart health.
It also contains isoflavones which aid in reducing the risk of cancer, and it's very helpful during menopause thanks to its phytoestrogens contents. Tofu is very rich in iron, calcium, magnesium, zinc, and vitamins.
Now you have no excuses not to include this power-food in your diet!