This baked pasta tart with smoked tofu and tomatoes is an easy, budget-friendly vegetarian recipe you can make for dinner or lunch! This can also be a great recipe for a picnic or potluck!
After a well-deserved vacation last weekend (See pics below.) I have returned home and started working again. What can I say, the future seems bright, but busy! I have so many projects in the near future, for both my blog and career. I really hope I'll be able to do everything I planned! 😀
Next week I'll host a great competition between Romanian bloggers! I'm excited, as this is the first time I'm planning such an event. Awesome bloggers will cook with Dr. Schar gluten-free products and create original and inspired recipes. The best three recipes will win the prizes! I'll give more details about this on the Romanian version of this post. Also, I was invited to participate in a great event here in Bucharest. The event is called "How to get The Business OUT of the Business Look" and I'll be the special guest who brings in the raw sweets! 🙂 This is just a hint of what will happen in the next few weeks, I will be super-busy, but don't worry, I won't neglect my readers! 🙂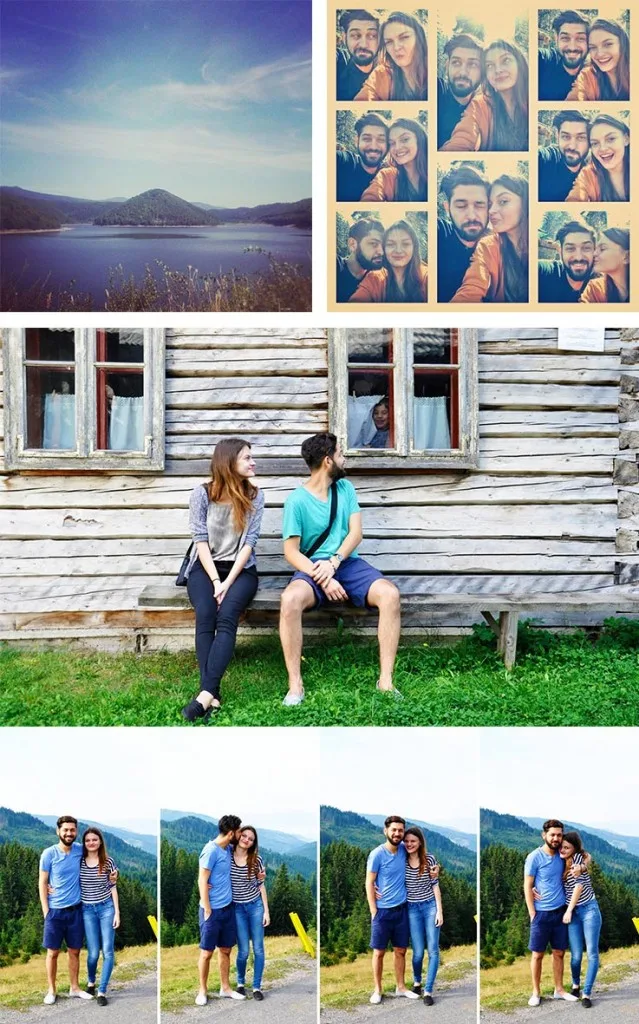 The trip was awesome! We visited a friend of ours who lives in Gheorgheni. We went to the Red Lake (Lacul Rosu) and also visited a bunch of other great locations. It was relaxing and we had a good time.
I was also on a cooking frenzy last week and cooked a lot of goodies to have on the trip with us. It's a bit complicated to eat at restaurants now that I'm also gluten-free. Well, complicated is an understatement. It's a nightmare. That's why we opted for the picnic version and brought food from home with us.
As you probably know, I gave up dairy products for over 3 months now. Well, that until last weekend. It was IMPOSSIBLE for me to keep a dairy-free diet. I avoided gluten, but avoiding dairy too was almost impossible.
What do you do when you are a guest (a dairy-free/gluten-free one) and someone cooks for you lacto-vegetarian food? How do you say "Oh well, you know, besides meat, I also don't eat gluten or dairy.". I ate dairy, because that was the polite thing to do. I didn't have another option and I couldn't eat nothing at all because that would have been impolite. How do you react in situations like this? I now regret eating dairy because the cravings are back. Anyway, I'll get past them again.
Eating out has become really complicated for me. Almost everything has gluten in it (the recipes are not even labeled, I have to guess), and the only vegan recipes in a normal restaurant are the salads (and sometimes, not even those). I wish Romania was more evolved from this point of view…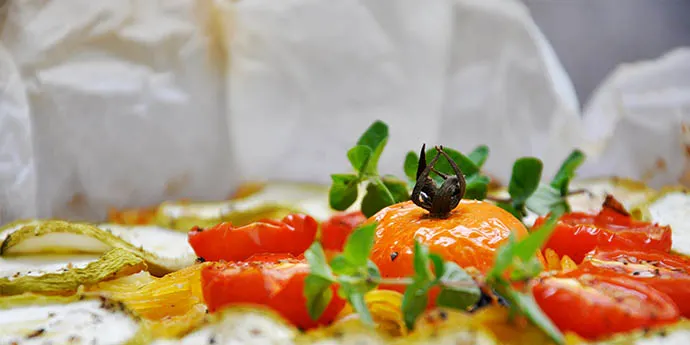 Anyway, enough with my trip and food issues. Here's something about this awesome baked pasta tart with smoked tofu I made 2 weeks ago! It's gluten and dairy-free of course! It's not vegan because it contains eggs. I made this baked pasta tart three times now, with slightly different ingredients but using the same cooking technique. I loved it! It's like eating a salty cake if I can say this without it sounding weird! 😀
This baked pasta tart recipe is budget-friendly and can easily feed a whole family! The cooking process is super-easy, so anyone can make this! Enjoy!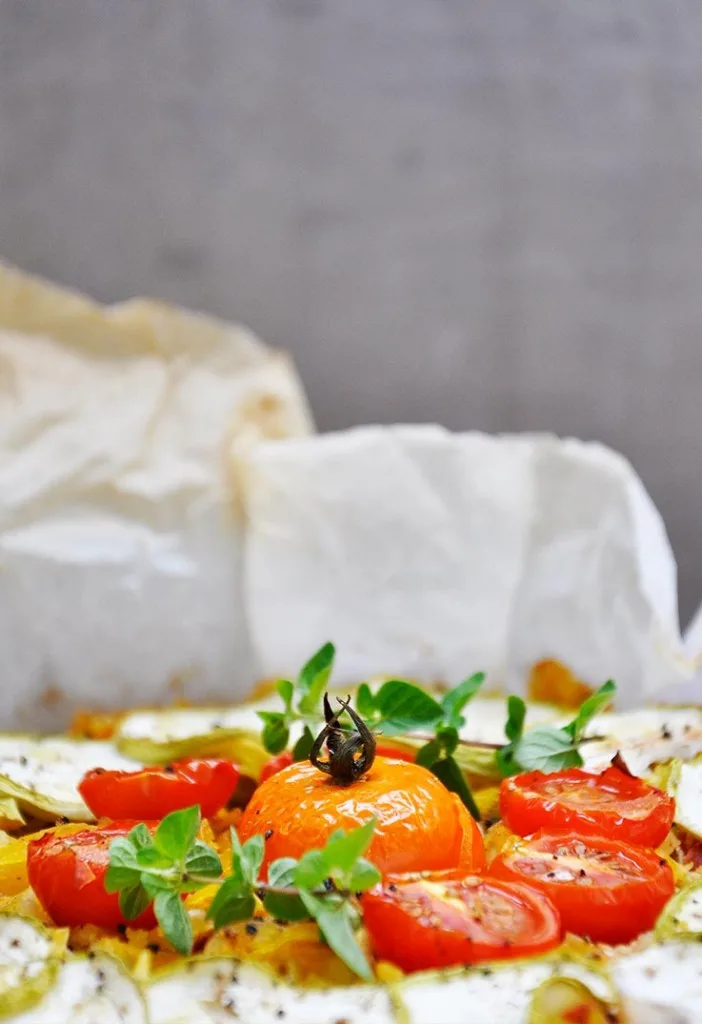 Yield: 6+ servings
Baked Pasta Tart with Smoked Tofu and Mushrooms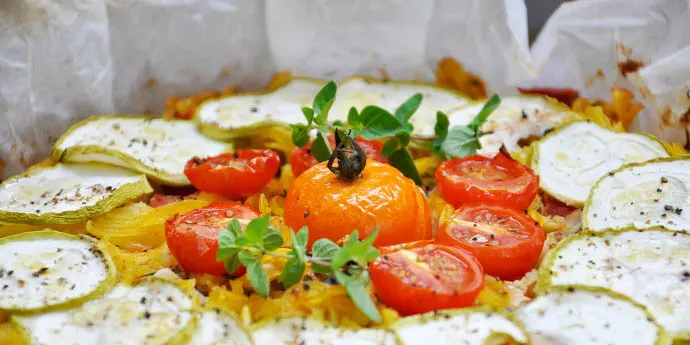 This baked pasta tart with smoked tofu and mushrooms is a budget-friendly vegetarian recipe you can make for dinner, lunch or even picnics and potlucks!
Ingredients
200g (7 oz) gluten-free pasta, I used Schar gluten-free penne, but you can use any other kind of pasta.
2 medium tomatoes, chopped
1 onion, chopped
1 large zucchini, thinly sliced (You can also use eggplant. The first version of this recipe was made using eggplant instead of zucchini.)
150g (¾ cup) smoked tofu, mashed with a fork - use smoked tofu only, regular tofu is bland
2 eggs, beaten
180g (2 cups) button mushrooms, sliced
some cherry tomatoes, for garnishing
2 tsps dry thyme
1 tsp oregano
sea salt and ground pepper, to taste
5g (½ cup) fresh dill, chopped
Instructions
Add water in a large pot. Add 1/2 Tbsp salt.
Add pasta and sliced mushrooms. Boil for 10 minutes.
Drain pasta and mushrooms and move them into a large bowl.
Add all the other ingredients, except cherry tomatoes and zucchini slices. Mix well.
Use a cake tin with detachable walls/round yena bowl or simply just a pot. Cover it with parchment paper and grease it.
Cover the bottom with zucchini slices.
Add the composition from the bowl and spread it evenly.
Put some zucchini slices on top and garnish with cherry tomatoes.
Bake at 200C/392F for 30 minutes.
Nutrition Information
Yield
6
Amount Per Serving
Calories

185
Total Fat

5g
Saturated Fat

1g
Trans Fat

0g
Unsaturated Fat

3g
Cholesterol

62mg
Sodium

128mg
Carbohydrates

25g
Fiber

3g
Sugar

4g
Protein

12g
I strive to keep the information as accurate as possible but make no warranties regarding its accuracy. I encourage you to make your own calculations using your preferred nutrition calculator.