Change language / Schimba limba:

Română
Are you craving homemade pasta? Try this vegan mushroom ravioli recipe served with a creamy white garlic sauce! It's the perfect comfort meal! Making vegan ravioli at home has never been easier!
How AWESOME are these beautiful porcelain plates?! They're part of an awesome campaign by Edenia Foods, a Romanian frozen foods brand. They challenged me to cook a fancy meal at home, so here it is – mushroom ravioli! More details about the campaign on the Romanian version of this recipe, and here.
This is the first time I'm making homemade vegan ravioli and it was a lot easier than I expected! I don't get it why people usually add eggs to homemade pasta. Flour, water, and olive oil are more than enough! Remember when I made vegan gnocchi? Well, this mushroom ravioli recipe is quite similar to that one, except I didn't add any potatoes to the vegan ravioli dough.
I stuffed these vegan ravioli with a delicious mushroom filling and topped them with an extra-creamy white sauce made with lots of nooch for a cheesy taste and some garlic. Because I LOVE garlic pasta!
The sauce was AAAMAZING! Tip: Combine the vegan ravioli filling with the white garlic sauce and add in some boiled pasta of choice. It's so good! You can also make a baked pasta casserole with this! I tried it with some shredded vegan cheese on top…perfect vegan comfort meal! 😀
I wanted to show you the step by step process for making these vegan mushroom ravioli but unfortunately, the light in my kitchen was shitty, so instead, I tried to explain this vegetarian ravioli recipe as thorough as possible and do a step by step recipe another time (maybe even a video!). If you have any questions, leave me a comment below and I will gladly answer you. 🙂
Hope you'll like my vegan mushroom ravioli recipe!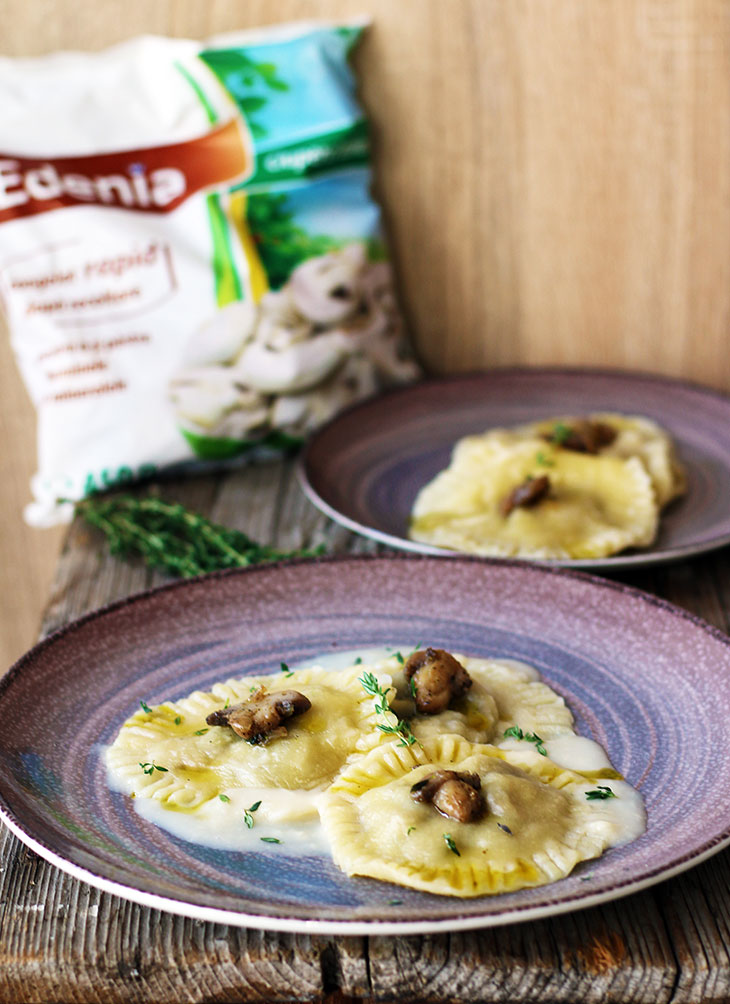 Yield: 4
Vegan Mushroom Ravioli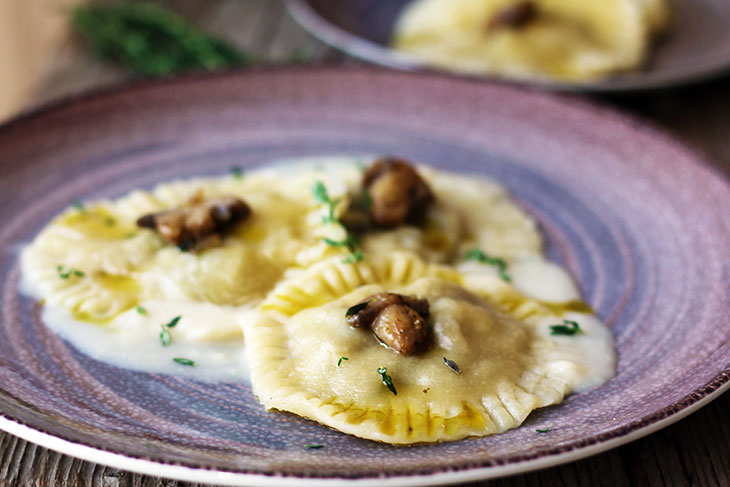 Ingredients
Vegan Ravioli Dough:
1 1/2 cups flour
1/2 cup water
2 Tbsps olive oil
1/2 tsp sea salt
Mushroom Filling:
450 g button mushrooms, frozen or fresh, sliced (I used frozen mushrooms by Edenia)
1 medium onion, diced
1 Tbsp oil
3 garlic cloves, minced
fresh thyme, the leaves from 4-5 sprigs
1/2 tsp nutmeg, ground
salt and pepper, to taste
Creamy garlic sauce:
3 Tbsps flour
1 glass vegan milk of choice, natural flavored
5 garlic cloves
4 Tbsps nutritional yeast
sea salt, to taste
Instructions
Mushroom filling:
Heat the oil in a large pan. Add all the mushroom filling ingredients and saute for 10-15 minutes.
Vegan ravioli dough:
Add the flour, water, olive oil and salt into a bowl. Mix well and knead by hand, until it has an elastic texture.
Prepare your work surface by cleaning it and dusting it with some flour.
Divide the dough into three or four equal portions. Place one portion onto the floured work surface and roll into a large rectangle that's about 1/8 inch thick. You can make rectangle or round ravioli. I made round ravioli by cutting the dough using a glass. Repeat the process until you finish the dough and have all the round ravioli dough disks in front of you.
Take one piece of round-shaped dough and add 1-2 tsp of filling on it. Take another piece of dough and put it on top of the first one. lightly press the margins together. Use the tines of a fork to create ridges along the outer edges of each ravioli. Make sure they're well pressed together so they won't open when boiling.
Place each ravioli on a sheet of parchment works great after cutting. Repeat until all dough and filling is used.
Bring a large pot of water to a boil and add ravioli. Cook them until they start floating, about 2-3 minutes. Immediately remove from the pot and drain them.
Sauce:
Add all the sauce ingredients into a blender and blend until smooth.
Pour the sauce into a pan and cook until it starts to thicken. Serve this over the vegan mushroom ravioli.
Nutrition Information
Yield
4
Serving Size
1 grams
Amount Per Serving
Unsaturated Fat

0g