In case you fancy a savory breakfast instead of a sweet one, then I have a great idea: give these veggie-packed breakfast muffins a try, they're to die for!
We all know the theory: veggies are super good for us. They provide nutrients for our bodies – important nutrients that help us function properly. They're low in calories and good on our shape. So why is it that no one seems to eat enough of them?
According to science, one plausible explanation would be that we've evolved to associate bitter foods with toxic substances. Rejection of toxic things is hard-wired into our brains, so that's why it might be so difficult to feed plain vegetables to small children. And that's why you usually have to puree them with some fruit to give them sweetness.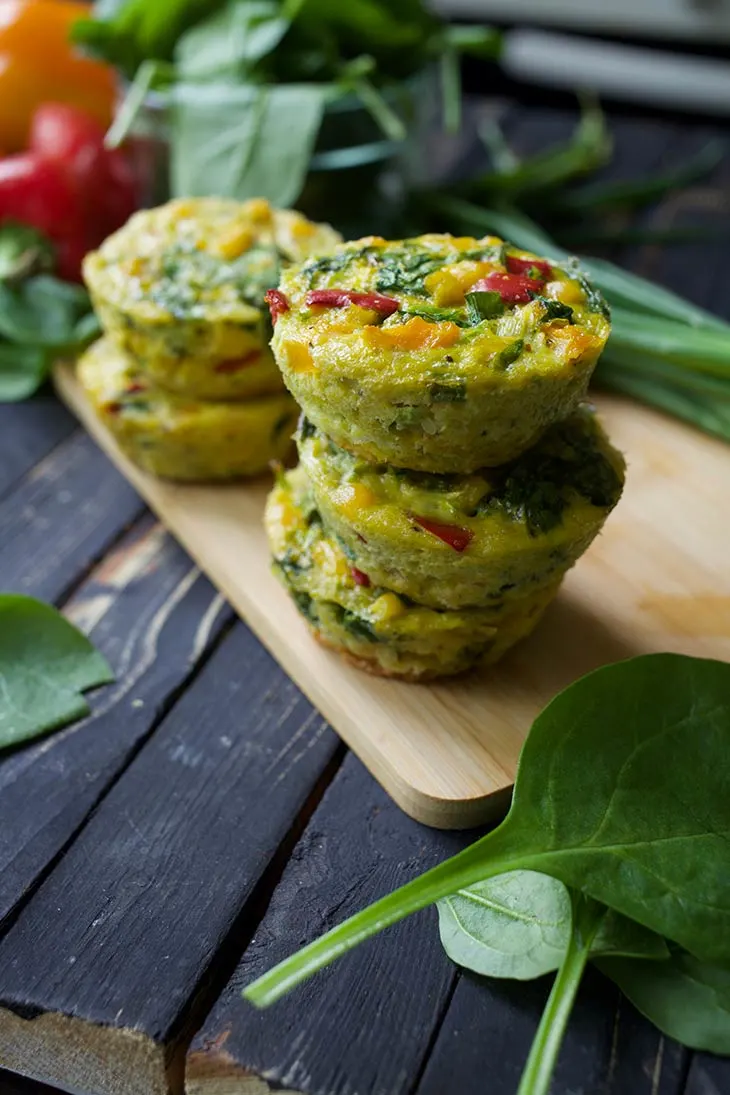 Moreover, we're 'programmed' to love calorie-dense foods, especially sweet foods. Just think about it: back when we used to live in caves, sweet foods were scarce and precious. The only sweet foods available were whatever fruits were in season.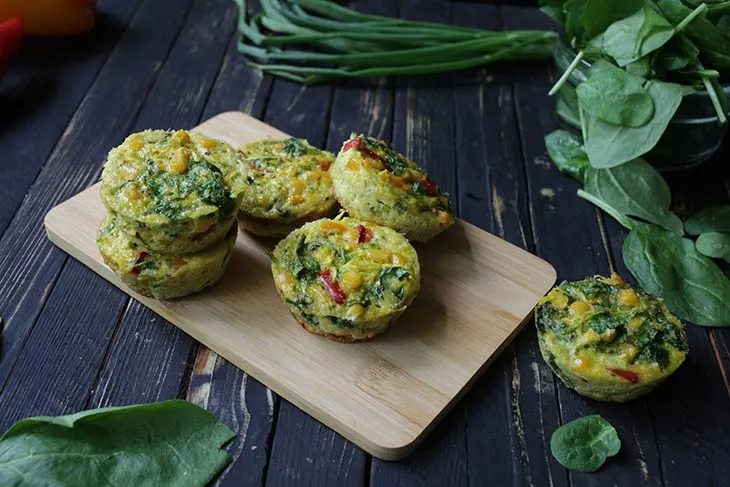 So yeah, this means we couldn't go to the grocery store and get whatever type of fruit we wanted at any time. We didn't have strawberries in winter, and neither did we have Ben & Jerry's cookie dough ice cream. Not to mention that, whenever we found some tree bursting with ripe fruit, it wasn't ours and ours alone. We had to fight over it with other animals, say hungry baboons. So whenever we had the opportunity, we had to make sure we ate a lot. 🙂
And well, another simpler explanation would be that you don't cook your veggies in an enjoyable way. There's little pleasure in eating plain vegetables – not everybody likes them. Cooking them, on the other hand, or making sure you season them properly… That's another thing. One thing I know for sure: few people are born loving vegetables, but almost all of them can learn how to love them! 😉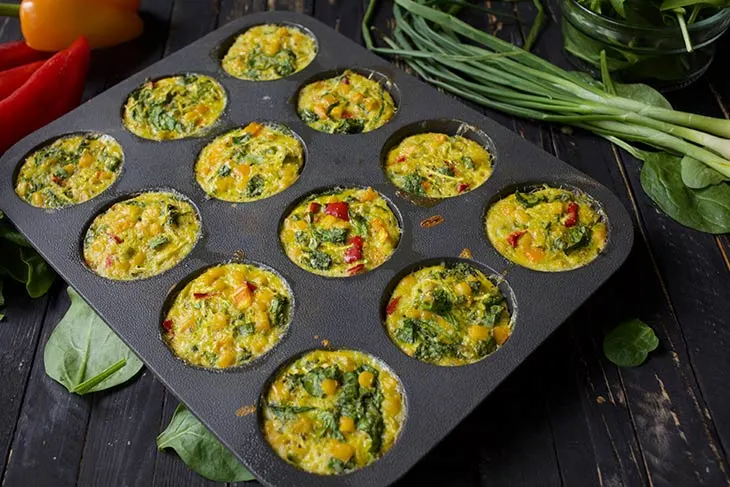 And one sure way to love them is with these veggie-packed breakfast muffins. Your kid won't go near a vegetable? Well, think of these muffins as a sure way to make him or her scarf them down. These are like a breakfast omelet, only better, probably healthier and way more fun.
This is one of those recipes for which you don't really need measurements. You can eyeball it just fine, and in time you're going to make it with your eyes closed. Which is utterly amazing, because who has the energy to make elaborate recipes in the morning? Not me!
Give me something that's easy to put together, tastes amazing, and is pretty healthy and I'm good to go. If it manages to look decent as well, that's a nice bonus.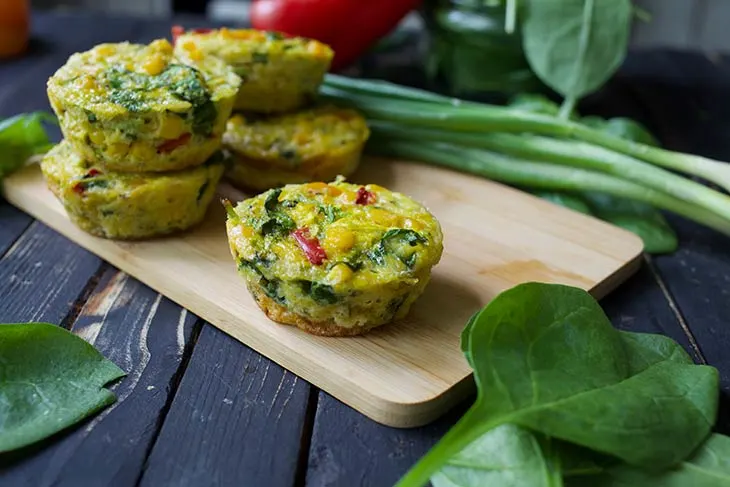 And boy, do these muffins look good! They're the cutest. 🙂 That's why kids love them so much. It's just so fun holding these little, compact omelets, plus they're super fluffy and yummy, and colorful.
This is an amazing recipe if you want to clean your fridge because you can make it with a bunch of leftovers. Half a bell pepper, a sad carrot, and some forgotten zucchinis? You can give them a new life by dicing and throwing them into your muffin tray.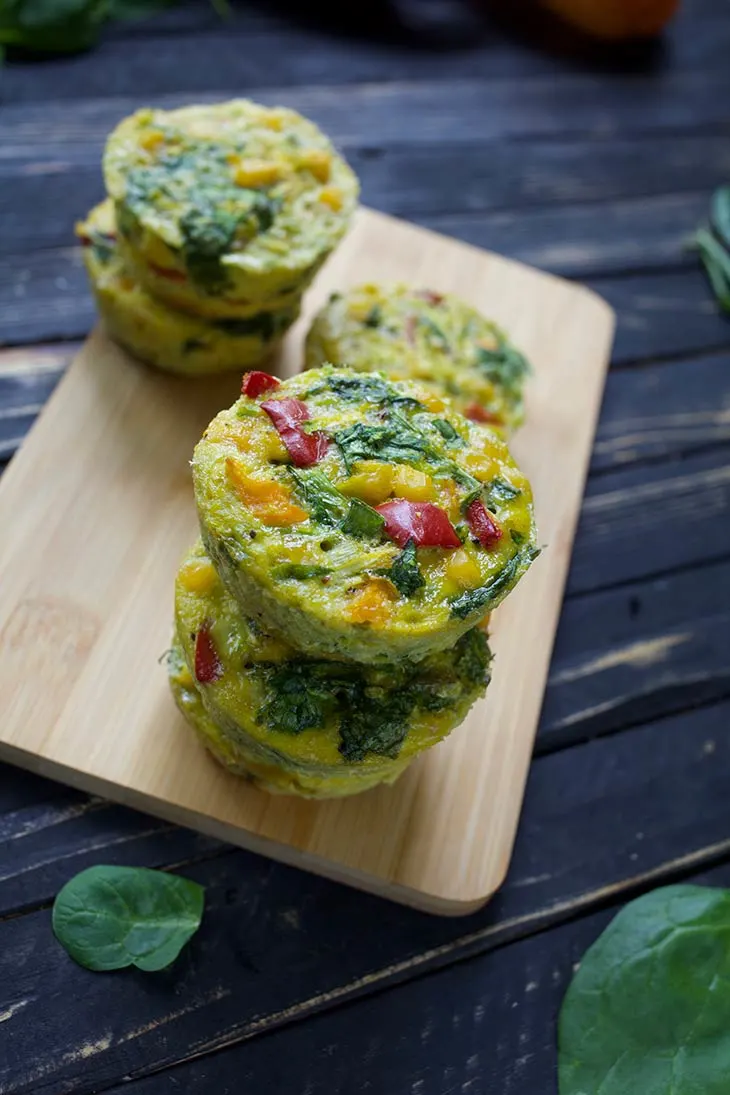 You can use pretty much any vegetables for this recipe, and that's why I think it's so great. It's easily customizable and versatile. We all know what it's like to have picky eaters around the house, so it's nice to know that everybody can get what they want without the need to cook a bunch of different dishes and having additional stuff to wash afterward.
You can fill 4 muffin compartments with zucchini and tomato, 4 other ones with carrot and bell pepper, and the rest with veggies and cheese, for example. Everyone gets what they want! 😉
These veggie muffins are super healthy and amazing for breakfast, but they also make for a great snack. I love baking a bigger batch and having them on hand throughout the week. They're great to pack for school or work, or for busy mornings when you don't have the time to dress properly, leave it alone cook something healthy – grab some of those and walk out the door. You can also make some in advance and freeze them – they'll last for months.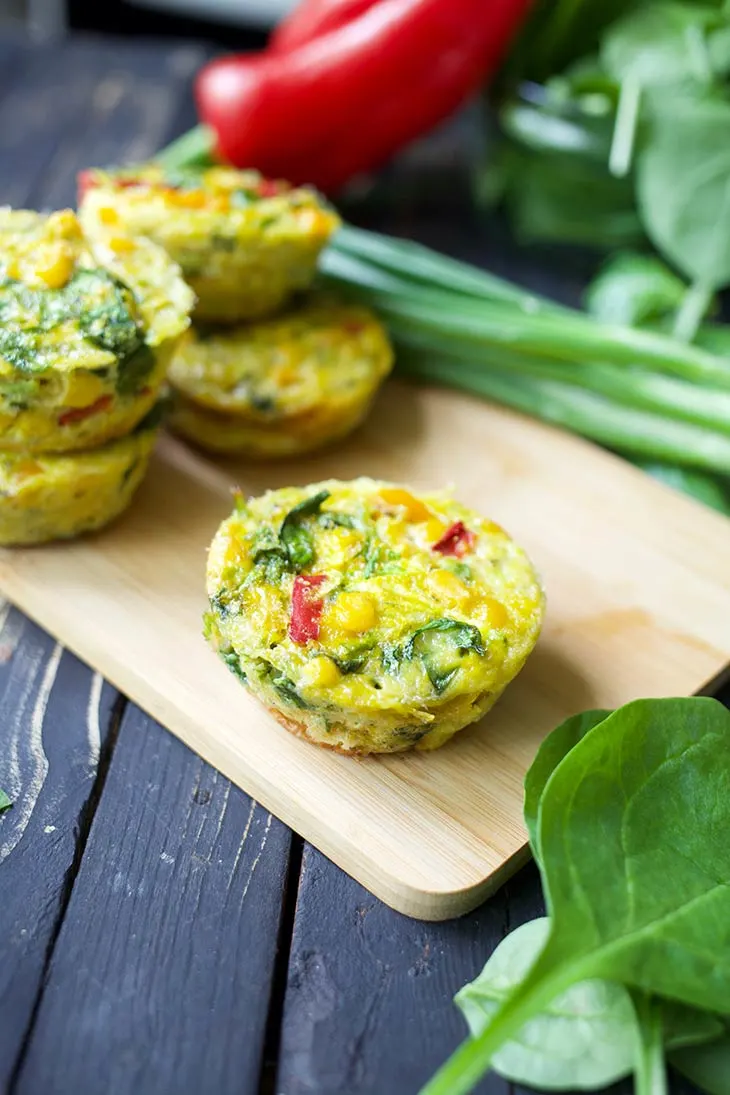 This is the kind of healthy food that doesn't *feel* like healthy food at all because it doesn't skimp on the taste. And… yeah. This is a sure way to make someone eat their veggies and love 'em too.
---
Personalized meal plans and workout videos | Get your customized meal plan today! [x_button shape="square" size="mini" float="none" target="blank" href="https://shop.gourmandelle.com/?utm_source=mainsite&utm_medium=site&utm_campaign=inpost" info="none" info_place="top" info_trigger="hover"]I WANT A MEAL PLAN![/x_button]
---
Yield: 12
Veggie-Packed Breakfast Muffins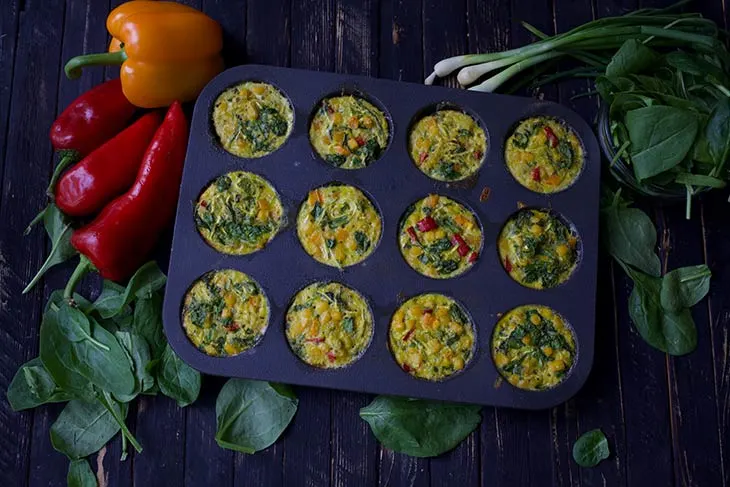 In case you fancy a savory breakfast instead of a sweet one, then I have a great idea: give these veggie-packed breakfast muffins a try, they're to die for!
Ingredients
For the base:
180g (2 cups) chickpea flour
240ml (1 cup) plant-based milk
180ml (¾ cup) water
3 Tbsp olive oil
2 Tbsp apple cider vinegar
4 Tbsp nutritional yeast
1 tsp turmeric
¼ tsp baking powder
½ tsp garlic powder
½ tsp salt
½ tsp black pepper
For the filling:
½ large red bell pepper, chopped
½ large yellow bell pepper, chopped
60g (2 cups) spinach, chopped
35g (⅓ cup) spring onion, chopped
160g (1 cup) sweet corn
Instructions
Preheat oven to 200 C
Grease a muffin tin with some olive oil.
In a large bowl, add chickpea flour and milk and whisk until well combined.
Add the rest of the base ingredients and mix until thick batter forms.
Add all the veggies to the base and mix to incorporate.
Let sit for 5 minutes.
Distribute batter evenly among muffin tins.
Bake about 25 minutes or until golden.
Let muffins cool before taking out from muffin pan.
Nutrition Information
Yield
12
Amount Per Serving
Calories

104
Total Fat

4g
Saturated Fat

1g
Trans Fat

0g
Unsaturated Fat

3g
Cholesterol

2mg
Sodium

120mg
Carbohydrates

14g
Fiber

2g
Sugar

2g
Protein

4g
I strive to keep the information as accurate as possible but make no warranties regarding its accuracy. I encourage you to make your own calculations using your preferred nutrition calculator.