This muhammara recipe is a traditional Syrian recipe with roasted red peppers and walnuts. It can be used as a spread and it's perfect as an appetizer for parties!
If you want to go straight to the recipe, just scroll down. I'll blow off some steam first and tell you a story. 🙂
So, before showing you today's recipe, let me just blow off some steam first. I'm getting really tired of having to deal with vegan extremists. Come on people, you are filled with aggressiveness and anger! I understand, it's so much suffering in the world, animals are being slaughtered, you're bothered that people are ignorant, but by having this behavior you're doing more bad than good!
I know the situation we live in too, but unlike you, I understood that negativity will never lead to positivity! Never! So stop annoying your Facebook friends by posting horrendous images with slaughtered animals, and start posting happy stuff, lively, free animal photos, delicious vegan foods, and even health tips! This is the way you encourage others to be interested in veganism.
I am curious, how many of you (and here I'm referring to the vegan extremists mentioned above) converted at least one person to vegetarianism/veganism?I doubt that you did. I'm not bragging, not at all, but I succeeded in converting 5 people so far to vegetarianism. And from that to veganism is just a small step. Do you think that I achieved that with an aggressive behavior? Not at all. Do you think that I forced my beliefs on them? No. I just informed them. That was it. I showed them the positive stuff and not the bad parts. That's what matters most. Stop making people feel guilty (even if we know they are) and start having a positive attitude!
Let's leave all labels aside. Vegans, non-vegans, vegetarians, lactovegetarians etc. IT DOESN'T MATTER! What matters is that we change and help others change. ANY good change, no matter how small it is, is appreciated! So stop with the stupid affirmations such as "Vegetarians are worse than omnivores!" or "You ate honey, you must be shot to the wall!". I can't even believe how some people can think like that. I'd rather live in a vegetarian world where people eat dairy, eggs and honey, than in the world we're living now! The planet will be a happier place.
So now that I'm not pissed off anymore, let's talk about the muhammara recipe here… 🙂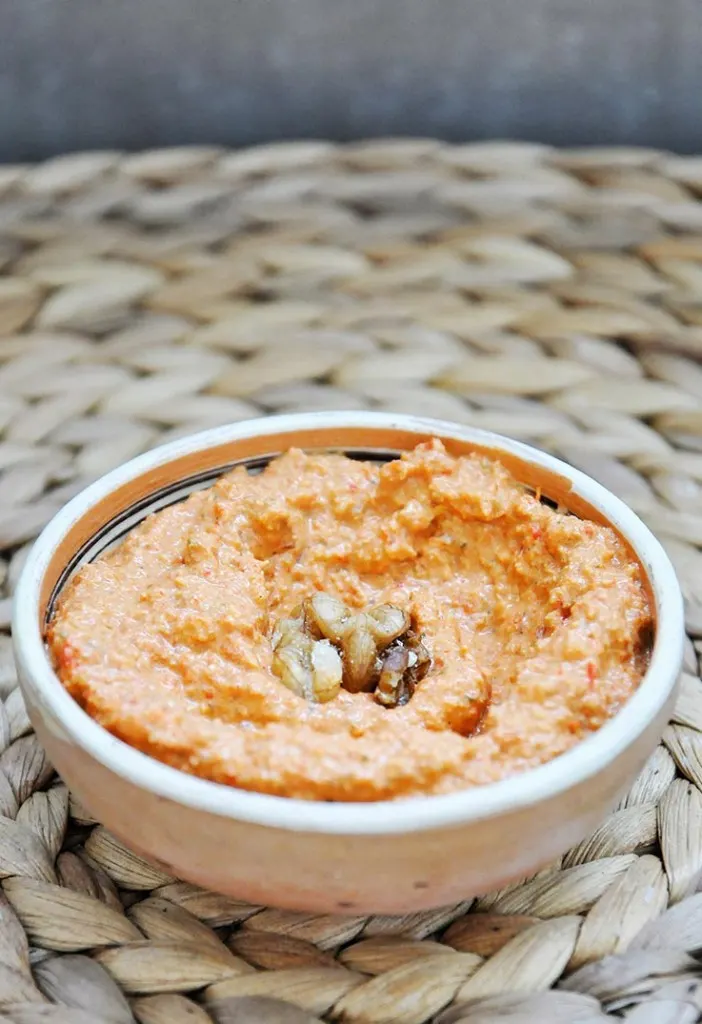 What is Muhammara?
Muhammara is a traditional Middle Eastern recipe and comes in different versions with minor changes depending on the region (there is Turkish muhammara, Lebanese muhammara, Syrian muhammara, Armenian muhammara, and so on). I found out about this muhammara dip while searching the web for some oriental appetizer recipes, similar to hummus and baba ganoush. I didn't use all the ingredients in the authentic muhammara recipe because some are pretty impossible to find here. Also, I didn't add any breadcrumbs. I tasted it and loved it just the way it was. Anyway, the result was aaaamaaaazing!
This muhammara recipe is so much different than the spreads recipes I'm used too. It has a lovely sweet and nutty flavor, the color is vibrant and the texture is really good too. I will definitely make this again! I tried it at a local Lebanese restaurant but I think that my version is by far the best muhammara recipe I've tasted so far.
One more tip before showing you this muhammara recipe, you have to be very careful with the walnuts you use. Check them twice, or even triple check for any bits of hard parts. You don't want to ruin your teeth now, don't you?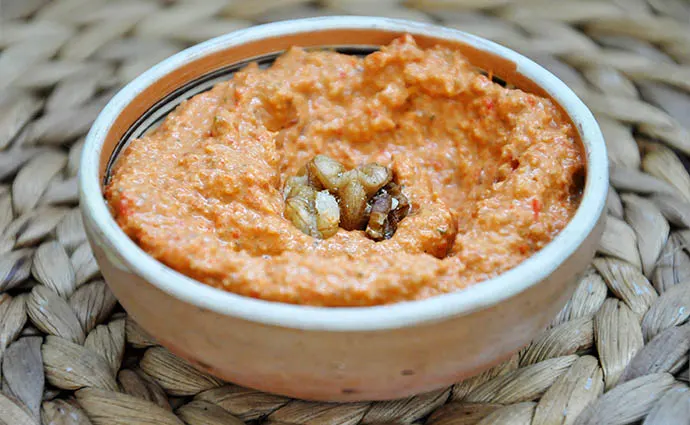 Yield: 6+ servings
Muhammara | Roasted Red Pepper and Walnut Spread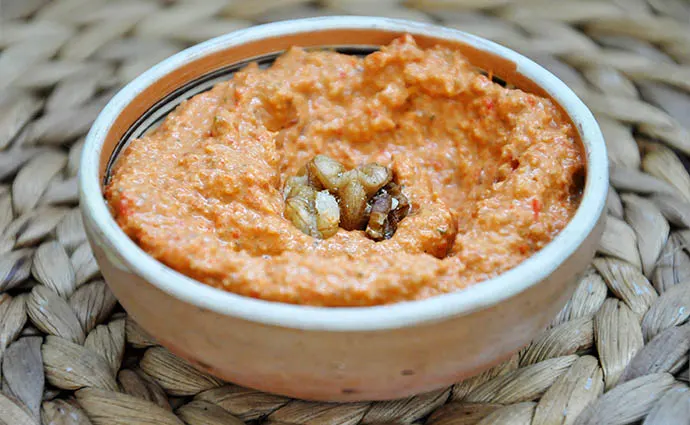 This muhammara recipe is a traditional Syrian recipe with roasted red peppers and walnuts. It can be used as a spread and it's perfect as an appetizer!
Ingredients
4 red bell peppers
120g (1 ½ cup) walnuts, lightly toasted
2 Tbsps extra-virgin olive oil
2 Tbsps fresh lemon juice
1 tsp ground cumin
½ tsp ground white pepper, use less if you have only black pepper, but I strongly recommend using white. It has a pleasant flavor
2 garlic cloves, mashed
sea salt, to taste
Instructions
Roast red bell peppers. You can either roast them in or on top of your oven. Here's a great guide on how to roast bell peppers.
Once roasted, let peppers cool a bit. Peel off the charred black skins.
Add all ingredients, roasted red bell peppers included, to the food processor. Blend until smooth.
Serve with pita bread! 🙂
Nutrition Information
Yield
6
Amount Per Serving
Calories

235
Total Fat

20.7g
Carbohydrates

7.6g
Protein

4.5g