Are you craving a filling, healthy, vegan lunch that's ready in no time? Here's how to make the most delicious, protein-rich festive creamy soup!
You may already know how much I dislike spending endless hours in the kitchen. I know, that's a bit ironic considering that the kitchen is my playground but, because of my busy schedule, I avoid preparing dishes that require a lot of time to be ready.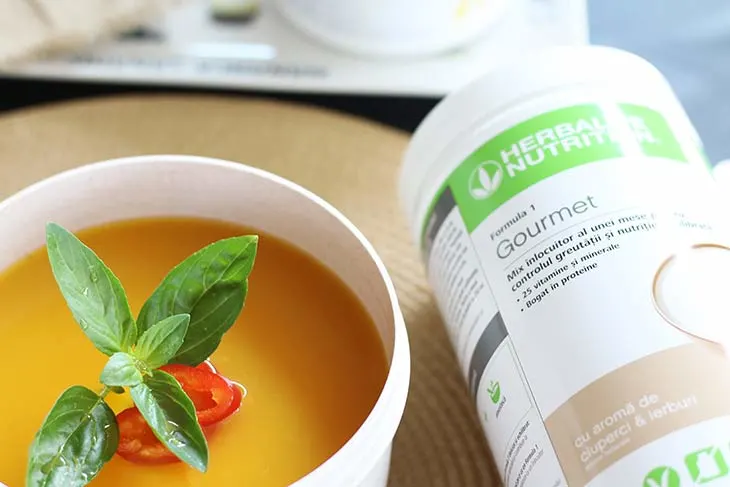 After all, when we're in a rush, especially when we work from home, we oftentimes need a quick lunch. But this can't be an excuse to give up on a balanced, nutrient-rich diet and to choose junk/fast food then blame it on the lack of time.
That's why I'm always looking for easy solutions that will help me when I'm on a tight schedule. I'm so glad I discovered the vegan protein shakes from Herbalife Nutrition – and today I want to talk to you about the Formula 1 Gourmet with Mushrooms and Herbs.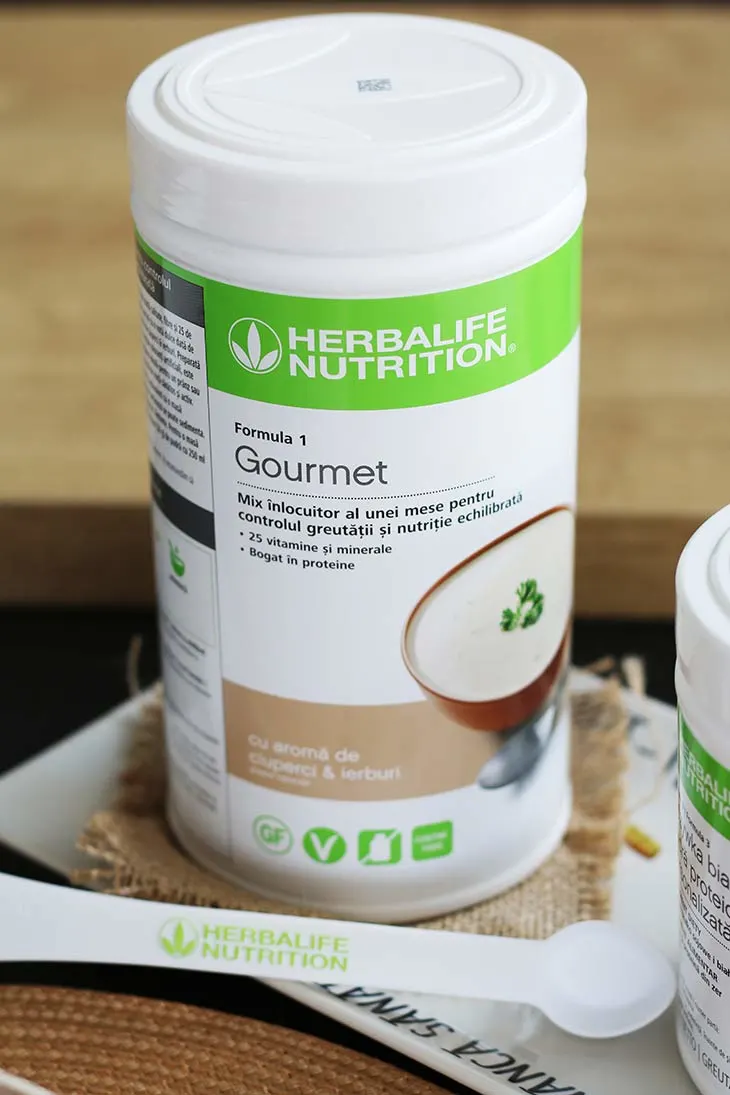 The F1 shakes are created to be consumed as they are, replacing your breakfast or dinner, as a vegetarian drink that helps you achieve a complete vegan meal. Or you can use them in different recipes as a key ingredient for a protein and nutrient boost.
Today I used the F1 Gourmet shake with Mushrooms and Herbs and I created a festive creamy soup around it. And let me be completely honest: if you like mushrooms, you'll surely fall in love with the flavors of this shake. It has an amazing umami taste that just makes me eat it as it is, and, if I think about it, it reminds me of nutritional yeast flakes and their brilliant taste. After I made this festive creamy soup, I couldn't help myself and tested the shake in a creamy mushroom soup as well! I was very curious to test the intensity of the flavor in a soup with the same aromas. It was delicious!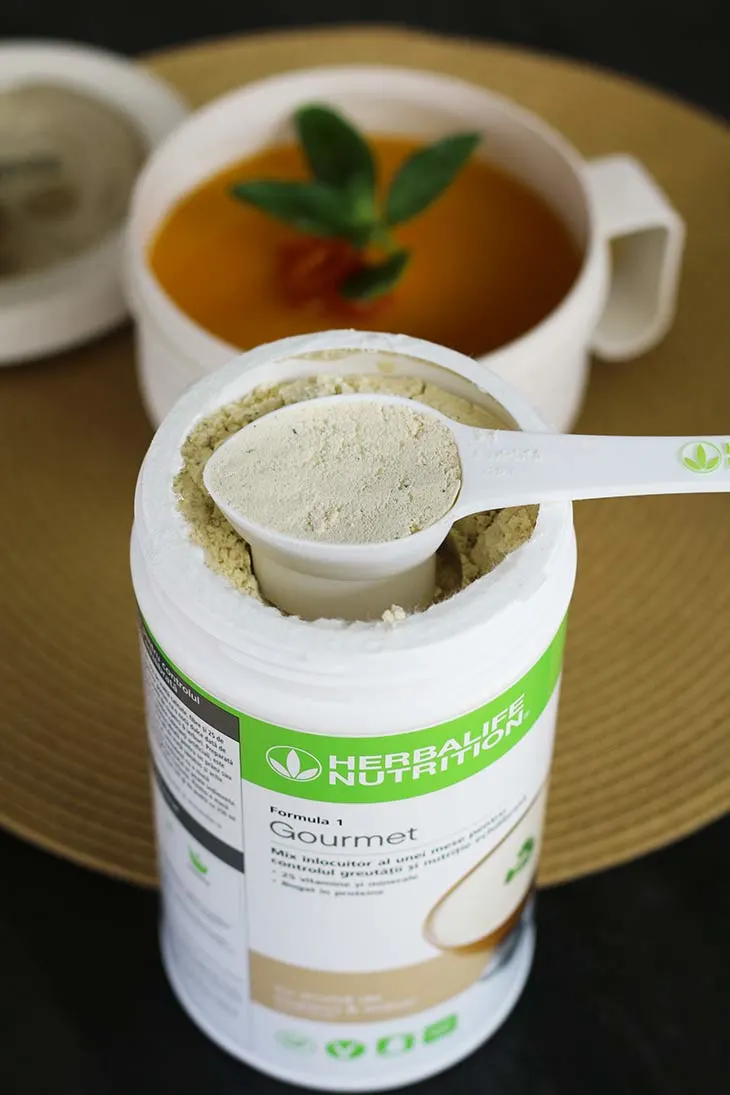 This soup has pumpkin, coconut milk, veggie stock, lemongrass, ginger, red chili, garlic, and onion. Of course, it also has the F1 shake with mushrooms and herbs that I was telling you about and the Formula 3 PPP (personalized protein powder). By the way, the PPP powder has milk, so if you want to make a vegan version of this soup, you can simply omit it.
We all know how important it is to make sure our daily diet has enough protein intake, especially when we're eating vegan!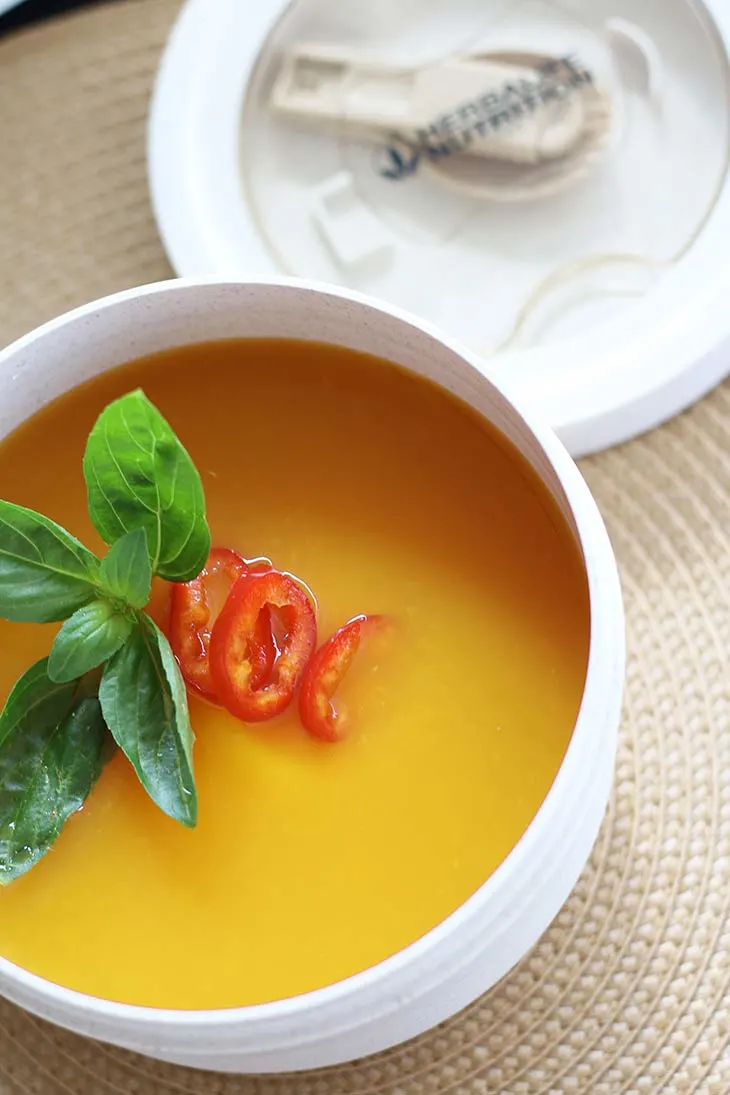 Formula 1 Gourmet shake is newly launched on the market and it's a very good solution if you want to replace your lunch or dinner, especially when you're out of time to prepare something complicated to eat.
This shake comes with a large protein intake, it doesn't have any gluten and no added sugar or artificial food coloring.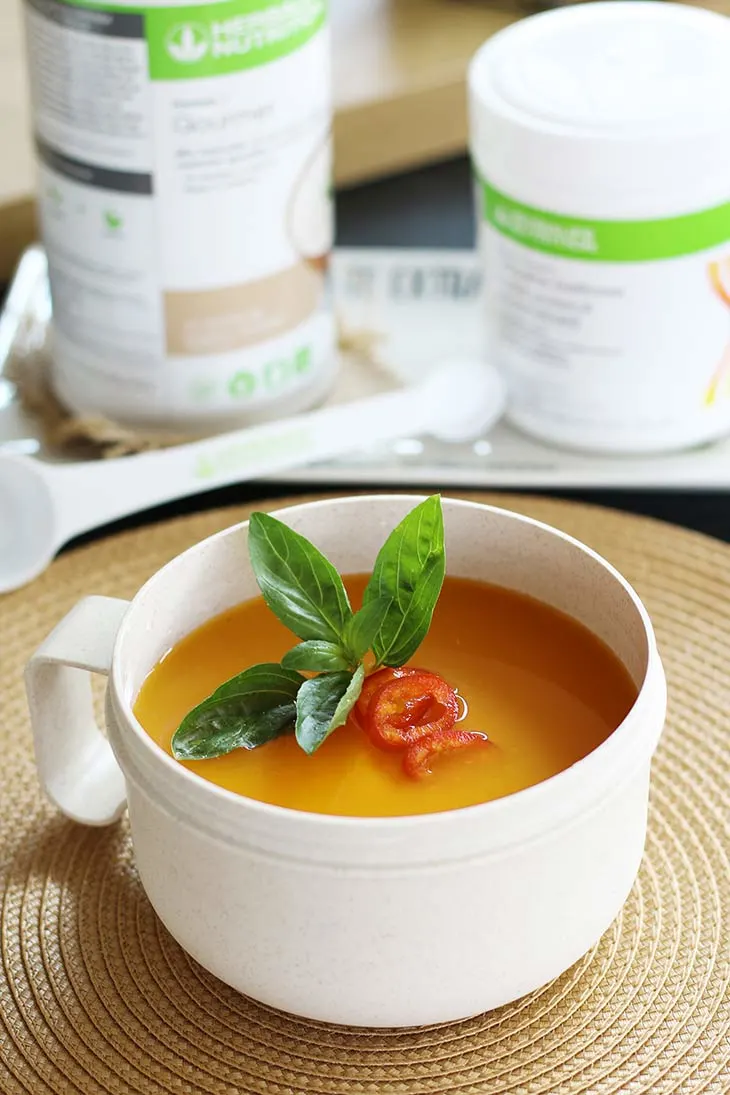 If you want to serve the shake as it is, you just need to add two servings (52g) of powder in 250ml warm milk (vegan milk or not – I recommend soy milk for this, but my homemade rice milk is just as good). Mix and you're ready!
TIP: When you use Herbalife Nutrition products in dishes that require thermal preparation, some vitamin values might differ from the ones mentioned on the label.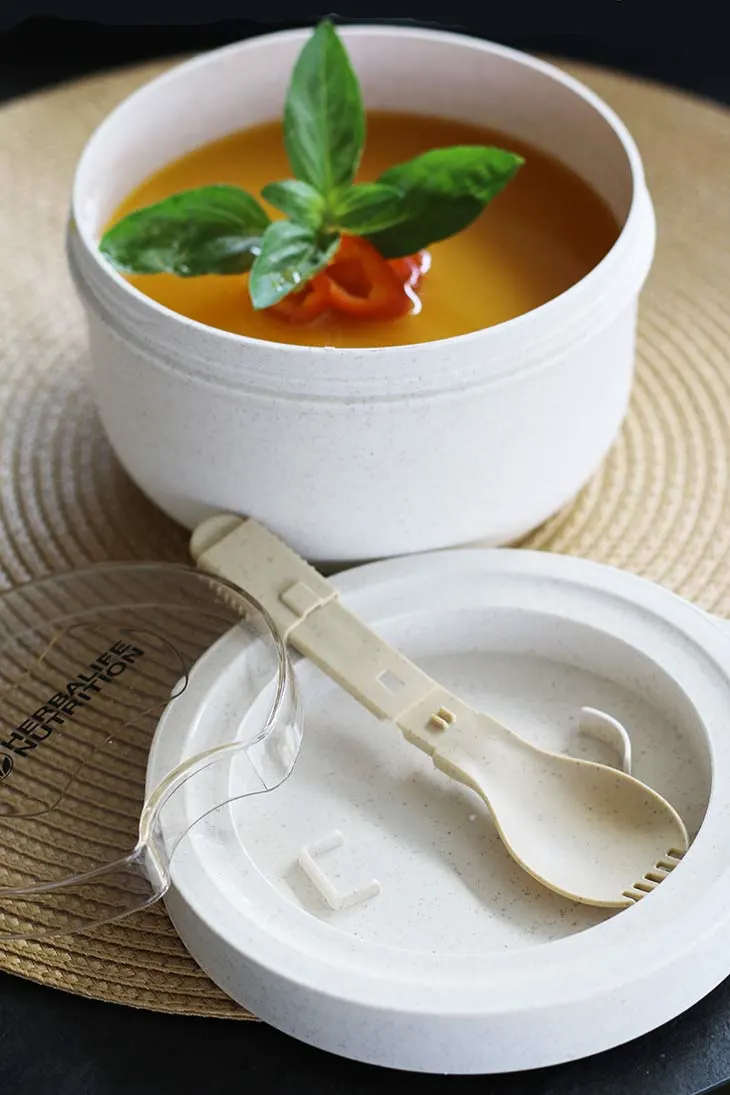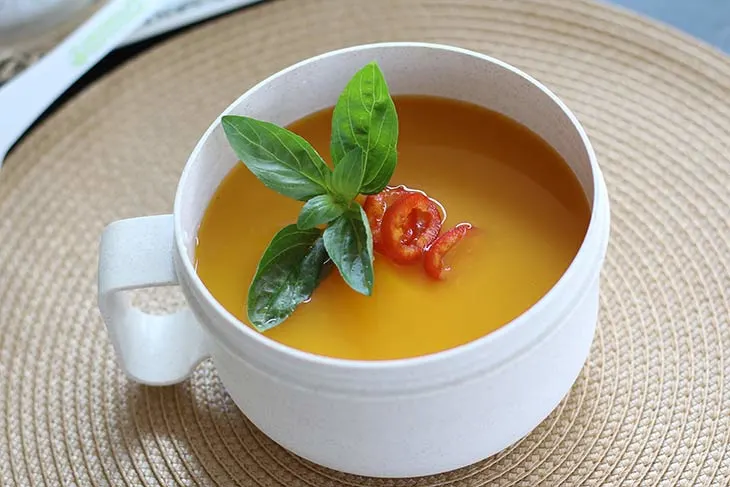 This festive creamy soup is very flavorful, filling, and easy to make as well. It's perfect for meal prep, as it can be easily frozen. A very good idea would be to prepare a bigger batch with some extra portions that you can keep in the freezer for later. Then, whenever you're craving a bit of soup, all you need to do is defrost it and warm it. Simple and quick!
One portion of this soup has the following nutritional values per portion:
138 kcal
7g protein
2g fiber
9g fat
9g carbs
5g sugar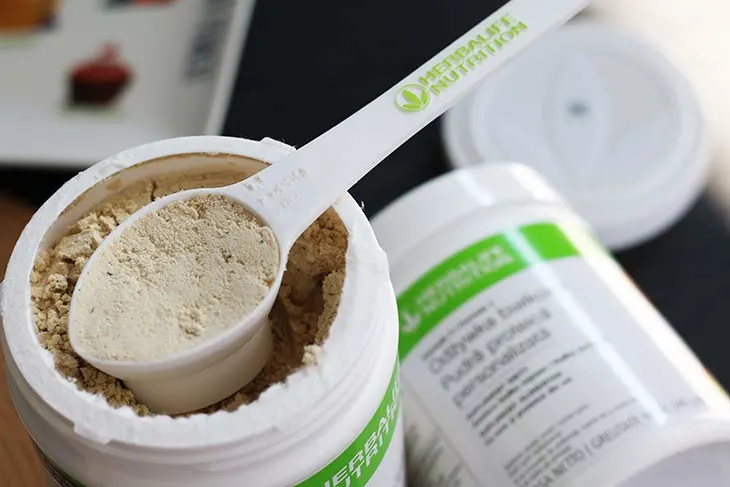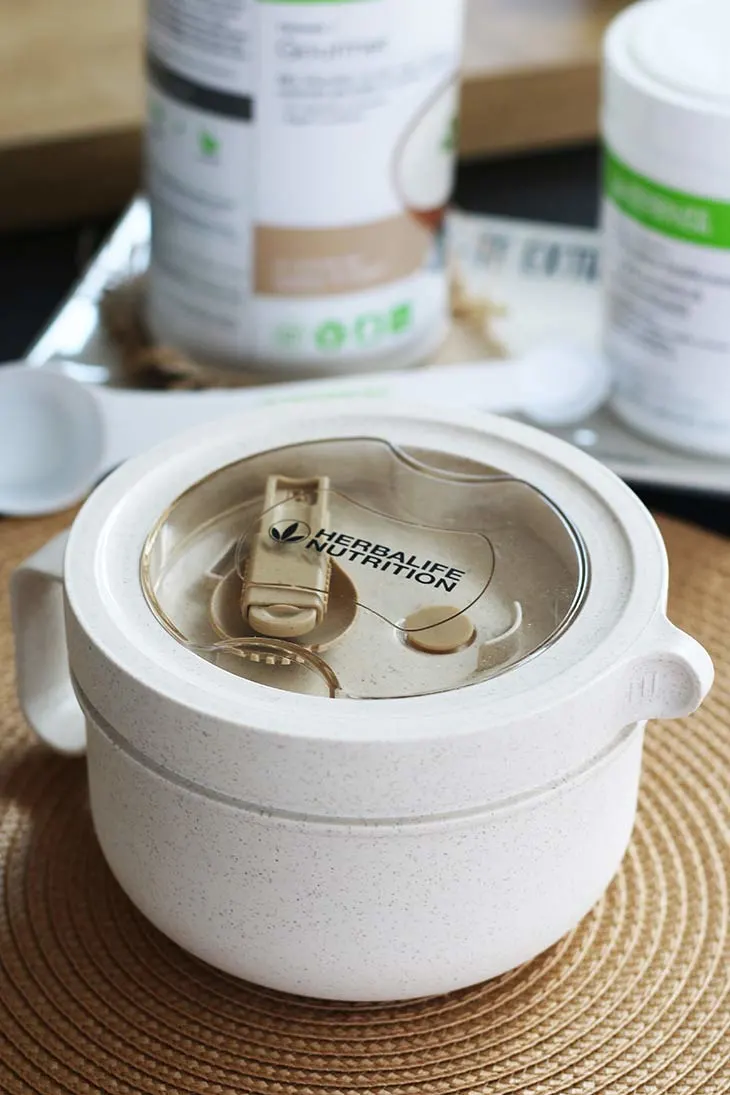 One teaspoon (6g) of Formula 3 PPP has 5g of protein. Our body needs 1g of protein for each kilogram of weight, so you can surely add these types of protein powders into your everyday diet.
These being said, I hope you'll try this recipe soon. I photographed the soup in the special soup container gifted from Herbalife Romania and I think it's simply genius! I was always struggling with packing soups for my husband at work, but now I found an ideal solution. No more soups in a jar! This container is big, it has a sealed lid and it also comes with a cute spoon-fork combo.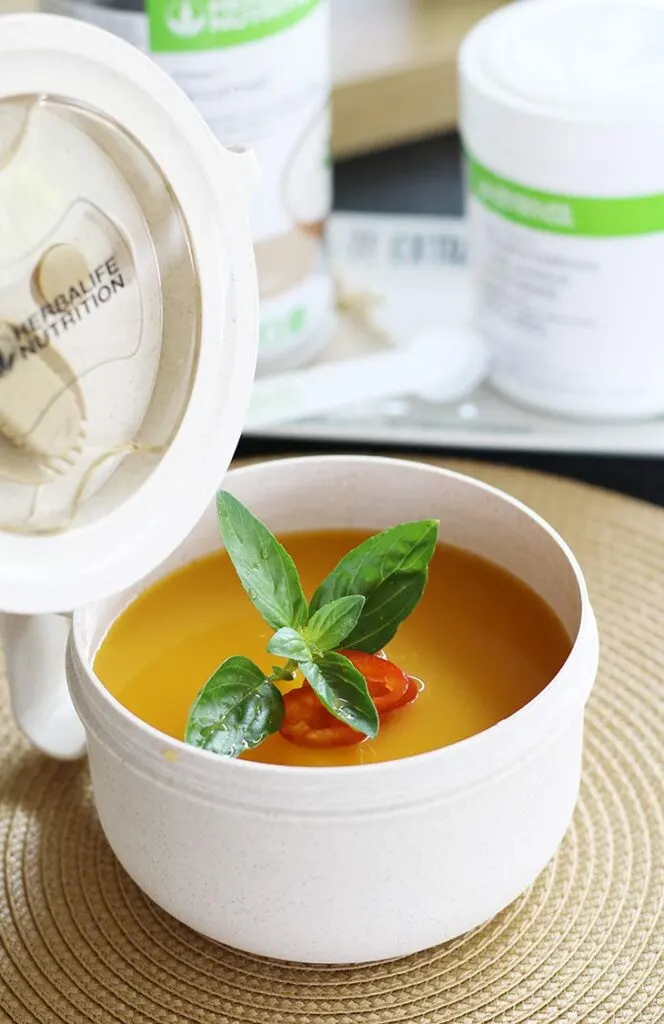 If you decide to make it, don't forget to leave a comment below and let me know how it went. I'm always curious to read your opinions and reactions. Also, if you're interested to test the Herbalife Nutrition products used in this recipe yourself, feel free to leave a comment below and we can have a fun giveaway soon! 😀
Until then, I wish you happy cooking, and bon appetite!
Yield: 8 servings
Festive Creamy Soup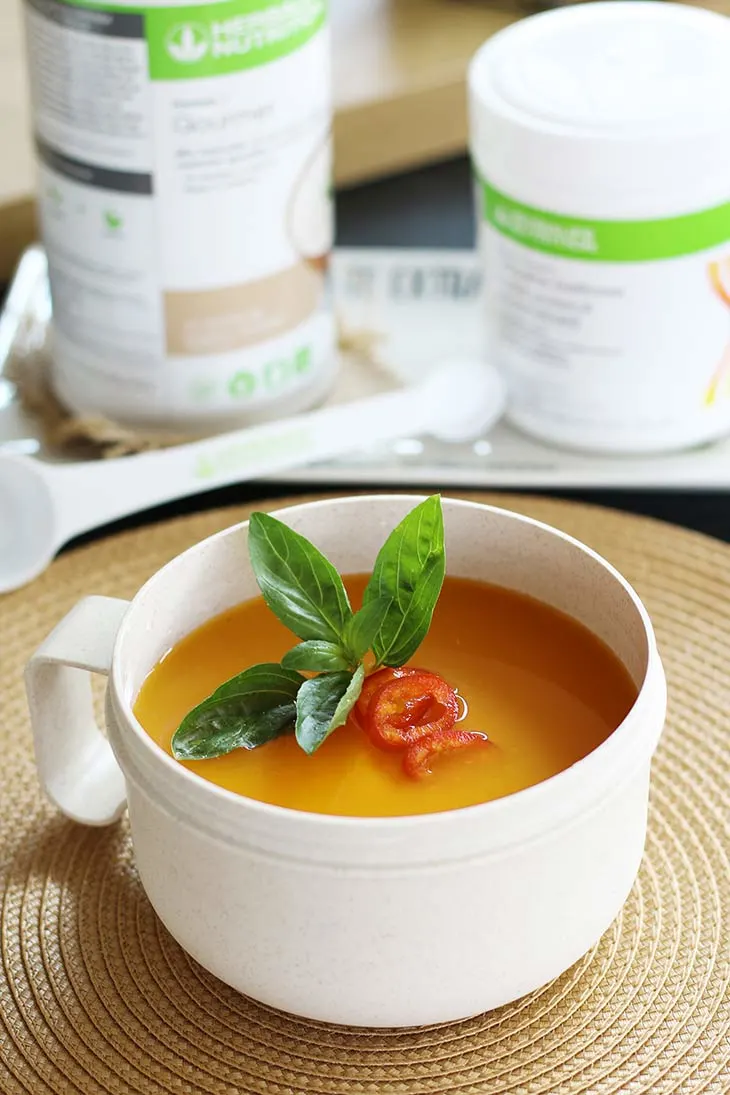 Are you craving a filling, healthy, vegan lunch that's ready in no time? Here's how to make the most delicious, protein-rich festive creamy soup!
Ingredients
2 Tbsp extra virgin olive oil
1 large onion, diced
2 cloves garlic, crushed
1 red chili, diced
1 piece of ginger (5 cm), peeled and grated
1 stick lemongrass, trimmed, outer leaves discarded, then finely sliced
1 small pumpkin or 1 large butternut squash, (approx. 1kg in weight altogether), peeled, deseed and cut into roughly 3cm pieces
1 tin low-fat coconut milk (400 ml)
750ml (3 cups) chicken or reduced-salt vegetable stock
1-2 Tbsp fish sauce
52g (2 servings) F1 Savoury Mushroom and Herb
24g (4 servings) Formula 3 PPP
1 small bunch basil, shredded
Instructions
Place a large saucepan on a high heat and add the extra virgin olive oil. Add the onion, garlic, chilli, ginger, lemongrass and pumpkin, season with salt and pepper, turn the heat down to low, cover and cook for about 10 minutes till the squash is almost tender.
Add the coconut milk and the stock, bring to the boil and cook for 5-8 minutes more, until the pumpkin is completely tender.
Remove from the heat then add the F1 Savoury and the Formula 3 PPP and liquidise until smooth and return to the pan. When ready to eat, reheat the soup gently if its cooled down, season with fish sauce to taste, adding a little more stock to thin it out if you wish. Sprinkle with basil, then serve.
This soup will keep covered in the fridge for a few days. Reheat thoroughly to serve. It can also be frozen for a few months.
Nutrition Information
Yield
8
Amount Per Serving
Calories

138
Total Fat

25g
Saturated Fat

13g
Trans Fat

0g
Unsaturated Fat

10g
Cholesterol

63mg
Sodium

803mg
Carbohydrates

14g
Fiber

2g
Sugar

3g
Protein

20g
I strive to keep the information as accurate as possible but make no warranties regarding its accuracy. I encourage you to make your own calculations using your preferred nutrition calculator.