Do you love sweet potatoes? Then you'll love this one: garlicky smashed sweet potatoes – creamy, yummy, and super healthy!
Smashing good! 😉 Hehe!
No, really, these smashed sweet potatoes are so good, I just had to share the recipe with all of you ASAP! Just picture this: oven-roasted sweet potatoes. Okay, that's already good enough for me. Then comes a mix of garlic and butter on top. Well, here we go, I'm already in heaven!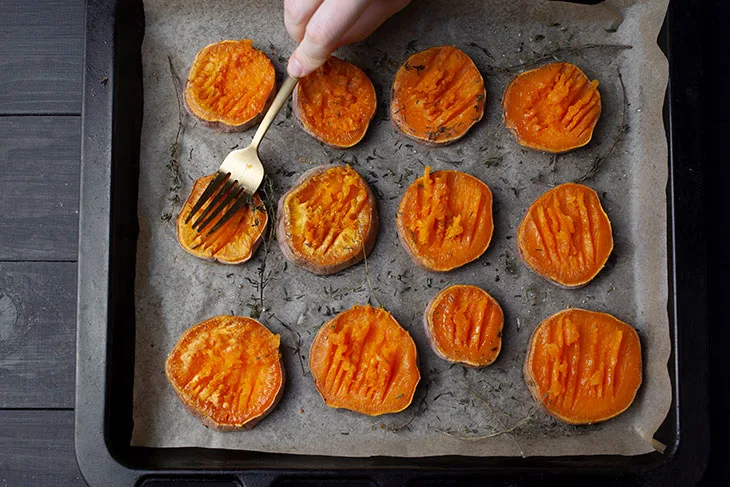 This recipe is for all my potato lovers out there. I'm sure you already know how much I love potatoes! Hmmm, where do I even begin? I love fries, I love hasselback potatoes, I love potato fritters and, most of all, I love sweet potatoes. If you're like me, then get ready for a real treat, my friends.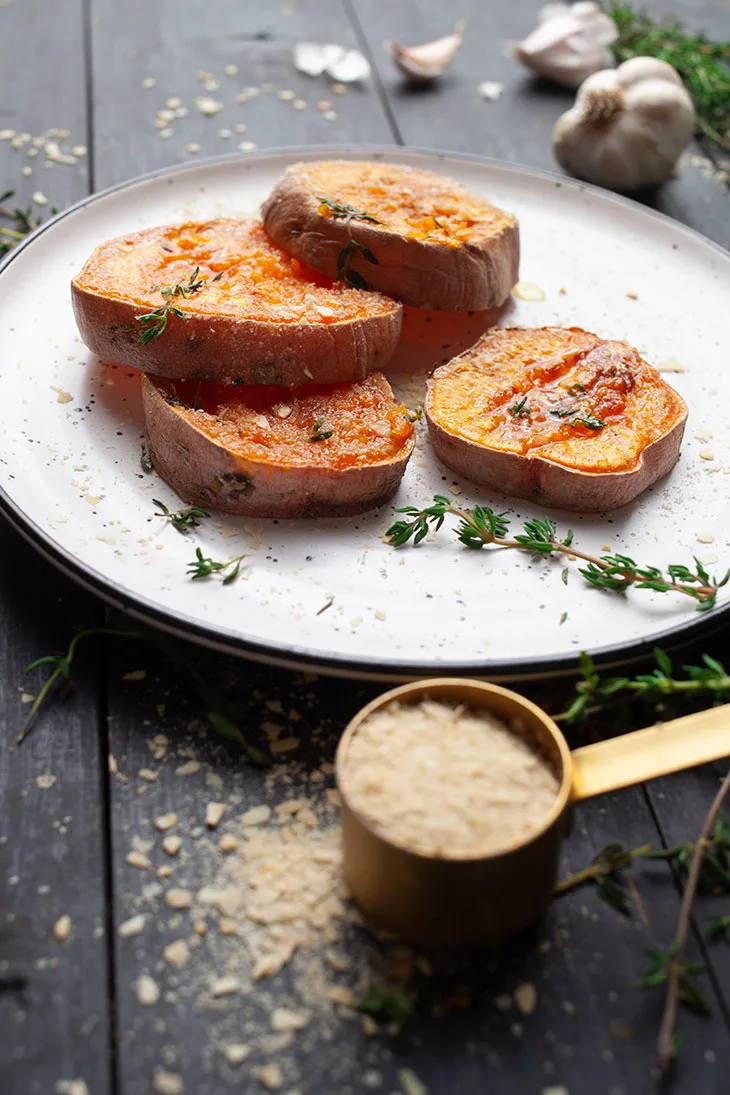 Mashed potatoes are good – I mean, who doesn't like them? Especially if you pair them with some meatballs of sorts. But smashed potatoes… those are something else! But what's the difference, after all? While mashed potatoes are… a yummy mash made of boiled potatoes, usually served as a side dish, smashed potatoes are simply slices of potatoes, roasted to perfection and then smashed with a fork in the middle. Boiling vs roasting. Fluffiness versus a crispier texture. Make them both and see for yourself.
I know, it might not sound like much, but they're simply awesome. So if you were searching for new ways of eating sweet potatoes – other than sweet potato fries, sweet potato cakes, or loaded skins, this recipe is here to help. The smashed potatoes cooked this way are soft and crispy at the same time and the vegan parmesan on top completes everything to perfection.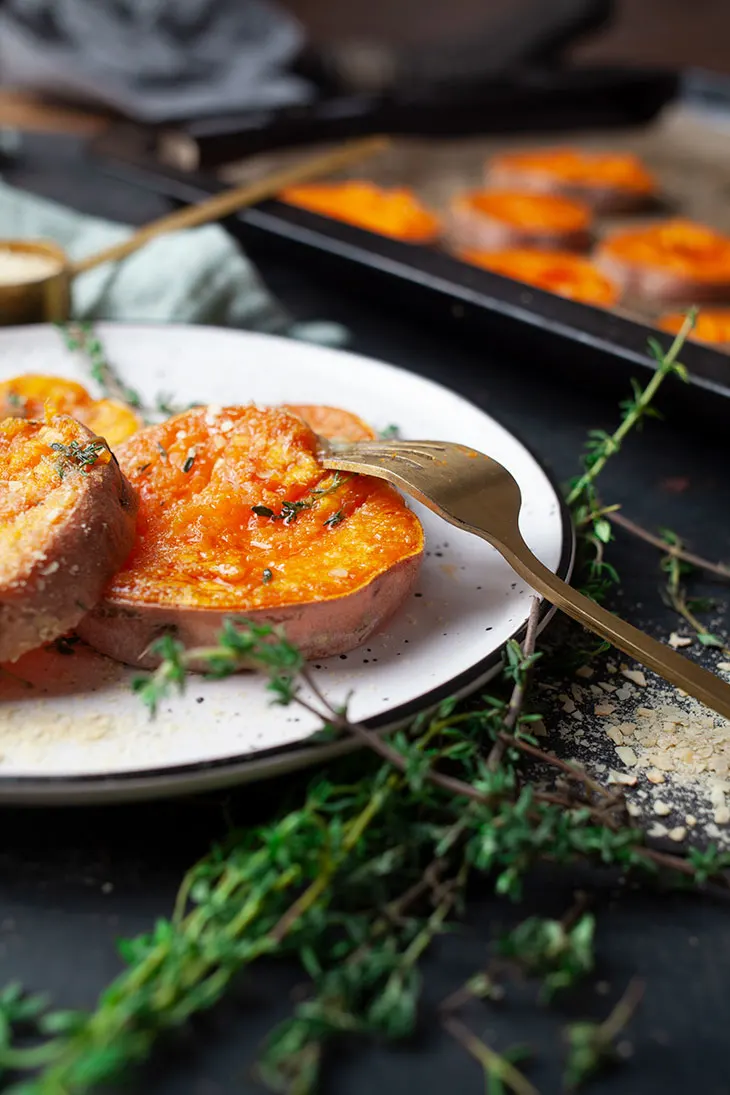 The best way to roast the potatoes for this recipe is to cut them into rounds and place them on a baking sheet with some olive oil. After they're tender, we simply smash them in the middle with a fork (no potato masher needed!) and we brush them with the best combo out there: our garlic butter mix. All vegan, of course! Then we throw them in the oven again for a little bit of broiling (we NEED that crunchy texture in our lives!) and we're all done.
What about serving? Well, you have a few options here: you can either eat these as they are, as a main dish, maybe with some greens on the side – or as a side dish with your favorite protein. It's up to you how you mix and match but I'm pretty sure that, once you take these little bits of heaven out of the oven, you'll unleash a world of deliciousness!
And let me tell you something else: these garlicky smashed sweet potatoes are extremely easy to make. Yes, sure, the entire process may seem complicated and tedious, given the fact that the word "smashed" is not that common and it can sound a bit odd, but that's just… not true. They're SO easy to make and fun too. You can even make them together with your kids for a fun family activity over the weekend. This way it's a win-win situation!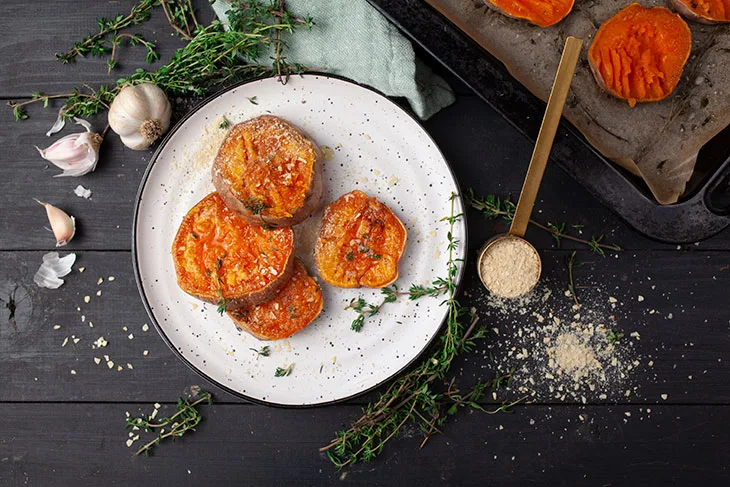 Here's an extra tip for you: if you want to serve these as a main dish because they're just so good, you can go on and add a dollop of homemade vegan yogurt on top. You won't need anything else, that's a promise. And making my vegan yogurt with probiotics at home is so easy!
You know I tried a lot of recipes here on the blog and I love them all, that's for sure. Otherwise, I wouldn't be sharing them here with you, correct? Correct! But these garlicky smashed sweet potatoes are something different. They're probably one of the best things I ate at the beginning of 2021 – and that says a lot. And what shocks me is that they're SO simple! Nothing fancy here. Just honest sweet potatoes, garlic, and butter. Simple and easy. Just the way that I like it.
Caramelized. Crunchy. Soft in the middle. Vibrant. Quick. Convinced? I hope so, 'cause I'm sure you'll regret it if you don't try making these smashed sweet potatoes today!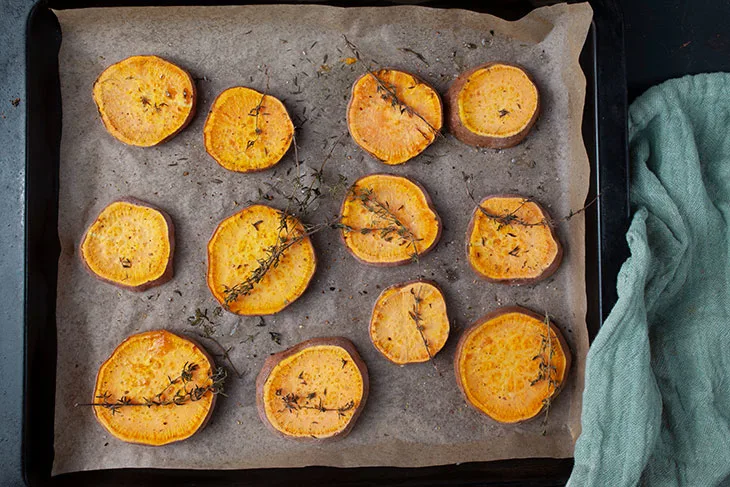 If you decide to make them, don't forget to come back here in the comments section and drop me a line. I'm so curious if you loved them or not! I'm pretty sure you will, though.
Yield: 2
Garlicky Smashed Sweet Potatoes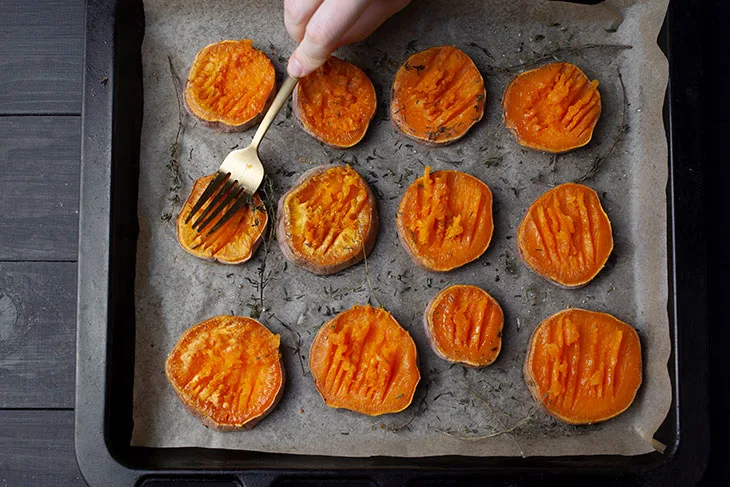 Do you love sweet potatoes? Then you'll love this one: garlicky smashed sweet potatoes – creamy, yummy, and super healthy!
Ingredients
For the potatoes:
2 large sweet potatoes, thick slices
1 Tbsp olive oil
salt and pepper to taste
handful fresh thyme
For the garlic butter:
2 Tbsp butter, melted (use vegan, if needed)
2 large garlic cloves, minced
2 tsp fresh thyme
¼ tsp sea salt
For topping:
2 Tbsp nutritional yeast
½ tsp white pepper
optional - grated cheese , use vegan, if needed
Instructions
Preheat the oven to 200C.
In a small bowl mix all the garlic butter ingredients. Set aside
In another small bowl, mix the topping ingredients, set aside.
Like a baking tray with parchment paper and spray with ½ tbsp olive oil.
Place the disks on your baking sheet, in a single layer, spray with another ½ tbsp of olive oil. Lay on the fresh thyme sprigs and sprinkle with salt and pepper.
Bake for about 20 minutes or until tender.
Smash the baked sweet potato disks, in the middle, with a fork.
Brush each disk with garlic butter mix. Return to the oven and broil for about 2 minutes.
Sprinkle with grated cheese and serve.
Nutrition Information
Yield
2
Amount Per Serving
Calories

447
Total Fat

24g
Saturated Fat

11g
Trans Fat

1g
Unsaturated Fat

11g
Cholesterol

45mg
Sodium

696mg
Carbohydrates

50g
Fiber

12g
Sugar

12g
Protein

13g
I strive to keep the information as accurate as possible but make no warranties regarding its accuracy. I encourage you to make your own calculations using your preferred nutrition calculator.