For me, mashed potatoes are the ultimate definition of comfort food. And what can be better than a big healthy vegan mashed potato bowl to enjoy? I'll tell you – nothing!
Autumn's here, and this can only mean one thing and one thing only: mashed potato bowls are a favorite of the season! 🙂
Whatever you may be doing this fall, make sure you have a hearty mashed potato bowl by your side that will make everything better. That's because they are incredibly tasty and creamy, topped with your favorite veggies and spices. It's absolutely heartwarming!
Of course, there's nothing extravagant about a mashed potato bowl, as the name suggests as well. But the simplicity of this recipe is what makes it even greater!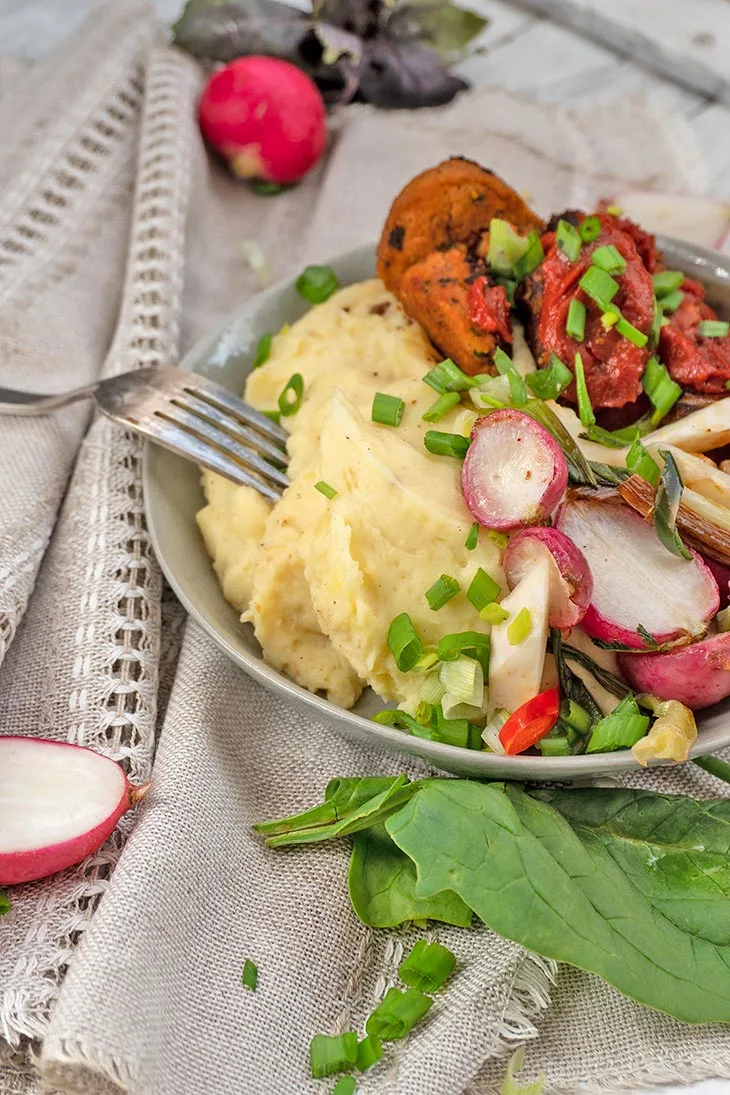 Brace yourselves, as its taste is so comforting, and every bite will make you feel like meeting an old friend. Mashed potatoes were the main dish in my childhood, and whenever I taste them I get a homey feeling.
It's amazing how much a familiar taste can accomplish. But there is no way this dish will get boring. Because the mashed potatoes are just the creamy base for what's coming next. And that's your favorite mix of vegetables and toppings! 🙂 Are you ready?
There are so many variations for this recipe! Basically, there's a mashed potato bowl out there for anyone. The only constant is the mashed potato base. But besides that, the sky's the limit! You can add beans, tofu, vegan cheese, BBQ sauce, variations of vegan gravy, jalapenos, spring onion – anything that crosses your mind!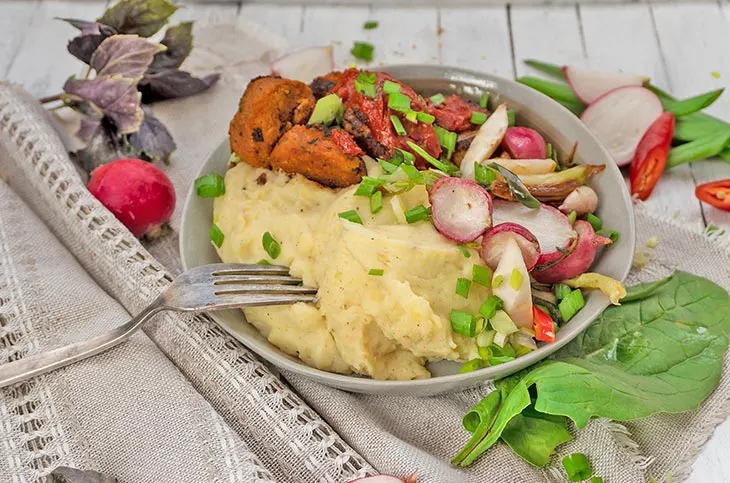 In the recipe that I will present here, I will use my favorite combination of ingredients. But you can totally adjust to your own taste – if you have a favorite ingredient, throw it in there!
This is what I especially enjoy about this recipe: nothing can go wrong. A little bit more or a bit less of any ingredient – it will still taste awesome. So no matter how experienced you are in the kitchen, you can do it right away and it will be great. That's my promise to you and one of the biggest advantages of this recipe!
The preparation for this dish is really simple and straightforward. First, you prepare the mashed potatoes. This is an extremely simple operation. You place the potatoes in a large pot and cover with water.
Bring to boil, add some salt and cook until they become very tender – it should be about 25 minutes. When you mash the potatoes – you will have to use some vegan butter and non-dairy milk. And that's it basically! But you will find detailed instructions in the section below, don't worry.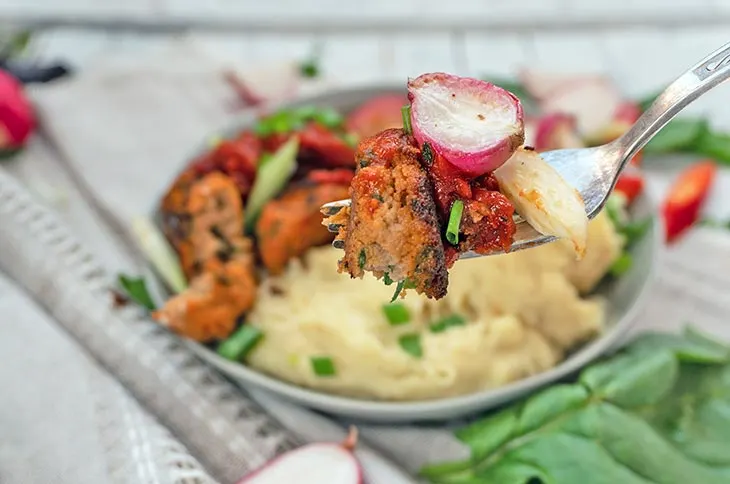 Then, you cut and prepare the choice of vegetables. So what I advise you to do is to heat a pan with oil and saute everything. As I said, I made a selection of toppings and ingredients based on my own personal taste, but you can totally adjust it to your liking.
This recipe is all about comfort and simplicity – you will add your favorite toppings and then you will fall in love with it. I am sure that once you prepare this, you will be back again, and again and again! 😉
The last part is assembling everything together. In a bowl, add the mashed potatoes and cover it with your veggies. Make sure that the mashed potatoes are at least warm (preferably hot!) – this will ensure that everything will blend together well and all the flavors will become richer.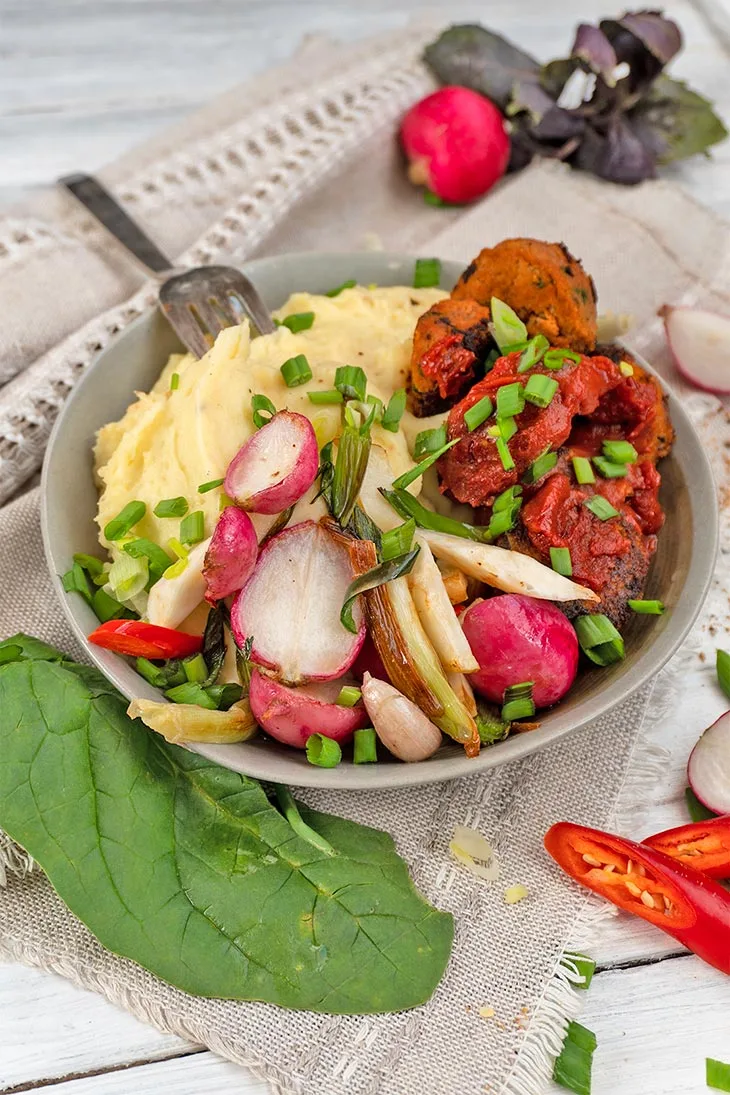 Here are some reasons why I loooove this dish:
It's easy to prepare, and it won't take a lot of time. Perfect for a weeknight dinner;
You can throw in everything you like – this dish is tailored to your likes and needs;
It's creamy, savory and it really warms you up;
It's incredibly delicious and it really has personality! No two bowls will taste the same;
It's very easy to pack and you can take it to work for a lovely lunch;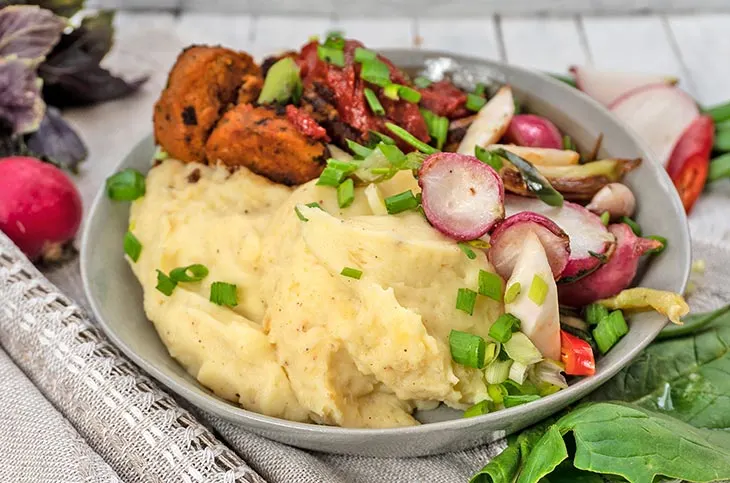 Now that everything has been said, it's time to head to the kitchen and get some work done. Luckily, we will be quickly done and your mashed potato bowl will be done in no minute! Gather your ingredients, put on your aprons and follow my lead! Oh, and don't forget that I'm waiting for your comments to hear how it all went!
Yield: 4
Healthy Vegan Mashed Potato Bowl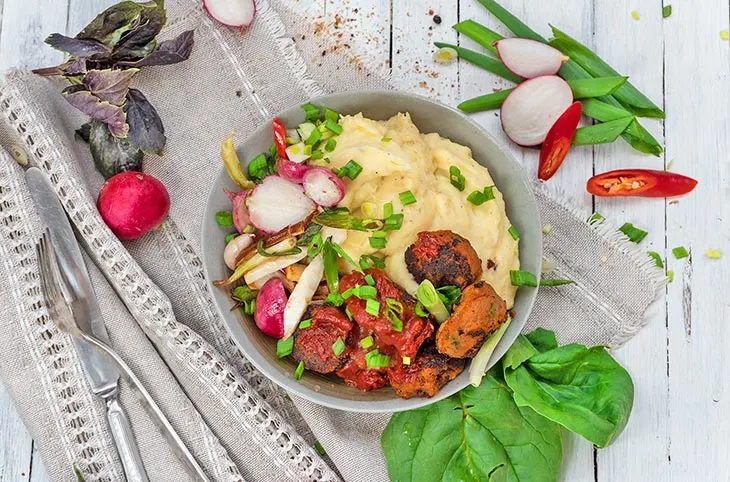 For me, mashed potatoes are the ultimate definition of comfort food. And what can be better than a big healthy vegan mashed potato bowl to enjoy? I'll tell you - nothing!
Ingredients
For the mashed potatoes:
500g (3 ⅓ cups) chopped potatoes
200ml (¾ cup) almond milk
150g (⅔ cup) vegan butter
salt and black pepper, to taste
For the meatballs:
150g (1 ½ cups) textured soy
200ml (¾ cup) water
60g (¼ cup) tomato paste
25g (¼ cup) green onion, chopped
25g (¼ cup) fresh parsley, chopped
½ medium chili pepper
2 Tbsp flour
2 Tbsp psyllium husks, egg substitute
3-4 Tbsp of passata
3 Tbsp olive oil
You'll also need:
4 radishes
aditional green onions
2 whole garlic cloves
1 celery root
½ chili pepper
Instructions
Boil the potatoes in salted water. Once cooked, drain and mash them.
Add the butter and almond milk, mix together until creamy. Season with salt and pepper to taste (remember that potatoes love black pepper).
Add some boiling water to the textured soy and wait until it cools down.
Combine the textured soy with flour, tomato paste, green onion, parsley, chili pepper and the egg substitute. Season with salt and pepper.
Form the meatballs.
Add 2 Tbsp of olive oil to a pan over medium heat and fry the meatballs until fully cooked through (about 10 minutes).
Remove from pan and add the passata to the same pan. Cook for about 10-15 minutes.
Grill the veggies in 1 Tbsp of olive oil over high heat until they develop a little bit of color.
Serve the mashed potatoes with a few meatballs, topped with the passata and grilled veggies. Sprinkle green onion.
Enjoy!
Nutrition Information
Yield
4
Amount Per Serving
Calories

602
Total Fat

41g
Unsaturated Fat

0g
Carbohydrates

42g
Fiber

8g
Sugar

5g
Protein

21g