Ready for some true comfort food, perfect for summer? Check out this vegan recipe for rice stuffed tomatoes – yummy, full of flavor and packed with tons of nutrients!
Today I'll present to you a recipe that is very dear and close to my heart. My grandma used to cook a lot of stuffed vegetables for me as a child, such as stuffed bell peppers, eggplant, tomatoes and so on. So pretty much any vegetable that could be stuffed!
Now, this recipe for rice-stuffed tomatoes is going to have a little bit of a twist, as we are actually making a Greek version, meaning we're going to have some yummy Greek staples, such as the world-famous Kalamata olives!
This is a vegan recipe perfect for this season! Summer is here, the sun is hot, so, obviously, I am thinking of the seaside a lot. But for now, the best I can do is to bring some Mediterranean flavors into my kitchen!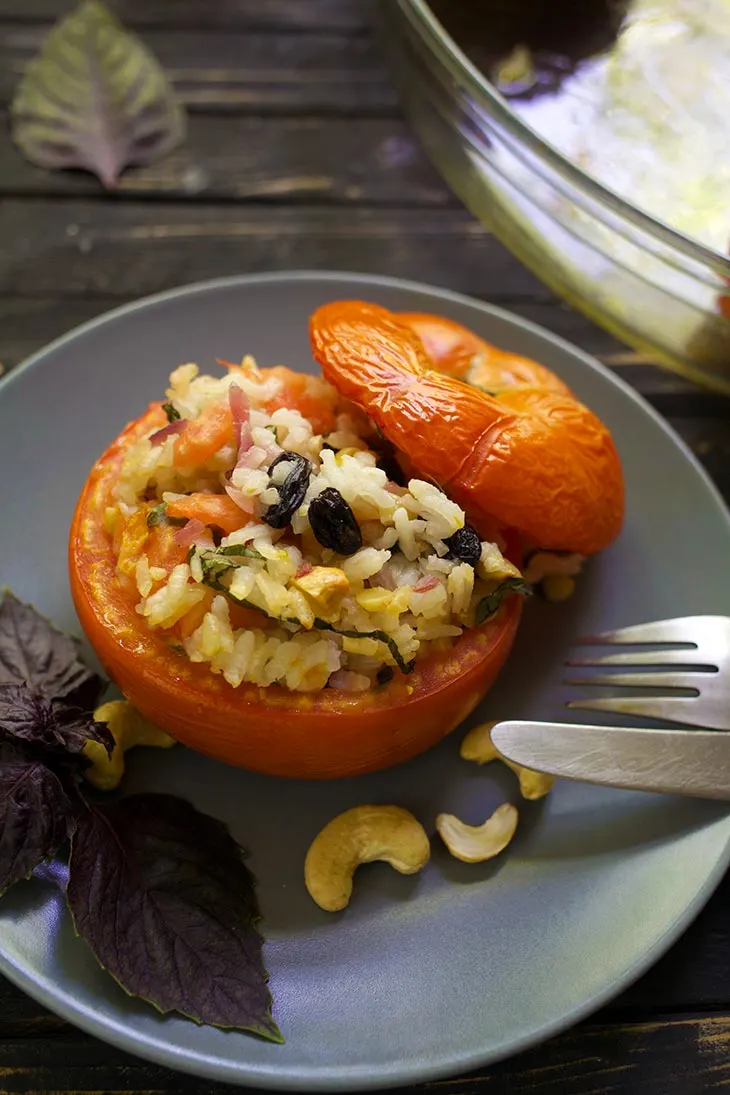 As you probably know, the Mediterranean cuisine is considered to be linked with good health, including a healthier heart, because of the consumption of fresh produce, whole grains, and legumes, as well as some healthful fats.
The actual name of this traditional Greek recipe is Gemista, or Yemista, which translates as stuffing, and with that being said, I'm telling you that this is exactly just what you need this warm season: a light recipe that could be served either warm or cold! 🙂
Because it's tomato season, it would be an obvious choice to prefer tomatoes for this Greek dish, while for the rest of the year you can use eggplants and peppers or even courgettes and onions!
So, because we are in the season, I will share a little secret with you about how to recognize and choose a good tomato. Firstly, you have to search for the right color – the more vibrant the red, the better the flavor will be; secondly by smell – just give it a sniff right by the stem and decide for yourself if it smells like the real thing or not. If you've ever been to a garden, you'll know what I'm talking about! The tomatoes should be firm, especially for this recipe!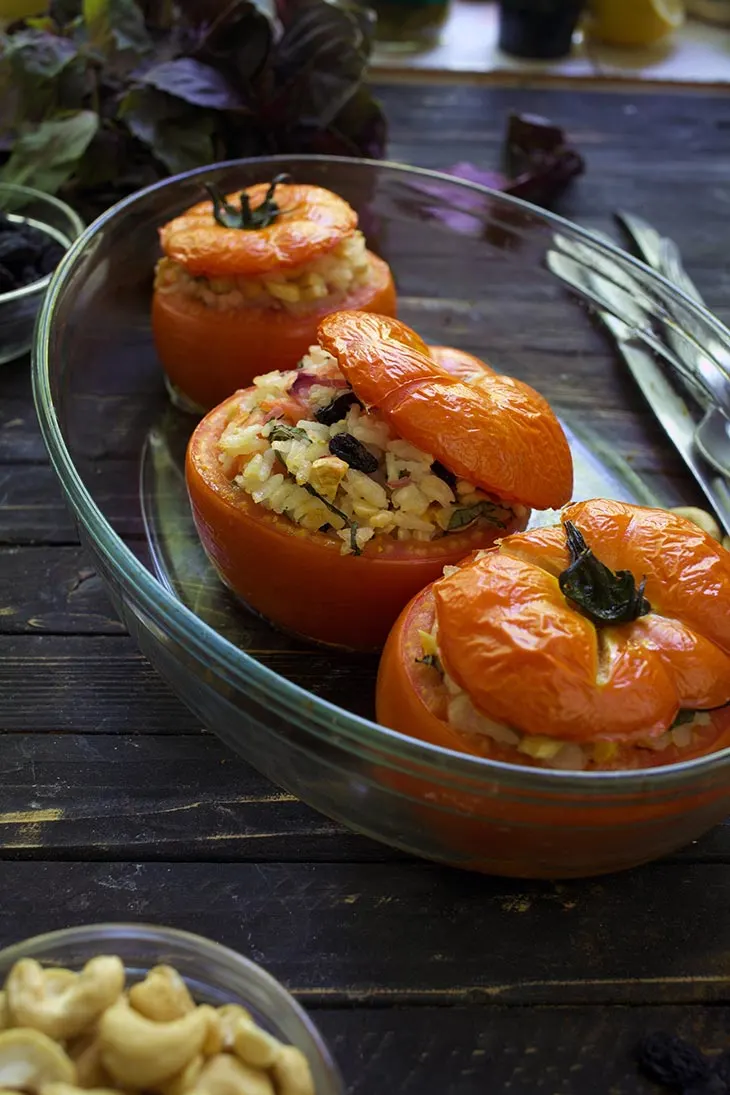 We're going to keep it super simple this time, so our main stars are going to be the tomatoes, of course, followed by the rice, and as a flavourful touch, we're also going to include some Greek basil leaves, onions, raisins if you wish and, of course, the Kalamata olives.
If you feel like it, you can add any veggies that you have laying in the fridge or that you personally prefer. But today I decided to keep it simple and straight to the point (and delicious, of course!).
With that being said, in order to achieve this mouth-watering vegan recipe, you need to keep some things in mind: when you remove the insides of the tomatoes make sure not to scrape too much, or they will collapse when baking from being too thin.
So, be very careful and delicate with the tomatoes, as not to break them, or else everything will fall apart! 🙁 No need to worry, even if this happens, it will still taste great, though!
Do you want another extra tip? When you cut the upper part of the tomato, you can also keep the stem as it will crisp up nicely in the oven and it will give your dish a nice, rustic look.
For today's recipe, I used arborio rice, but pretty much any rice will do, so if you don't have the round rice type, there is no need to run quickly to the grocery store to grab a new type. Just use any kind, really.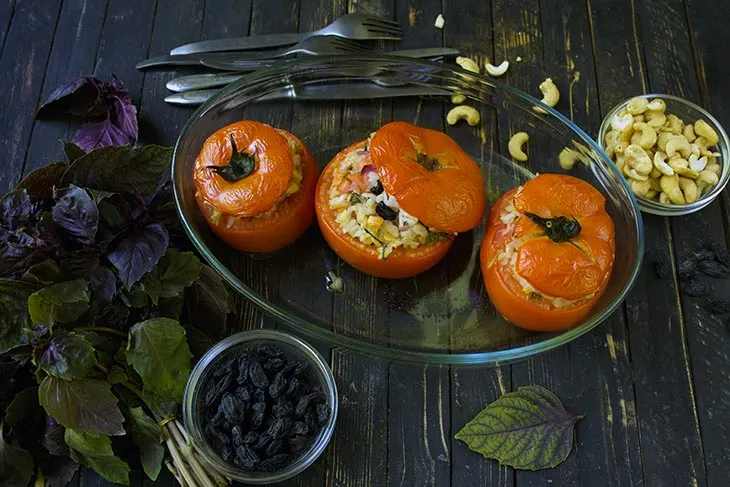 Now that we've got these things settled, let's find out exactly how to make some traditional Gemista with fresh basil leaves and some Kalamata olives for that kick of flavor!
As always, if you decide to make this yummy recipe let me know how it went and what you thought of it! Good luck in the kitchen and bon appetit! 🙂
Yield: 3
Rice Stuffed Tomatoes - Greek-flavored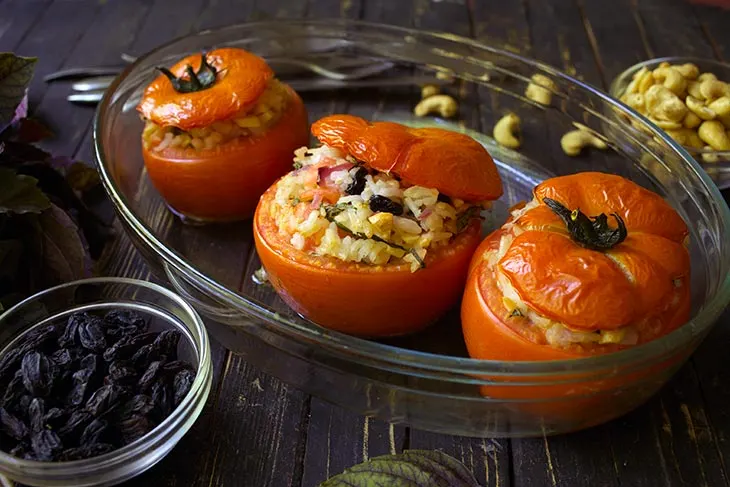 Ready for some true comfort food, perfect for summer? I present to you this vegan recipe for rice stuffed tomatoes - yummy, full of flavor and packed with tons of nutrients!
Ingredients
3 large tomatoes
200g (1 cup) arborio rice, cooked
70g (½ cup) cashews, toasted
80g (½ cup) raisins
90g (½ cup) kalamata olives, chopped
½ red onion, chopped and sauteed
2 Tbsp basil leaves, julienned
Instructions
Preheat the oven to 200 C.
Wash and pat dry the tomatoes.
Cut off the top of the tomatoes and discard the inside of each tomato with a spoon.
In a bowl, combine the insides of tomatoes, rice, cashews, onion, raisins, olives, and the julienned basil.
Add salt and pepper to taste. Mix to combine.
Fill each tomato with the rice mixture, top with the cut off lid, put them into a baking dish, sprinkle with some olive oil and bake for about 30 minutes until they start to roast.
Enjoy!
Nutrition Information
Yield
3
Amount Per Serving
Calories

473
Total Fat

14g
Carbohydrates

75g
Fiber

12g
Sugar

26g