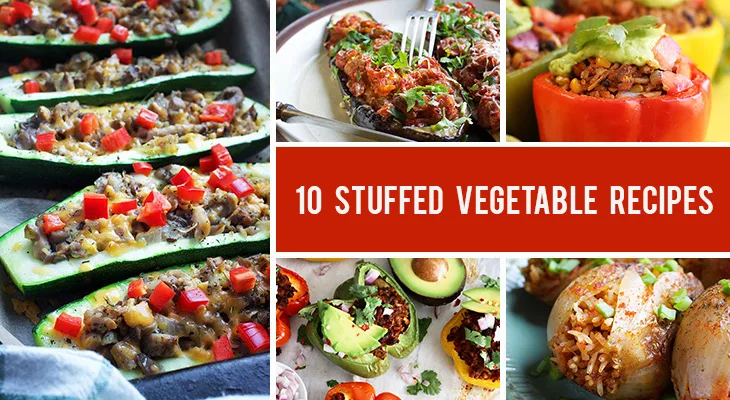 Here are 10 stuffed vegetable recipes the whole family will love! These awesome recipes are perfect for meal prep as well.
Stuffed vegetables are a great way to transform your usual veggies into delicious and healthy recipes that will keep you full for a long time! Even though stuffed veggies take a longer time to make than your usual meals that are ready under 20 minutes, you have to trust me – the results are totally worth it and you'll want to make them again and again!
There are countless options for stuffed vegetables, starting from the classic bell peppers and even mushrooms, eggplant, zucchini, pumpkin and, of course, potatoes! You can stuff these with black beans, corn, rice, quinoa, tofu, Oyster mushrooms, tempeh, TSP (textured soy protein), vegan ground beef or any other kind of plant-based meat. The sky is the limit and the only way to really enjoy stuffed vegetables is to let your imagination flow or just use the ingredients you have on hand. Put everything in the oven and that's in, your healthy and hearty lunch or dinner is ready in just a few steps. And, of course, don't forget about the spices and sauces!
Stuffed vegetable recipes are usually my go-to meals for cold winter or autumn days when all I want is a warm and filling meal that will make me feel better. And because I want to show you how delicious this stuffed vegetable recipes can be, I put together this list with vegan, healthy stuffed veggie recipes that everyone can enjoy, regardless of their eating habits. You will find here recipes for stuffed peppers, stuffed zucchini, stuffed eggplant, squash, mushrooms and even onions!
So without further ado, here are 10 of my favorite vegan stuffed vegetable recipes that you can enjoy together with your friends and family. Five of these recipes were made by some of my favorite food bloggers and the rest are some of my own favorite stuffed vegetable recipes.
Click on the linked titles to access these vegan stuffed vegetable recipes!
Vegan Stuffed Vegetable Recipes
This delicious roasted stuffed onions recipe is inspired by a classic Lebanese recipe – turned vegan! I'm sure you'll love this innovative and healthy recipe that's also easy to make! Serve it as a snack, side dish or appetizer.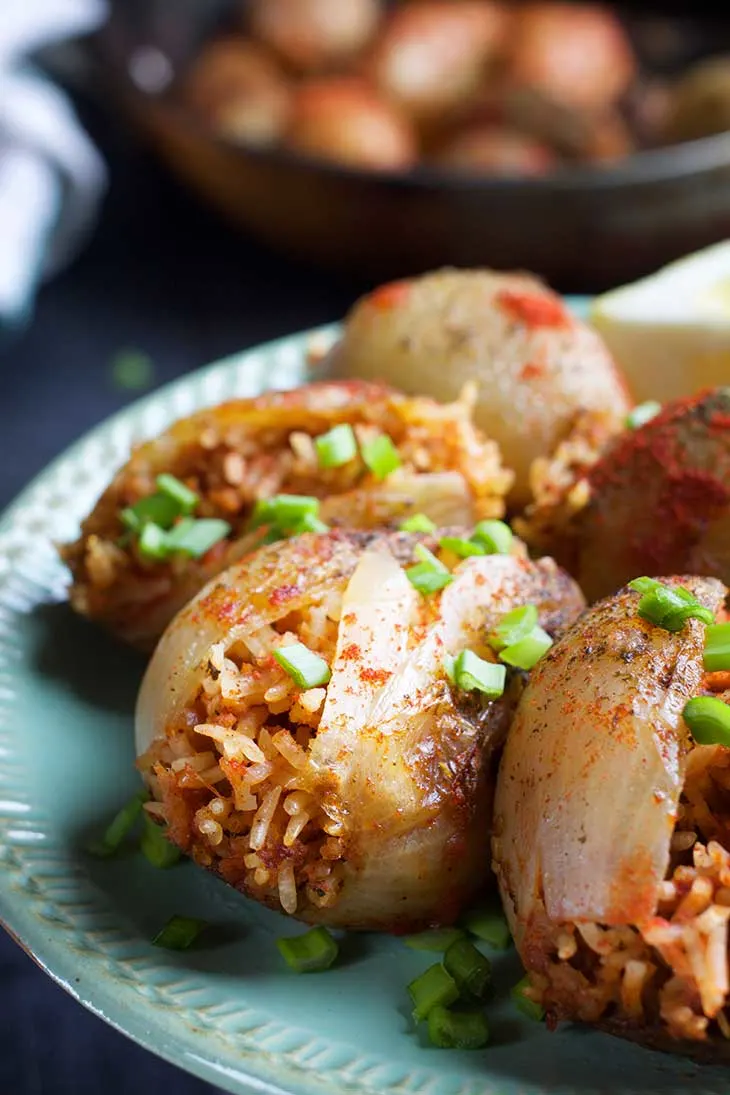 In case you're searching for a fast, delicious and comforting recipe, this is the perfect one for you! These stuffed zucchini boats are made with yummy Oyster mushrooms, vegan cheese, garlic, onion and spices. The best thing about this recipe? It's delicious even when it's cold!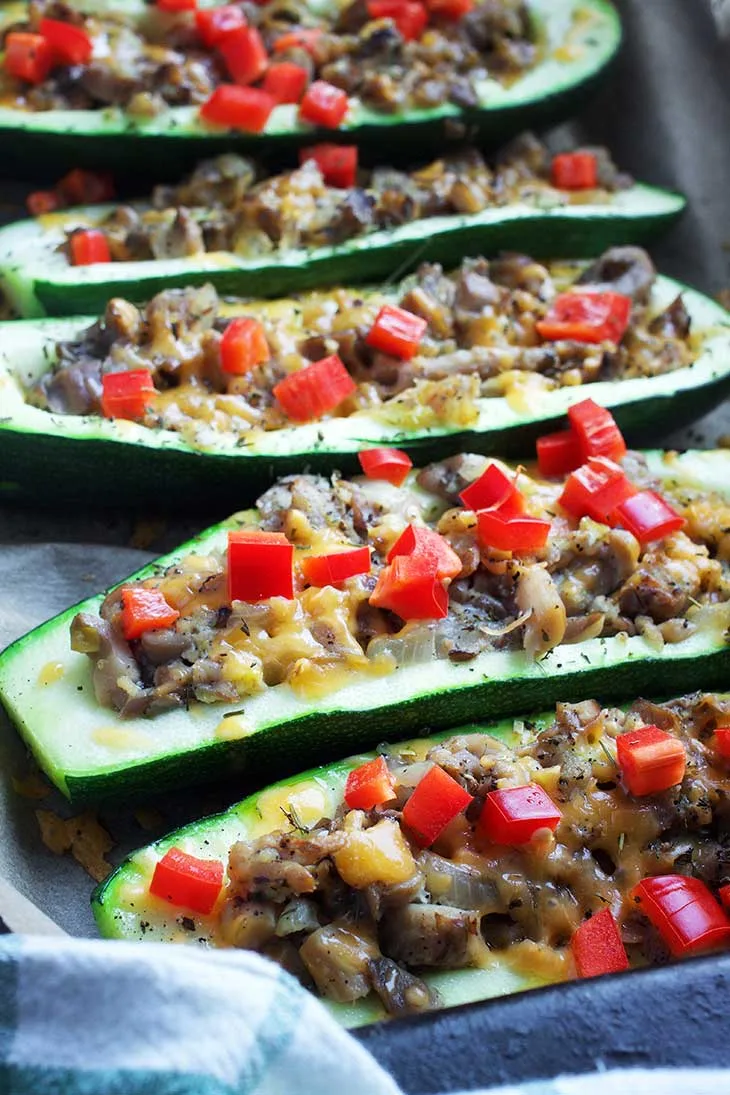 If you love peppers, then you will want to make this recipe over and over again! I'm sure everyone will love this, regardless if they're a vegan, vegetarian or omni. Even though it will take almost an hour to make, the results are definitely worth it.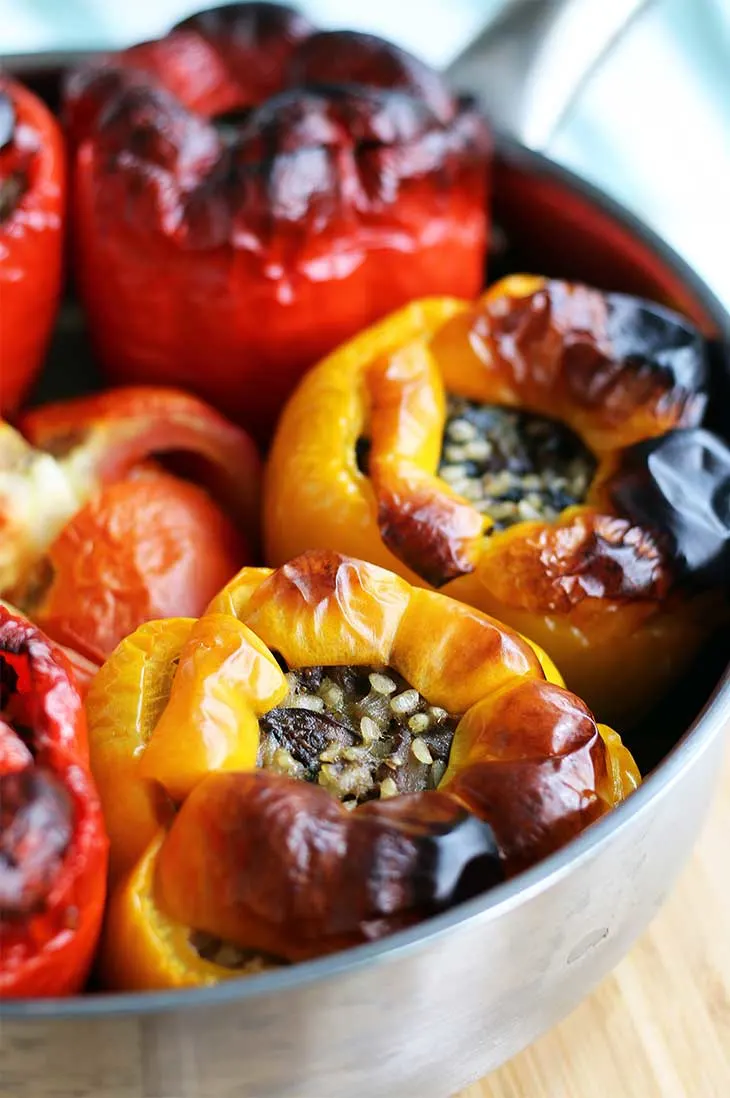 Even though they're vegan, these finger-licking stuffed Portobello mushrooms have a meaty texture and an incredible taste! My recipe will teach you how to make the basic recipe which can then be tweaked and twisted. Check it out!

I'm a big fan of the Middle Eastern cuisine and that's why this recipe for Imam Bayildi is one of my favorite comfort foods ever! Imam Bayildi is actually a recipe for baked stuffed eggplant that I turned vegan. I used soy cubes for the stuffing, so it has a meaty texture. Enjoy!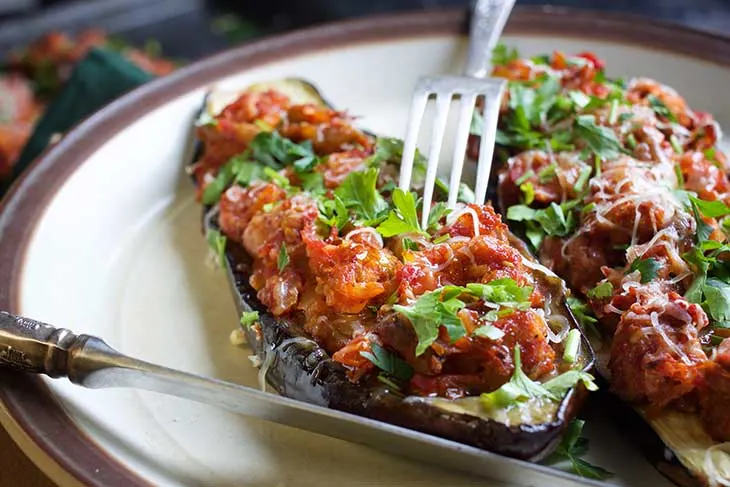 These hearty and filling stuffed bell peppers with vegan ground beef and mung beans filling are the perfect recipe for lunch or dinner! You can even make them ahead of time. I think you'll enjoy this super colorful and delicious recipe!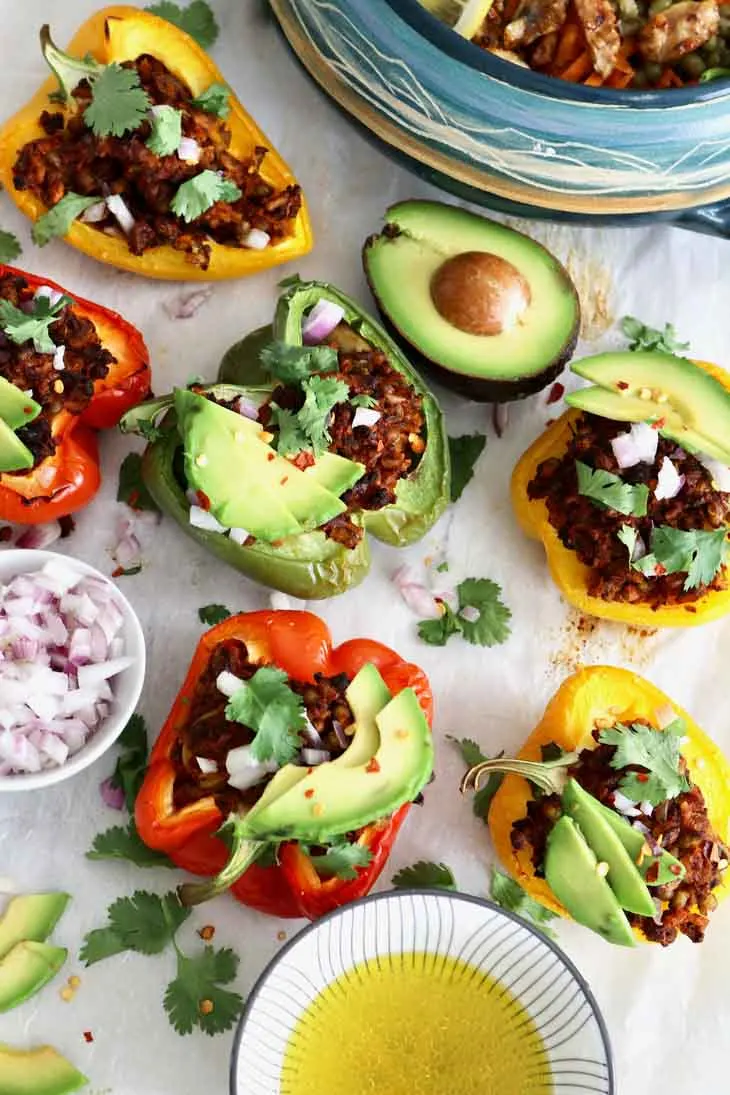 If you're a fan of tempeh, then you will fall in love with this healthy recipe! These Mexican-style vegan stuffed peppers are easy to make, filling, packed with proteins and the homemade avocado cream sauce is the perfect finishing for these!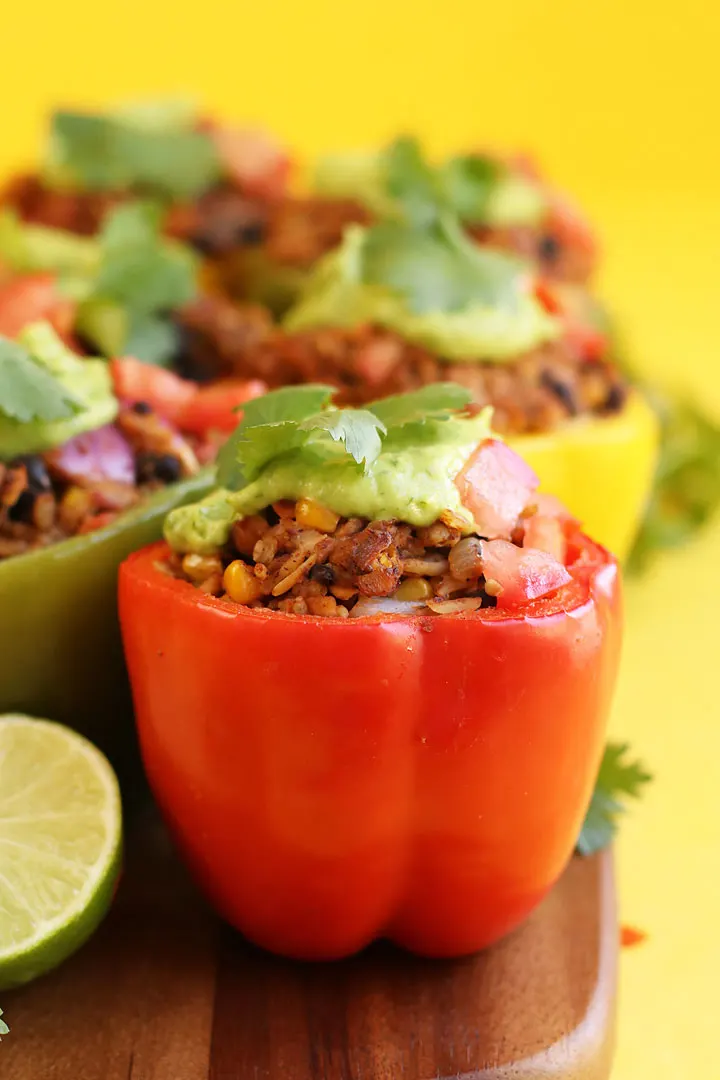 This recipe for vegan stuffed squash with brown rice and mushrooms is the perfect main course for those chilly autumn days! The mushrooms and brown rice make for the perfect filling and I'm sure everyone will appreciate this healthy vegan recipe!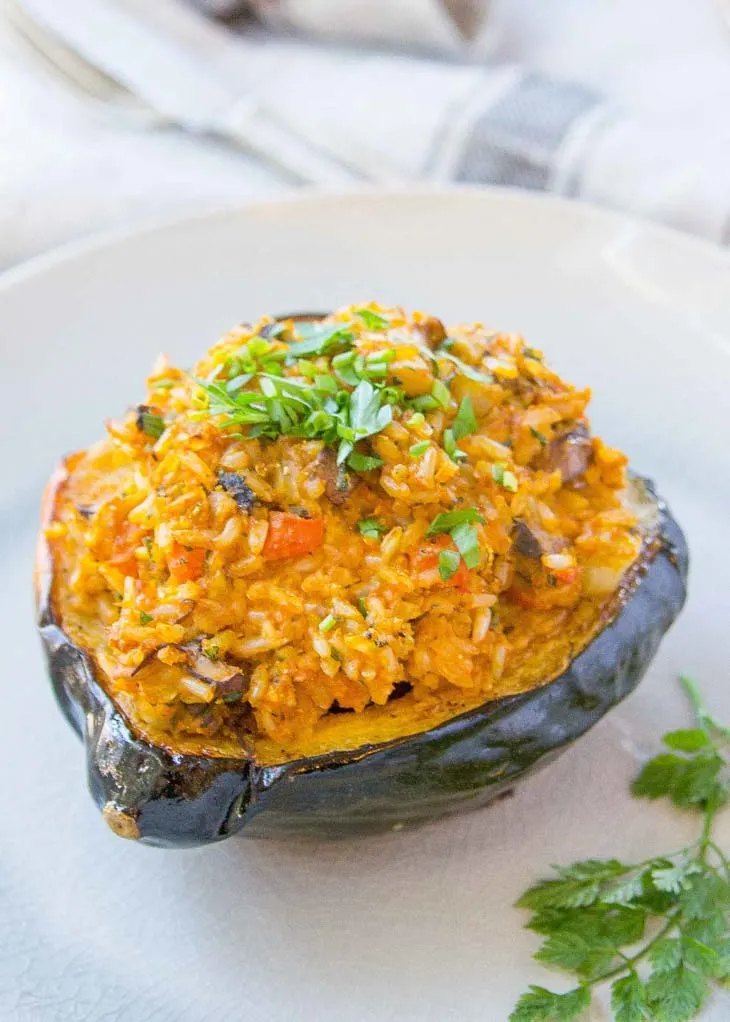 These vegan Tex Mex stuffed peppers with black beans, grains and a delicious avocado sauce are so filling and delicious you won't believe it! I'm sure even meat lovers will appreciate this flavorful, tasty and protein-packed recipe that you'll want to make again and again!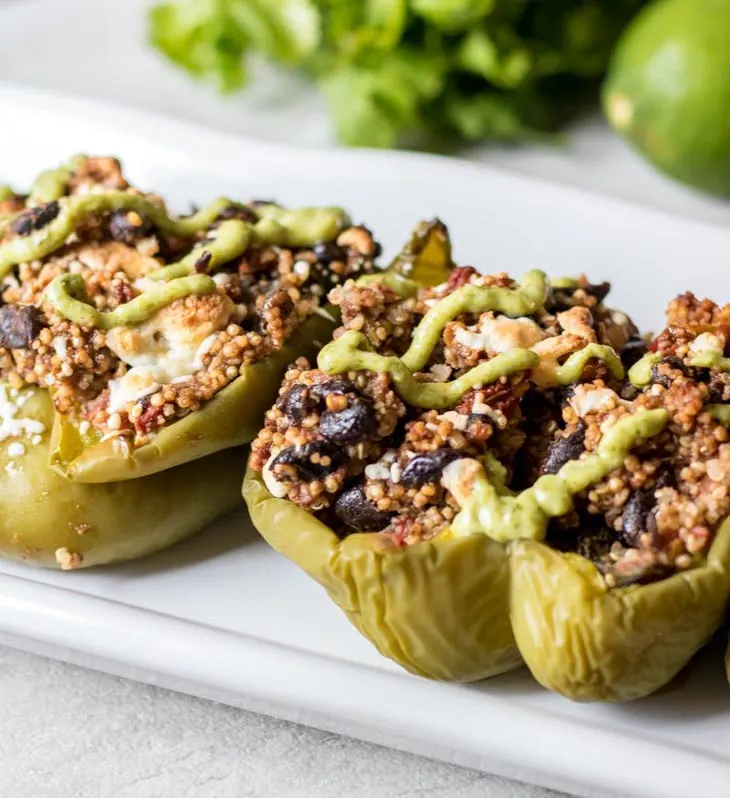 If you're a fan of the classic crispy potato skin, then you'll love its healthier version – this vegan recipe for stuffed potato skins! This is not your classic recipe, as it uses coconut bacon, sunflower sour cream and a delicious black bean and corn filling. Enjoy!