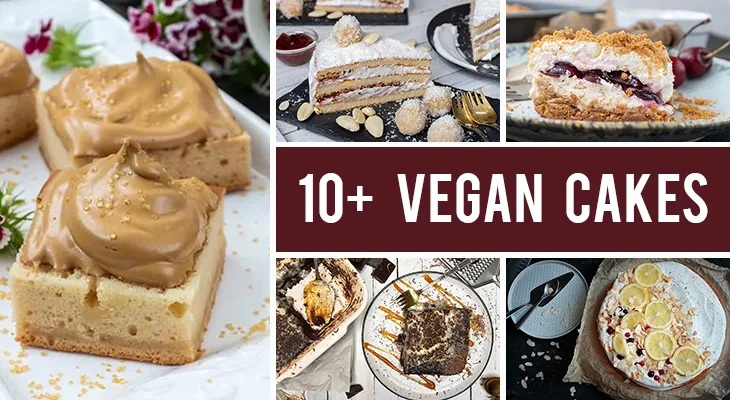 Are you looking for some recipe inspiration? In this list, you will find 10+ vegan cake recipes that are easy to bake. All of them are yummy, super easy, and quick to make! Give them a try!
Vegan baking has never been easier! 🙂
I used to struggle a lot with baking perfectly fluffy vegan cakes some years ago because of various reasons. I was just getting started with testing and experimenting with the entire process, vegan ingredients weren't that widely available, at least where I live, and sometimes it was hard getting the quantities right.

But I'm so happy that things got SO much easier now! Nowadays there are countless recipes and quick & easy ways of making a vegan cake. Just think about it: from no-bake raw vegan cakes to vegan sponge cakes or a vegan cheesecake – the possibilities are endless!
I really think that, as vegans, we aren't really missing on ANYTHING! There's a replacement for everything: steaks, omelets, juicy burgers, carbonara pasta, and much more. Yes, cakes included! For every type of cake in the world (chocolate, vanilla, fruit, you name it) there's a vegan equivalent that's just as easy to make like the original.
A lot of people seem to wonder if they can still eat cake once they've transitioned to a vegan diet. Of course they can! And I also think that everybody should try eating a no-bake vegan cake or a raw vegan cake at least once in their lifetime, at least a tiny bit, just to get the taste and understand just how INSANELY GOOD they are!
The main challenge that comes with making a vegan cake is the fact that you can't use any milk (or any other dairy products) or eggs. But you can always use plant-based alternatives to dairy such as nut milk or vegan yogurt and vegan alternatives to eggs such as aquafaba (the liquid from chickpea cans).
In case you're just starting out with making vegan cakes or if you simply need a dose of inspiration, the list below will be of great help. I put together a list of more than 10 amazing vegan cake recipes that anyone can bake, even those of you who didn't make a vegan cake before!
All vegan cake recipes below are my own creations, which means I can vouch for each and every one of them. I promise that all of them are simple and some are super quick as well and the step-by-step recipes clearly explain everything you need to know!
Regardless of you're craving a decadent, chocolate-rich cake, a fruity, summery cake with fresh fruit, or an elegant Raffaello-like coconut cake, you'll surely find something to suit your needs in my list below! For some of the recipes below you can also swap the fruit or some of the ingredients to achieve your own version and taste – in case you're experienced with vegan baking, of course!
This being said, I'm sure you're already excited to try some of these 10+ vegan cake recipes soon. You just need to click on the titles or buttons in order to access these vegan cake recipes.
Happy baking and happy eating! 🙂
10+ Vegan Cakes Recipes That Are Easy To Bake