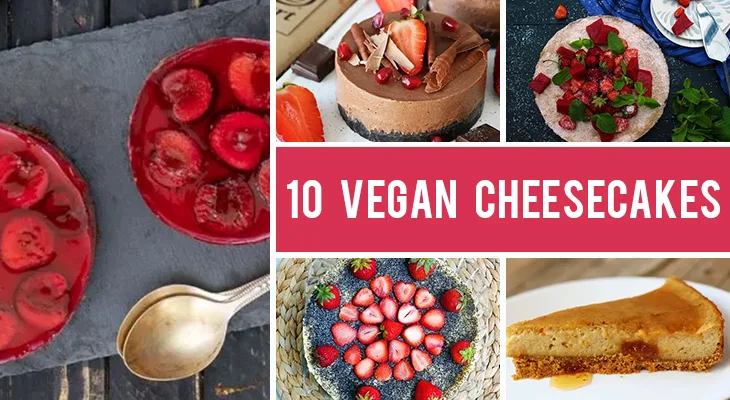 Are you looking for some recipe inspiration? In this list, you will find 10 vegan cheesecake recipes if you want a light dessert. All of them are yummy, super easy, and quick to make! Give them a try!
Ah, cheesecake – one of the lightest, best desserts in the world!
In case you love cheesecakes (vegan ones, of course) as much as I do, you have opened the right article! This post will provide lots of culinary inspiration and a little bit of cheesecake history for all fans out there.
A cheesecake is basically a baked custard on top of a cookie base. The cream is traditionally made of soft cheese (hence the name!) mixed with eggs, sugar, and your choice of flavors (such as fruit). Cheesecake is famous all around the world, from Los Angeles to Barcelona and Jakarta. But how did it all begin? Let's find out together!
Historians say that cheesecakes originated in Ancient Greece, around the 5th century BC. Back then, the Greeks were making plakous, a really rudimental type of cheesecake made of fresh cheese mixed with flour and honey until soft. These were then shaped in the form of a patty and then cooked. Later on, cheesecakes were becoming more similar to a tart, meaning that they achieved that well-known pastry base.
And the rest is history. The cheesecake has traveled wide and far until it reached all corners of the planet and I'm 100% sure you tasted at least one piece of cheesecake in your life. And if you did, I'm also pretty sure you fell in love irremediably. Otherwise, you wouldn't have opened this list, right?
In case you're excited to try out some new and exciting vegan cheesecake recipes soon, you'll be happy to find out I collected 10 of my all-time favorites in the list below. You'll find everything you might be craving: chocolate cheesecakes, fruit-rich cheesecakes, vanilla ones, and even some amazing no-bake cheesecake recipes which are absolutely perfect for complete beginners who are making this unique dessert for the first time.
In case you always dreamed of preparing a cheesecake but were put off by the thought that the entire process might be tedious, complicated, or long, let me assure you right from the beginning that it's not the case! Cheesecakes are one of the easiest desserts to make in the world, especially the ones below!
If you've been following Gourmandelle for a while, I'm sure you already know how much I HATE spending endless hours in the kitchen, especially when making a dessert. This is why I'm in love with quick, uncomplicated recipes and all 10 vegan cheesecake recipes below follow the same system. Delicious and efficient!
I'm sure you're already eager to try making your own vegan cheesecake soon. If so, all you need to do is choose your favorite one below, gather the ingredients, and head over to the kitchen. But beware: you might fall in love with this incredible dessert. Ah, and did I mention that making a vegan cheesecake is just as simple as making a "regular" one? No fancy equipment or ingredients needed, you'll see!
Click on the titles or buttons in order to access each of the following vegan cheesecake recipes. And don't forget to have fun. Happy cooking!
10 Vegan Cheesecake Recipes To Make If You Want To Enjoy A Light Dessert