I know, it's hard to believe at first, but you can actually make vegan scrambled eggs that look and taste exactly like the real deal! They're super delicious and nutritious – give this recipe a try!
Another morning, another day to decide what to have for breakfast. Hmm, that's a tough process especially if you're like me and you sometimes make choices with big difficulties. Well, it's not my fault there are so many options just for the first meal of the day! Yep, even if you're on a vegan diet, the possibilities are endless.
Here's an idea – because eggs, it turns out, can actually be 'veganized'. Don't believe me? Check out these vegan scrambled eggs!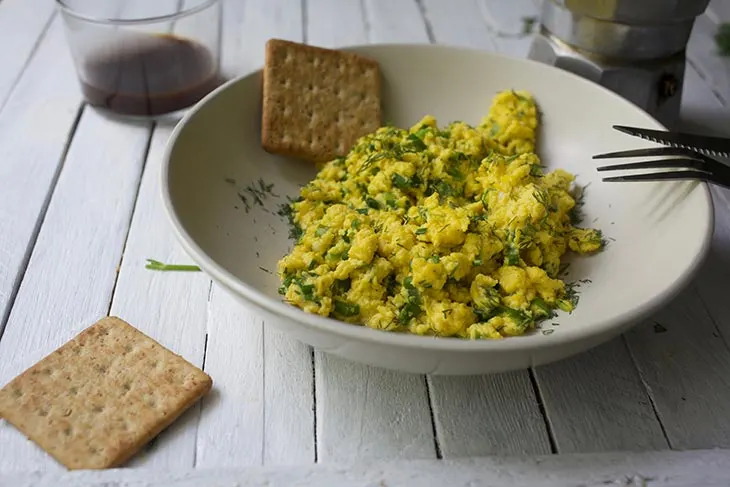 You can make this using tofu just like I did for today's recipe or, if you would prefer a soy-free version, you can also make this with chickpea flour. Either way, it's going to be packed with loads of protein, which it's just what you need to get your engines running in the morning.
Even though the market industry started adding egg-free substitutes in some places, depending on where you leave, you may still not find it available on the shelves. That's why this recipe has it all in terms of nutritional value, taste, looks and also price. It's super accessible and easy to make as well! 🙂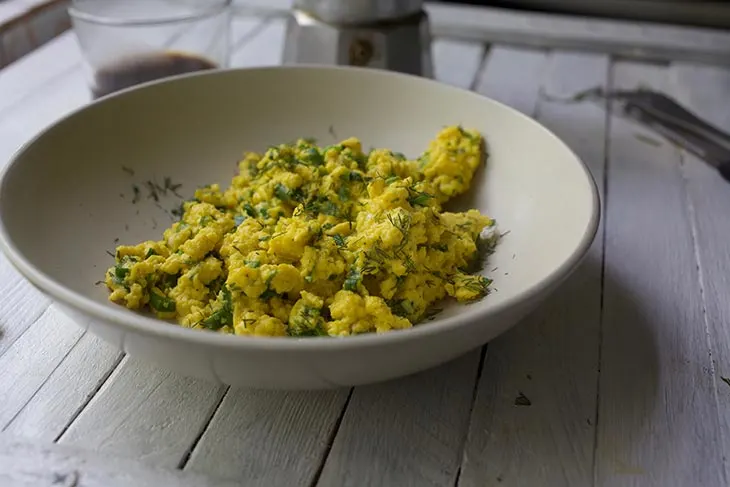 Firstly it is vegan, egg-free, dairy-free, and so quick to get it over with and enjoy. This vegan scrambled egg recipe is a perfect high fiber breakfast also!
Did I say it is high in protein? Who said that you can't meet your daily nutritional recommendations when following a vegan diet? If you're following a plant-based diet, keep in mind that your protein intake should be slightly higher than an omnivore's diet. I have heard this question quite a lot: do vegans and vegetarians get enough protein?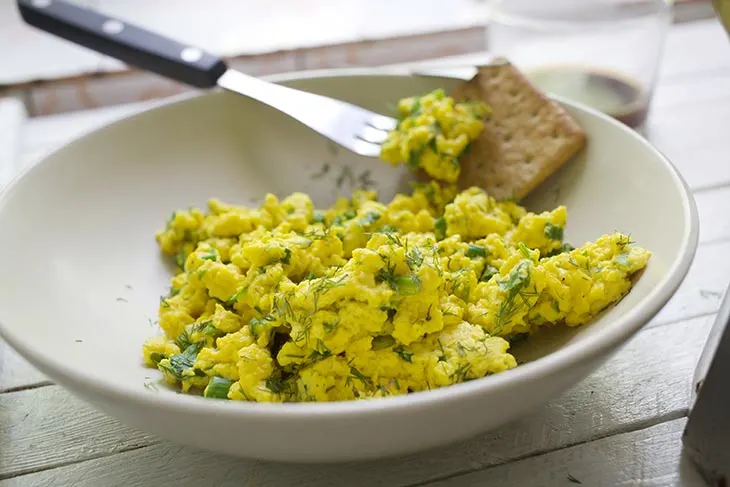 It is said that the average recommended intake of protein is 42 grams a day. Non-vegetarians eat way more than that (almost 80 grams), but so does everyone else. Vegetarians and vegans actually get on average 70 percent more protein than they need every day (over 70 grams).
Beans are one of the best alternatives when trying to incorporate more protein in a diet. But everything should come in moderation, as the key to this is to find a balance between your protein-carbs-fat intake.
Whatever method you choose to do this recipe, be it tofu or chickpeas, it will still have beans as the main component. In case you didn't know, tofu comes from fermented soybeans, making it one of the many vegan alternatives for protein along with chickpeas, seitan, black beans, red kidney beans, etc.
Even though it doesn't contain any eggs, this vegan scrambled "eggs" sure do taste like them! This recipe is quick and easy to whip up in minutes for a delicious "real" tasting homemade vegan scrambled egg!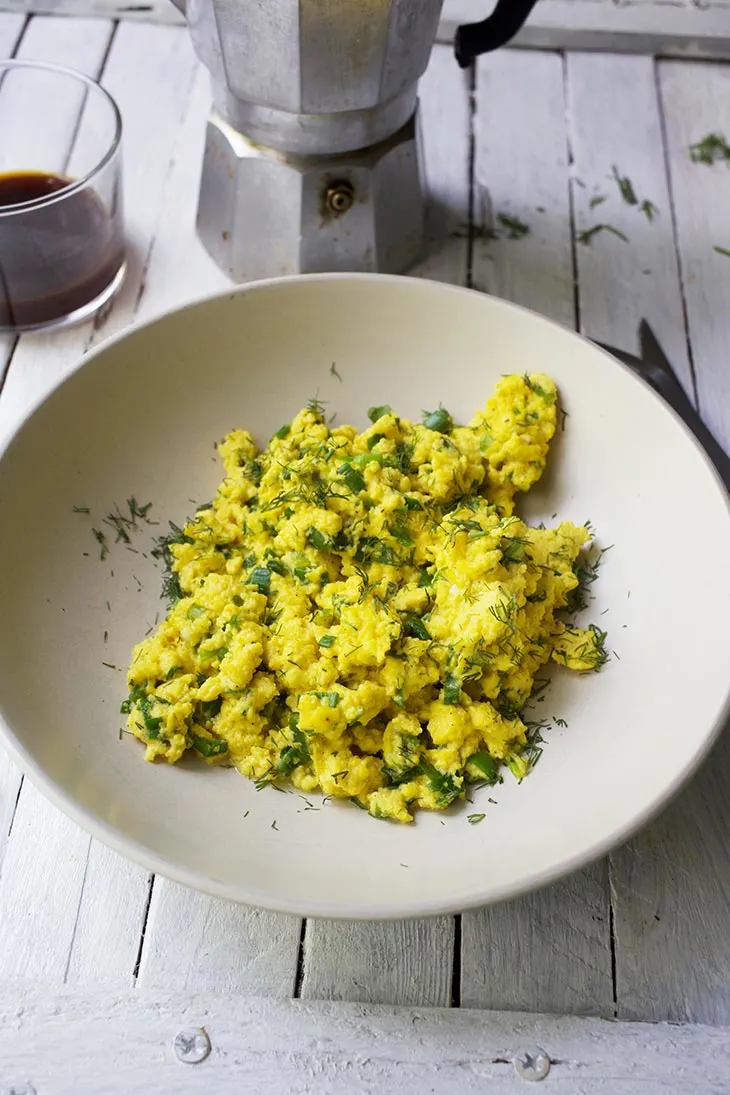 And if you're not convinced yet, here are some valid reasons why you should try this recipe: it's super easy to do, it's high in protein and low in carbs, it tastes INCREDIBLE and it's cheaper than other store-bought egg alternatives. Convinced? I hope so!
Feel free to be the "architect" of this egg-free scramble and add anything that would cheer your tastes. I chose to keep it simple and refreshing and I only added some green onion, dill, and garlic, but remember: the sky's the limit, especially when making scrambled eggs!
Oh, here a quick tip: I often make this with a yeast extract spread to give it a flavor boost and give my daily allowance of B vitamins. You can try it as well! Another good thing about this recipe is that you can serve them any time of the day, on toast, in a tortilla as a burrito, with some sauces, you're to decide! 🙂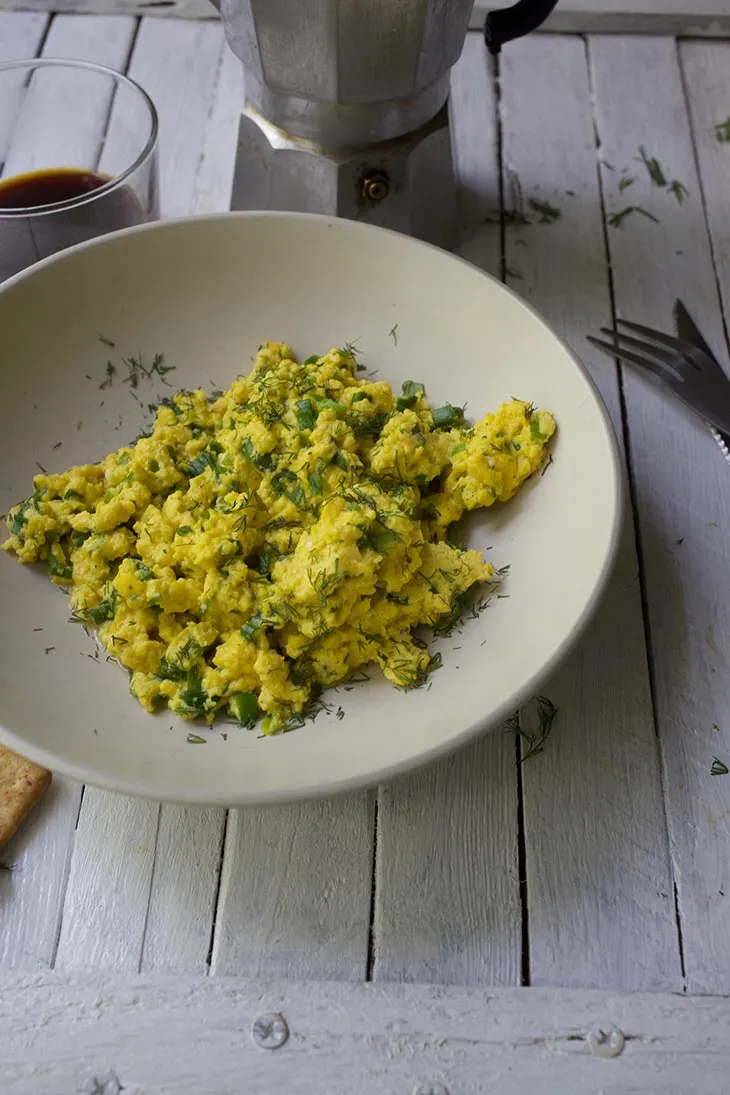 As always, if you decide to try this recipe for your next breakfast or even snack, don't forget to let me know how it went, if you liked it, what would you change or improve etc. I always love to hear your opinions! Happy cooking!
Yield: 2
Vegan Scrambled Eggs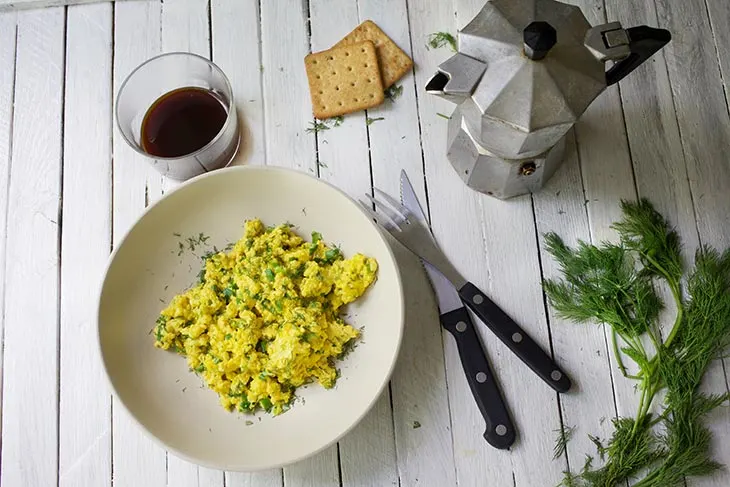 I know, it's hard to believe at first, but you can actually make vegan scrambled eggs that look and taste exactly like the real deal! They're super delicious and nutritious - give this recipe a try!
Ingredients
400g (1 ½ cup) tofu, divided
35g (⅓ cup) chopped spring onion, white parts
30g (2 Tbsp) vegan butter
1 tsp turmeric
½ tsp black salt
½ tsp pepper
1 clove garlic, minced
1 Tbsp nutritional yeast
2 Tbsp chopped dill
2 Tbsp chopped green onion
Instructions
Add ½ cup tofu to a blender and blend until smooth. Set aside.
Add another cup of tofu to a blender and pulse until crumbled. Set aside.
Heat a skillet on medium heat. Add the vegan butter.
When melted, add the chopped spring onion, minced garlic, turmeric, black salt, and pepper.
Fry, stirring, until fragrant, for about 3 minutes.
Add the blended tofu and continue frying.
Mix the blended tofu in the skillet to incorporate all the ingredients, for about 3 minutes.
Add the rest of the tofu and nutritional yeast and stir.
Add the chopped green onion and dill. Mix and serve!
Nutrition Information
Yield
2
Amount Per Serving
Calories

418
Total Fat

24g
Carbohydrates

28g
Fiber

18g
Sugar

11g