In the mood for something comforting for dinner? Here's how to make the ultimate mushroom lasagna roll-ups! Just like vegan lasagna, only more fun!
If you're a lasagna fan, then you'll surely fall in love with today's recipe! Lasagna is a famous Italian dish consisting of pasta sheets and a combination of ground meat and white creamy sauce, as well as some tomato sauce as well. A favorite dish around the entire world! And my recipe today is inspired by it – you'll find out quickly how and why.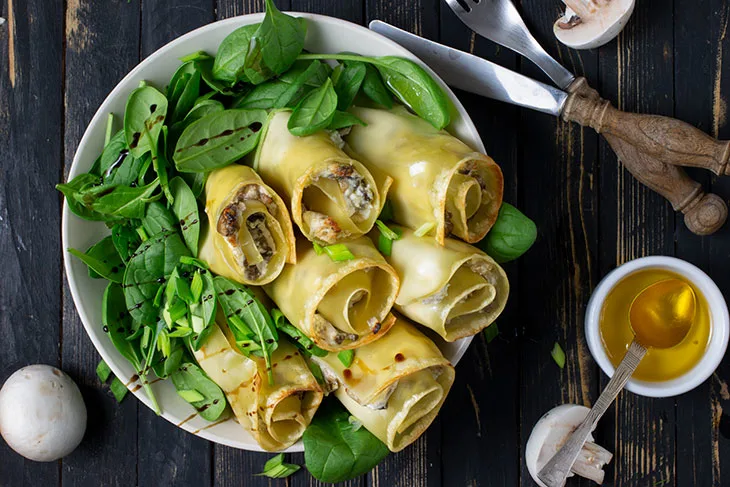 What are roll-ups? There's a pretty simple answer here: roll-ups have the same ingredients as lasagna, only the pasta sheets are individually rolled and placed into an oven pan vertically. Compared to a plain lasagna, the roll-ups are more fun to make and they look ten times more impressive. But let's get back to our actual recipe.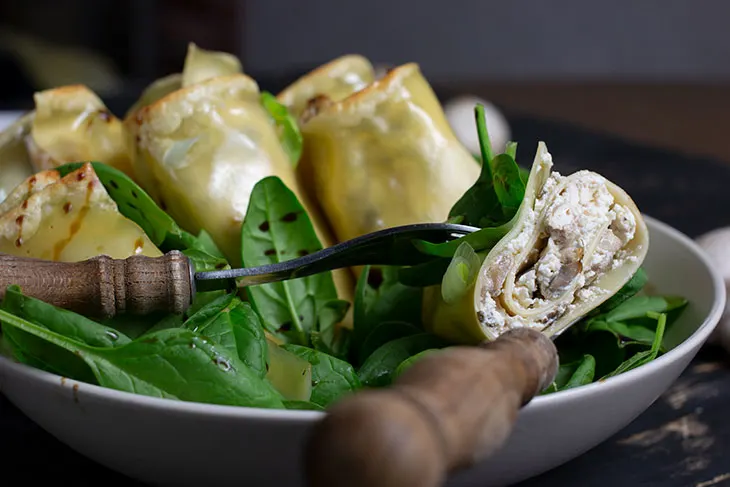 These mushroom lasagna roll-ups are three things:
Delicious
Healthy
Easy to make!
Yes, I'm sure they sound complicated and you can even look at the pictures and think: 'Damn, it will take me at least an hour to roll everything. Will I ever manage to do it perfectly? Maybe it's too complicated for me.'. But please don't worry! Making lasagna roll-ups is actually very easy and, as I said, fun too and the result is totally worth it.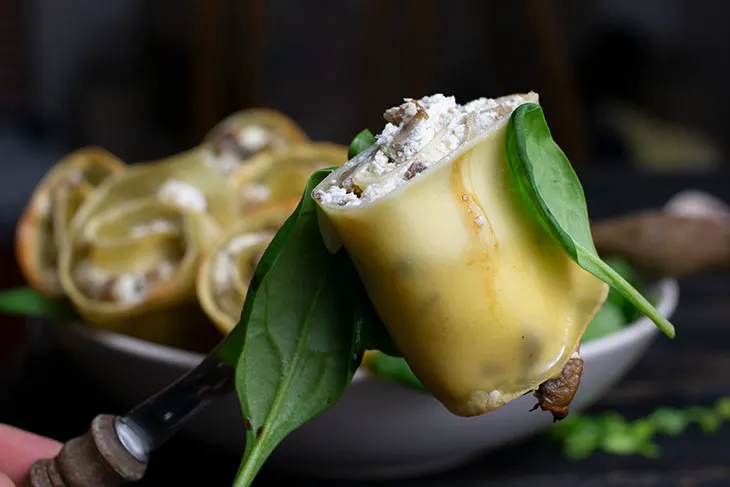 You may remember that I made some other great roll-ups in the past: such as these vegan tortilla roll-ups o these zucchini roll-ups. The idea stays the same – you have an outer 'shell' such as zucchini strips, tortillas, or, in this case, pasta sheets. And a delicious filling, such as mushrooms for today. And all you need to do is to fill your shells with the filling mix and roll everything into tiny cylinders. Bake them and your meal is ready!
For this recipe of mushroom lasagna rolls, I used a filling combination made of crumbled tofu, nutritional yeast, garlic, lemon juice, and, of course, lots of mushrooms. I decided to add the crumbled tofu for two reasons: first of all, it's incredibly delicious. And second: it adds a well-deserved dose of protein to your meal and it perfectly replaces the ricotta cheese that's usually used in the classic recipe. And we all know the importance of proteins in a vegan diet, right?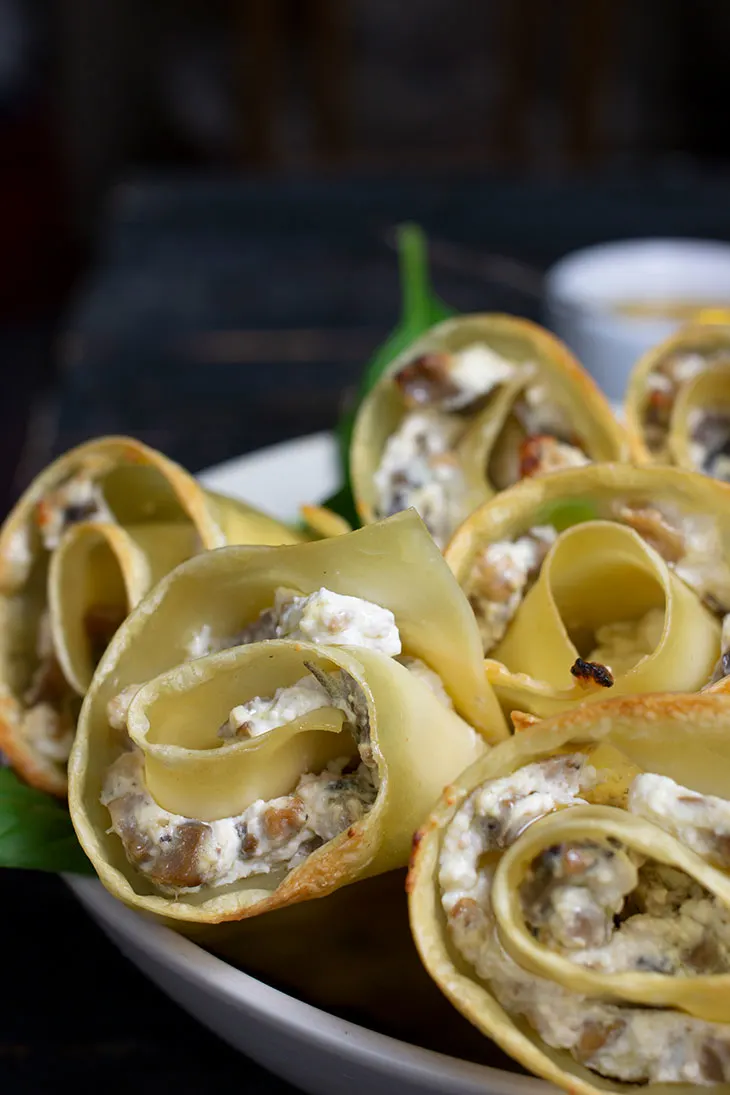 The cooking process is pretty easy as well, even for those who are less skilled in the kitchen. You just need to boil your lasagna sheets, mix all the ingredients for the filling in a food processor, roll the roll-ups and bake them in an oven dish. Sounds pretty simple, correct? 😉 But you'll, of course, find the step by step instructions in the actual recipe below, so let's not stress about this for now.
Let's talk about serving instead. I think these mushroom lasagna roll-ups are just perfect for dinner. Or, if you make a bigger batch, you can serve the remaining portions for lunch the next day or you can pack it and bring it with you to work or school. Meal prep done right!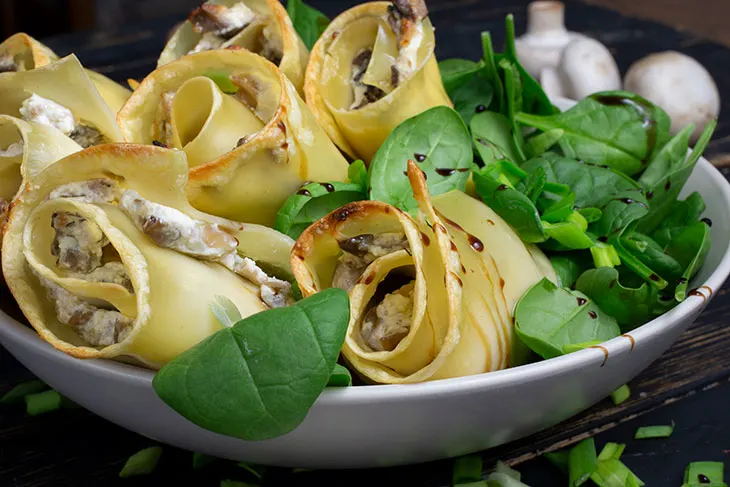 If you want to take things to the next level, you can add a few other ingredients into your filling mix such as kale or spinach. Or anything else you prefer! Greens are always welcomed and maybe some spicy chilies as well. Your choice.
One of the best advantages of these mushroom lasagna roll-ups is that they're already portioned. How awesome is that? You don't need to cut anything, just like you would have to when it comes to a classic lasagna. Perfectly portioned goodness on your table!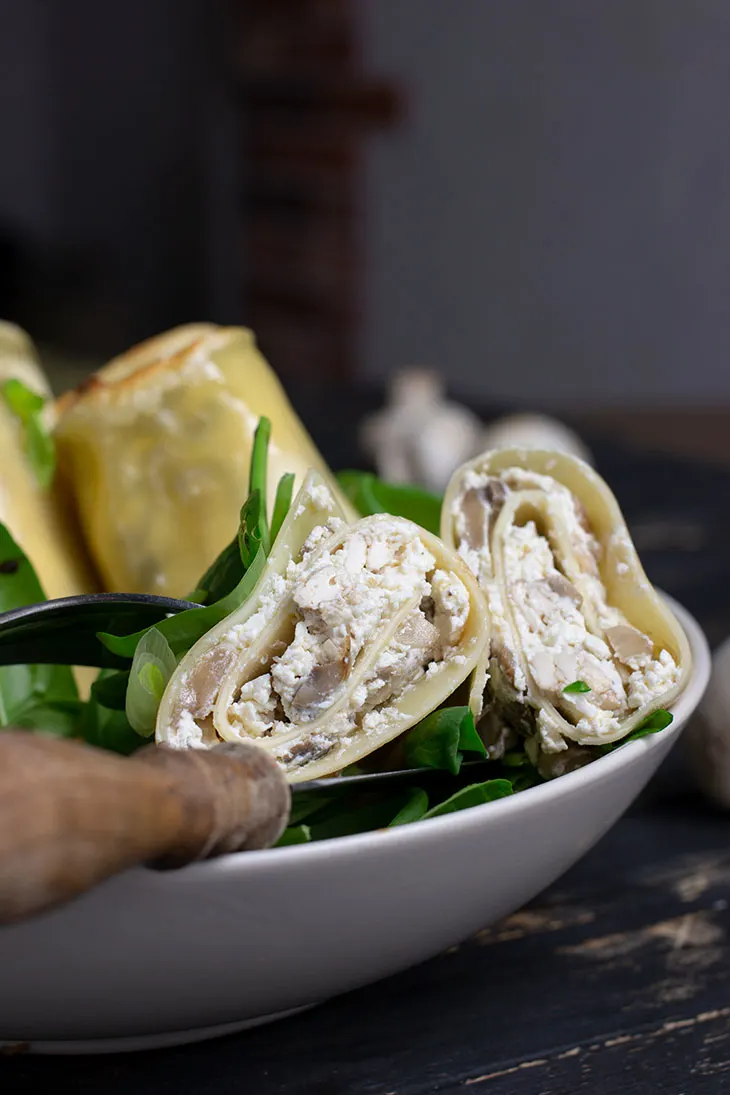 Another good thing about them is that they freeze perfectly. So if you have some leftovers, throw them in the freezer in a casserole or zip-lock bag. Then, whenever you're craving a portion, just take them out of there, put them in the oven with some sauce and you're good to go. This can happen in the next days – or months, as the mushroom lasagna roll-ups can stay in the freezer for longer.
So, in the end, if you're a lasagna lover then you must try these mushroom lasagna roll-ups. It would be a shame not to! And if you already tried my recipe for zucchini lasagna, cabbage lasagna or mushroom lasagna, this recipe should be next in line for you. A must-try!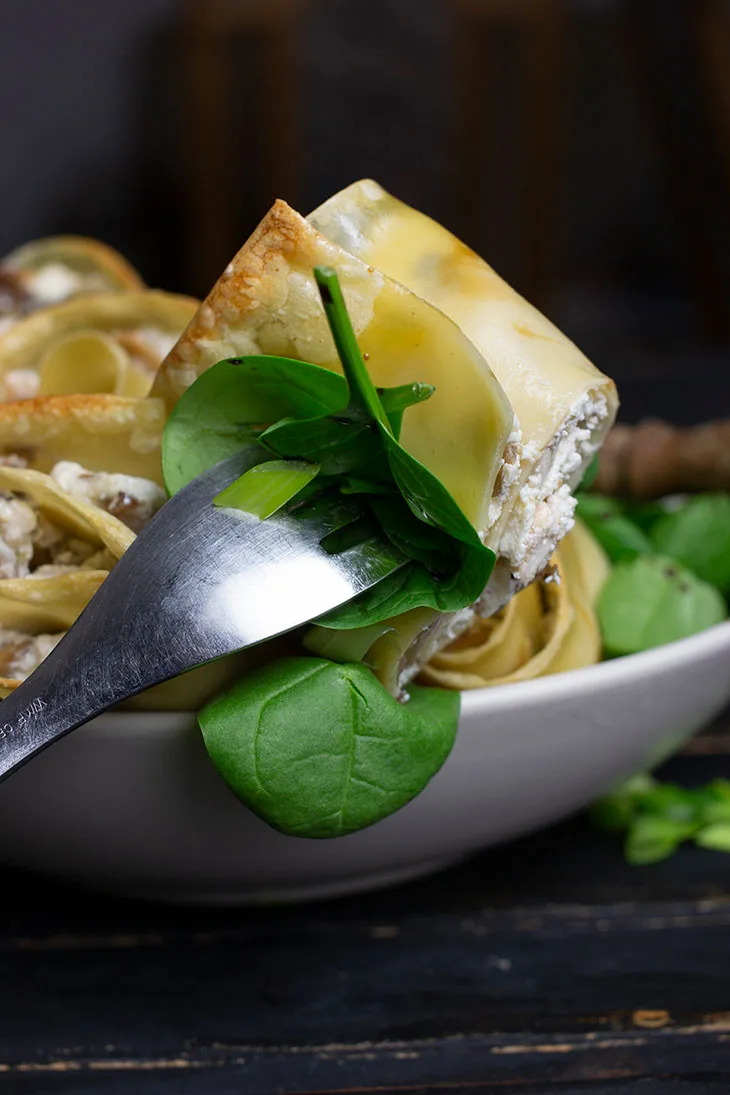 If you decide to make this recipe soon, make sure to let me know how it went. I'm so curious to hear your opinions!
Yield: 4
Mushroom Lasagna Roll-ups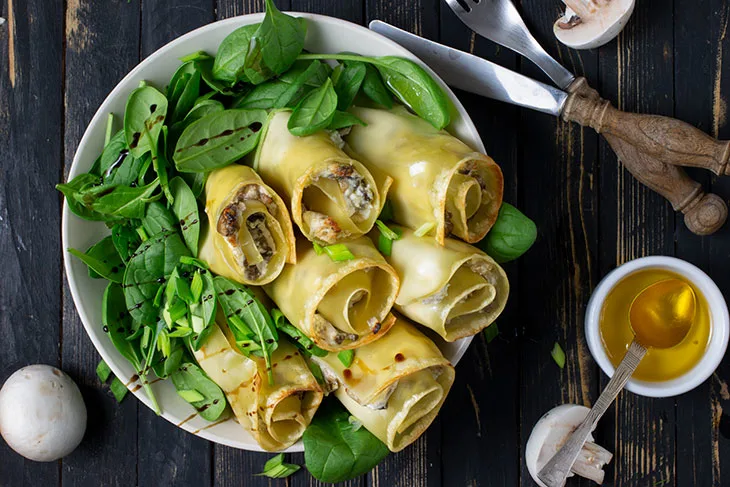 In the mood for something comforting for dinner? Here's how to make the ultimate mushroom lasagna roll-ups! Just like a vegan lasagna, only more fun!
Ingredients
200g (7 oz) tofu, crumbled
300g (10 oz) mushrooms, chopped
2 Tbsp nutritional yeast
2 garlic cloves, minced
3 Tbsp lemon juice
2-3 Tbsp olive oil
~10 Lasagna sheets
Salt
Pepper
Instructions
Cook the lasagna sheets following instructions on the package - boil them al-dente. Move them with a spatula, from time to time, so they don't stick together.
Drain and toss them with olive oil.
In a food processor, combine the tofu, lemon juice, nutritional yeast and 1 garlic clove. Process until smooth.
Sautee the remaining garlic and mushrooms in olive oil for 3-4 minutes.
In a bowl, add the tofu mixture and the mushrooms, mix to combine.
Season with salt and pepper.
Spread a thin layer of the tofu mixture on the lasagna sheet and roll it.
Repeat for the rest of the sheets.
Bake the rolls at 180 degrees C for 5-7 minutes.
Serve with baby spinach and balsamic vinegar.
Nutrition Information
Yield
4
Amount Per Serving
Calories

349
Total Fat

29g
Saturated Fat

7g
Trans Fat

0g
Unsaturated Fat

20g
Cholesterol

42mg
Sodium

546mg
Carbohydrates

12g
Fiber

2g
Sugar

3g
Protein

13g
I strive to keep the information as accurate as possible but make no warranties regarding its accuracy. I encourage you to make your own calculations using your preferred nutrition calculator.