This vegan lasagna with mushrooms recipe will be loved even by the pickiest eaters! It's the perfect, healthy comfort food!
If I ask you to think of the top 5 most delicious Italian dishes, chances are lasagna will make it to the top 2. It is delicious and very common on our tables. Lasagna is one of the oldest types of pasta and it makes for a practical and versatile dish. There are many varieties of the lasagna and my favorite is, of course, the vegan lasagna.
The origin of lasagna can be traced back to Naples, in Italy, in the Middle Ages. The first recorded recipe goes back to the 14th century. This recipe consisted of flattened dough, boiled, and sprinkled with cheese and spices. Some things could vary, like adding chicken fat, boiling the dough in chicken broth, and adding walnuts.
The traditional Naples lasagna is layered with local sausage, small fried meatballs, hard-boiled eggs, ricotta, mozzarella and Neapolitan sauce. However, the lasagna we've come to know is from the region of Emilia-Romagna. The recipe can vary depending on the region, combining ricotta, mozzarella, tomato sauce, meats, vegetables and flavored with wine, garlic, onion and oregano. What doesn't vary is the fact that it's baked.
This vegan lasagna recipe is definitely one of my all-time favorite recipes! I didn't think it will be so good but trust me, it's even better than the original meat lasagna!
The wonderful thing about using mushrooms for lasagna is that they provide a rich, meaty texture that makes most people not miss the meat at all.
I substituted the shredded cheese on top that is usually sprinkled over lasagna with a lovely flavorful tomato and basil sauce. The combination is awesome and you won't miss the cheesy texture at all! Of course, if you have some vegan cheese you can use it.
Give this vegan lasagna recipe a try! You will be amazed! 🙂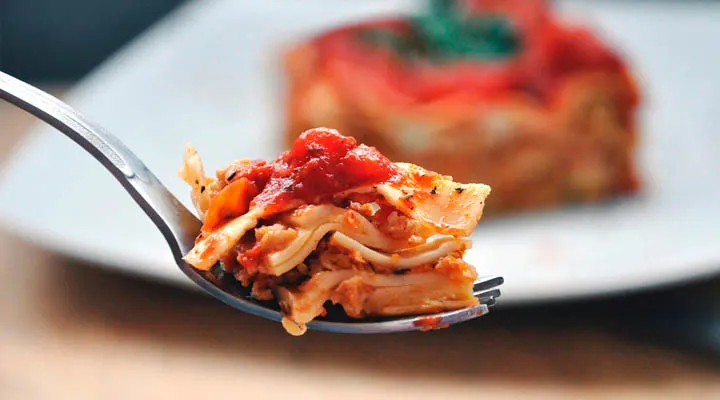 Nutritional Facts of Vegetable Lasagna
This is what you'll find in each individual serving of vegetable lasagna:
Calories: A serving of vegetable lasagna contains 316 calories; 123 of those calories are fat, 41% are carbs and 20% are protein.
Fat: Vegetable lasagna comes with 14 grams of total fat, 5 of which are saturated fats. This makes up for 21% of the daily recommended value for a 2.000 calorie diet.
Carbohydrates: There are 32 grams of carbs in vegetable lasagna, which makes up for 11% or the daily recommended value. 4 grams are from dietary fiber and 6 grams are from sugar.
Protein: There are 15.6 grams of proteins per serving of vegetable lasagna, so it provides 31% of the daily recommended value. It also provides 84% of the necessary daily amino acids.
Vitamins and Minerals: Vegetable lasagna provides 52% of vitamin K, 34% of calcium and 46% of selenium. However, it is packed with sodium at 799 mg.
The health benefits can vary depending on the type of vegetables you choose. But overall vegetal lasagnas are a great source of protein, fiber, vitamins and minerals which help boost your metabolism, they reduce the risk of heart disease, and they're safe for diabetics to eat. They're also very rich in antioxidants, calcium, dietary fiber, vegetable protein, iron, vitamin A, B, C, K, and many other properties fitting the vegetables you use.
Yield: 8x12 casserole dish
Vegan Lasagna with Mushrooms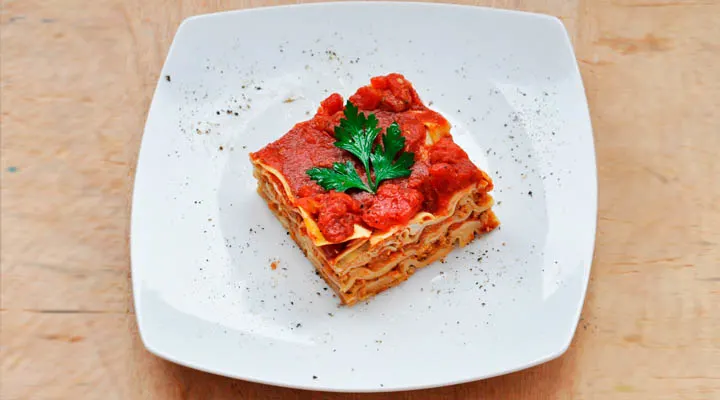 This vegan lasagna with mushrooms recipe will be loved even by the pickiest eaters! It's the perfect, healthy comfort food!
Ingredients
whole wheat lasagna sheets, I used lasagna sheets that don't need to be boiled first
1kg (35oz) Portobello/button mushrooms
1 carrot
2 big onions
1 red bell pepper
50g (½ cup) breadcrumbs
ground pepper, to taste
sea salt, to taste
2 tsp thyme
1 tbsp unrefined oil
Sauce:
1 can (400g | 14oz) peeled tomatoes
fresh or dry basil, to taste
salt and pepper, to taste
Instructions
Grind the carrot, mushrooms, onions and pepper using your food grinder.
Put the mixture in a large bowl and add breadcrumbs, thyme, sea salt and pepper.
Heat oil in a large pan. Add mixture and sauté for 5 minutes.
Preheat oven to 375° F.
Put some parchment paper on the bottom of the tray to avoid sticking and using any extra oil.
Assemble the lasagna. Lay down one layer of noodles. Use a spatula to spread 1/2 of the mushroom mixture. Lay down a second layer of noodles. Spread rest of mixture. Lay down last layer of noodles.
Cover casserole with some aluminum foil. It will cook faster.
Bake for about 40 minutes.
Remove from oven and let sit for about 10 minutes.
Add peeled tomatoes and basil in your food processor and blend. Pour sauce on top of lasagna.
Nutrition Information
Yield
8
Amount Per Serving
Calories

107
Total Fat

2g
Carbohydrates

19g
Protein

3.2g