In case you're following a vegetarian diet and you're craving some good ol' lasagna, this is THE recipe you've been looking for. Here's how to make the best vegetarian lasagna that's very similar to the traditional version!
If you're a fan of Italian cuisine, I'm sure you know about lasagna. And even if you're not, this dish is something that everyone has tasted at least once in their lifetime, be it in a restaurant or in their mother's home.
Lasagna has become popular all over the world, not just in Italy. And there are plenty of reasons for this: it's easy to make, it's super delicious and it's basically the definition of comfort food.
Needless to say that it's also an excellent candidate for meal prep, considering that everything is baked in the oven in one pan and the end result should be able to feed, let's say, at least 4 people. You can even freeze your lasagna for later, which will save you tons of time!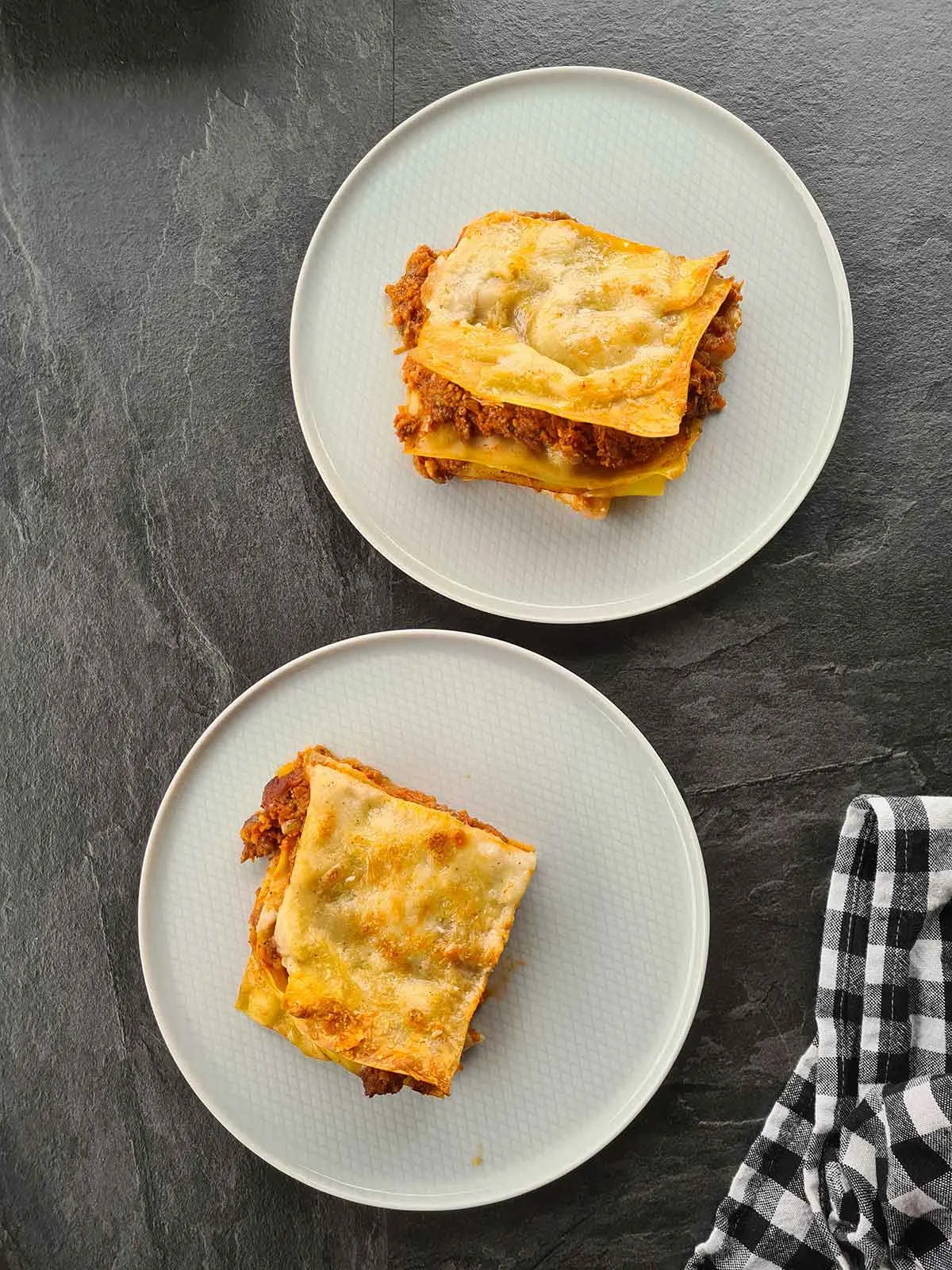 Letting these technical advantages on the side, probably the most important reason why people all over the world have progressively fallen in love with lasagna is its taste, which is no less than incredible. Plus, each bite has an interesting texture thanks to the mix between the minced meat, the boiled pasta sheets, and the creamy white sauce.
Now that I made sure we're all lasagna fans here (I'm pretty sure you are too, otherwise you wouldn't have clicked on this recipe, right?), let's find out more about how I made this vegetarian lasagna from scratch.
For this recipe, I did my best to follow the classic lasagna recipe – but with vegetarian ingredients exclusively.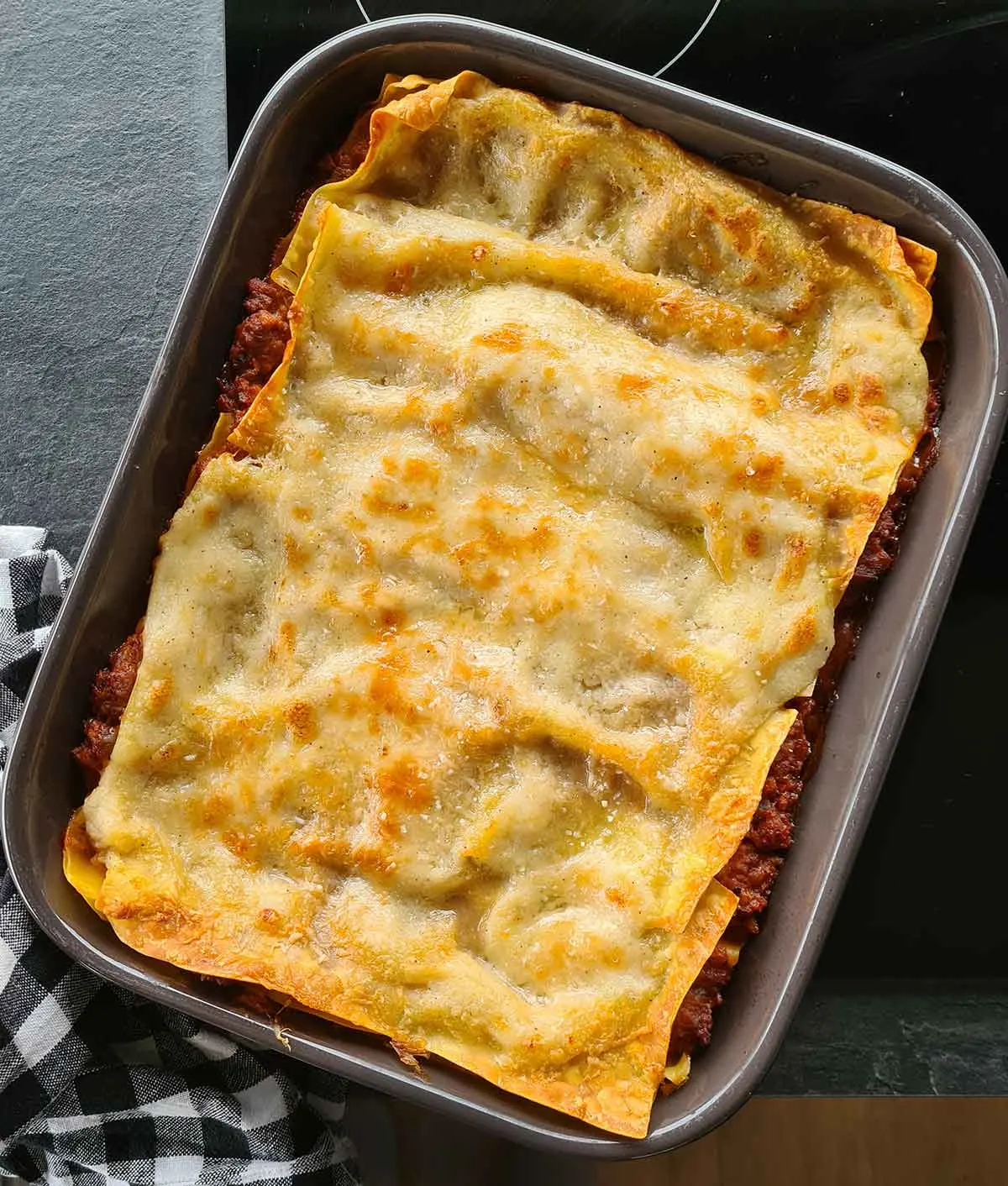 I didn't have any difficulties in making the Bechamel sauce, as the traditional recipe is naturally vegetarian. But when it comes to the bolognese ragu, which is basically the heart and soul of lasagna, I had quite the challenge to overcome.
In case you don't know, a bolognese ragu is the same type of mixture used for Bolognese pasta. Which means it's originally made with minced meat. So one thing's for sure: if I wanted my vegetarian lasagna to taste heavenly, I had to find the best veg-friendly replacement for the minced meat. That was my main goal.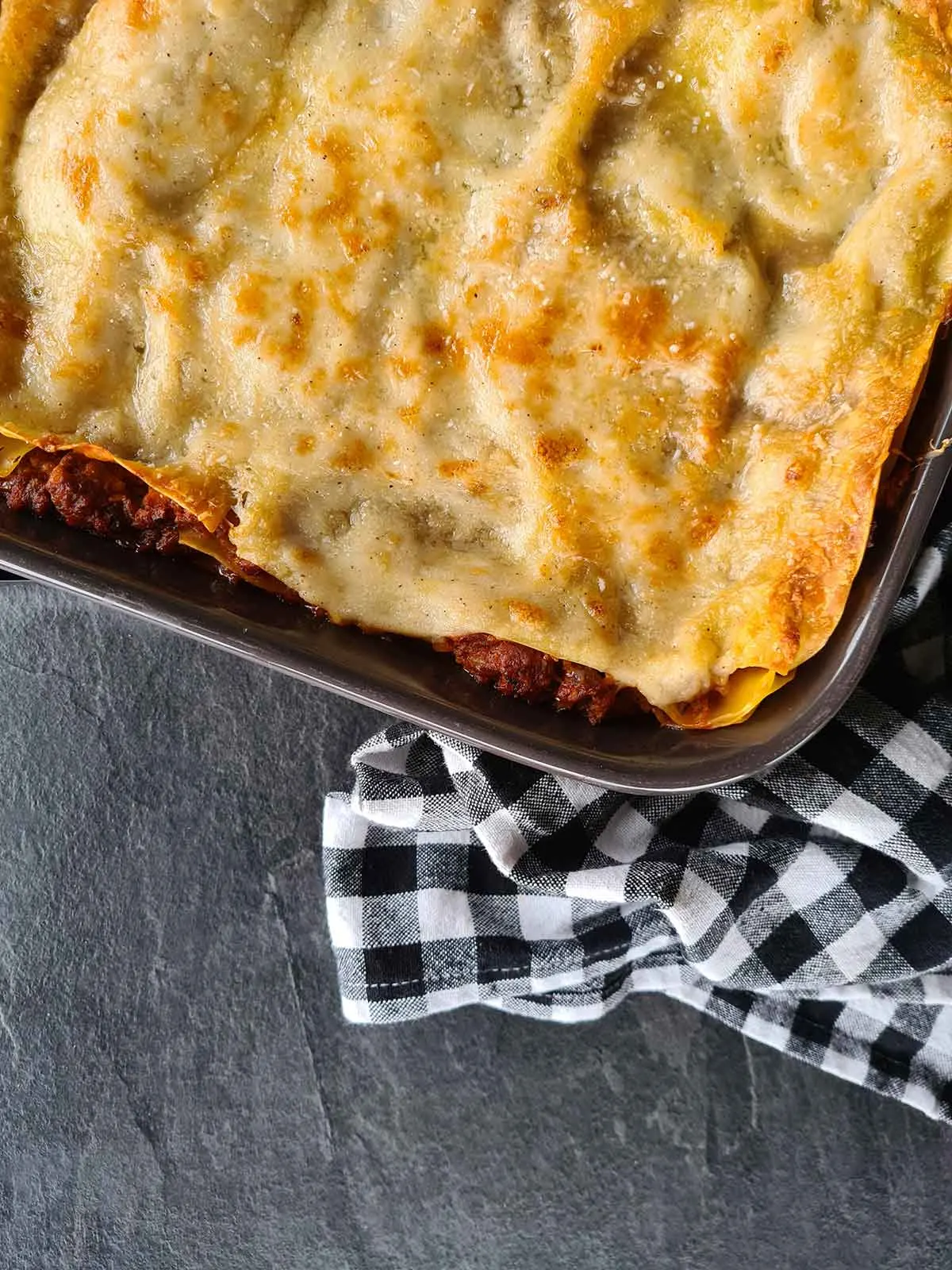 Luckily for me (and all other vegetarians or vegans out there), nowadays you can find SO many options for vegan meat in supermarkets and specialty stores – which wasn't the case a few years ago!
For today's vegetarian lasagna I chose to use the vegan minced meat from Naturli – one of my favorite brands of vegan meat. I've spoken about their products many times before, including in this Creamy Orzo with Veggie Balls recipe or in my article series called "What I eat in a day", such as What I Eat in a Day #9 – that's because I use Naturli almost on a daily basis!
Another really good alternative would've been the minced meat from Verdino. Both of them are amazing, Naturli being a little more "fat", which is always good when it comes to a classic recipe such as lasagna.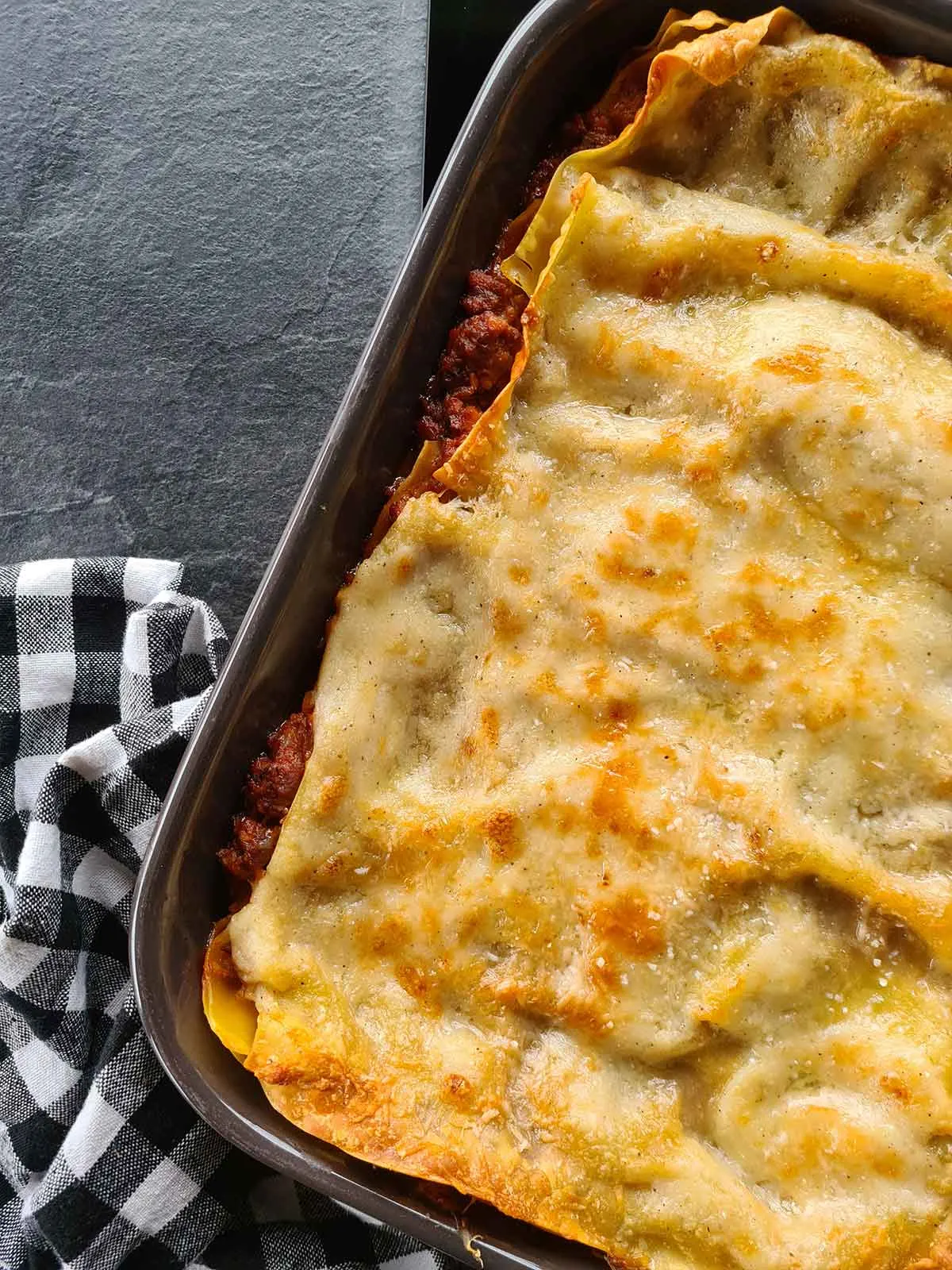 Now, about the cooking process. If you've made lasagna before, you probably know that it's not the quickest recipe in the world. It requires a little bit of sauteeing when it comes to the ragu, some continuous whisking when it comes to the bechamel sauce, and some assembly at the end when you have to place every ingredient on different layers.
Regardless of how long it may take or how complex each step might be, one thing's for sure: lasagna is worth all the effort in the world! Just think of the hot goodness you're going to taste at the end, of the crunchy top layer, of all the Parmesan cheese sprinkled on top of each serving. Ahhh, I can almost taste it as I write these lines! 🙂
And in case my words don't do it justice, just take a look at the pictures – I'm sure you'll be able to virtually taste each piece of this amazingly delicious vegetarian lasagna!
TIP: To save some time, I highly recommend searching for a brand that makes lasagna noodles that don't require the pasta to be boiled separately. This means you can just place the dry, uncooked lasagna sheets in your pan, add the rest of the ingredients and the sauce in layers, and everything will cook evenly at the same time. Time saved is always a reason to celebrate!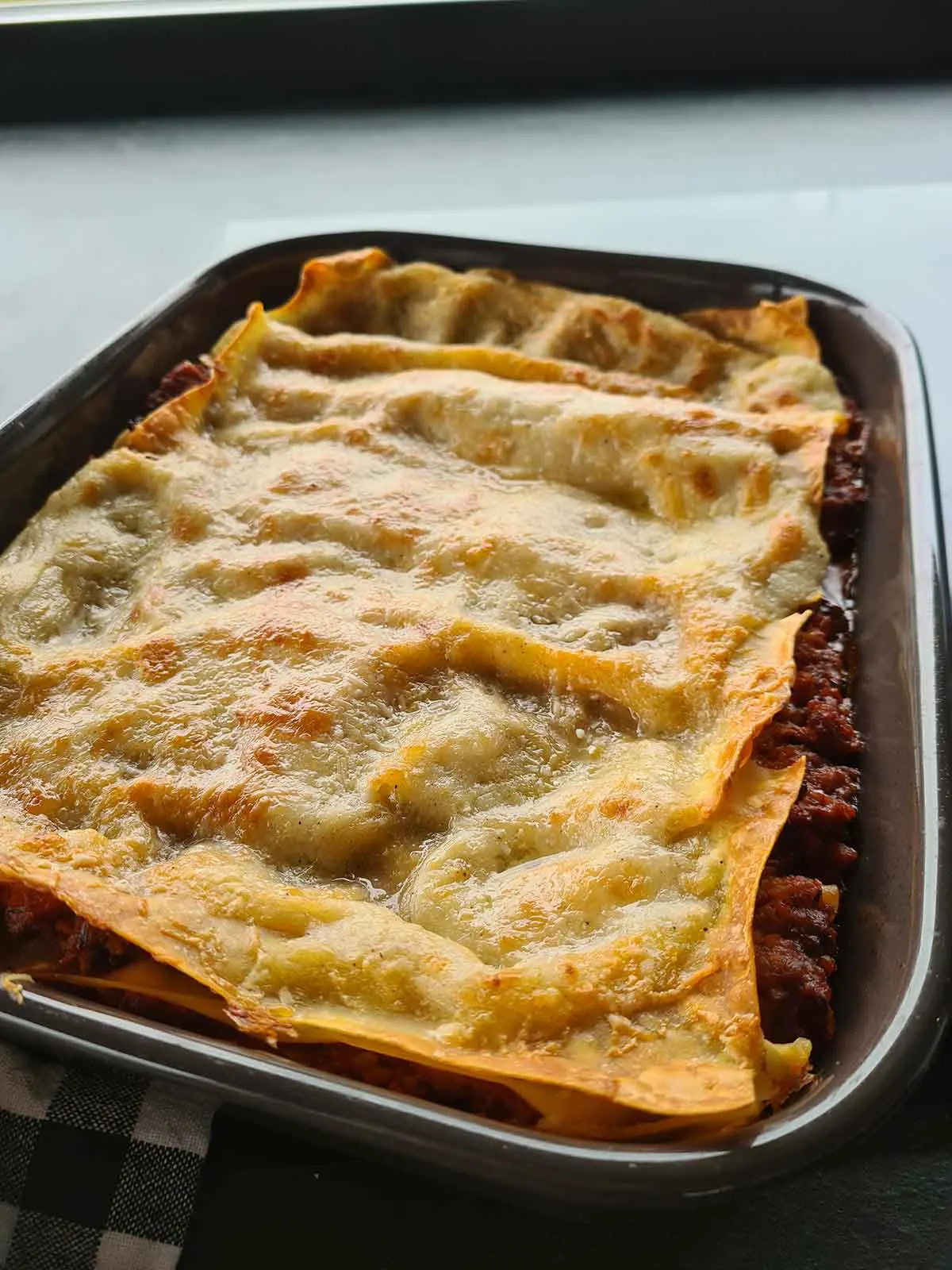 Okay, I'm absolutely convinced that you're now eager to see the step-by-step recipe for this vegetarian lasagna. If you ask me, this traditional lasagna made 100% veg is one of the best vegetarian lasagna recipes I have tasted in my life. And, trust me, I've tasted quite a lot of them in Italian restaurants, as this is one of the mains I always order.
In case you try this vegetarian lasagna soon, don't forget to leave a comment and let me know how you liked it. I'm always curious to read your opinions! 🙂
Bon appetite!
Yield: 8
Vegetarian Lasagna - Traditional Italian Recipe made Veg!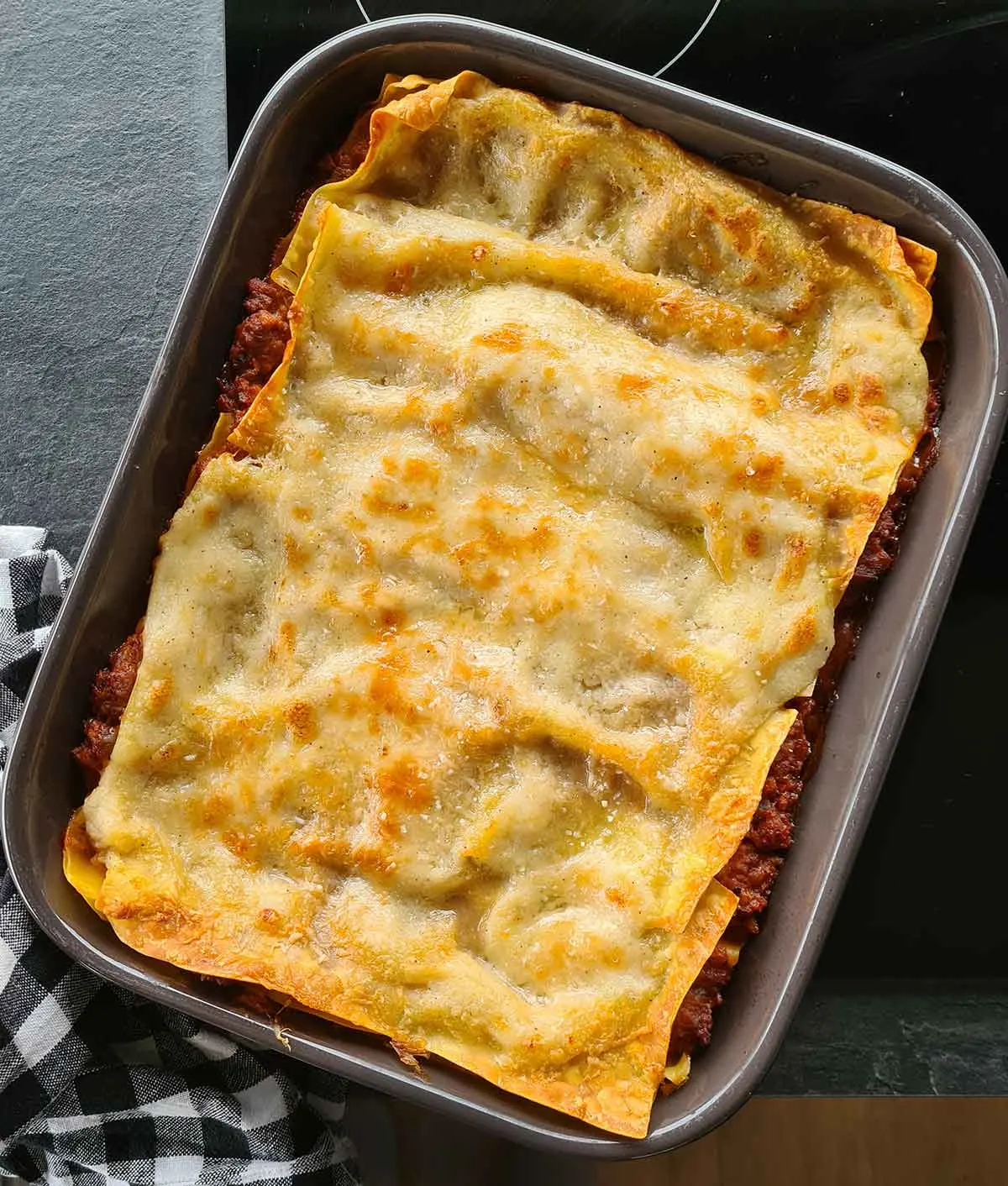 In case you're following a vegetarian diet and you're craving some good ol' lasagna, this is THE recipe you've been looking for. Here's how to make the best vegetarian lasagna that's very similar to the traditional version!
Total Time
1 hour
30 minutes
Ingredients
a pack of lasagna noodles (approx. 500g | 17.5oz) - choose a brand that doesn't require the pasta to be boiled separately
50g (½ cup) grated Parmesan cheese
For the vegetarian bolognese ragu:
500g (17.5 oz) Naturli Minced
1 carrot, diced
1 celery stick, diced
1 medium onion, minced
4 garlic cloves, crushed
1 can (400g | 14 oz) tomato sauce
100ml dry wine - I used some leftover wine that I had already
2 tsp dried basil leaves
1 tsp oregano
salt and pepper, to taste
1 Tbsp olive oil
For the bechamel sauce:
500ml (2 ¼ cups) goat milk
50g (1.7oz) goat butter
50g (¼ cup) all-purpose flour
salt and white pepper
a little bit of freshly ground nutmeg
Instructions
Add all the ingredients for the ragu sauce to a large non-stick pan. Add 2 cups of water.

Saute on medium-high heat for 20 minutes, then on low heat for another 15-20 minutes, or until most of the liquid evaporates.

Prepare the bechamel sauce:

In a large saucepan, melt the butter and add the flour. Whisk well and cook this roux on medium heat.

Heat the milk in a separate pot and slowly pour it over the roux, while continuously whisking.

Whisk until smooth and add the spices at the end.

Now the assembly part (I used a 40x32cm pan):

Add some parchment paper at the bottom.

Pour and spread 2-3 tablespoons of bechamel sauce on the bottom, then add the first layer of lasagna sheets (2-3 sheets).

Pour about one ladle with the bechamel sauce and spread it evenly on top of the first layer.

It is followed by the ragu sauce and then a handful of freshly grated Parmesan cheese.

Top with another layer of lasagna noodles and repeat the process until you finish the sauces and the pasta.

The final layer should be with the pasta sheets covered only in a generous layer of bechamel sauce and topped with a generous amount of Parmesan cheese.

Bake in the oven at 180C for 30 minutes.

Let it rest for 15 minutes before serving.
Nutrition Information
Yield
8
Amount Per Serving
Calories

434
Total Fat

20g
Saturated Fat

8g
Trans Fat

1g
Unsaturated Fat

9g
Cholesterol

77mg
Sodium

574mg
Carbohydrates

34g
Fiber

3g
Sugar

6g
Protein

28g
I strive to keep the information as accurate as possible but make no warranties regarding its accuracy. I encourage you to make your own calculations using your preferred nutrition calculator.