Are you bored by the old, classic falafel? Don't worry, as today's recipe will bring a delicious twist to a classic recipe – here's how to make a delicious, vegan quinoa falafel!
I always loved foods that come "with a twist". I was never satisfied with the basics, so whenever I have the chance, I like to spice up the classic recipes with a little extra something. This is the case with the recipe we are going to prepare today: the quinoa falafel!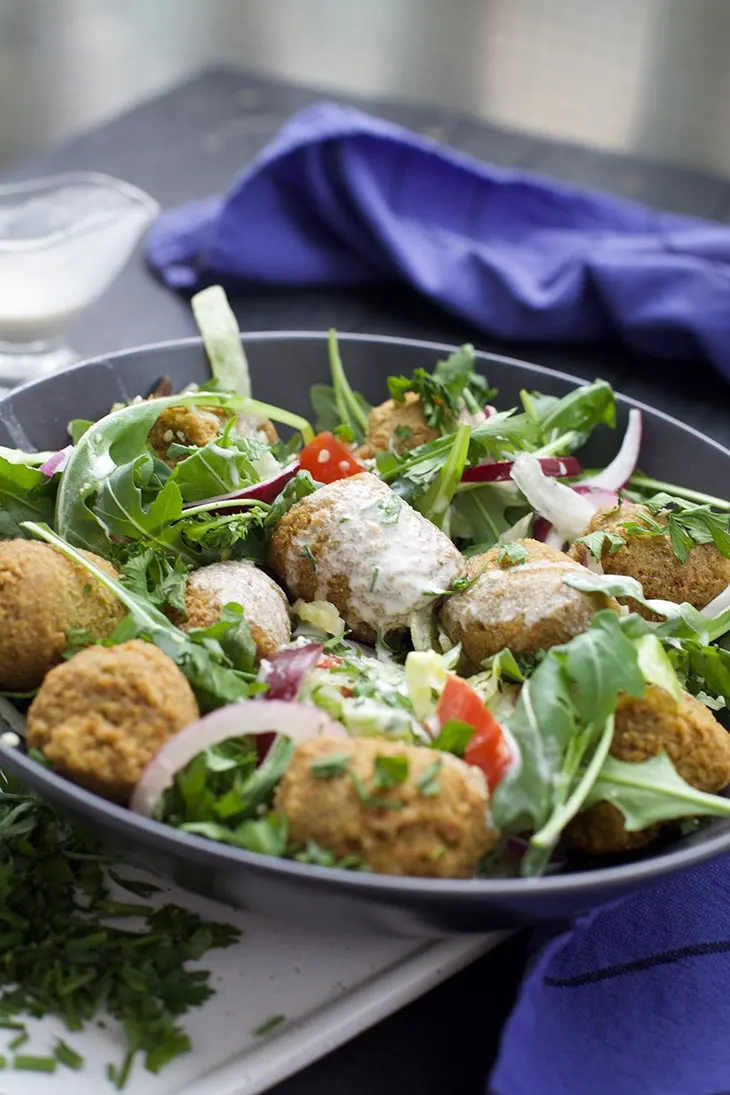 Falafel has become such a popular street food all over the world, that all of us have tried it at least once. The chickpea classic is our best friend in times of need: when we need a quick lunch fix or a soothing hangover fast food cure, it is always there for us!
As with so many foods, preparing the falafel for yourself can turn it into a work of art. You can add your personal touch to it and be sure that everything that goes in is healthy and yummy!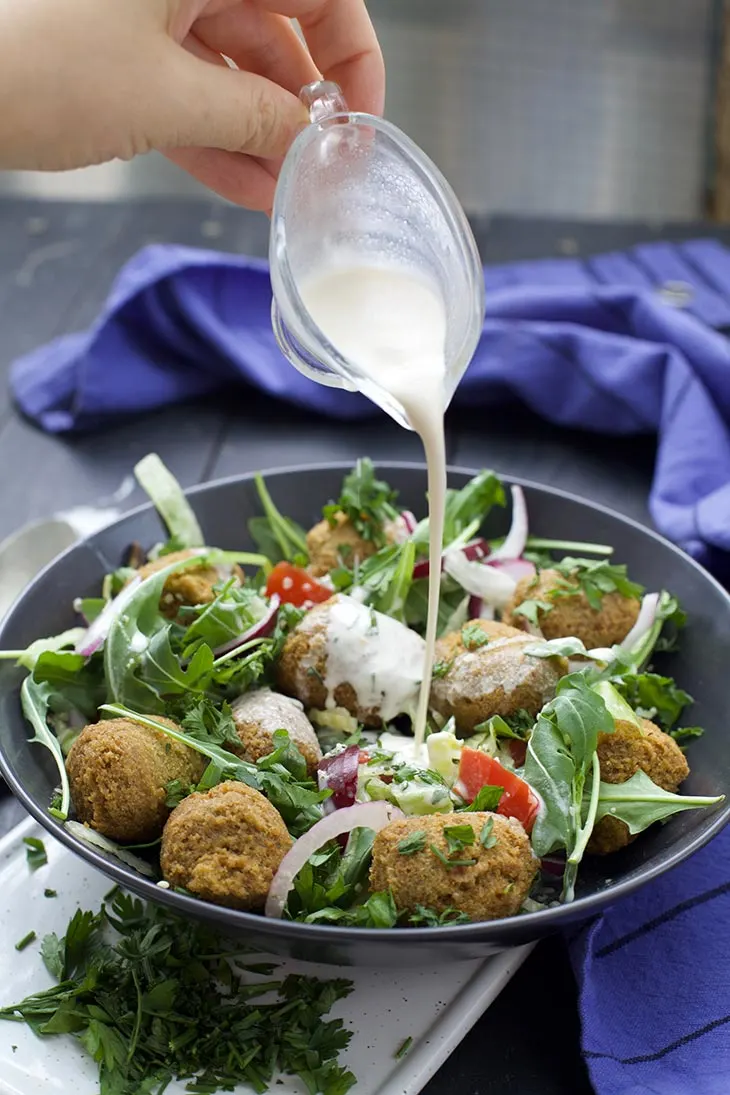 Have you ever wondered about the history of the falafel? We probably take it for granted since it is so easy to find it all over the world but it's quite controversial actually! Some theories state that the history of the falafel goes back 1000 years to the Egyptians! Since Egypt has so many connections through its port, it was possible that the dish was exported to other areas in the Middle East.
Some even have been trying to prove that the roots of the falafel go all the way to the Pharaohs of Egypt! Imagine that, right? Other theories say that falafel originates from the Arabs or Turks, or that it came from Yemen. Either way, we love it, so why not think about how we can prepare our own?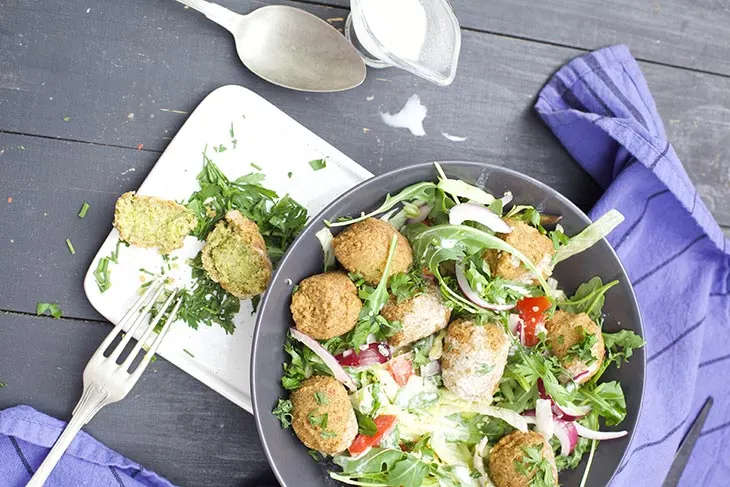 Now, why quinoa, you may ask? In contemporary diets, quinoa is starting to become more and more popular. Quinoa is a grain crop that is used for its seeds that we can eat. Not wanting to sound like a know it all, but quinoa isn't actually a grain – it's a pseudo-cereal.
This means that it is basically a seed which we prepare and eat similarly to a grain. Historically, quinoa was an important aliment for the Inca Empire. They even called it the "mother of all grains" and were convinced that it was sacred. But so do many of us now!
Although it has been eaten for thousands of years in South America, it only recently reached the status of a trend food all over the world, and some even consider quinoa to be a superfood! Especially for vegetarians and healthy-eaters, quinoa is now one of the main ingredients. Some of us eat it on a daily basis!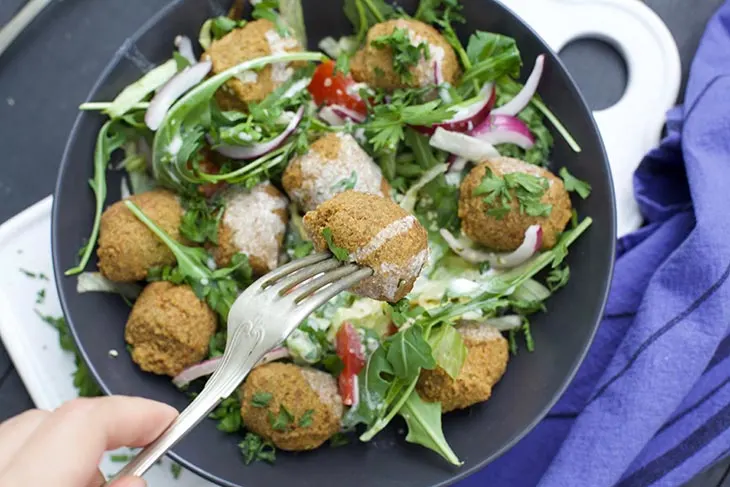 But why is this? Well, it is actually quite nutritious! Quinoa is gluten-free, high in protein and one of the few plant foods that contain good amounts of all the nine essential amino acids. It is also high in magnesium, iron, B vitamins, fiber, calcium, potassium, phosphorus, vitamin E and various beneficial antioxidants! 🙂
With all these benefits, it is no wonder that we just want to add quinoa in everything! So this is why I am offering you today this extra tasty recipe for quinoa falafel! Unlike the traditional recipe that is deep-fried, adding quinoa to the recipe allows us to bake the falafel, in case you want to make it even healthier! So it's not only incredibly delicious, but it's also super healthy!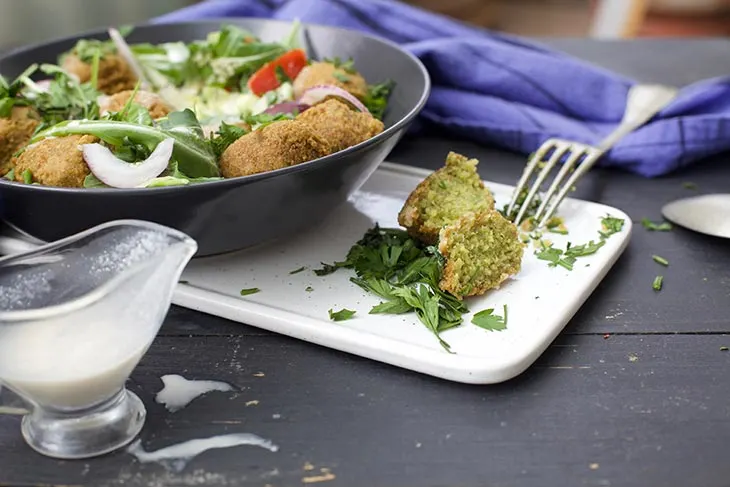 The process of making the falafel is so easy that you will want to start right away. The main ingredients are the chickpeas and the quinoa, and some other spices and ingredients will be added for extra taste.
The good news is that the blender will basically do all the work for you! You can't really go wrong with this recipe. All you have to do is add the chickpeas, quinoa and the rest of the vegetables in a blender until you obtain the paste of the desired consistency. Then you can add all the spices.
The mixture should then be frozen for 15 minutes – this will make the falafel paste easier to shape into the falafel balls. Then you fry (or bake) the falafels until they turn golden brown and voilà, your meal is ready!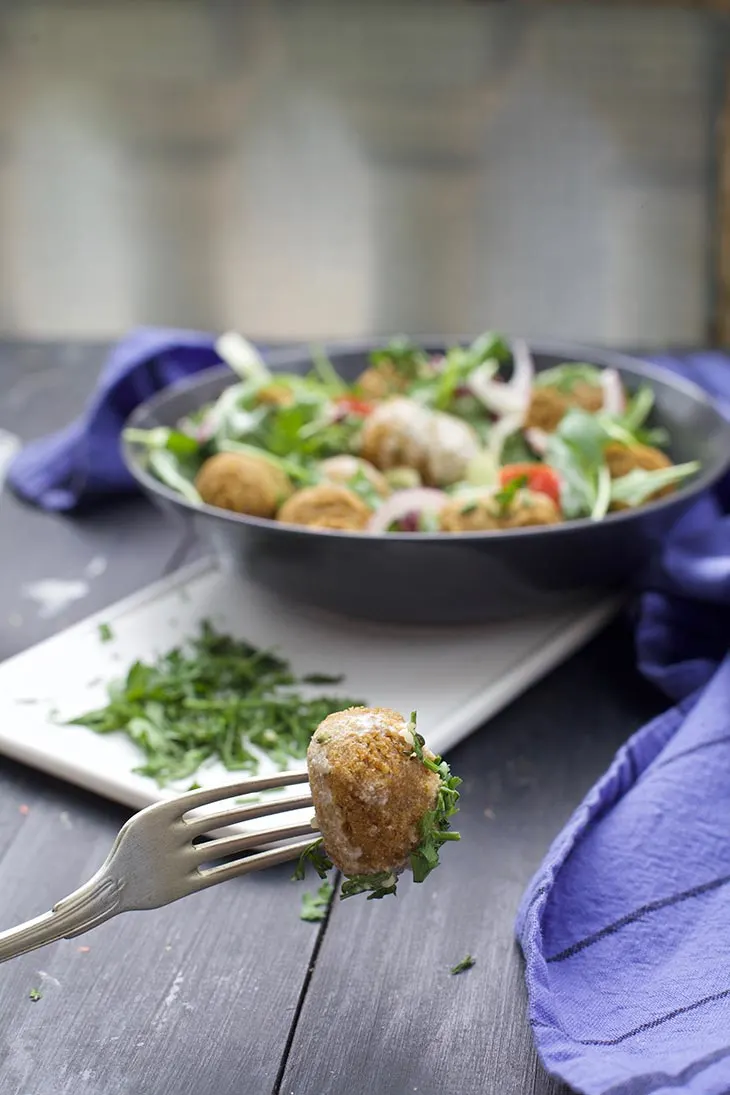 What could be easier than this? So gather the ingredients and let's start cooking! Of course, if you try this recipe, make sure to let me know if you liked it. Happy cooking!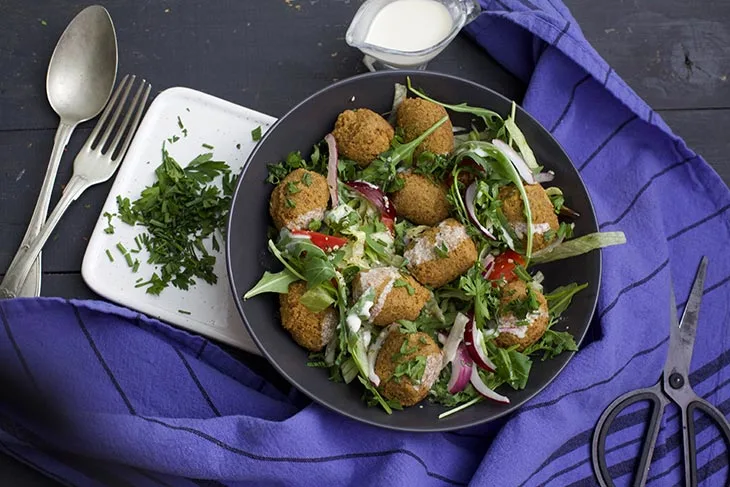 Are you bored by the old, classic falafel? Don't worry, as today's recipe will bring a delicious twist to a classic recipe - here's how to make a delicious, vegan quinoa falafel!
Ingredients
For the falafel:
450g (2 ½ cups) quinoa, cooked
1kg (4 cups) chickpeas, cooked
1 medium onion, chopped
1 Tbsp tahini
8 garlic cloves
120g (2 cups) parsley
3 ½ tsp sea salt
4 tsp cumin
2 tsp coriander
4 Tbsp sesame oil
2 Tbsp cornstarch
1 Tbsp lemon juice
120ml (½ cup) water
500ml (2 cups) oil for frying
For the tahini sauce:
240ml (1 cup) water
240g (1 cup) tahini
1 garlic clove
¼ tsp salt
Instructions
In a food processor, add the onion, garlic, parsley, coriander, lemon juice and water. Blend until smooth.
Add the rest of the ingredients except for the avocado oil and blend to incorporate and get an homogeneous texture.
Using a tablespoon, form falafel patties.
Transfer the patties to a cutting board and put them into the freezer for about 15 minutes.
Heat up a deep frying pot with oil. Let the oil heat up to 190 C.
To make the sauce, add the tahini sauce ingredients to a blender and pulse until well combined.
Fry the falafel patties, about 5 at a time.
Remove the patties to a paper towel to absorb the excess oil.
Serve on a fresh salad with tahini dressing. Enjoy!
Nutrition Information
Yield
12
Amount Per Serving
Calories

535
Total Fat

29g
Carbohydrates

54g
Fiber

12g
Sugar

7g