Salad lovers, today's recipe will surely turn your world upside-down. Here's how to make a super quick chickpeas and roasted beetroot salad that looks and tastes absolutely amazing!
You may already know I'm a HUGE salad lover and a salad advocate too. My opinion is: salads DON'T have to be boring. They don't have to be plain, tasteless, or a sad meal that you eat when you're striving to lose weight.
Quite the contrary, if you ask me! Salads are one of the best meals in the world because of many reasons: they're fresh, they're the very definition of versatility (you can add ANYTHING you want to your salad) and, if you know how to combine and prepare them well, they can be tastier than any steak or burger.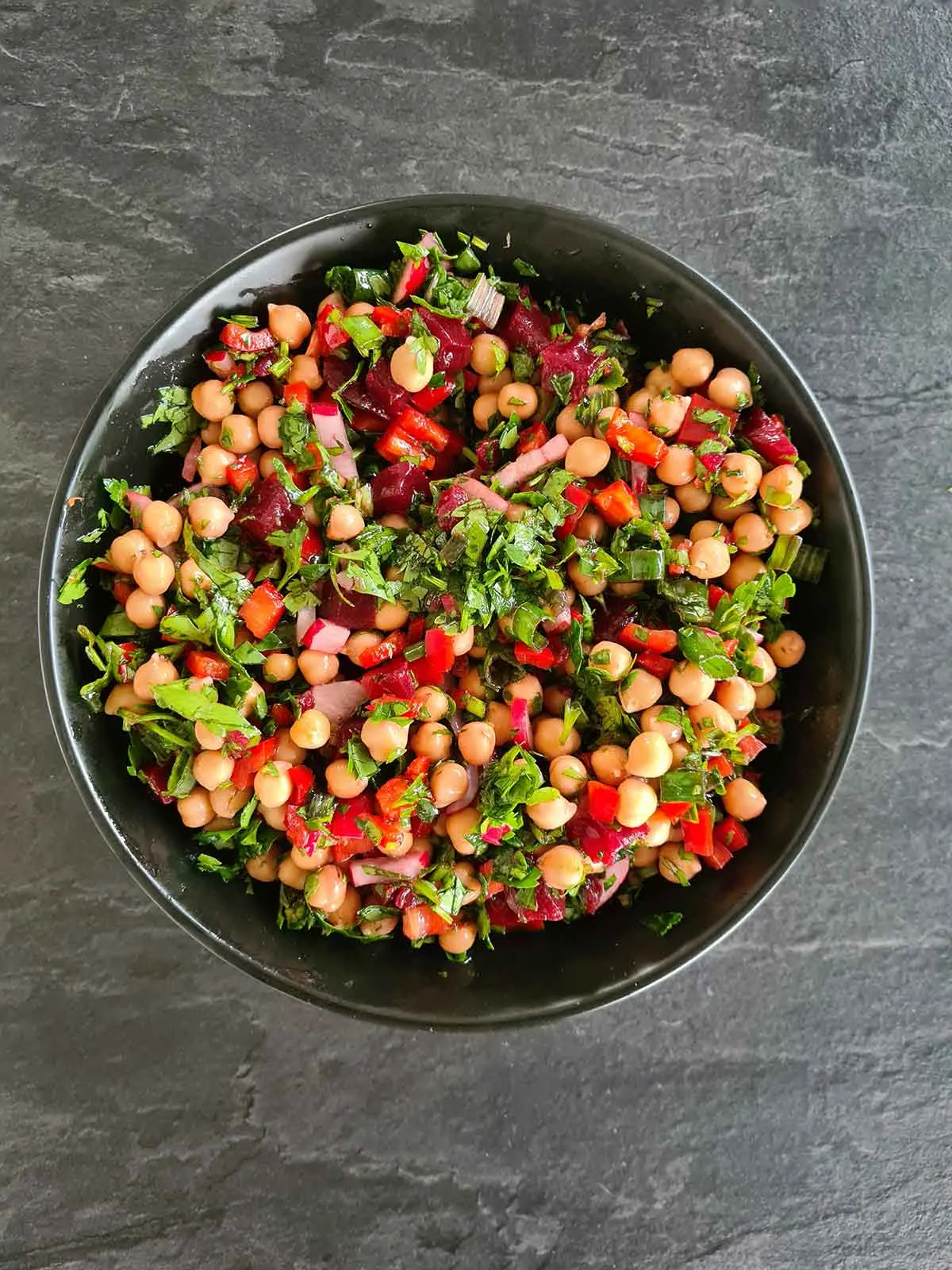 In case you didn't know, there are also warm salads out there and they can be extremely filling and yummy, totally different from a plain green salad with olive oil and vinegar. Just think of roasted veggies or halloumi combined with fresh salad leaves, olive, peppers, and a yummy dressing.
Plus, there are side salads and more complex salads that can be eaten as a main dish with no problems. I love the second option and I never feel it's a compromise when I eat a salad! 🙂
In case you need more inspiration for delicious salads that are anything but boring, I'll leave some personal favorites down below:
Plus some additional resources that can be really useful when it comes to salads: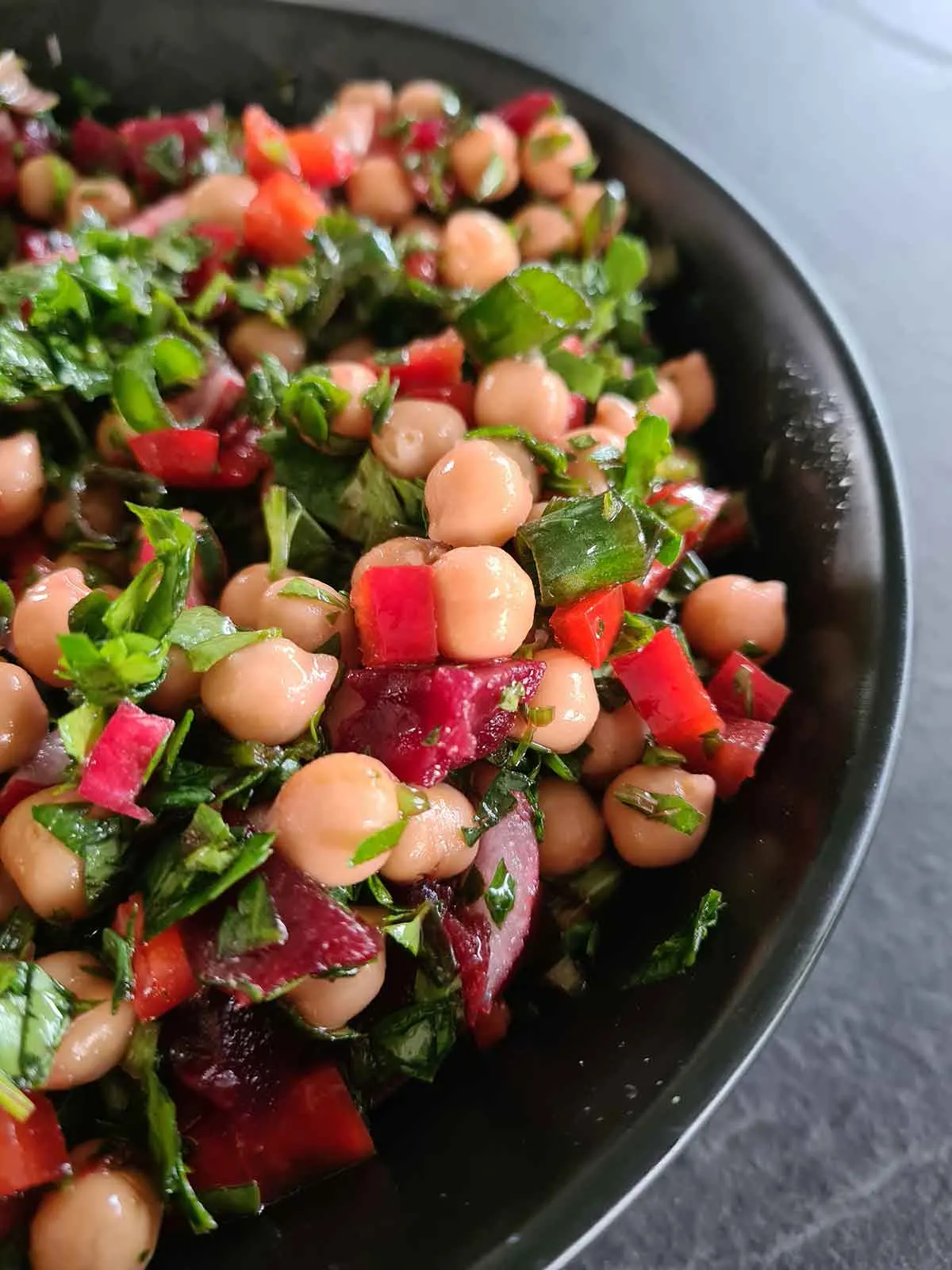 This being said, let's come back to today's recipe: quick chickpeas and roasted beetroot salad.
If I look at some of the ingredients – chickpeas, beetroot, fresh parsley, pomegranate vinegar, and cumin – I can say that this salad is a bit Orient-inspired. Just a tiny bit.
One thing's for sure, though: it's an explosion of intense flavors and it also has a super interesting texture as well. It's not at all mushy, but rather crunchy thanks to the red pepper, spring onion, and parsley. To complete this combination, next come the chickpeas, which are an excellent protein addition. Plus the roasted beetroot, which adds a bit of acidity and makes everything taste fresher and even more delicious.
I have no idea how to properly describe this salad than to say that I literally devoured it right after it was ready – it was THAT good!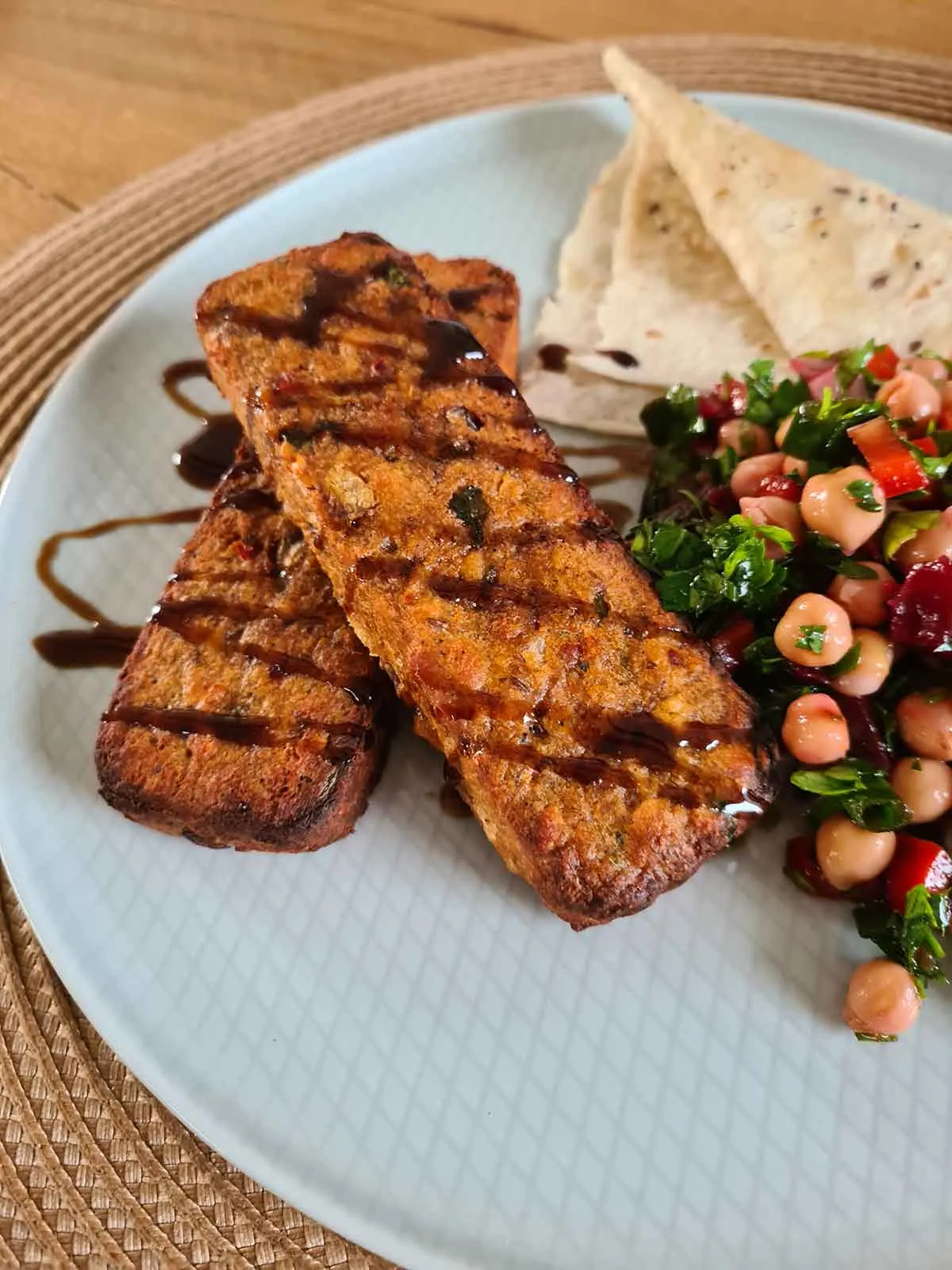 As for preparation, nothing can be easier, really. All you need is just a little bit of patience, as you have to finely chop alllll the ingredients. The dressing is super easy to make as well and really aromatic: 1 part vinegar to 3 parts extra virgin olive oil, plus salt, pepper, and cumin. Simple, yet super effective!
As you can see from the pictures, I served this salad together with some vegan "kebab" with pomegranate sauce and some oven-warmed pita bread. You can take this serving suggestion as inspiration – or you can eat this salad plain, with a bit of toasted bread or pita on the side.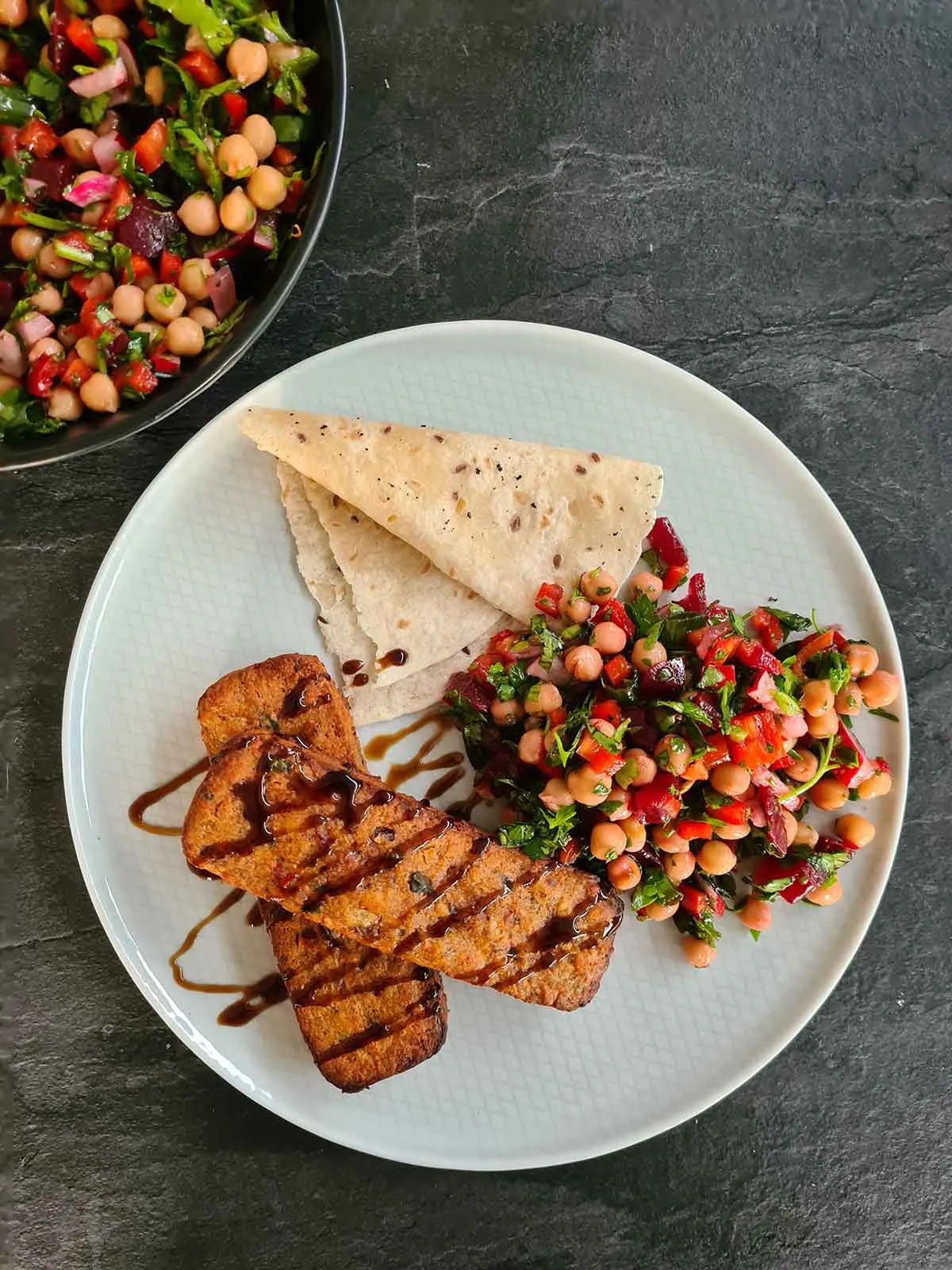 In all honesty, I can't say that the vegan kebabs I tried today blew my mind, but I wanted to try a new product found in stores here where I live. I wouldn't buy it again. Instead, I can recommend the plant-based cevapcici from Verdino in case you want something that's similar to a kebab, but way tastier.
Anyways, this quick chickpeas and roasted beetroot salad is the main star of this article, so the element you decide to serve it with will become less important once you get a bite of this combo. It may sound exaggerated, but it's completely true! 🙂
This being said, I'm sure you're already eager to try this salad recipe soon – or at least that's what I hope! You can eat this salad as a filling lunch that will last you at least 3 hours, or for dinner in case you're craving something light and healthy. Regardless of your choice, I'm sure you'll be making it again and again!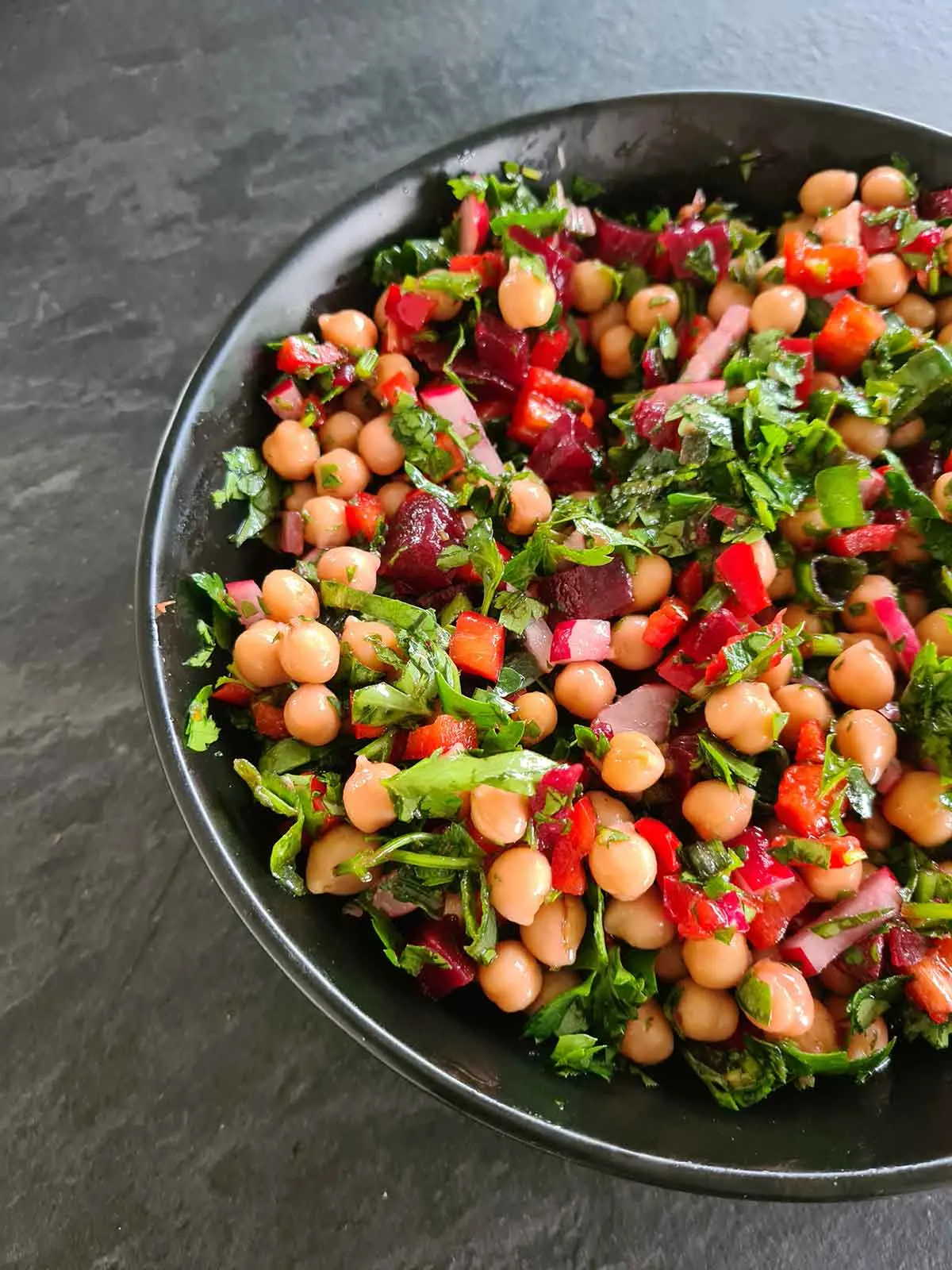 You can find the step-by-step recipe below and I'll tell you once again: everything is suuuuper easy and quick! In case you decide to give it a try soon, don't forget to let me know your impressions in the comment section below. I love hearing from my readers.
Happy cooking! 🙂
Yield: 2
Quick Chickpeas and Roasted Beetroot Salad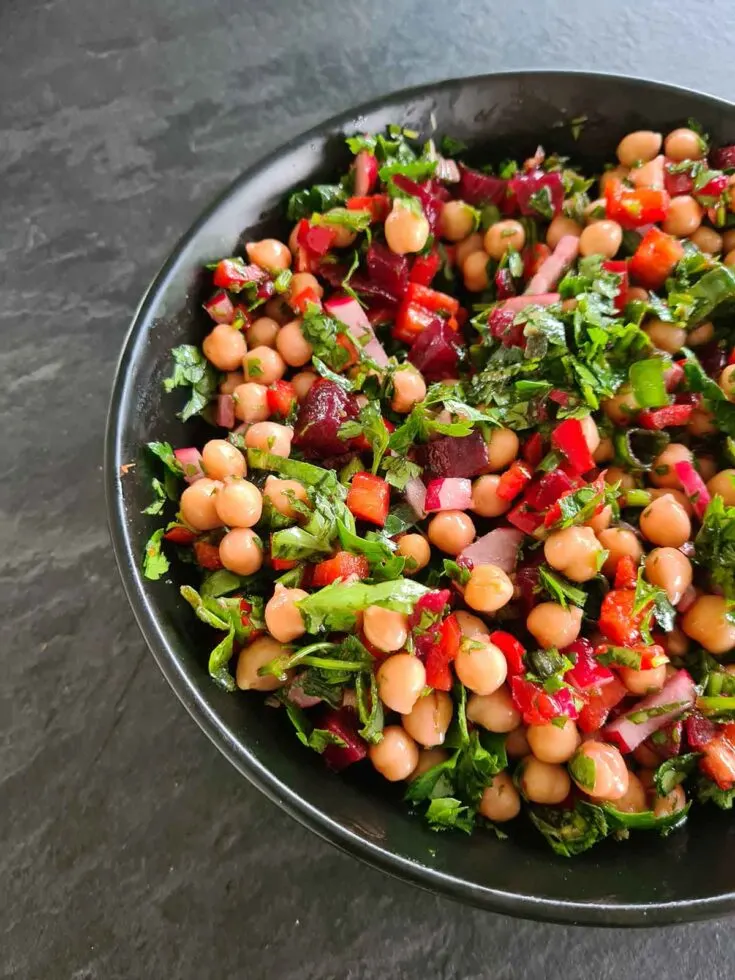 Salad lovers, today's recipe will surely turn your world upside-down. Here's how to make a super quick chickpeas and roasted beetroot salad that looks and tastes absolutely amazing!
Ingredients
1 can (400g | 14 oz) boiled chickpeas, drained and washed well in several waters
8-10 Tbsp roasted beetroot, cubed, from a jar
3 green onions, chopped
4 radishes, finely chopped
2 red peppers, finely chopped
lots of parsley, finely chopped
½ Tbsp pomegranate vinegar (or any other type of vinegar or lemon)
1 ½ Tbsp olive oil
o pinch of cumin
salt and pepper, to taste
Instructions
The preparation is extremely simple. You just need some patience to finely chop everything.
The dressing is simple and flavorful: 1 part pomegranate vinegar + 3 parts olive oil + salt, pepper, and cumin
Nutrition Information
Yield
2
Amount Per Serving
Calories

507
Total Fat

16g
Saturated Fat

2g
Trans Fat

0g
Unsaturated Fat

12g
Cholesterol

0mg
Sodium

246mg
Carbohydrates

74g
Fiber

21g
Sugar

20g
Protein

22g
I strive to keep the information as accurate as possible but make no warranties regarding its accuracy. I encourage you to make your own calculations using your preferred nutrition calculator.