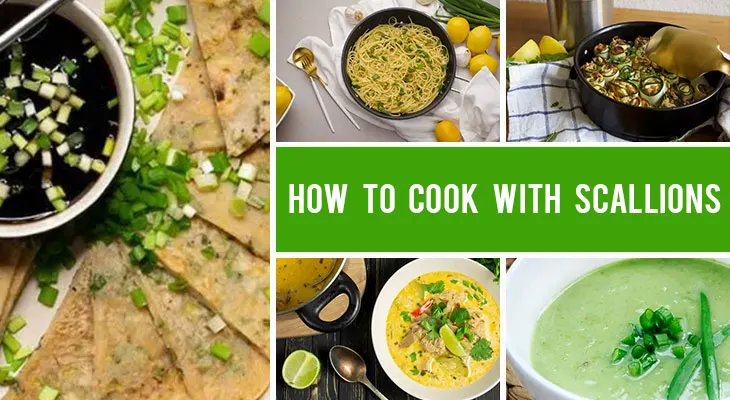 Are you looking for some food inspiration? In this list, you will learn how to cook with scallions and you'll also get 10 recipes with green onions to get you started. Give them a try!
Fresh scallions or green onions are some of the best things in the world. And in case you're not convinced of this yet, this article will surely change your mind! Here's how to cook with scallions and other practical information such as cutting green onions and advice on which parts can you consume and how. In the end, I'm also giving you 10 recipes with green onions for inspiration! Let's go:
What are scallions?
Scallions are literally the same thing as green onions. Or spring onions. These are long-necked onions with a small, white bulb at the end. Their taste is milder than a "normal" white onion and they're simply delicious consumed raw or cooked in various recipes. More on cooking techniques below!
What part of the scallion do you use for cooking?
Depending on what you're planning to make, you'll quickly see that some recipes require the white part of the scallion to be used, while others require the green one. And the rest of the recipes don't even specify this, so what's there to do in this case?
Well, let's get one thing straight from the beginning: you can use ANY part of a scallion (both white and green) and you won't be able to ruin the final result. That's just impossible! So no stress about this. But! I have some pieces of advice to give you if you want to achieve the best results:
Most recipes that require heat are using with the white (or pale green), bulbous part of a scallion
The green 'leaves' are mostly used as a garnish, similar to chives. Their taste is even milder than the bulb, which means the experience won't be the same as eating a raw white onion for sure!
But, as long as you properly wash your green onion, you can use both parts with no problems. Both the white and the green parts can be consumed raw and they can also be cooked (boiled, fried, etc.).
How to cut green onions
Green onions are crunchy and tender at the same time, which makes them an excellent starting point if you want to learn how to use your knife like a real chef. Preparing and cutting a green onion requires the following steps:
Get rid of the dirty, wilted and unnecessary layers of the onion
Cut the root with a knife (around 2 cm)
Cut the pointy ends of the dark green leaves
Line up your green onions on your cutting board and cut them with a chef's knife into thin (or thicker) slices depending on what you're planning to make
If you're using the scallions as a garnish, it's better to cut them into slices at an angle
And that's it, your scallions are ready to be cooked or eaten! This brings me to my next point…
How to cook with scallions
I already mentioned above that green onions can be cooked or consumed raw, but here's a round-up of some of the most common ways of using scallions in the kitchen:
Cut the green onions into thin slices and use them as a crunchy garnish on top of stews, curries, scrambled eggs, meats, mashed potatoes and more;
Stir-fry green onions with other veggies for a quick lunch such as this Vegan Stir-Fry with "Chicken" and Noodles
Chop all the parts of a green onion and add them to a salad for extra flavor. Here are 10 Delicious and Healthy Veggie Salads for a bit of inspiration!
Slice and sautee your scallions and use them exactly as you would use a regular white onion when cooking stews or other warm dishes.
Cut the green part into thin slices and mix it with mashed potatoes for extra texture
And more! There are many, many ways of using scallions in the kitchen, it all depends on your preferences and inspiration! In case you want to start experimenting with some awesome combos ASAP, scroll down to find what I have prepared for you!
I have selected my 10 favorite recipes with scallions / green onions below that will help you understand exactly how to cook with this fresh veggie. From flavorful soups to an amazing recipe for vegan scrambled eggs and some Asian-inspired scallion pancakes, I'm sure you'll find something to love down below.
Happy cooking!
How to Cook with Scallions | 10 Recipes with Green Onions
Are you looking for some food inspiration? In this list, you will learn how to cook with scallions and you'll also get 10 recipes with green onions to get you started. Give them a try!