Here's how you can make a vegan stir-fry with "chicken" and noodles in under 30 minutes! It's colorful, bursting with delicious flavors and rich in proteins!
This is my go-to recipe for whenever I crave a delicious vegan stir-fry. I want it protein-rich, so I usually add tofu or TSP chunks and lots of veggies. It's also really easy to make and ready in less than 30 minutes, even 20 if you use a stir-fry frozen veggie mix.
You can do this recipe from scratch, or choose a stir-fry frozen veggie mix that has most of the vegetables below. I always have a couple of wok frozen veggie mixes in my freezer. It saves me a lot of time!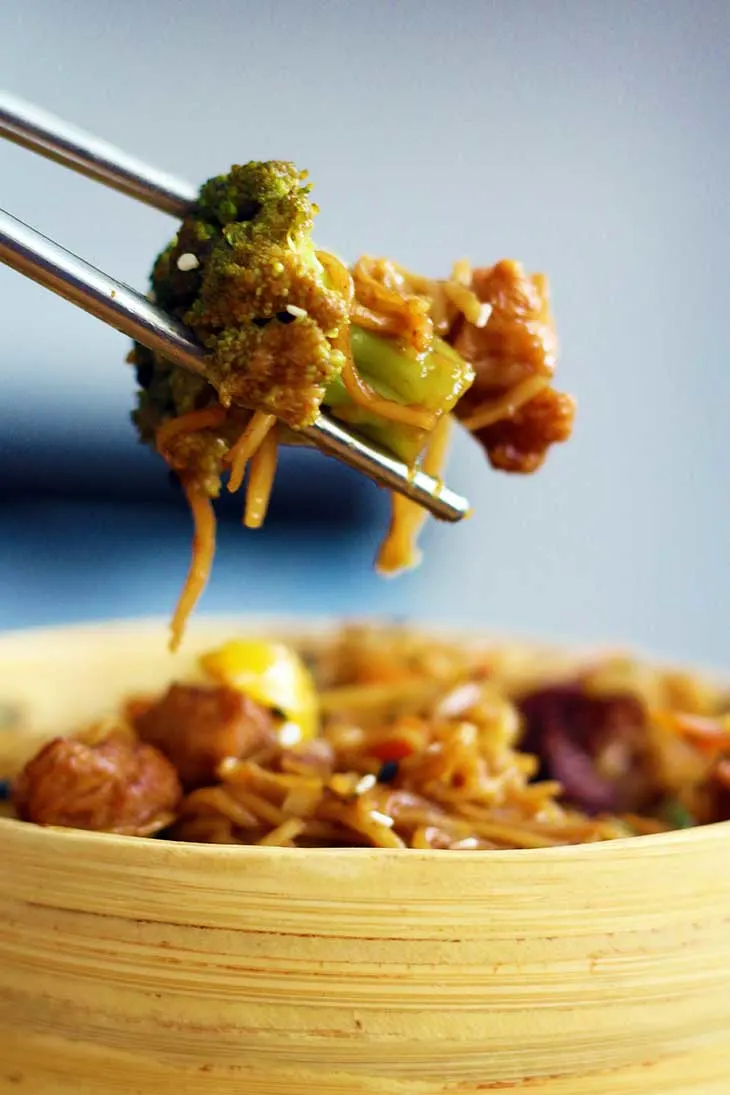 The easiest stir-fry sauce recipe is simply soy sauce or tamari for a gluten-free version. Recently I showed you 5 other easy stir-fry sauce recipes you can try, so feel free to check them out as well (Sweet mango, green herb, garlic and ginger, orange and sesame and hot chili stir-fry sauces that all o very well together with this vegan stir-fry recipe).
If you don't have TSP chunks, although I recommend you to use them (only if they're GMO-free!), you can add some smoked tofu cubes. TSP is extremely similar to meat and in this recipe replaces chicken successfully. Plus, they're rich in proteins!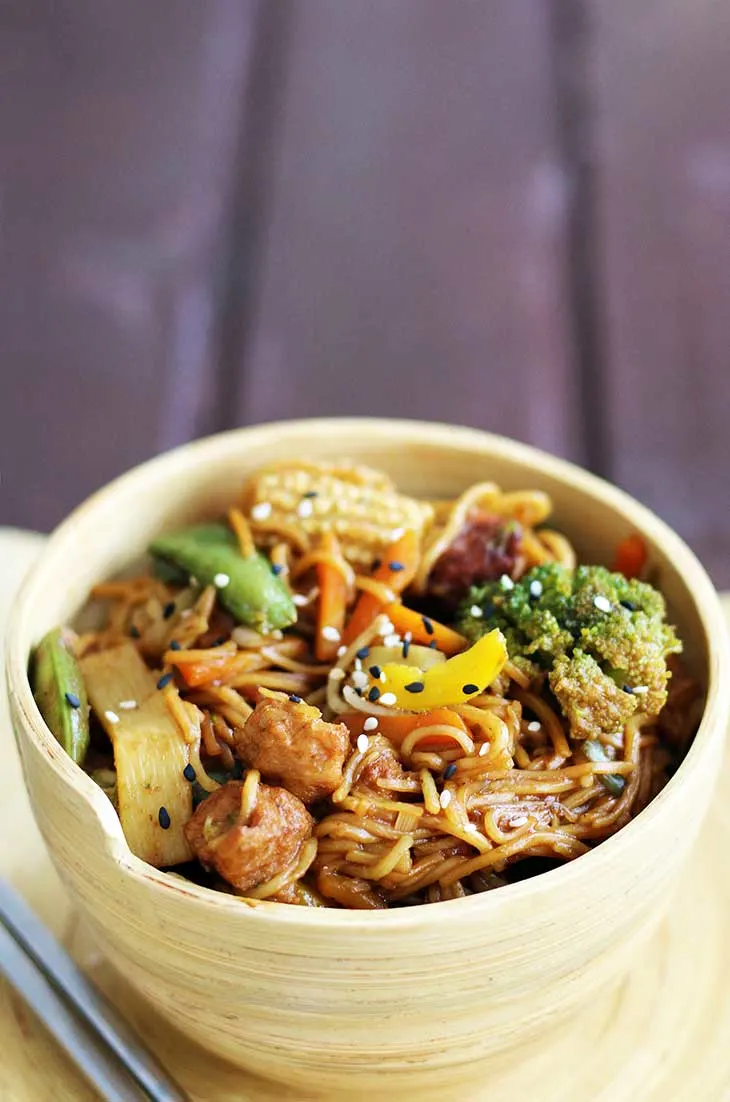 I made this vegan stir fry the easy way, all in one wok. This is how I usually do it. Make sure you don't forget to hydrate the TSP chunks, wood ear mushrooms and rice noodles before adding them to the wok.
Hope you'll like this vegan stir-fry recipe with faux chicken and noodles! Don't forget, if you give my recipes a try, take a photo and tag me on Instagram @gourmandelleblog and use the hashtag #gourmandellerecipe. I will feature you on my Facebook page and/or Instagram Stories! 🙂
P.S. If you're looking for more delicious vegan Asian recipes, check out the collection on my blog! You'll find plenty of inspiring recipes there!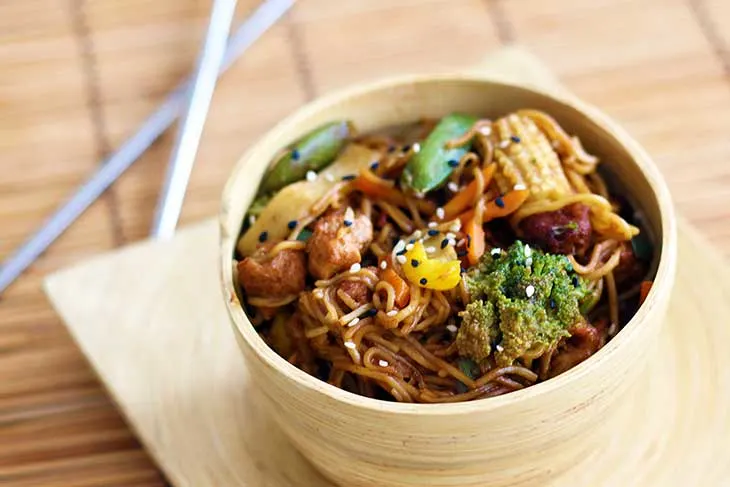 Yield: 4
Vegan Stir-Fry with "Chicken" and Noodles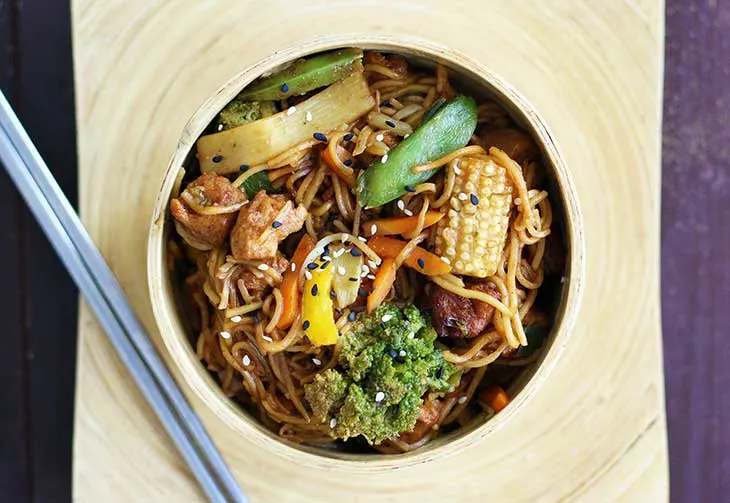 Here's how you can make a vegan stir-fry with "chicken" and noodles in under 30 minutes! It's colorful, bursting with delicious flavors and rich in proteins!
Ingredients
200g (7 oz) rice noodles
100g (1 cup) TSP chunks, textured soy protein chunks
4 Tbsps soy sauce or tamari, or try one of my stir-fry sauce recipes
1 Tbsp cornstarch
6-8 broccoli florets, frozen or fresh
1 bell pepper, sliced
1 carrot, large, cut into matchsticks
50g (⅓ cup) pea pods
50g (⅓ cup) baby corn
5-6 dehydrated wood ear mushrooms
a couple of bamboo shoots
1 tsp coriander seeds, ground
1 tsp cumin seeds, ground
6 garlic cloves, minced
1 tsp ginger powder
1 Tbsp paprika powder
1 tsp smoked paprika powder
chili flakes, to taste
salt and pepper, to taste
sesame seeds
2 Tbsps oil
Instructions
Heat oil in a large wok pan.
Put the TSP chunks, rice noodles and wood ear mushrooms in a bowl filled with warm water and let them hydrate for 10 minutes.
Add all the veggies, cornstarch and spices. Stir-fry for 5 minutes.
Add 2 cups of water and the rice noodles, TSP chunks and wood ear mushrooms (drained). Cover with a lid and simmer on medium-low heat. You want them to absorb the liquid. Check in 10 minutes and if it needs more water, add some more. Cook until the TSP chunks are all puffed up and soft and the rice noodles are cooked - about 5 more minutes.
Remove the lid and add soy sauce. Stir-fry for a couple more minutes.
Serve with sesame seeds on top.
Nutrition Information
Yield
4
Amount Per Serving
Calories

516
Total Fat

11.3g
Carbohydrates

75.6g
Protein

27.8g