Are you willing to try a new, exciting recipe? Here's how to make gozleme, a traditional Turkish dish turned vegan! Give it a try!
Today I was in the mood for something a little bit exotic. Not desert island and pineapples kind of exotic, just something I wouldn't eat on a normal basis. And this kind of craving definitely calls for international cuisine! And I remember that on my list of you should try this sometime there was a little Turkish gem: something called gozleme!
It's not that rare, maybe you've heard of it or even tried it already. Especially if you visited Turkey – there's no way you missed it. Gozleme is basically a pancake made from hand-rolled dough and filled with various toppings. The dough is usually made out of flour, water, and salt and then fried in a pan.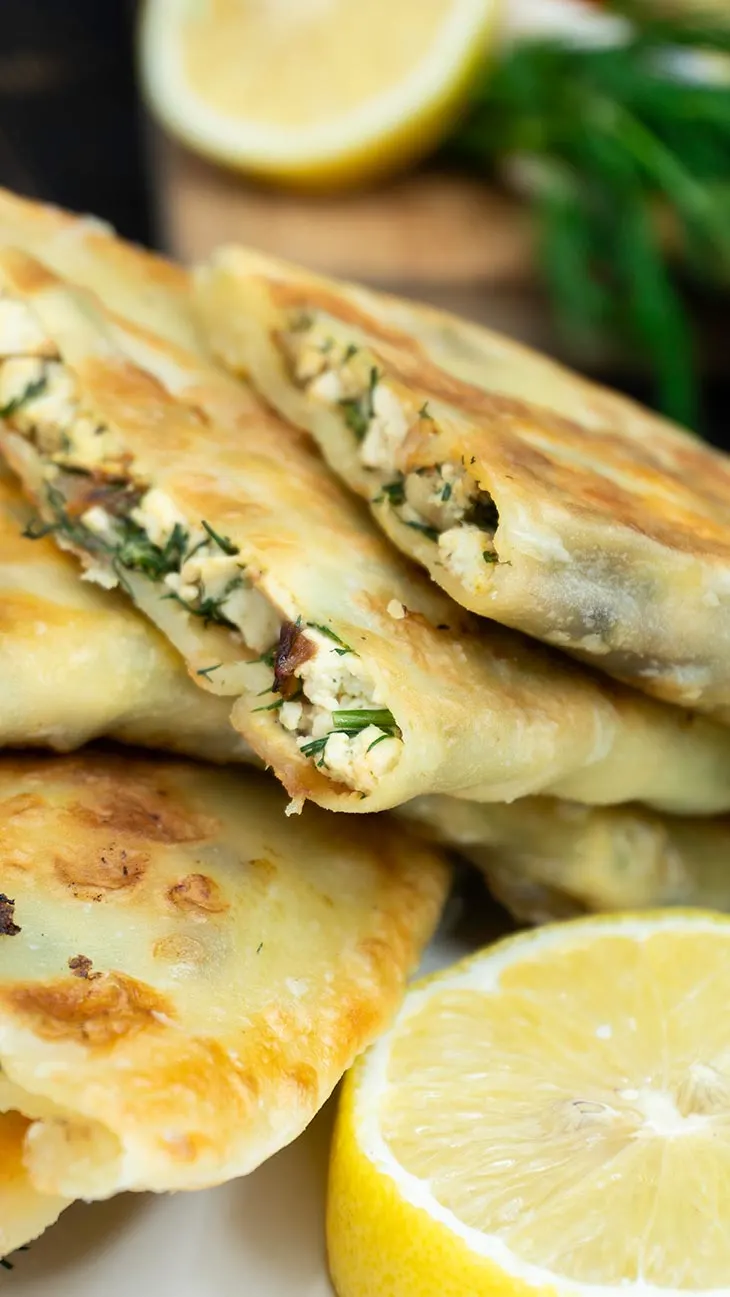 Gozleme is very popular in its native country, where people regularly serve them in their homes. It's usually served as breakfast or as a snack, but it can be a meal on its own too.
Gozleme has also become a very popular street food in Turkey. Wandering the streets of Anatolia, you will surely encounter many women along the roadside preparing fresh gozleme. The fun part? It's fully customizable. You can choose your topping from a really wide range – lots of veggie options included! 🙂
Is your mouth watering already? Then you for sure you agree that it's high time we bring this beauty into our kitchens! You don't need to travel thousands of miles to get a taste of this amazing dish! All you need to do is follow my recipe and I promise you will get the original taste. What's even better? It's super easy to make!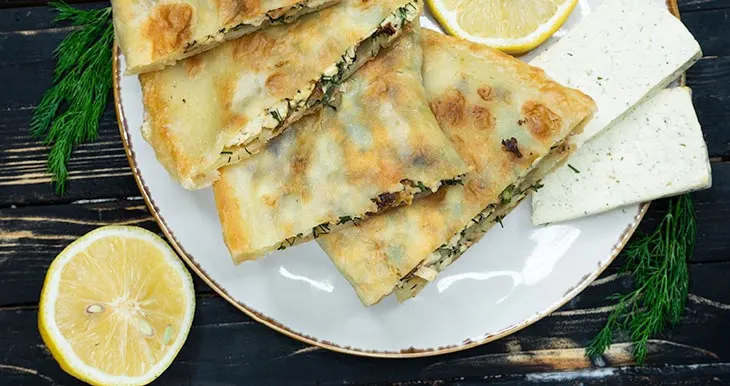 All you need for the dough are some simple ingredients that I bet you already have in your kitchen. All the ingredients should be mixed by hand. For me, that's a plus! 🙂 I just love getting my hands to do the full work!
There's a special connection you make with the foods you prepare from scratch, and even more so when all the kneading is done with the bare hands! (That being said, I don't encourage you to go on and throw away all your cooking utensils!).
After the dough is ready, it's time to think about the filling. And here we have so many options available! There are literally tons of toppings options available. Traditionally, they vary by region and also by personal preferences.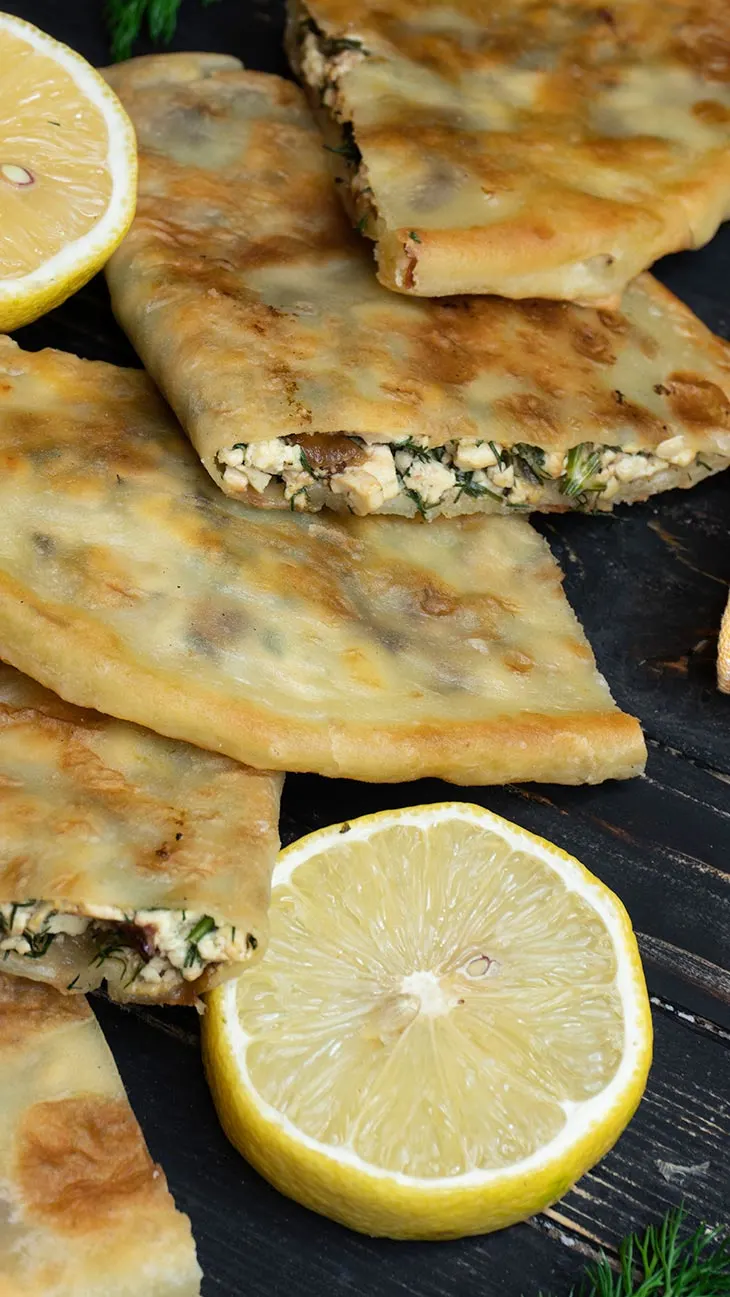 On the veggie side, there are so many options. Think spinach, zucchini, eggplant, leek, chard, various peppers, onion, scallion, shallot, garlic. Also, varieties of mushrooms (porcini, chanterelle, truffle) and tubers (potatoes, yams, radish)!
And don't forget the seasonal herbs and spices! I think you could actually prepare a version of gozleme every week starting today and not get bored or repeat the combination of ingredients for a reaaaally long time!
Of course, for our recipe today I made a selection of some of my favorite fillings. I think it's just a perfectly tasty mix that will work for everybody – you can't go wrong with it! But don't feel constrained by this choice.
You can always experiment and find out what works best for you and your family. I have a hunch that this will become a regular in your kitchen. For me, it will for sure!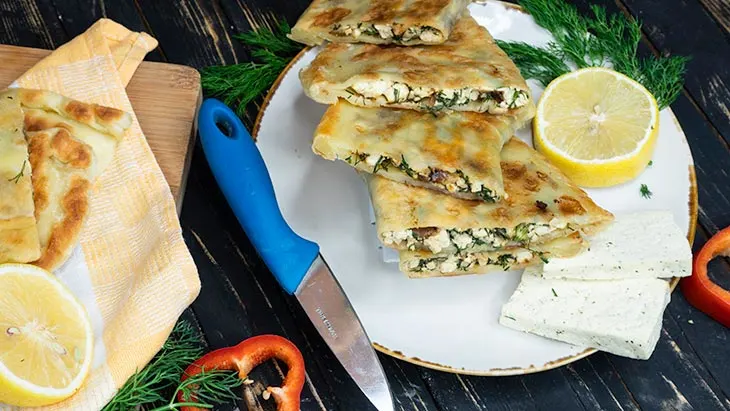 Here are the reasons why I fell so much in love with this recipe and this dish:
It's crazy tasty. I am just amazed that something so simple can taste so good!
It's healthy and you can control the quality of every ingredient you choose to add
It's fully customizable and you are the master of your gozleme! You only add what you love
You can have it any time of the day. Breakfast, lunch, dinner or in-between snack – there's no bad time for gozleme!
It's easy and fast to make, perfect for a weekday dish!
All this being said, I think you are now really eager to start preparing this beautiful recipe, so let's head to the kitchen and make some magic happen! Follow my instructions and relax – there are few things that can go wrong with this recipe!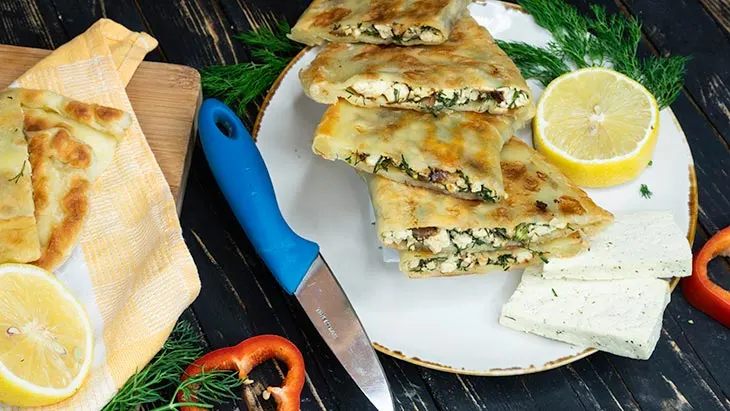 It could be a fun activity for the whole family, as everyone could choose their toppings and leave their mark on the recipe! However you choose to make this, I am sure it will turn out great. When everything is done, don't forget to comment and tell me all about it!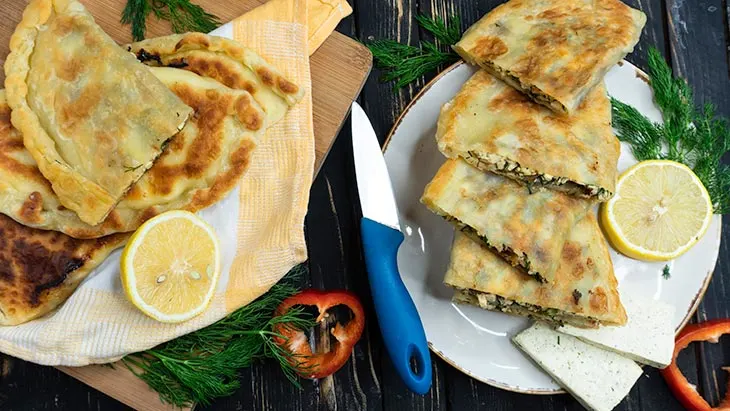 Are you willing to try a new, exciting recipe? Here's how to make gozleme, a traditional Turkish dish turned vegan! Give it a try!
Ingredients
For the dough:
90g (¾ cup) flour
1 Tbsp vegan yogurt
3 Tbsp olive oil
60ml (¼ cup) water
1 tsp salt
For the filling:
380g (1 ½ cups) tofu, cut into small cubes
1 yellow onion, chopped
5g (½ cup) dill, finely chopped
1 Tbsp vegan yogurt
salt
pepper
olive oil
Instructions
Combine the flour and salt in a bowl.
Add the yogurt and olive oil, and mix well.
Pour the water a little bit at a time and mix until the dough is formed and it is not sticking to the bowl.
Cover and let rest for 15 minutes.
In a pan, heat up 1-2 Tbsp of olive oil and sautee the onion.
When translucent, add the tofu, season with salt and pepper and cook for 5 minutes.
Transfer to a bowl and let cool for 3-5 minutes.
Add the yogurt and finely chopped dill, and adjust the seasoning.
Split the dough into 4-5 pieces.
Spread the dough and form a thin circle.
Put 2-3 Tbsp of tofu mixture and spread well on half of the dough.
Use the remaining half to close the gozleme and pinch it shut with your fingers.
Heat 1 Tbsp of olive oil in a pan over medium heat, and cook the gozleme until golden brown.
Nutrition Information
Yield
4
Amount Per Serving
Calories

336
Total Fat

23g
Carbohydrates

20.6g
Protein

11.4g