If comfort food equals potatoes for you too, then you'll love this potato pancakes recipe. Easy to make from leftovers as well.
For me, it's again a kind of busy and full week, so there's no way I will have time to cook something too lengthy or complex. That's why today's recipe is all about simplicity, speed, and, one of my favorite things in the world – potatoes!
Whenever I'm in a rush, I tend to choose the potato as my first option. Mostly because it's something so readily available – we have them in our cupboards most of the time, right? And I think the same thing goes for the rest of the ingredients for today's recipe: fluffy, yummy potato pancakes!
In case you were wondering if this is the same thing as the hash brown, the answer is no. The difference is in the texture. While the hash brown is mainly made out of potatoes, maybe some onion and other seasonings, the potato pancakes are held together by flours So while it's just as easy and fast to make, the potato pancakes are more filling and possibly even more delicious (you'll have to try both and decide for yourself!).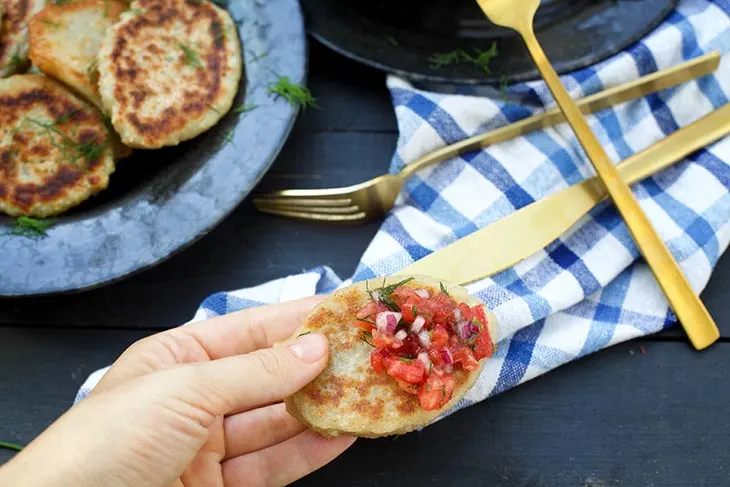 There's also a difference in origins: hash browns are an American invention. Potato pancakes, on the other hand, originated in countries like Germany, Austria, Russia, and Poland. We don't know who started to prepare them first – they probably started cooking potato pancakes without knowing that their neighbors are doing the same thing. And it's actually no wonder than more than one country came up with the idea – they are so easy to make and a somehow intuitive combination!
Oh, and we know one more thing about the origins of the potato pancakes – they were usually made by peasants, because potatoes were so cheap and easy to find, being one of the foods that anybody could afford. I told you that today is all about simplicity! 🙂
Now, how are we going to prepare them and how fast is it going to be? Don't worry, it will take you no time at all. You are less than 30 minutes from scratch to a tasty meal!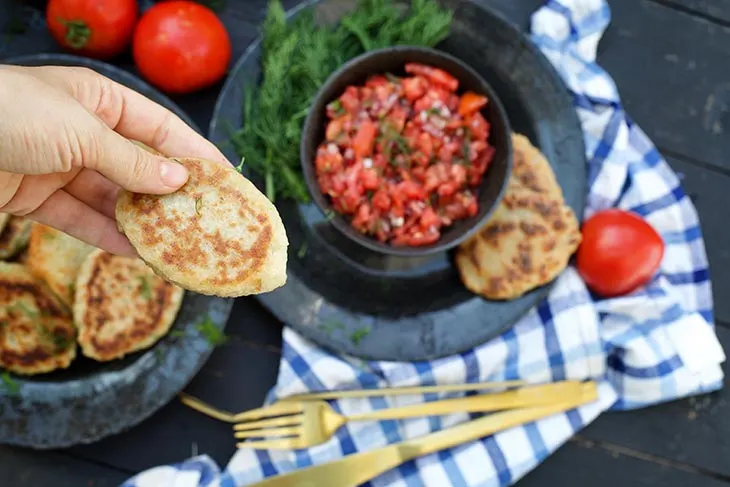 You will need some potatoes, onion, coconut oil, flour, salt, and pepper for seasoning and some yummy salsa ingredients that you can find below. I bet you already have all these things in your kitchen!
Now, a little bit about the preparation steps. First, we will grate the potatoes together with the onion. It's important to drain all the excess liquid – otherwise, they won't get nice and crispy and we don't want that. Next, add the rest of the ingredients. Mix everything together. Optional, if you feel like the mixture is not thick enough, you can add more flour. Not too much though! Aaaand that is basically all we have to do for preparing the mixture!
For the frying part, we need to heat the oil in the pan. Then, we add two or three molds of the mixture in the pan and flatten them into small round pancakes. We fry them on both sides until they get golden brown.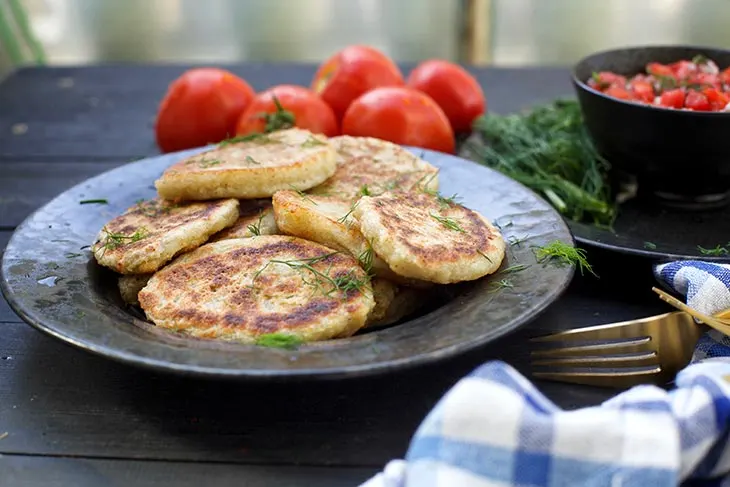 Before you take the potato pancakes out of the pan, prepare a plate with some paper towels on it. We need to absorb the excess oil, otherwise, the pancakes will be too greasy. And we don't want that either! Now transfer the pancakes from the pan onto the plate and that's it: your meal is ready! 🙂
You can have them as breakfast or a light dinner together with some sour cream. I recommend checking out my recipe for vegan sour cream with cultured probiotics, you will love it and it goes so well together with these potato pancakes – yum! Or you can have the pancakes for a more filling dinner together with the main dish. Either way, you will love them!
One more tip: I suggest you use russet potatoes for this recipe! They are perfect for mashing and frying (and these pancakes are a combination of both). They are also a little bit higher in starch and this will make you mixture stick together better. I think this is the best choice for this recipe and it will give you the best texture and taste! But of course, if you don't have them at hand, any other potato type will do! The potato pancakes will still be delicious!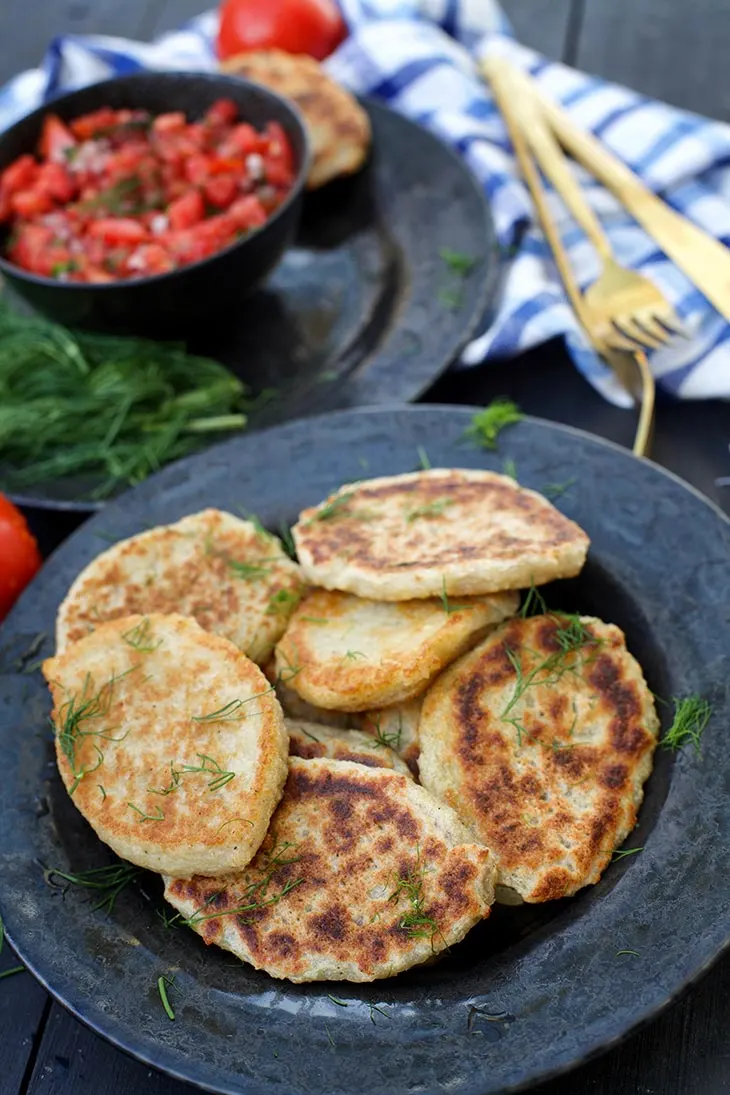 I think this is all you need to know about this delicious potato pancakes recipe. You are now ready to head to the kitchen and start preparing your yummy lunch! Don't forget to comment and let me know how it worked out for you! Bon appetit!
Yield: 10
Potato Pancakes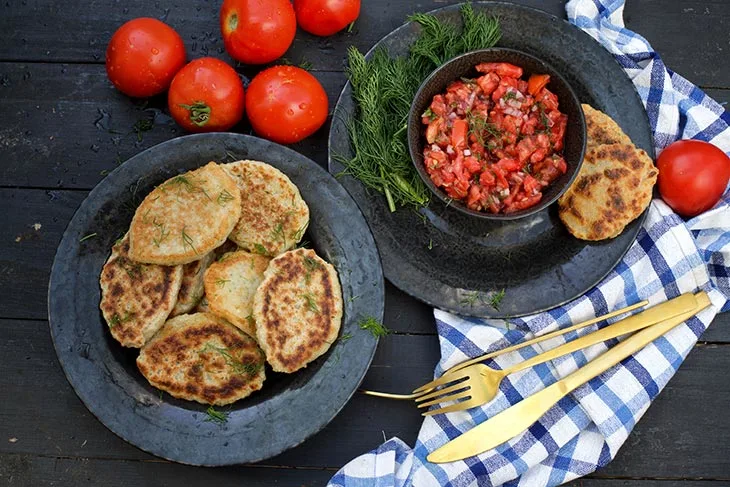 Whenever I want to prepare some comfort food, I think of potatoes. But this recipe for vegan potato pancakes is the ultimate yummy food for when you don't feel like cooking. Give it a try!
Ingredients
6 medium potatoes
1 small red onion
½ tsp salt
½ tsp pepper
2 Tbsp flour - use GF if needed
½ tsp baking powder
2 Tbsp coconut oil
For the salsa:
2 ripe tomatoes, peeled, deseeded and chopped
½ red onion, finely chopped
1 Tbsp chopped dill
1 Tbsp olive oil
a pinch of salt and pepper to taste
Instructions
To make the salsa, combine all salsa ingredients in a bowl and set it aside to "rest".
Meanwhile, peel and chop the potatoes. Peel and chop the onion as well.
In a blender or food processor, add the potato and onion and pulse until you get a blended puree.
Transfer the mixture to a kitchen towel and squeeze the excess juices.
Transfer to a medium mixing bowl and stir in the flour, baking powder, salt, and pepper
Heat a skillet on low-medium heat and fry the pancakes, using 1 Tbsp of mixture for 1 pancake.
Fry until golden-brown on both sides.
Serve with fresh tomato salsa. Enjoy!
Nutrition Information
Yield
10
Amount Per Serving
Calories

80
Total Fat

5g
Carbohydrates

9g
Fiber

2g
Sugar

2g