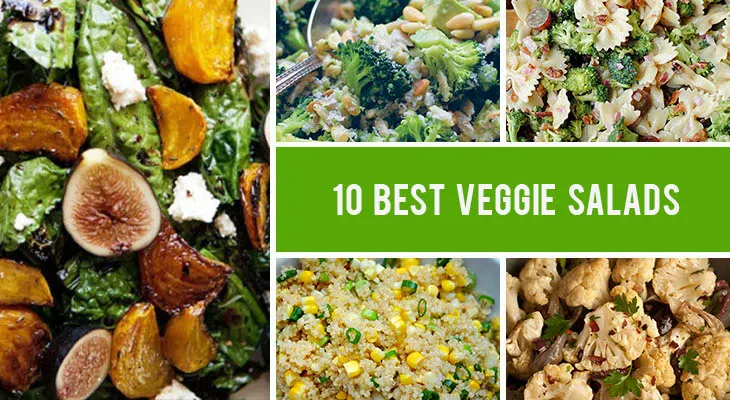 I love veggie salads but honestly, I'm not very good at making them, or maybe I'm just lazy :D. I always ask someone else to make the dressing, actually, I never tried to make it myself. Yes.. lazy.. just as I said. But those times are over! I just saw some amazing veggie salads recipes and decided to share them with you. I'll even try some of them myself and this time I'll make them on my own from scratch.
I also found a great photo on Pinterest with 6 dream veggie salads dressings (unfortunately I didn't find the source so if you know who made it, let me know and I'll post it here). They seem so easy even I can do them.
10 Delicious and Healthy Veggie Salads
Here are 10 delicious and healthy veggie salads you will surely enjoy, plus 6 vegan and unique salad dressings that will make any salad stand out!
This salad is both filling and very healthy, packed with warm whole-wheat orzo and fresh broccoli florets and drizzled generously with a homemade pesto. Give it a try!
This pasta salad is an explosion of flavors, with a bit of sweetness and acidity added from the grapes and a silky texture from the boiled farfalle pasta, it will surely become your favorite.
Take advantage of the delicious flavor of roasted cauliflower and mix it up in a salad, with this creative recipe!
This grilled kale salad will surely be the center of attention on any table! Paired with figs, roasted beets and ricotta, it is an explosion of flavors and textures.
This cucumber salad is perfect for summer. Take your plain cucumber salad to the next level by turning it into a carpaccio!
This tahini dressing takes any bland vegetable out of anonimity! Get that umami taste and enjoy a warm cauliflower salad.
This detox salad is not only healthy ut delicious and filling too! It is ideal forthose of you who are on a diet or just simply want to add more veggies to your diet.
Quinoa pairs wonderfully with seet corn in this simple but delicious veggie salad recipe. Sprinkle some fresh, chopped scallions on top and enjoy it as a quick lunch.
Grilled salads are my favorite, and this one is just perfect for summer! Enjoy the amazing flavors of charred veggies in this creative meal.
There's nothing more comfortable than a delicious pasta salad and pesto makes everything even better! Try this innovative cilantro pesto as a dressing and enjoy a veggie salad that screams 'Summer!'.
6 Dream Salad Dressings: Citrus vinaigrette, balsamic vinaigrette, mustard-herb vinaigrette, fresh raspberry vinaigrette, sesame-ginger vinaigrette, chipotle-honey-lime vinaigrette.