Are you craving something super delicious and easy to make? No worries, I got you! Here's how to make vegan egg salad – quick, healthy and with that familiar taste we all know!
If you've heard "Where do you take your proteins from?" before, today's recipe gives you another answer with a simple ten-minute-to-make recipe! 🙂
Here we are again, ready to cook a delicious nutritional meal. Today we are making a super yummy and healthy vegan egg salad. "Egg Salad is vegan?" you might wonder… The simple answer to your question is YES, as the well-known egg salad can also be vegan… if you transform it with a few twists that I will explain below!
The base of this quick and easy recipe is tofu, a food that absorbs the flavors of other ingredients it's cooked with, one of the reasons why it works so well in a variety of different dishes. It can be sautéed, baked, roasted, fried or grilled and used to give just about any dish a meatless twist!
By the way, when you're preparing the tofu for this vegan egg salad, be sure to press the tofu block for at least 15–20 minutes before cooking, which helps remove excess water to improve the texture of the final product. Tofu can also be marinated for up to 24 hours as well to help ensure that the flavors are completely infused! 🙂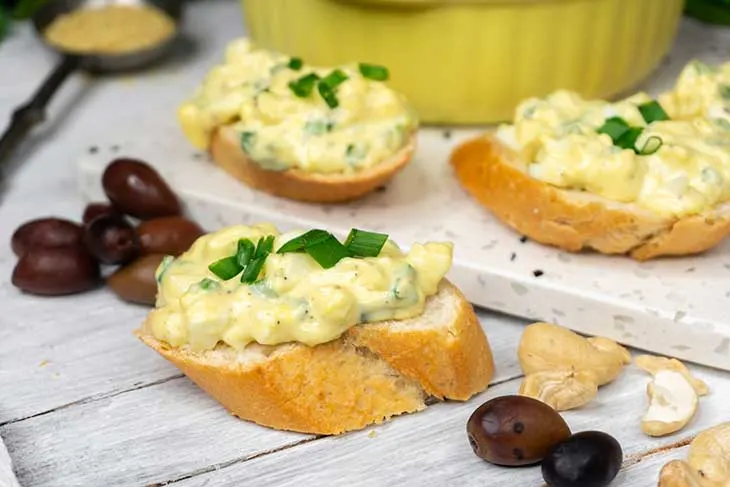 Tofu, or bean curd, is a food derived from soybeans. It's made by curdling fresh soy milk, pressing it into a block, and then cooling it, similar to the way traditional dairy cheese products are made. It refers to the whole group of tofu, including silken tofu, deep-fried tofu, cutlets, firm and pressed, grilled, smoked, or frozen.
Like many soy foods, tofu originated in China. It is not sure where it comes from, but tofu's origin might have been discovered by Lord Liu An, a Han Dynasty prince. Another theory suggests that the production method for tofu was discovered accidentally when a slurry of boiled, ground soybeans was mixed with impure sea salt, allowing the soy mixture to curdle and produce a tofu-like gel.
The third theory says that the ancient Chinese learned the method for curdling soy milk by emulating the milk curdling techniques of the Mongolians or East Indians. By the 1960s, interest in healthy eating brought tofu to the West and since that time, countless research has demonstrated the many benefits that soy and tofu can provide. Modern times have since proven the variety of ways in which it can be eaten.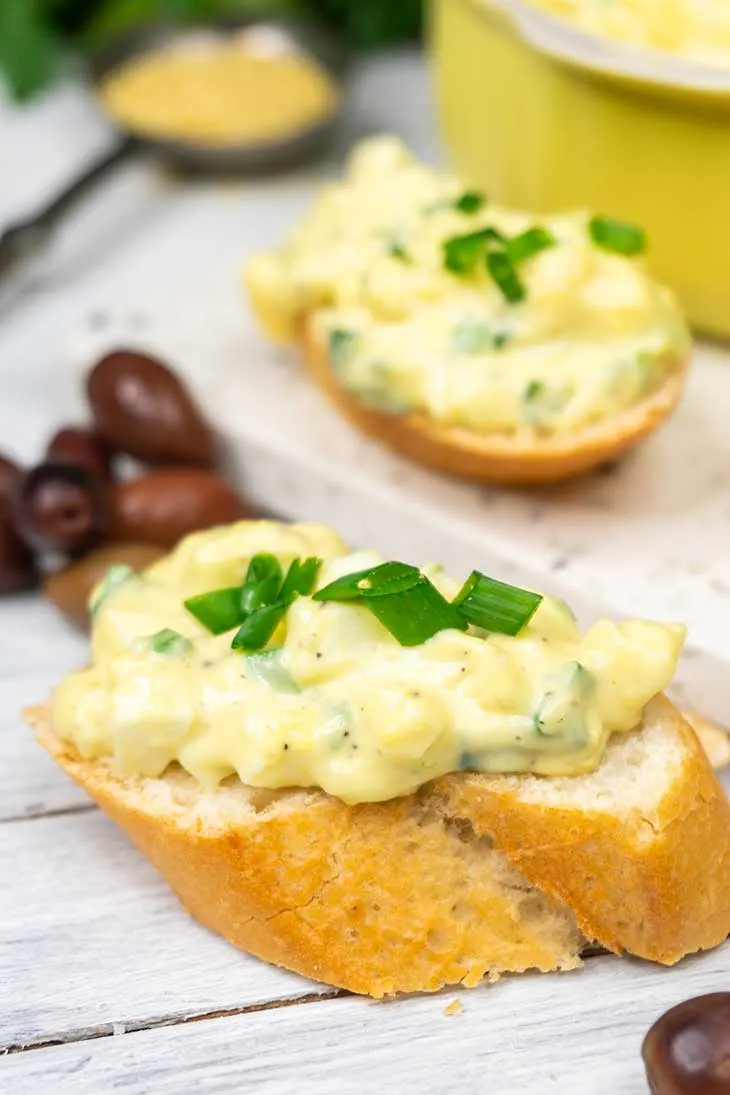 Tofu has long been the most widely used soyfood in the world! 🙂 In East Asia, it has almost the same importance as meat, milk, and cheese have for people in Western countries.
Did you know that:
Tofu is a protein source rich in copper and iron, which are essential for the body to produce hemoglobin;
Tofu also has zero cholesterol and contains isoflavones which work to reduce the amount of cholesterol in our bodies;
A single serving of tofu contains only about 4 grams of fat, compared to 19 grams in a serving of chicken breast;
Unlike some vegan and vegetarian protein sources, such as nuts and beans, soy is a complete protein, which means that it contains all of the amino acids that your body cannot create on its own;
Studies have shown that eating tofu can increase cardiovascular strength, lowers the risk of cancer, treat menopausal symptoms, and prevent type II diabetes;
The Omega 3 fatty acids in tofu are healthy for the heart as they block the formation of blood clots. They also stop clots from clogging the arteries.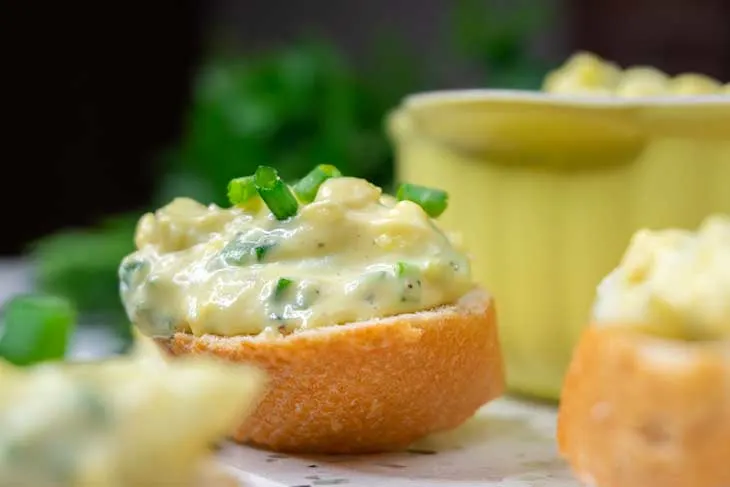 Easy to prepare, for both cooking enthusiasts and novice chefs alike, this vegan egg salad can be the perfect meal if you are on the go! 🙂
I will explain the step-by-step recipe below, but get ready to be amazed as this recipe for vegan egg salad is super easy and quick. It also works great as a breakfast, lunch or even dinner if you don't feel like eating a whole meal by itself. Just toast some bread, throw some vegan egg salad on top and you're ready to go!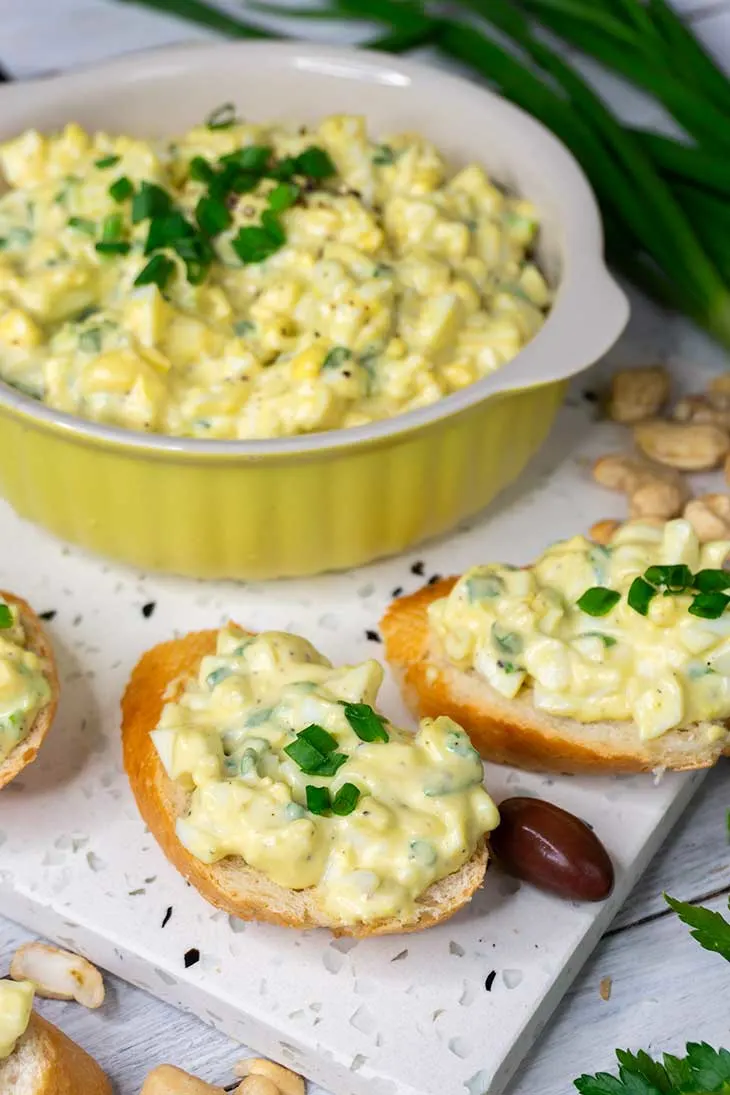 I can't wait to hear what you think about this quick and delicious whole-food, plant-based recipe. I am very curious if you are having this as your main dish or as a side dish. Let me know in the comments below!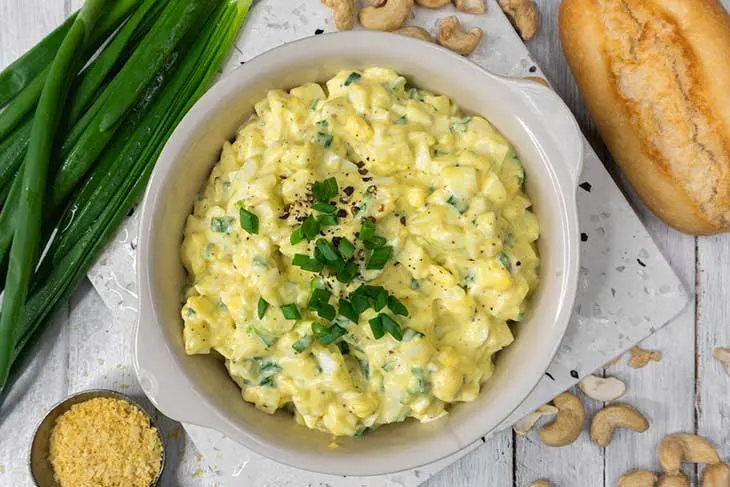 Are you craving something super delicious and easy to make? No worries, I got you! Here's how to make vegan egg salad - quick, healthy and with that familiar taste we all know!
Ingredients
500g (2 cups) tofu, medium-firm, chopped
120g (1 cup) soaked cashews
1 Tbsp nutritional yeast
1 tsp tahini
1 Tbsp Dijon or spicy mustard
1 tsp lemon juice
1 tsp white vinegar
½ tsp turmeric
2 Tbsp fresh chives or green onions, chopped
salt & pepper
Instructions
Press the tofu and squeeze as much liquid out of it as you can. Chop it as fine as you like.
Transfer the cashews to a blender. Add nutritional yeast, tahini, mustard, turmeric, lemon juice and vinegar, and 1/4 cup water. Blend well.
Combine the tofu and "mayo" in a bowl with chopped chives. Season with salt and pepper.
Tip: If you want the super-lazy version of this recipe, simply use vegan mayo combined with tofu and herbs. Not the same flavor, but still good.
Nutrition Information
Yield
4
Serving Size
1 grams
Amount Per Serving
Calories

537
Total Fat

42.4g
Carbohydrates

15.5g
Protein

23.6g
I strive to keep the information as accurate as possible but make no warranties regarding its accuracy. I encourage you to make your own calculations using your preferred nutrition calculator.