In the mood for some good ol' chicken nuggets? Why not try the healthy version? This is how to make the ultimate chick'n tofu nuggets – super tasty and quick!
No matter what age, what we do for a living or what food preferences we have, we all once fell in love with nuggets. Usually, it happens when we're young. I remember for me, as a child, nuggets were love at first sight. Back then, I was still eating meat and my number one quest was finding the perfect chicken nugget. Every restaurant we went to, I was asking for the chicken nuggets. Luckily, nuggets are widely popular with children so almost every restaurant has them on the children's menu. 🙂
Of course, I stopped eating meat a while ago, and being honest, I must admit that renouncing nuggets was hard! It wasn't a regular in my diet, cause most of them are deep-fried and I always tried to stay away from them, but still, it was my special treat that I indulged in from time to time.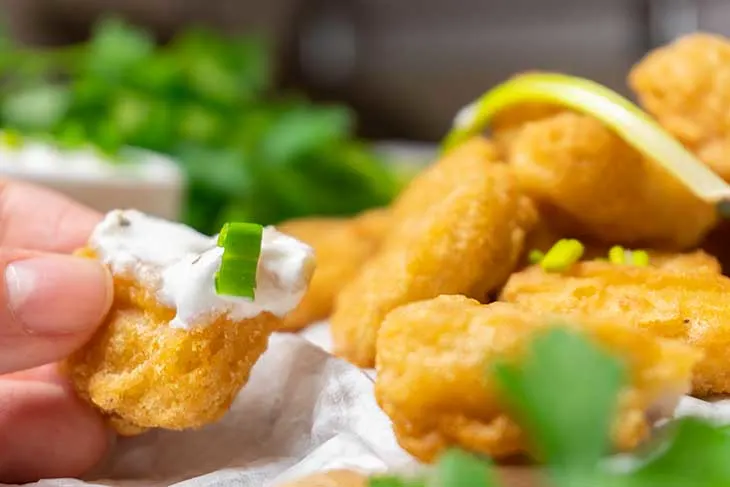 But happily, my love for nuggets didn't have to stop there! As is the case with most of the recipes and food out there, nuggets can be successfully recreated inside the vegan kitchen.
But what are nuggets without the chicken, some may ask? Well, if prepared based on a good recipe, they can be just as good! 😉 The flavor and taste of a good nugget are given by the seasoning and coating, not the meat! So no matter what your nugget "meat" is made out of, the important thing is to season it right, get the crunchy coating right, and use plenty of your favorite nugget dip!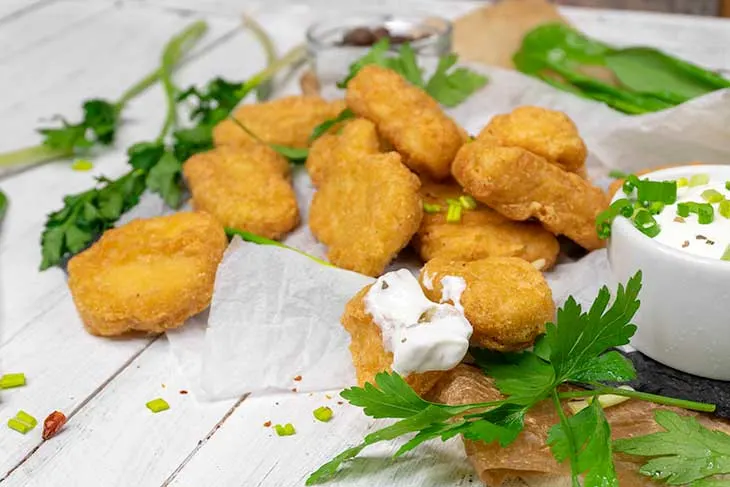 Today I am going to show you my recipe for tofu nuggets! Tofu is a classic meat substitute, that thanks to its texture are great as substituting meat in various recipes. I find that it does wonders as nuggets material, as it absorbs so well all the flavors and taste of the spices used for seasoning. The result? Super tasty, rich-flavored tofu nuggets that will satisfy even the most pretentious nuggets lover! 🙂
This recipe is great because it is super simple to make, perfect for any busy or non-busy day, and ready to be enjoyed by your whole family. Not to mention, these tofu nuggets are super packable, so you can easily take them to work as lunch or transform them into a school lunch for the little ones.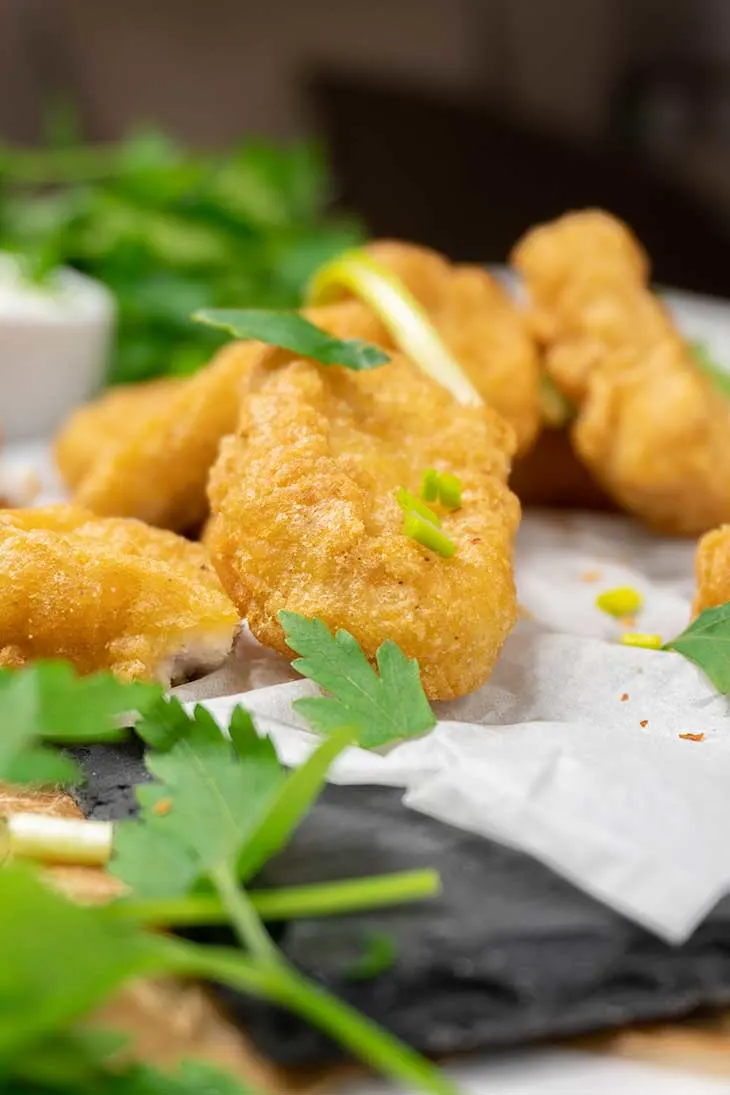 The recipe for these tofu nuggets works wonderfully both in the oven or in the deep fryer. So depending on your choice for today's dinner, you can choose whatever you prefer. Of course, the baked version is much healthier and I would recommend it especially if you are making these tofu nuggets for the kids. Don't worry, they are still super tasty and crunchy!
But we all have that weak spot for fried stuff, so maybe tonight you feel the urge to let yourself loose. I am an advocate for moderation in everything. A one hundred percent healthy diet all the time, always counting your calorie intake won't get you anywhere if you are constantly craving for fried nuggets or a piece of cake. Remember that your mindset and your overall feeling good is just as important in keeping your body healthy.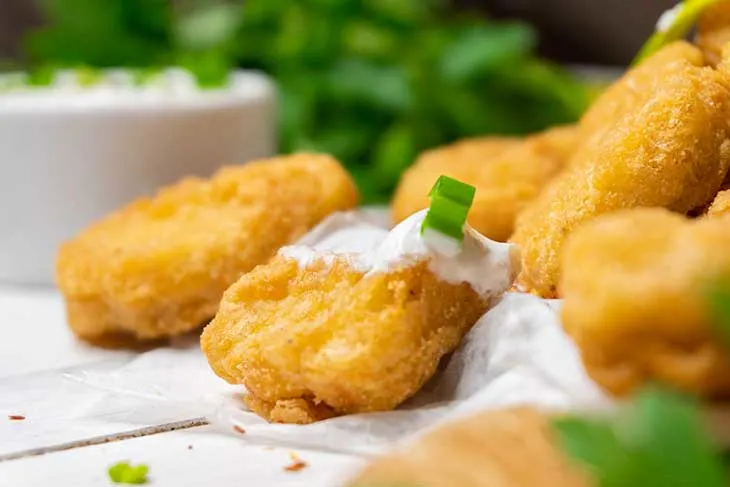 Stress and anxiety related to food won't help at all! Wrapping up this idea – if you're overall having a healthy and balanced diet, indulging from time to time shouldn't be harmful. Either way, this tofu nuggets recipe is here for you and you can have it however you like!
In order for this recipe to turn out great, you need to press the tofu before preparing it. Store-bought tofu has quite a lot of moisture in it and pressing the water out is an important step. Here's how to do it right. First, you need to place the tofu on a clean paper towel or kitchen cloth. Then, place another piece of paper towel on top of the tofu.
Then, you need to place some heavy things on top of it. I recommend starting with a cutting board, that will offer a stable, flat surface and then place some heavy things on top. Being in the kitchen, you probably have lots of heavy pots nearby that will work just fine.
Then, leave the tofu like that for thirty minutes. The weight will effectively squeeze the moisture out of the tofu and then you're good to go! 😉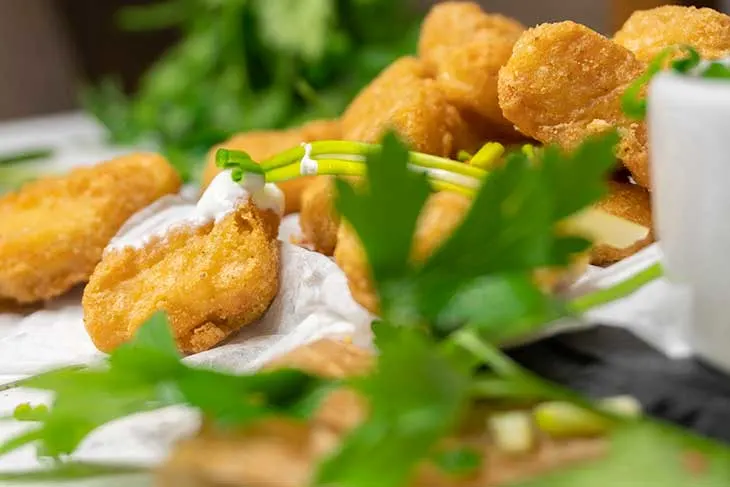 With all this being said, it's time to go to the kitchen. We won't be spending much time there since this recipe is super easy! After you've prepared it, don't forget to leave a comment and let me know how it went! Enjoy your nuggets and try not to eat them all at once!
---
Personalized meal plans and workout videos | Get your customized meal plan today! [x_button shape="square" size="mini" float="none" target="blank" href="https://shop.gourmandelle.com/?utm_source=mainsite&utm_medium=site&utm_campaign=inpost" info="none" info_place="top" info_trigger="hover"]I WANT A MEAL PLAN![/x_button]
---
Yield: 2
Chick'n Tofu Nuggets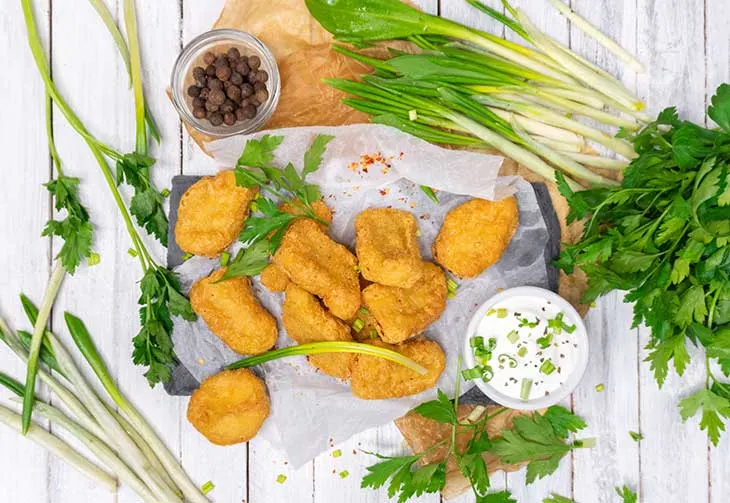 In the mood for some good ol' chicken nuggets? Why not try the healthy version? This is how to make the ultimate chick'n tofu nuggets - super tasty and quick!
Ingredients
400g (15 oz) extra firm tofu
70g (½ cup) flour
1 tsp garlic powder
1 tsp onion powder
30g (¼ cup) corn starch
½ tsp baking soda
2 Tbsp olive oil
salt & pepper
Instructions
Press the tofu. Here's how.
Break the tofu into nugget-sized pieces using your hands.
Transfer to a mixing bowl. Add 2 Tbs of olive oil, 1/2 tsp of each onion and garlic powder, season with salt and pepper.
In a separate bowl, mix the flour with corn starch, baking soda, the remaining garlic and onion powder and season with salt.
Roll the tofu pieces through the flour (do this step twice).
Bake at 200-220 C for 25-30 min flipping them every 10 min.
Serve with vegan mayo.
Nutrition Information
Amount Per Serving
Calories

485
Total Fat

26.4g
Carbohydrates

37.2g
Protein

24.5g