Change language / Schimba limba:

Română
Try this refreshing Greek lemon rice soup – made vegan – and enjoy a comforting, Mediterranean meal that's perfect for any season! It's easy to make and it will surely become one of your top favorite soup recipes!
Avgolemono is a traditional Greek lemon rice soup that usually contains chicken, rice, lemon, and egg. The broth is traditionally made by boiling some types of meat such as chicken, lamb or even fish. It's not unusual for the soup to be also made with vegetable broth, to which is added the rice and a mixture of egg and lemon which will thicken the entire composition.
Avgolemono, or the Greek lemon rice soup, can be found around in the entire country with different consistencies, varying from a broth-like soup to a mixture similar to a stew. You can make it either way, depending on your personal preferences.
It is often served with the pieces of meat or vegetables used for the broth, for a more delicious taste. The original recipe only uses the yolk of the eggs, but in some parts of the country, you can find recipes that require for the entire egg to be used. If you desire, you can even replace the rice with tapioca or orzo, two ingredients that are often used in some variations of the Avgolemono recipe.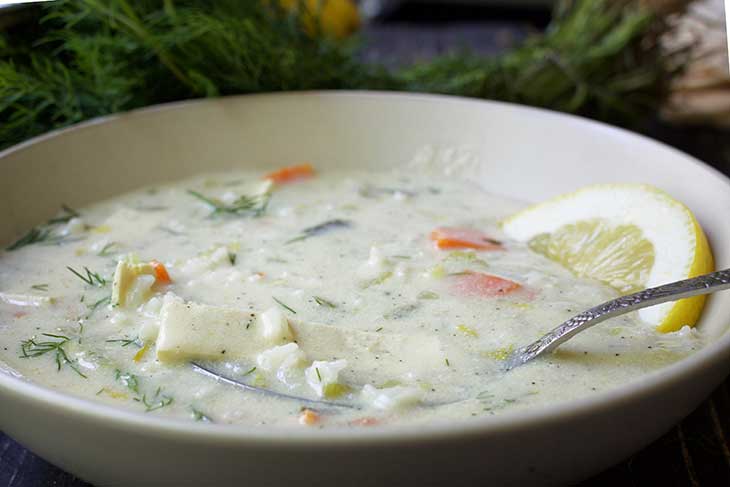 The Greek lemon rice soup is a very filling soup recipe, full of exotic flavors that resume the entire Greek cuisine. Of course, no Avgolemono recipe is complete without the classical fresh herbs that are used to enhance the entire taste, such as green onion and dill and, of course, some fresh lemon slices!
I recommend serving this soup for lunch or even dinner because it has an amazing consistency and it's very satisfying, especially because the vegan version of it uses silken tofu and smoked tofu in order to achieve a similar taste to the original recipe. This will enhance the flavor and will add just the right amount of protein to this dish.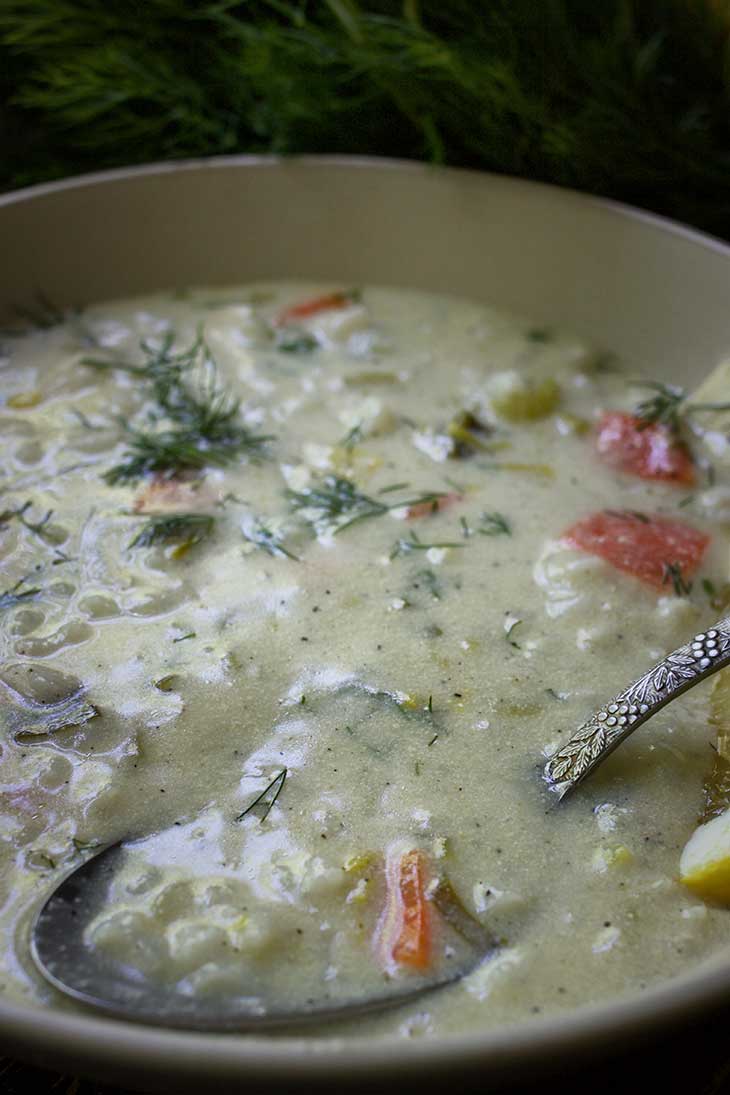 Rice is a very versatile and accessible ingredient and a staple food in the Mediterranean and Middle Eastern cuisines, as it is used in countless recipes. Rice is a cereal grain that doesn't contain gluten and it's rich in essential nutrients such as fibers and minerals (calcium, potassium, iron and more). It's very low in fat, which makes it perfect for people who are on a diet.
In case you want to add more rice to your daily diet, this Greek lemon rice soup is the perfect solution! It's easy and the results are so delicious, I'm sure everyone who will taste it will be impressed!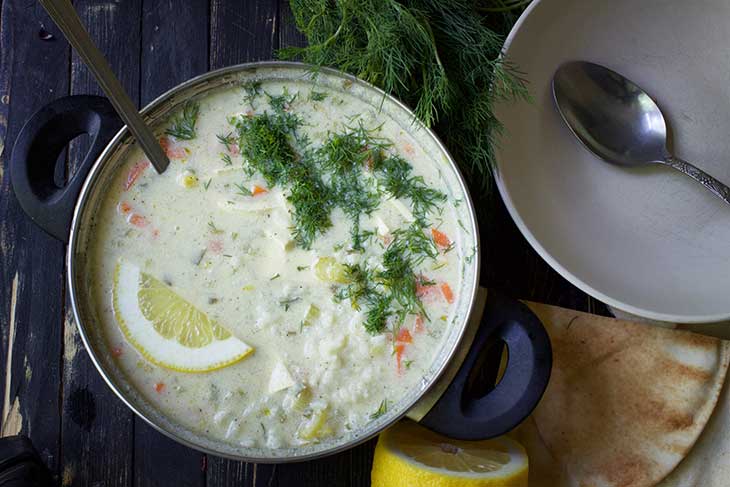 For this vegan lemon rice soup, I left out the meat and eggs and replaced them with a mixture of coconut milk, silken tofu and nutritional yeast, which we will talk about in a bit. This is one of the best soups I ever made and the ultimate comfort food for those days when you need a warm and filling meal. I'm sure you will instantly fall in love with its unique taste and texture! Give it a try!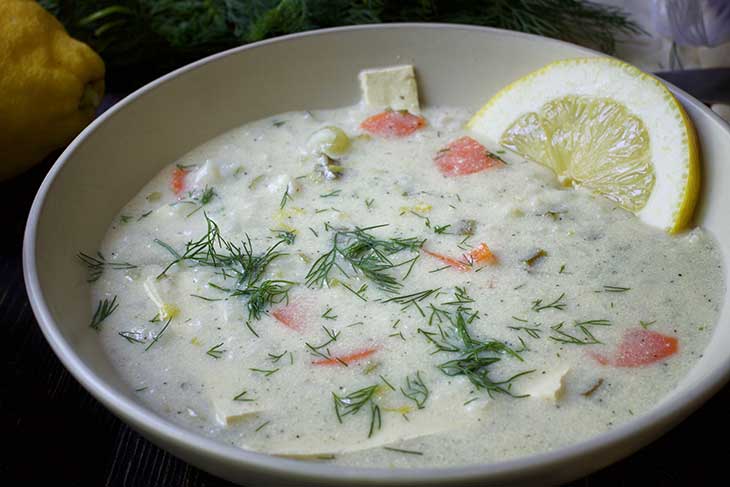 Yield: 6+
Greek Lemon Rice Soup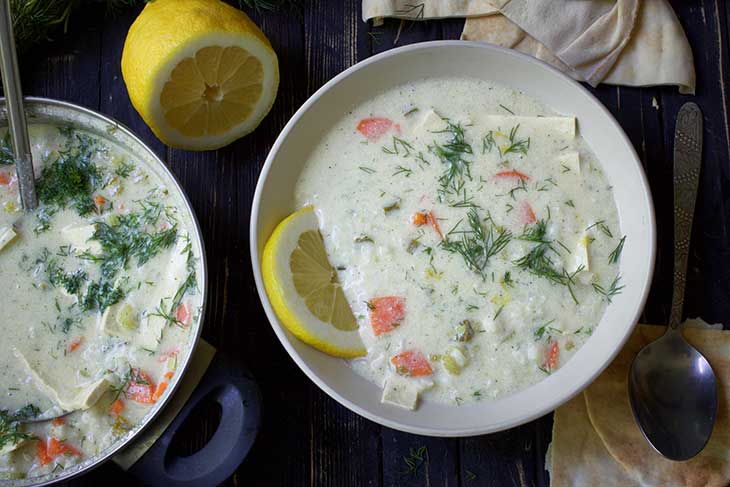 Try this refreshing Greek lemon rice soup - made vegan - and enjoy a comforting, Mediterranean meal that's perfect for any season! It's easy to make and it will surely become one of your top favorite soup recipes!
Ingredients
For the "egg" mix:
230g (1 cup) full fat coconut milk
250g (1 cup) silken tofu
3 Tbsp fresh lemon juice
1 tsp salt
1 tsp black pepper
1 Tbsp nutritional yeast
1 tsp tapioca flour
For the lemon rice soup:
1 Tbsp olive oil
1 medium yellow onion, chopped
2 medium carrots, chopped
100g (1 cup) celery, chopped
1L (4-5 cups) veggie broth
100g (½ cup) rice
200g (¾ cup) sliced smoked tofu
2 Tbsp fresh dill, chopped
1 Tbsp green onion, chopped
1 lemon, sliced
Instructions
Heat a large pot with olive oil on medium heat.
Add chopped onion, carrots and celery. Saute, stirring occasionally, for about 5 minutes until the veggies are softer.
Add rice and continue to cook, so the rice will absorb all the juices, about 5 more minutes.
Add veggie broth and bring to boil.
Turn the heat on low, and let it cook about 10-15 minutes or until the rice is soft.
Meanwhile, add all "egg mixture" ingredients to a food processor.
Blend until smooth and silky.
Add the "egg" mixture to the soup and stir to incorporate, add sliced tofu, green onion, and 1 tbsp dill.
Cover and let it sit 5 minutes before serving
Serve with chopped dill and lemon slices.
Nutrition Information
Yield
6
Amount Per Serving
Calories

235
Total Fat

8g
Carbohydrates

27.4g
Protein

13g