Here's how to make the vegan fried "chicken" that mimics the world-renowned southern fried chicken recipe! It's also secretly healthy and will surely become one of your favorite faux-fast food meals!
Fried chicken is a very famous and simple American dish, also known as "Southern fried chicken", traditionally served with a side dish consisting of mashed potatoes, gravy and a coleslaw salad. The recipe is very easy and it basically consists of small pieces of chicken covered in a batter and seasoning and then deep fried or even pan-fried/pressure-fried. This simple technique will result in a crispy outer layer and a tender inside, which is what makes fried chicken so delicious and popular all around the world.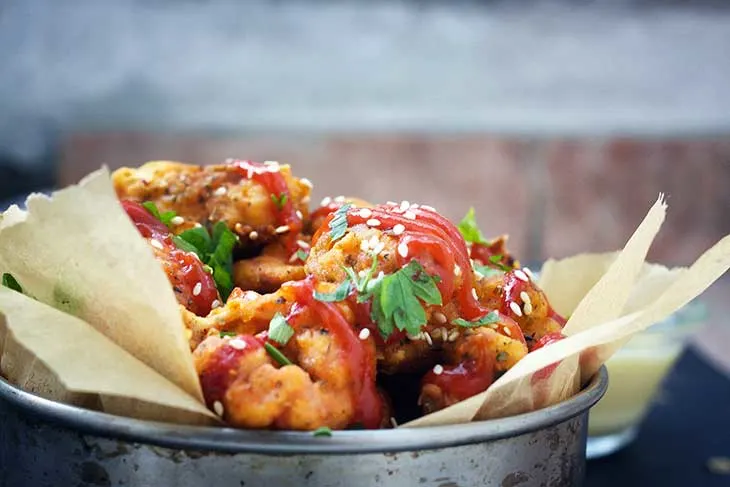 Even though fried chicken can be found all around the world, including Europe and Africa, the dish has become a staple food in the American cuisine, especially in the Southern part of the country. Americans started calling this dish "fried chicken" almost 200 years ago and it's a very common recipe in American cookbooks. Vegan Fried Chicken may be more popular in US, because of the world-renowned KFC fast-food chain, but it doesn't mean it's a 100% American recipe, as many other countries in the world have their own versions, including Korea and Scotland.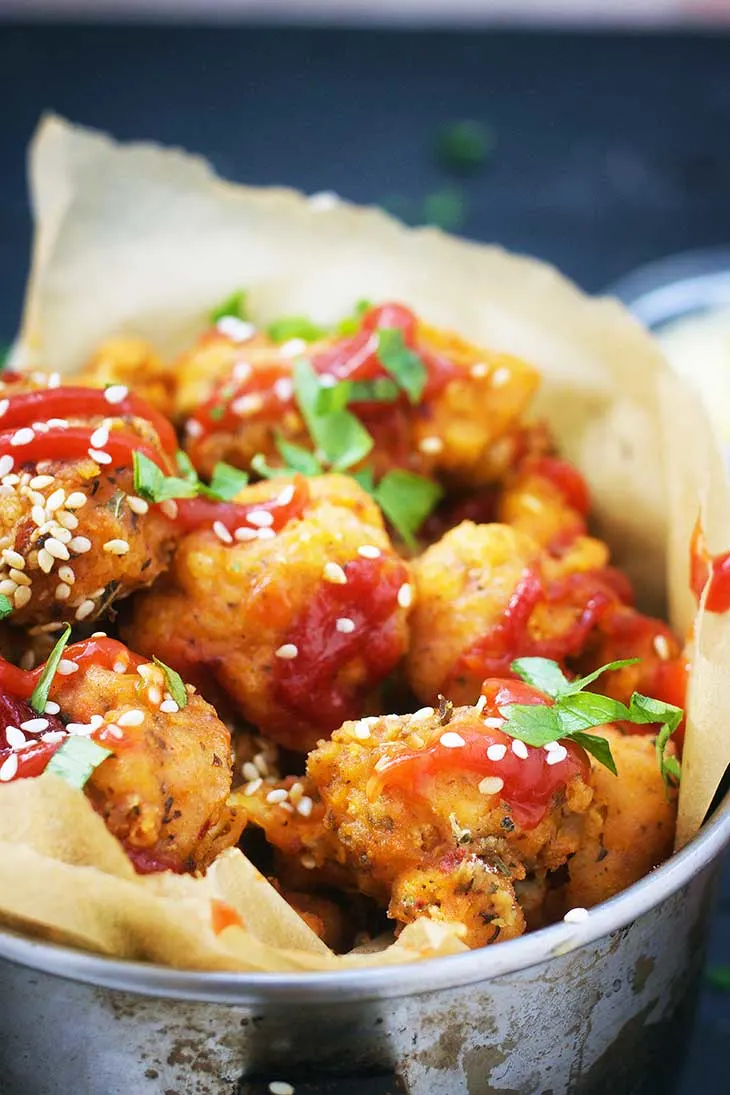 The batter which covers the chicken in the original recipe is usually made of eggs, milk, flour, and seasoning, in order to create a delicious crust that adds up to the flavor of the meat. Americans fry their chicken in different types of grease, oil being the most common.
Of course, we are all familiar with the fried chicken from KFC, which is very famous. It is spicy, crunchy and super delicious, which made it so popular all around the world among fast food dishes. But because the authentic fried chicken recipe is far from healthy, today I want to teach how to create the vegan, guilt-free and super tasty version of the American fried chicken. I'm sure even omnivores will love this vegan fried chicken recipe. 🙂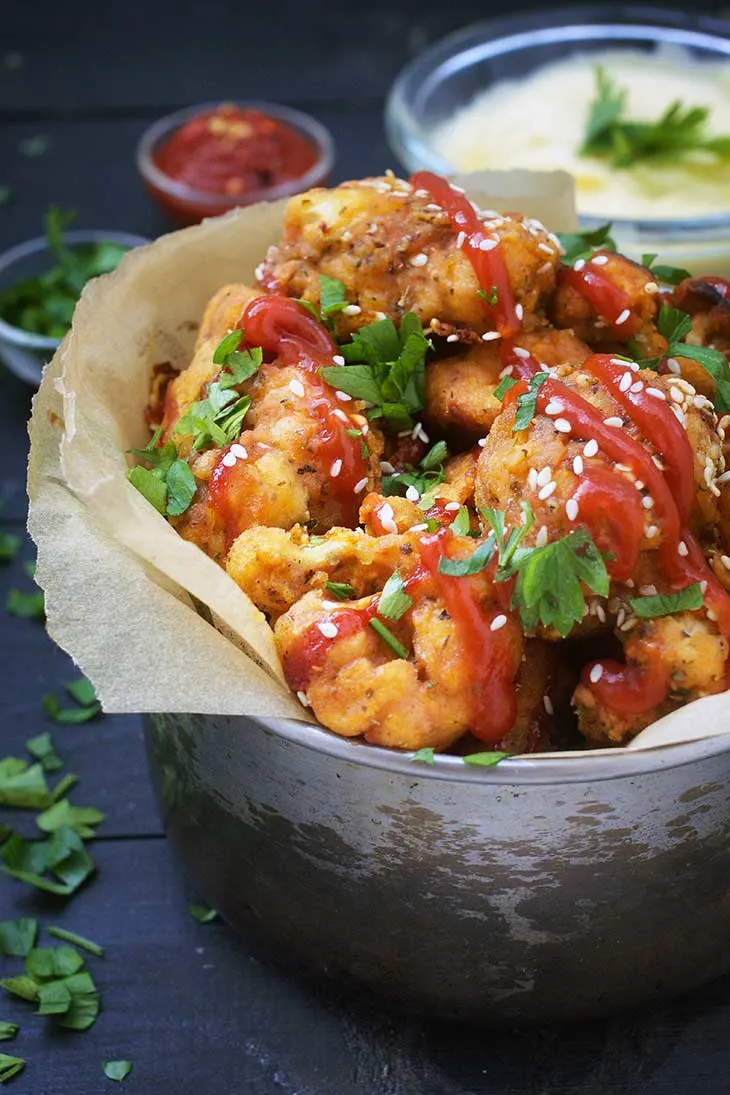 If you're a constant reader of my blog, you know I usually use non-GMO TSP (textured soy protein) chunks or granules to replace meat in recipes, but for today's, recipe I used an alternative that works even better in this case: cauliflower!
I marinated it into a delicious spices mixture, covered it in a vegan version of the fried chicken batter and then baked it. The result exceeded my expectation and will definitely make you fall in love with cauliflower!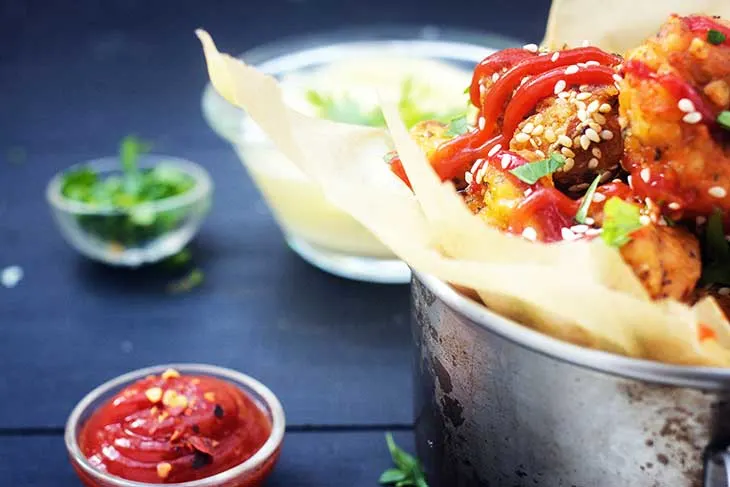 If you want a more authentic texture, fry the cauliflower florets instead of baking them. Baking will give them a roasted texture, rather than the super-crispy fried crust. However, I preferred the healthier version. 🙂 Hope you'll like this vegan fried chicken recipe as much as I did! 😀
P.S. Check out these awesome vegan cauliflower recipes for more inspiration!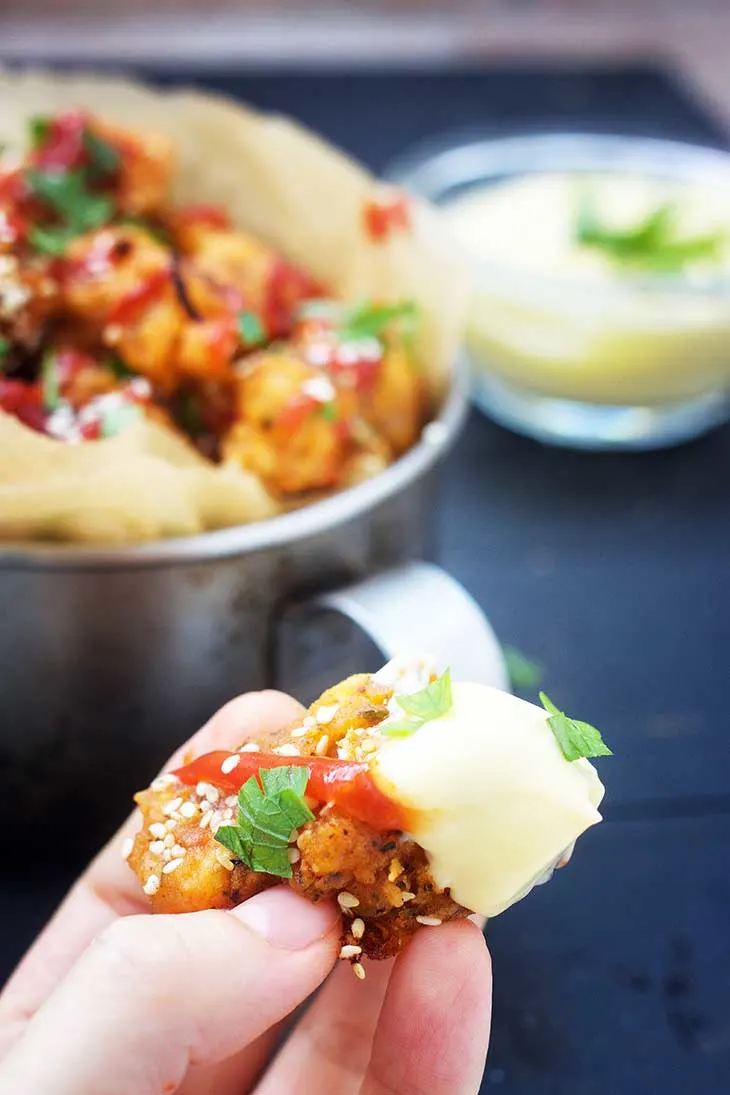 Yield: 3 +
Vegan Fried "Chicken"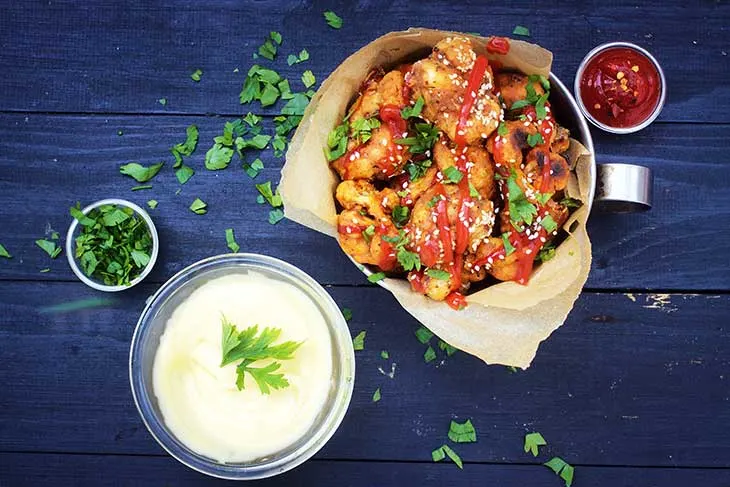 Here's how to make the vegan fried "chicken" that mimics the world-renowned southern fried chicken recipe! It's also secretly healthy and will surely become one of your favorite faux-fast food meals!
Ingredients
1 large head of cauliflower, cut into medium size florets (you can also use frozen cauliflower, but let it thaw first)
For the marinade:
180ml (¾ cup) vegan milk of choice, unsweetened
3 Tbsp hot sauce
½ tsp black pepper
½ tsp salt
For the flour mix:
120g (1 cup) all-purpose flour or GF flour
1 tsp salt
½ tsp chili powder
1 Tbsp paprika
½ tsp dried sage
1 tsp garlic powder
½ tsp ground allspice
½ tsp dried oregano
½ tsp dried basil
1 tsp onion powder
1 Tbsp sesame seeds
½ tsp cumin powder
Other ingredients:
2 Tbsp oil
1 Tbsp chopped parsley, for serving
hot sauce and vegan garlic sauce, for serving
Instructions
In a bowl, add all the marinade ingredients
Add cauliflower florets to the marinade and let sit overnight in the fridge.
Preheat the oven to 200C.
Cover a baking tray with some parchment paper.
In a bowl, mix all the ingredients for the flour mixture
Take a marinated cauliflower floret and dip it in the flour mix; remove the excess and place it on the prepared baking tray. Repeat with all florets. Drizzle with oil.
Bake about 25 minutes or until golden and nicely roasted.
Serve with sesame, freshly chopped greens, and a dipping sauce.
Nutrition Information
Yield
3
Amount Per Serving
Calories

421
Total Fat

22.8g
Carbohydrates

42.3g
Protein

11.6g