Here are 10 best things to do in Brescia, Italy. Find out what are the best places to visit and tourist attractions in Brescia.
Brescia is the second city we visited since moving to the amazing country of Italy for 6 months last year. We also went to Pavia and Verona, and I must say that I'm falling in love with this beautiful country!
We started discovering the North of Italy and we're slowly making our way down to the South. And, honestly, I can't be more excited about our trips! I love discovering the local culture and, of course, cuisine! Many people told me that nothing can beat the southern Italian food, and I really want to try some authentic Napoletan pizza.
If you want to visit Milan, I'd recommend booking at least a 5-day trip, as there are many amazing attractions to be seen. If you want to discover a larger area instead, you can visit Milan in 1 day and then proceed to Pavia, Verona and even Lake Como if you have some time left. 🙂
Hope my travel guides will help you have a nice vacation in Italy! Oh, and don't forget to tell me which were the best dishes you tried while there!
Feel free to scroll through my list of best things to do in Brescia. Enjoy!
P.S. Want more travel tips for visiting Italy? Check out the Living in Italy section on my blog.
Best Things to Do in Brescia
New cathedral – Duomo Nuovo di Brescia
Duomo Nuovo di Brescia (or Cathedral of Santa Maria Assunta) reaches 80 meters in height and is one of the must-see attractions in this city, being also one of the tallest cathedrals in Italy, towering impressively over Piazza Duomo. Its construction finished in the 19th century and it hosts a large number of interesting artworks, as well as a monument dedicated to Brescian-native Pope Paul VI.
Broletto
Palazzo Broletto used to be the seat of government in the times of the Seigniories, and built gradually throughout almost a century. It is one of the oldest examples of civic architecture. Broletto is greatly placed in the cathedral square, and from its location you can get a great view of Tower Poncarali, which I totally recommend seeing. While the 15th century walls and statues surrounding it are well worth a visit, be aware that this ancient construction cannot be visited on the inside as it is still hosting the headquarters of the province of Brescia.
Duomo Vecchio di Brescia
Located right next to Duomo Nuovo, this building is one of the most significant examples of Romanesque-style round churches, a rare architectural landmark that Italy has to offer and that you absolutely can't miss while in Brescia. Even though it looks small and rustic next to the New Cathedral, the first documents certifying its existence date back to the 11th century. Amazing, right? 🙂 Taking a closer look is essential if you want to observe the evolution of local architecture and the resilience with which Duomo Vecchio passed the test of time to this day!
Piazza del Foro
Piazza del Foro, which includes the Capitolium and a Basilica, used to be the heart of all religious and political life when Brescia was under Roman rule. Via dei Musei crossed through it, and in the 17th century, opposite to the church was added the magnificent Palazzo Martinengo Cesaresco al Novarino. Nowadays, the artifacts of the piazza document its glorious past and are worth a stroll in order to admire the small, beautiful details. 🙂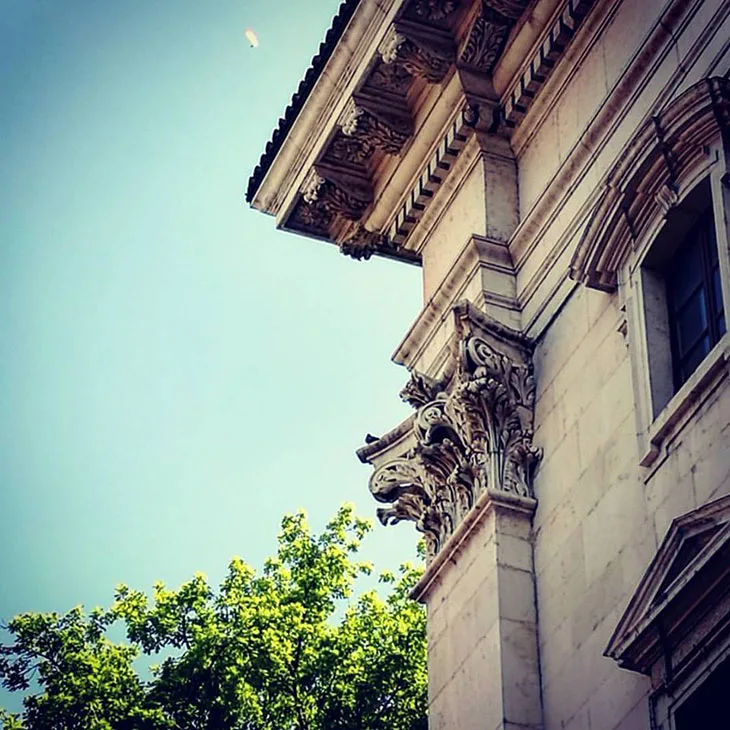 Teatro Grande (Grand Theatre)
In its grandiose red-and-gold interior with a monumental stage and a gorgeously decorated ceiling, the Grand Theatre offers plenty of dance, theatre, opera and concerts to choose from. Even the well-kept vestibule and staircase are adorned with beautiful statues and frescoes, and you can admire them without having to buy a ticket to one of the shows, but you can take a guided tour instead, or just stop for a drink at its fun bar.
Santa Maria dei Miracoli
Located on Corso Vittorio Emmanuele, the cathedral displays its elegant Renaissance-façade. Santa Maria dei Miracoli was built subsequent to a plague in the 15th century when Brescians rumored about a "Madonna and child" fresco that began showing miraculous powers :). The Catholic Church rushed to purchase the property of the fresco and the construction of this marvelous cathedral began. Its interior houses many works of art, but the true reason to go see it is its elaborate, white-porticoed façade.
The Capitolium
The Capitolium, or the Temple of the Capitoline Triad, is a UNESCO World Heritage site that includes a Roman amphitheater and a museum, located right in the center of Brescia. It will be hard to miss it and I recommend you visit this amazing place. The archaeological site is free to explore and great if you have a passion for history. It is a beautiful and timeless testimony of the first Roman empire, as it was well-restored and well documented throughout the years. And it's just a stone's throw away from the city center!
Brescia castle
Brescia Castle thrones on a hill that offers a beautiful view of the city, and the castle is actually called the Falcon of Italy exactly because of its perfect position. Its well preserved defensive system is a testimony of the evolution of Italian military techniques through the years, and walking from the entrance up to the hilltop provides a documented chronological story of this fortress. The gardens are well worth a stroll, as well as the museums that hold a broad variety of interesting historical relics, weaponry and armory, displaying the hundreds-years-old Brescian tradition of weapon manufacturing.
Chiesa di San Francesco d'Assisi
This church and monastery are located in central Brescia and truly represents the Gothic-Romanesque architecture style. The façade showcases a beautiful rose window, and the interior altarpiece is a splendid painting of the Virgin Mary and baby Jesus surrounded by saints, by Romanino. The monastery is still home to Franciscan order monks, that had first established in the city in the early 1200's. I totally recommend paying a visit to this beautiful church!
Palazzo della Loggia and Piazza della Loggia
In the heart of historical Brescia, you can find the splendid Renaissance Venetian-style Palazzo Della Loggia, located in the square with the same name. In Piazza della Loggia you can also find the city hall building (that you can visit for free!), an astronomical clock and plenty of cafés, bars and gelaterias that transform this place into a lively, exciting area to see at any hour. Whether you go admire the white Palazzo and its ornaments during the day, or at night time when it is lit up in a golden hue, I'm absolutely sure you will be impressed. This square comes with little surprises like a vibrant farmer's market on Saturdays and occasional free orchestral performances in the city hall. Wonderful, right? 🙂