Here are 10 best things to do in Verona, Italy. Find out what are the best places to visit and tourist attractions in Verona.
Verona is the third city we visited on our Italy adventure last year. After Pavia and a quick trip to Brescia, it was Verona's turn! We decided to start visiting the closest cities first, start with the northern part of the country, and then move closer to the south.
For the cities we visited so far, 1 day for each was more than enough to see the most important places. I would recommend you to book a trip to Milan and stay at least 5 days here. You can visit Milan in a day, and then use the rest of the days to visit Pavia, Brescia and Lake Como (soon to be visited by us as well).
Hope my travel guides will help you have a nice vacation in Italy!
So, without further delay, here are my picks for the best things to do in Verona, with the best things to eat (as a vegetarian) and also the best places to visit. Enjoy!
P.S. Want more travel tips for visiting Italy? Check out the Living in Italy section on my blog.
Best Things to Do in Verona
Arena
Arena is situated in Piazza Bra, in the old town center. This is a Roman amphitheater, where gladiator shows used to be hosted. It's quite impressive. We didn't see it from the inside because the waiting queue was huge, but the ticket is somewhere around 10 Euros if you have the patience to wait in line for an hour or so.
Otherwise, you can just photograph it from the outside, like we did. 🙂
Juliet's Balcony (Casa di Giulietta)
Casa di Giulietta is on Via Capello 23, near the city center. You'll notice it from far ahead, because of the huge crowd of people trying to get inside. We just entered the tiny garden, photographed the balcony and got out as quickly as possible. There were so many people crowded into such a tiny space, I almost had a panic attack.
You can also visit the inside, but it's not really worth it, from what I've heard.
Torre Dei Lamberti
Apart from the Arena, this was the most beautiful place we visited in Verona. For 8 Euros, you get to climb Torre Dei Lamberti and see the whole city from the top. Also, included in the ticket is the access to the art gallery, which showcases some amazing works of art.
Piazza Delle Erbe
Torre Dei Lamberti can be accessed from Piazza Delle Erbe, which is right in the city center. It's a crowded but beautiful place. You can buy fruits and veggies, eat gelato and relax while being surrounded by historic buildings and monuments. This is the most popular and energetic part of the city.
In this square, you can also find the Town Hall, Palazzo Maffei, and the famous fountain, Madonna Verona.
The Church of San Zeno Maggiore
We ate at a restaurant right in front of this church. The little square is really beautiful and peaceful. You can also visit the church, if you want, and admire the beautiful paintings found inside.
Castelvecchio
Castelvecchio was built in 1354-55 and it is an impressive defensive fortress worth visiting. There are many sculptures and famous paintings you can view inside. You can find it at Corso Castelvecchio 2.
Verona's Cathedral (Duomo)
This is a beautiful cathedral and must be on your 'to-visit' list. It's not specifically majestic, but it is beautiful and very well preserved. Inside, it includes some works by Tiziano and Tintoretto, worth seeing.
Giardino Giusti
Palazzo Giusti has a lovely garden worth visiting, called Giardino Giusti. It has lots of statues, a hedge maze, and beautiful flowers. Although this is not a large garden, it is ranked among the best Renaissance gardens in Italy. You can find it at Via Giardino Giusti 2.
Teatro Romano
You can find Teatro Romano across the Ponte Pietra bridge. The theater is the home of the summer Verona Jazz Festival. You can find it at Regaste Redentore 2.
We didn't have time to visit Teatro Romano or Giardino Giusti, but I added them to this list because they are among the best places you must visit while in Verona.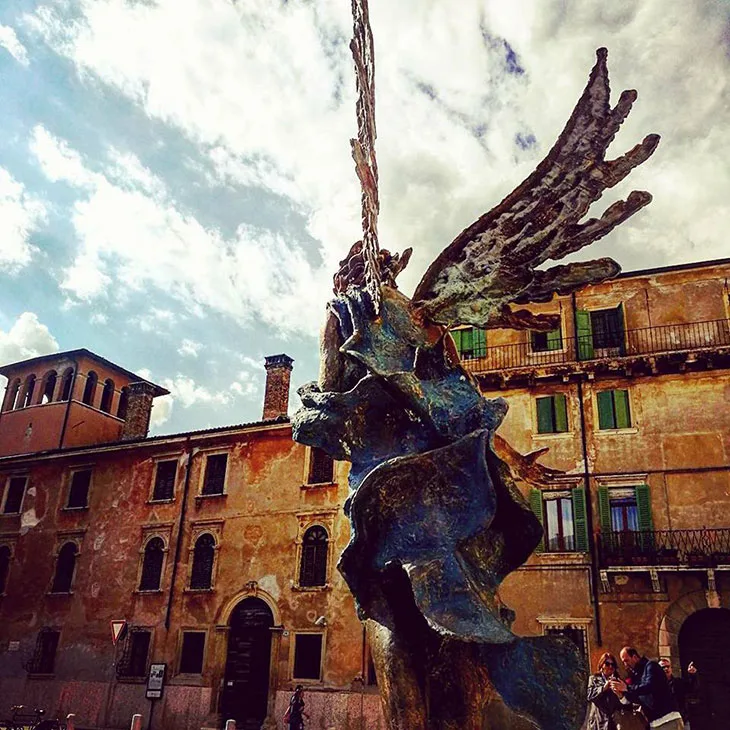 Verona Bridges
Verona is passed through by the Adige river, so there are lots of beautiful bridges you can visit. The oldest of them all is Ponte Pietra, made during the Roman era, which connects the Roman Theatre to the city center.
Another one worth visiting is Ponte Scaligero, in front of Castelvecchio.
Foods you have to try (vegetarian-only)
Unfortunately, there are only a few traditional vegetarian dishes you can try. Most of them are made with horse or even donkey meat, specific to the Veronese cuisine.
Polenta is a traditional side dish of the region. It is served soft and creamy, then cut into squares and lightly grilled. There is a local fast-food called Pasta E Polenta, from which you can grab a quick snack.
Verona: Tours and Tickets
Here are some awesome tours you can book right now! Hope you'll have a wonderful time visiting Verona! 🙂