The first article of the "Living in Milan" series is here! I decided to start with the most important part when moving to a new city – finding rent. This was by far the most stressful and complicated task we had to go through, since coming here. It took us more than two weeks to find rent in Milan, with dozens of daily calls and meetings.
We were confronted with so many unusual and annoying situations. I was getting quite depressed and wanted to give up. Never in my worst nightmares would I have thought it would be so difficult to find a place to stay in this city. Finally, it turned out that behind our struggles was a hidden purpose of finding the absolute best apartment for us, with amazing landlords, in a great neighborhood. Everything turned out even better than we expected. I wish I would have had a little more faith from the beginning. 🙂
Hopefully, our story will help you avoid these struggles when you decide to move to Milan.
Short-term rent vs. long-term rent
Finding short-term rent in Milan is a nightmare. More than 80% of the ads we saw had a minimum renting period of 4 years with 4 months security deposit. This sounded crazy to us! In our country, there is no such thing! You rent yearly, at most. We tried to negotiate with them, but it's impossible.
However, you may be able to negotiate from 1 year down to 6 months, or from 2 years down to 1 year. For less than 6 months, it's a real struggle, but not impossible! 🙂
Tip: If you're looking for short-term rent and you see 4+4 mentioned in a rental ad, save your time and don't call the agency/landlord. It's pointless. Also, you'll have to already be in the city in order to find rent. You have to call and set up meetings. You can't do it just online.
Best websites for finding rent in Milan
These are the best websites for finding rent in Milan:
The first two contain mostly ads from agencies, while Subito also has some ads directly from landlords. Rental Milan is the best if you have the budget for it…They are professionals, speak English, offer great support, but…the prices are huge. Yes, the apartments look really nice, but paying over 1500Euros to stay in a 25sqm studio is just too much.
My cousin found a great studio on uniplaces.com, but you have to be very patient and analyze all the ads. Make sure you rent the whole apartment, not just one room. Otherwise, the website is very safe to use.
Nestpick is also a great choice for finding short-term rentals, as they are specialized in shorter term rentals, from as short as one month. The website is actually an aggregator and helps you compare thousands of listings all in one place. It helps tenants who want to work or study abroad find a suitable apartment. This will save you a lot of time when searching for rent in Milan. The website is not only for Milan but for other cities from other countries as well. Comes with apps for both Android and iOS which is also helpful.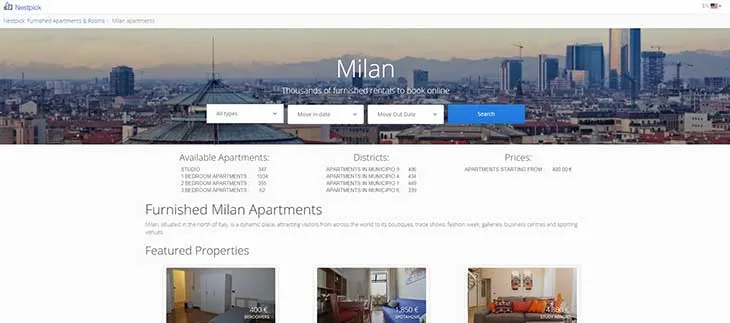 Tip: Some of these websites also have apps. Search them on Google Play and download them. Also, create an account, save your search and check the option to be notified when new ads appear in your search parameters.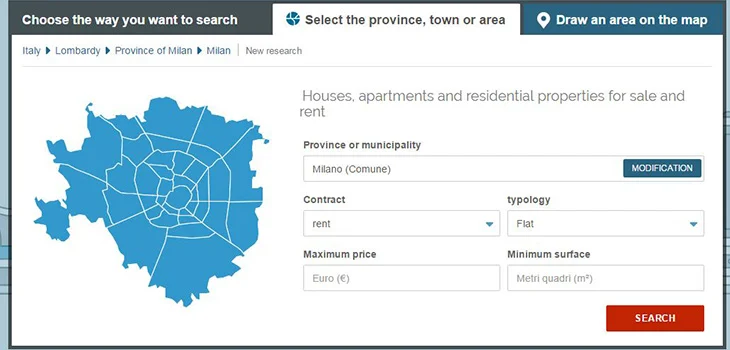 Renting from agencies vs. Renting directly from landlords
Let's say you found a couple of nice apartments on the websites mentioned above. The next step is to call to ask for more info and even schedule a meeting to see the apartment. Don't even bother with the ads that don't contain a phone number. They will NEVER answer your emails or messages (Except for Rental Milan and UniPlaces. Their online support is great.).
Now, the problem with calling is that you actually have to speak with them, and guess what?! They don't speak English. Only 20% or less, from the dozens of calls we made, were in English. The rest, in Italian.
The good thing for us is that Romanian is very similar to Italian. We also know some Spanish and French (besides English), so we make the connections and understand almost everything in Italian. For speaking, Google Translate was our friend. We just did a bit of research and translated some expressions which we used to obtain information and ask the questions.
Tip: Learn a little bit of Italian. (Google Translate will be your friend!)
Renting apartments through agencies/booking websites
Pros:
International rental websites are the safest (ex. RentalMilan, UniPlaces). You will have to pay the fee, but it's very unlikely to have any problems. They will also offer you the support you need.
If you find a good agency and do a bit of research to find out more about them the risks are minimum.
Cons:
You have to pay the agency commission. This is usually between 10-15% of the value of the contract.
Not all agencies are safe. Avoid those agencies which ask you for upfront payment without even seeing the apartment or meeting with a representative.
Renting apartments directly from landlords
Pros:
You rent directly from the owner, so you don't need to pay the agency commission nor the website booking fee.
Cons:
The chances of them speaking English are close to 0.
The risk is higher. You MUST visit the apartment and see it before sending any kind of payment. You also must ask for a lease agreement which clearly states what is included in the rental fee.
Prices
They're huge for what the apartments have to offer…but I guess these are the prices in Milan. Everything is expensive here.
If you want to rent a studio (~30sqm) you will pay between 800-950 Euros for a decent one.
If you're looking for a two-room apartment (like we were looking in the beginning), the prices for a decent one, nothing extravagant, range from 950-1300Euros.
Security Deposits
They ask for the abnormal amount (for short-term rentals) of 3 months deposit and 3 months paid in advance! Are they mad?! If I'm going to stay a tiny studio for 6 months, I'm not crazy to pay you this much money upfront! It's absurd! Really, don't pay that much.
In some cases, you may be able to negotiate. If they ask for three months deposit (see Rental Milan) you may be able to get them to drop to two months only. Always try to negotiate!
I knew from my cousin's experience that 1-month deposit and 1 month paid in advance is more than enough. She rented the apartment for one year. This is how it works in Romania too, and in Spain (I know this from some friends of mine who lived there for a while). I can tell you, from our experience, that you can find a 1+1 contract too. It's more difficult, but don't be crazy to pay 3+3 in advance for living in a tiny apartment. It's not worth it.
What's included in the rent?
This is what I liked about the renting system here in Italy. The expenses are usually included in the monthly rent but make sure you know exactly what's included and what comes extra. We were lucky enough to find an apartment with everything included, but not all of them are the same.
The monthly price for renting apartments in Milan usually includes:
the rent fee
condo expenses and the garbage tax
yearly heating system checking
The price may or may not include the following:
– the electricity and gas bills
– the wifi internet
– the cleaning service
Tip: Try to find an apartment that has as many "spese condominiali" (expenses) included. This will save you a lot of time, especially for short-term rentals.
Choosing the best location
Milano is generally a pretty safe city, but it has some weird locations as well.
Find an apartment near a metro station. This is a must! The subway system is great. Having a metro station in a maximum of 10 minutes walk distance from home, will mean a lot. Trust me!
Avoid via Monza, via Padova, and Stazione Centrale. This recommendation is not from a personal point of view, but I've read online that these areas are not quite safe.
Internet connection
Make sure you have ADSL/fiber link internet. The internet here is nowhere near the quality of the Internet in Romania, but if you have ADSL is quite decent. You'll have to wait a lot to upload files and pause the movies for a couple of minutes to let them download, but other than this, it's quite decent, even for someone like me who needs Internet like air!
We were so lucky! Our wonderful landlords helped us and installed ADSL (from Tiscali) in just a week. My cousin Livia, wasn't so fortunate. It took her over a month until someone from Vodafone came and installed their connection. So, it's a matter of luck really. Ideally, you should look for an apartment with fiber Internet already installed, but that may limit your options even more.
Yes. After all that struggle and looking over and over on the sites mentioned above, we found our apartment through AirBnB. It was pure luck and help from Above I guess! 😀 So, don't hesitate to look over AirBnB rentals as well.You may find some great options there too!
P.S. I will talk to you more about our wonderful apartment and amazing landlords in a future article. 🙂
Do you have any questions? Is it something, in particular, you would like to know about finding rent in Milan? Leave me a comment below! I will gladly answer you. 🙂