Don't know what to eat? Why not try a world-famous Buddha Bowl for lunch or dinner? Here is how you can prepare the easiest and most delicious rainbow Buddha bowl at home!
Traditional cuisine can get pretty formulaic. After all, eating the same things every day isn't good for anybody. Not to mention the classic formula of main dish plus a side dish, and salad – whatever those three are, there's no way you can cover the whole food group spectrum with just three things. This is why people have tried to come up with a solution that would empower you to eat freely and diverse, while rationing your food – the "bit of everything" mentality applied to a healthy lunch!
Buddha Bowls – one of the internet's biggest food trends – how have they come to exist, and why are they called that? Buddha Bowls are extremely prevalent in vegan culture, especially in the food blogger/vlogger areas. Food bowls are nothing new, there are many cultures who prefer eating their lunch mixed up in a bowl, but Buddha Bowls seem to have taken that idea forward to the new century.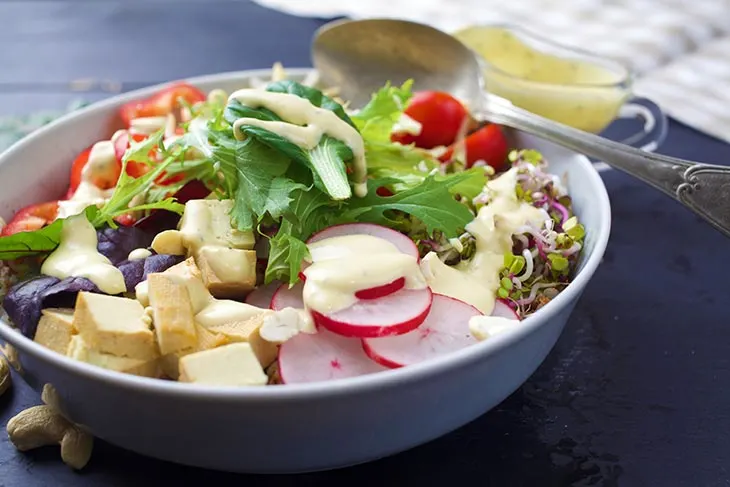 There are countless recipes of Buddha Bowls because all you really need to do in order to make a Buddha Bowl is to add some ingredients you like, cook them however you like, and mix them in a bowl. These ingredients can be split up into a base, a main, and a topping, but it can vary. Usually, this involves some type of grain, some vegetables, something rich in protein – making the Buddha Bowl a nutritional miracle! 🙂
Because they were born on the internet, more specifically image sharing networks such as Facebook or Instagram, Buddha Bowls are supposed to be highly colorful and have a nice aspect – they have to be highly aesthetic. The point here is to showcase the many ingredients they contain, as well as making them look nice in a picture. Balance is the keyword here – hence the name Buddha Bowl. Nothing much more balanced out there than the teachings of Buddha himself!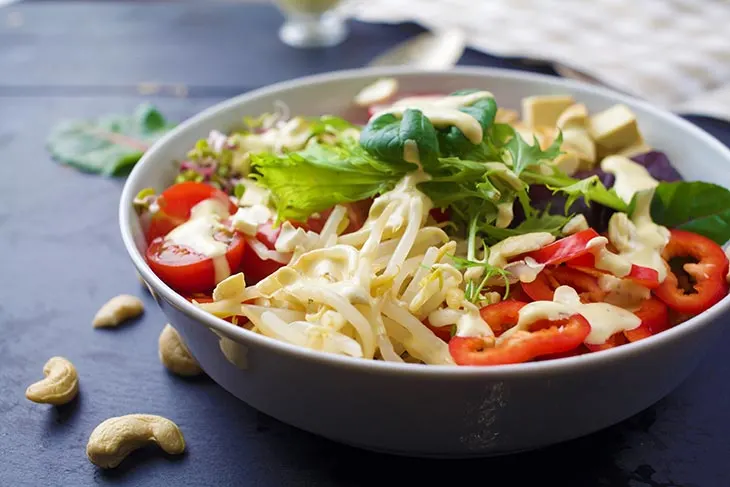 So what can you put in a Buddha Bowl? Well, starting off vegan, you can make many different assortments of fruit, vegetables, grain, tofu, cereal, and everything else you might like. Let's take the following combination for example: A Buddha Bowl with fresh spinach, zoodles (zucchini noodles), edamame, zucchini ribbons, avocado, herb pesto, and chia seeds.
This one is quite complex, and many ingredients will lead to very complex tastes and textures. You have creamy, you have crunchy, you have the powerful aroma of pesto, and the mildness of avocado. Due to the many ingredients in a Buddha Bowl, every bite will give you something different, and that's really the best thing about them.
You can create a Buddha Bowl that encompasses most of your daily dietary needs by using brown rice for the base, then putting some baby spinach, cherry tomatoes and cucumber for the freshness, and then some cooked vegetables of your choice, and you can top that with hummus, to hold it together, after which you can also use some nuts of your choice. That is the perfect example of a Buddha Bowl that has it all – protein, good fats, vitamins, and nutrients to get you going for the rest of the day!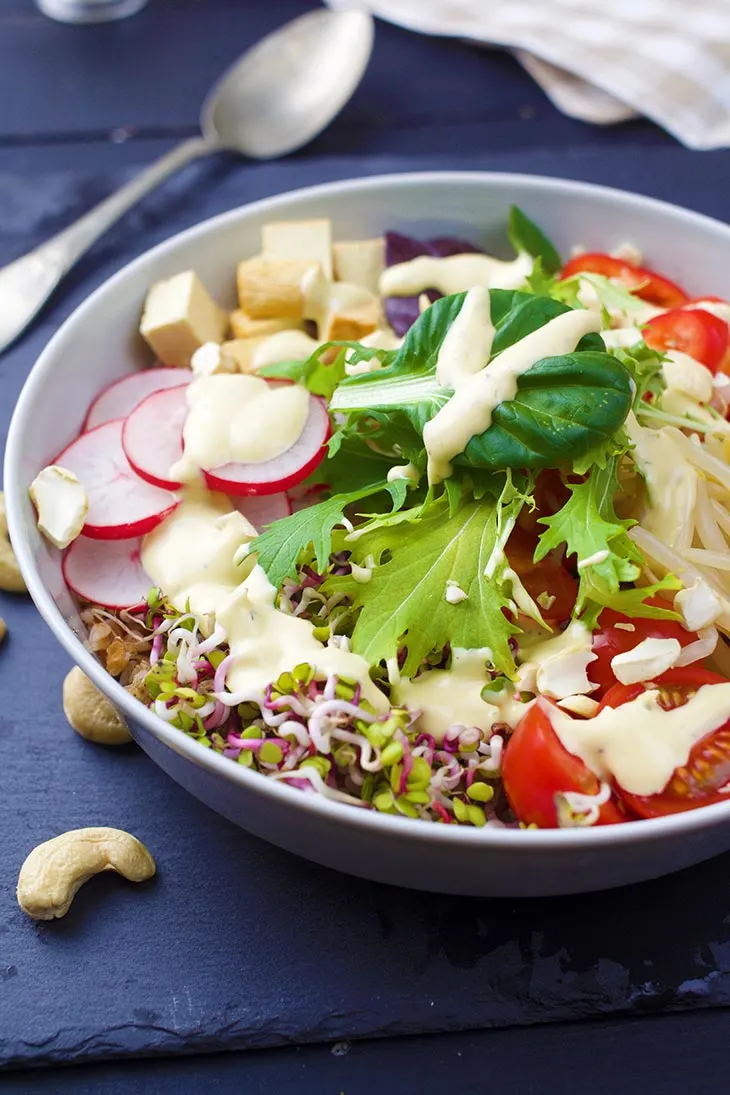 Buddha Bowls are best suited for the rainy summer days when you can't be bothered to think of just one thing to eat, and are in the mood for many different things. But who said Buddha Bowls are summer-only? You can have them the whole year round! Just take Brussel sprouts, sweet potatoes, caramelized onions, and butternut squash, and you've got yourself a wintery-goodness bowl, just right for prickly weather! But don't quote me on it, try it for yourself!
If you want, you can create a Buddha Bowl consisting of mainly nuts and seeds, for a quick and healthy snack. Use them to crunch up your salad, and add your favorite dressing or even a spoonful of hummus! The beauty of Buddha Bowls is that they let you experiment to your heart's content, using some of your favorite ingredients!
Buddha Bowls can be very convenient. Do you happen to have lots of leftovers in the fridge? Why not try adding them to a Buddha Bowl? You never know if they go well together or not if you don't try it. Moreover, even though most Buddha Bowl recipes you'll see are vegan, if not vegetarian (the odd sunny-side up egg topping is quite often used for those) you can enjoy a delicious meat-based Buddha Bowl if you want. Beef and broccoli, sliced up nicely, go together marvelously in a Buddha Bowl. It's up to you to find what's best.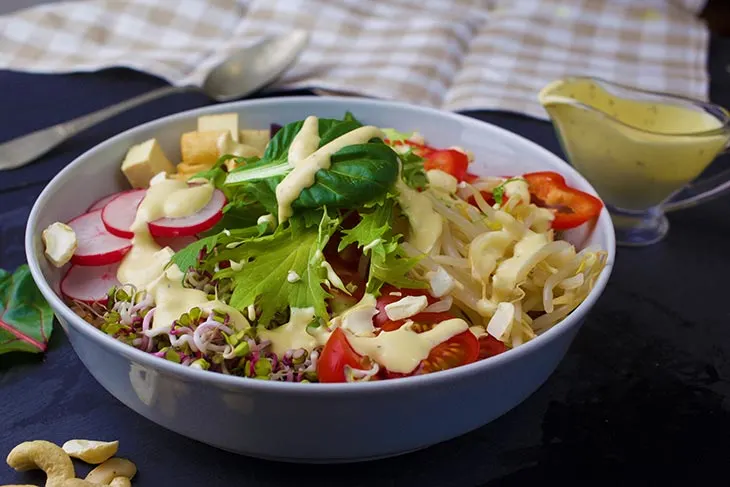 I hope you'll enjoy this Rainbow Buddha Bowl recipe. As always, be sure to share it with your friends, and tell me how it went!
Yield: 2 +
Rainbow Buddha Bowl | How to make a buddha bowl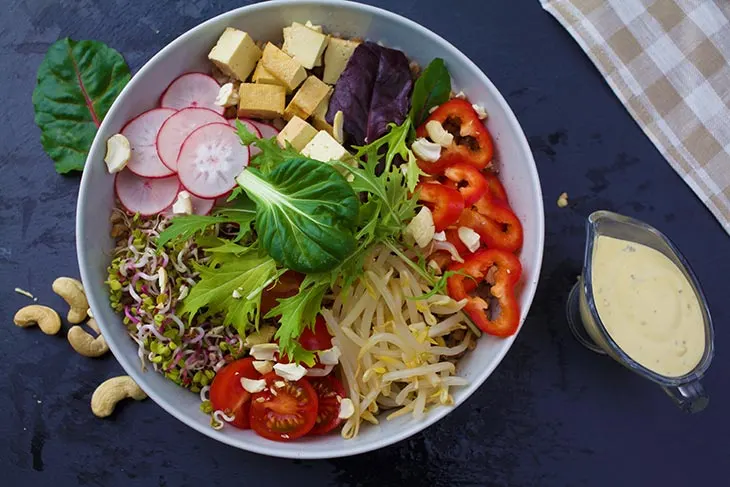 Don't know what to eat? Why not try a world-famous Buddha Bowl for lunch or dinner? Here is how you can prepare the easiest and most delicious rainbow Buddha bowl at home!
Ingredients
170g (1 cup) buckwheat, soaked overnight
For the topping:
125g (½ cup) smoked tofu, cubed
1 radish, sliced
4 Tbsp soy sprouts
8 plum cherry tomatoes, halved
1 red bell pepper or kapia
50g (½ cup) radish sprouts
10g (¼ cup) beetroot leaves
a handful of mix salad leaves
For the dressing:
120ml (½ cup) veggie broth
140g (1 cup) cashews, soaked overnight
1 Tbsp nutritional yeast
1 tsp mustard
1 clove garlic
salt and pepper to taste
Instructions
Add the buckwheat to a bowl. Cover with 2 cups of filtered water and let it soak overnight.
Add all the dressing ingredients to the food processor and blend until smooth. Regulate the consistency of the sauce by adding more or less broth.
Create your Buddha bowl: divide the soaked buckwheat between two wide plates, divide the toppings for both portions of buckwheat.
Add the desired amount of dressing on each.
Serve and enjoy!
Nutrition Information
Yield
2
Amount Per Serving
Calories

575
Total Fat

32g
Carbohydrates

56g
Fiber

9g
Sugar

6g