Get ready for the ultimate spring salad – grilled zucchini and beetroot salad! It's yummy, it's super flavorful and it's SO easy to make!
Confession time! I decided to change things on the blog a little – I decided to start posting ALL those excellent recipes I'm making every day for lunch or dinner. These are yummy, easy recipes for everyday cooking that I made and loved, but for which I didn't have any time to take "professional" pictures with my camera because I was just TOO hungry. I have so many recipes like this that I didn't share with you guys because I felt the visuals are "not worthy". I had no props, no proper light, and no fancy plating. But I won't let that stop me ever again!
So for this recipe, I only have a couple of photos taken with my phone, but what's important here is the taste and the actual recipe. No perfect pictures ahead, just my real, non-polished food that I eat in my real life. 🙂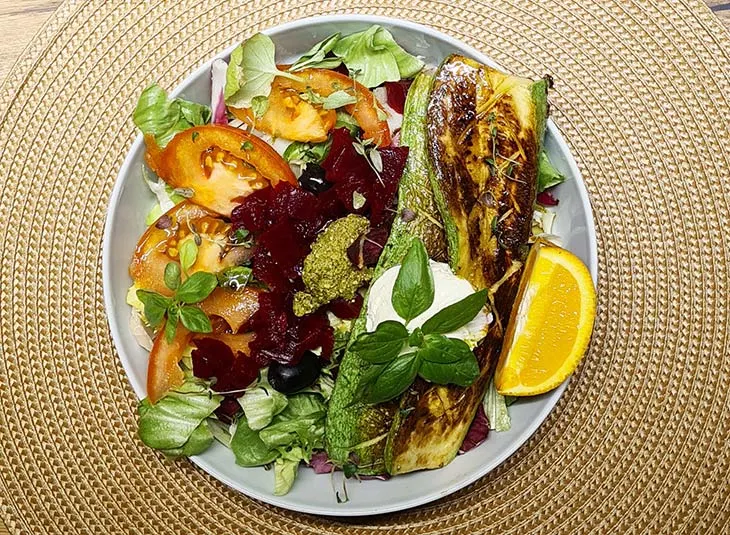 Ever since spring has arrived (well, more in theory than in real life!), I started eating more and more salads. I'm actually a big fan of salads because of three reasons: they're delicious, they're super versatile and they're extremely easy to make!
I know people usually associate salads with healthy eating or being on a diet and even a bigger number of people think they're quite plain and tasteless. Well, let me be an advocate for salads and tell you that this is not true at all! Salads are tasty, my friends! 🙂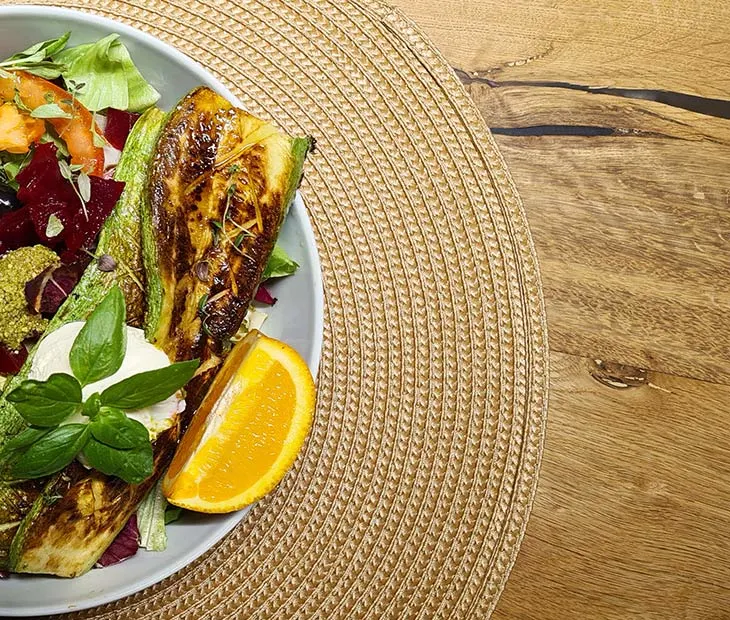 No, salads don't have to be simple or boring. They don't even have to be cold and tasteless. There are SO many warm salads out there! In case you never tried one, you have no idea what you're missing on and you're about to unlock a universe of flavors!
I simply LOVE warm salads and today's recipe is one of my latest obsessions. Grilled zucchinis are an excellent ingredient for warm salads and I decided to use them for this grilled zucchini and beetroot salad today.
Other than these two main ingredients, I also used some tomatoes, green pesto, olives, orange (feeling exotic!), fresh oregano and basil leaves, salad leaves, and a little bit of ricotta.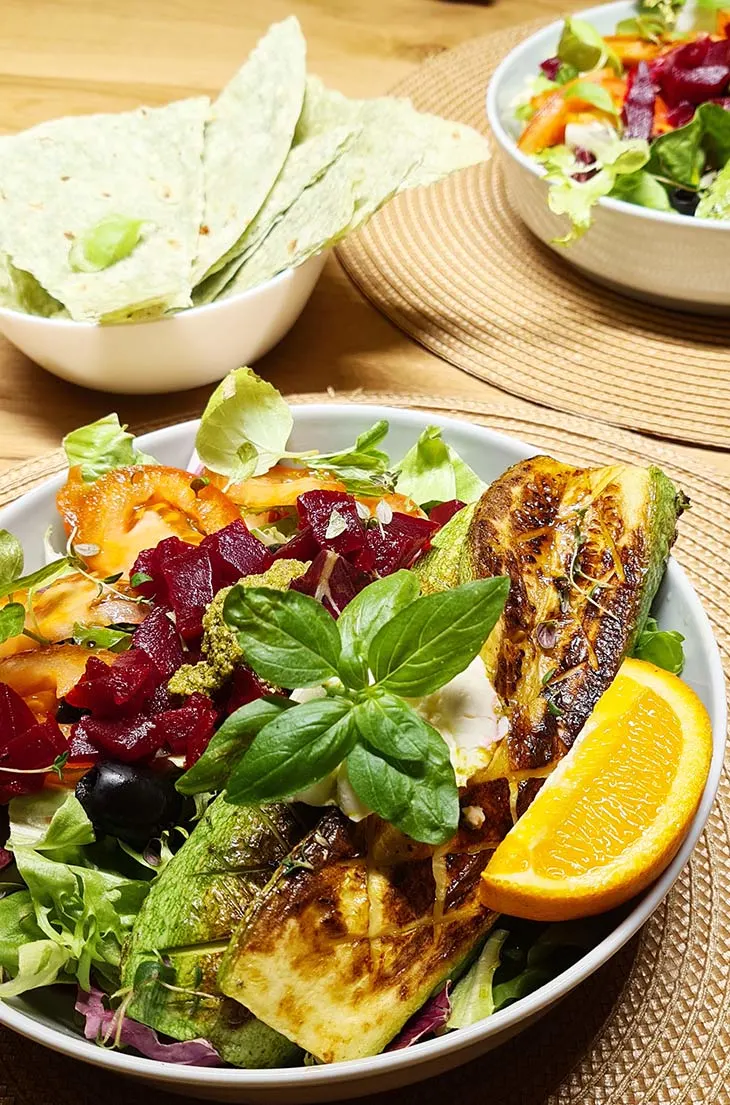 NOTE: If you decide to use ricotta as I did, the recipe won't be vegan. If you omit it, you'll end up with a perfectly delicious vegan salad, ready to devour! Alternatively, you can add some homemade vegan mozzarella cheese. It's super good!
I made this awesomely yummy recipe for dinner some days ago and it was a blast. You know how they say: if the ingredients on your plate are colorful, then you're eating healthy. And our grilled zucchini and beetroot salad is AS colorful as it gets! Green, red, purple, orange – it has everything and then some more. It's an explosion of flavors and both I and my boyfriend loved serving it!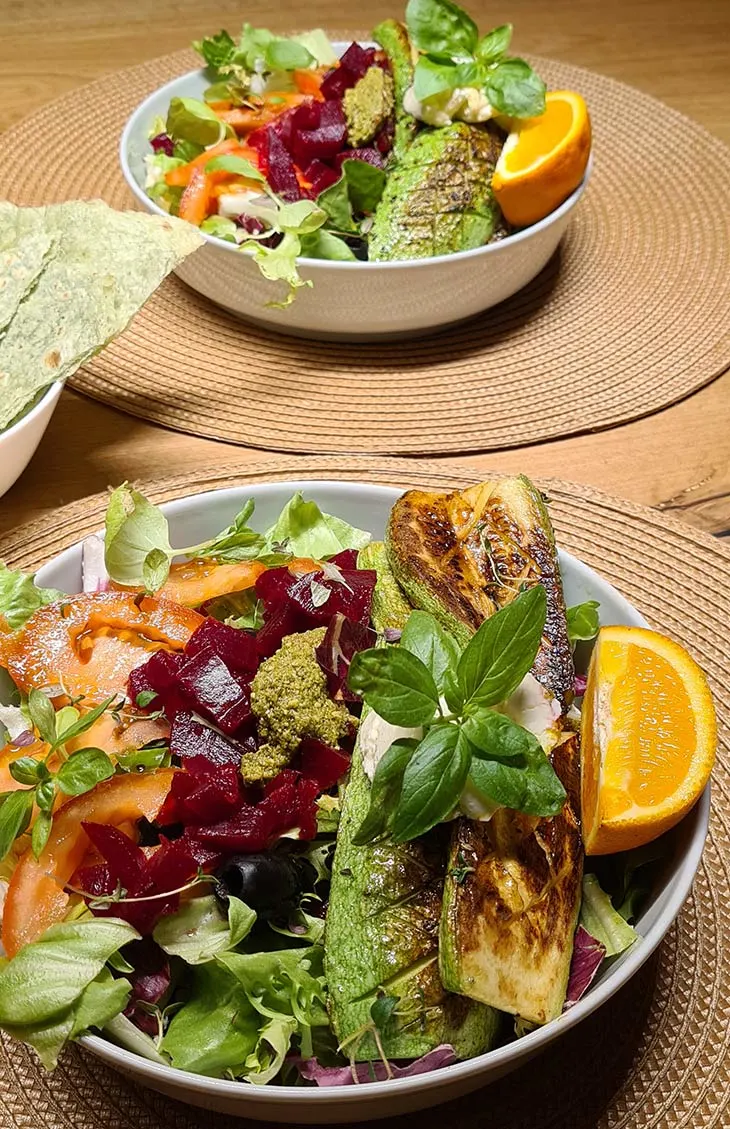 We chose to eat it with wraps. We heated those in the oven and had them on the side and the combo was pretty much perfect. The salad is so flavorful that it doesn't need much!
What I love best about salads is that they're 100% customizable. You can mix and match the ingredients and dressings as you please! In case you don't like pesto, for example, you can leave it aside. If you're a corn fan, add some into your salad! If you dislike plain salad leaves, you can use some arugula instead. The possibilities are literally endless when it comes to a salad. Just remember: don't make it boring!
The combination of grilled zucchini, beetroot, tomatoes, pesto, and ricotta is super nutritious and healthy, so you won't need to feel guilty if you eat a big bowl of this salad!
By the way, if you're on the hunt for the best ricotta cheese, I recommend Galbani. I discovered it when I used to live in Milano and I still think it's the best one on our shelves. By far! 🙂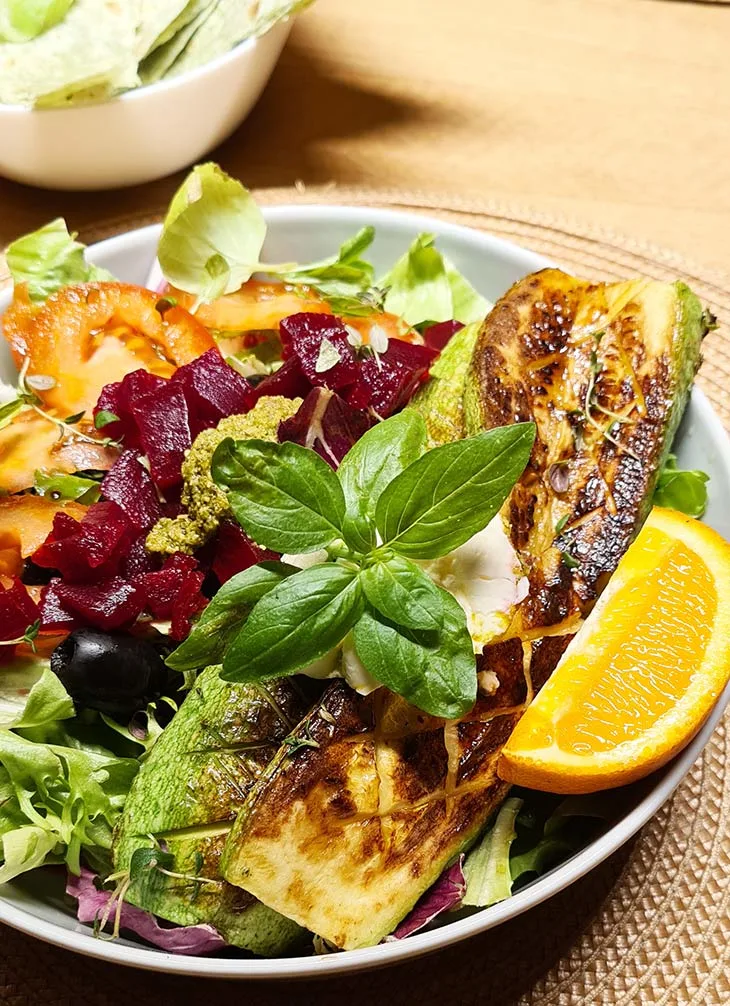 TIPS: I have some nice ideas for this salad as well. We didn't use them, but you can think about it! First, you can use a peeler or spiralizer to make zucchini spaghetti in case you're not a fan of grilled zucchini. You can then add the spirals to your salad as they are and eat them with the rest of the ingredients! And if you want to make a special dressing for this salad, in this article you'll find a big dose of inspiration.
These being said, I hope I convinced you that salads don't have to be boring. At all! Just make this grilled zucchini and beetroot salad for your next dinner and you'll understand what I mean. Happy cooking!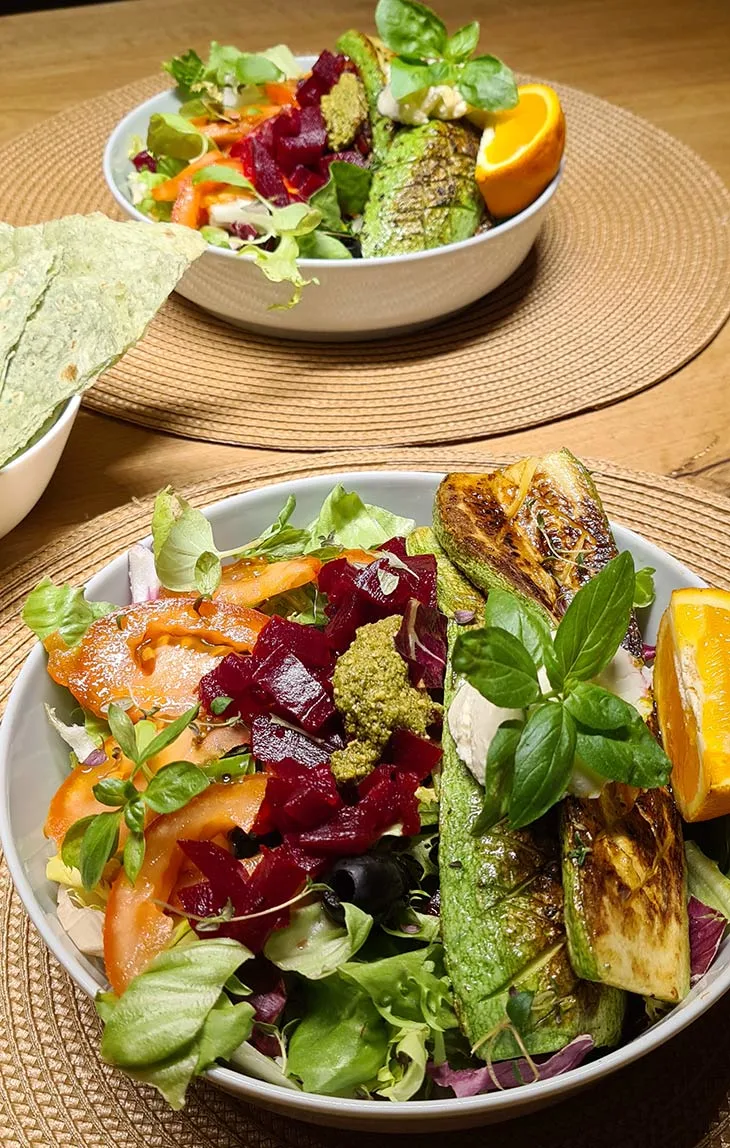 Yield: 2 people
Grilled Zucchini and Beetroot Salad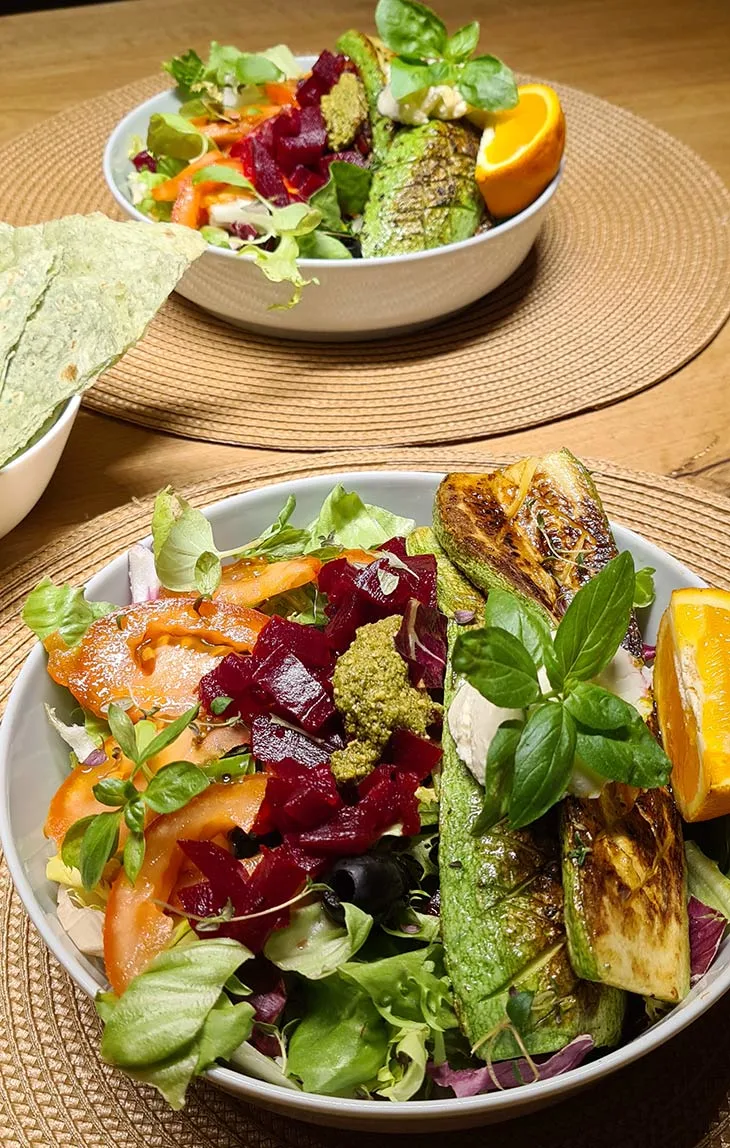 Get ready for the ultimate spring salad – grilled zucchini and beetroot salad! It's yummy, it's super flavorful and it's SO easy to make!
Ingredients
½ zucchini, cut in long strips, approx. 7mm thick
1 tomato, sliced
40g (4 Tbsp) roasted beetroot, from a jar, cut into cubes
2 tsp green pesto
a few fresh oregano and basil leaves
4 olives
3 Tbsp olive oil (2 for the dressing and 1 for grilling the zucchini)
1 Tbsp ricotta, optional (omit it for the vegan/dairy-free version)
½ orange
your favorite pre-washed salad mix, 2 generous handfuls per portion
Instructions
Cut the zucchini into long, 7mm thick strips. You will use 2 strips per portion. Cut the strips in a zig-zag and grease with olive oil. Add salt, pepper, and dry oregano and grill.
Once the zucchini is done, all that's left is to assemble the salad.
Add 2 generous handfuls of salad leaves on each plate. Drizzle the salad with olive oil and freshly squeezed orange juice.
Add the tomato slices, beetroot cubes, pesto, ricotta, olives (divide the quantities between the 2 plates) and add some fresh oregano and basil leaves on top.
We served the salad with wraps, heated in the oven.
Nutrition Information
Yield
2
Amount Per Serving
Calories

285
Total Fat

25g
Saturated Fat

4g
Trans Fat

0g
Unsaturated Fat

20g
Cholesterol

4mg
Sodium

133mg
Carbohydrates

15g
Fiber

4g
Sugar

9g
Protein

4g
I strive to keep the information as accurate as possible but make no warranties regarding its accuracy. I encourage you to make your own calculations using your preferred nutrition calculator.