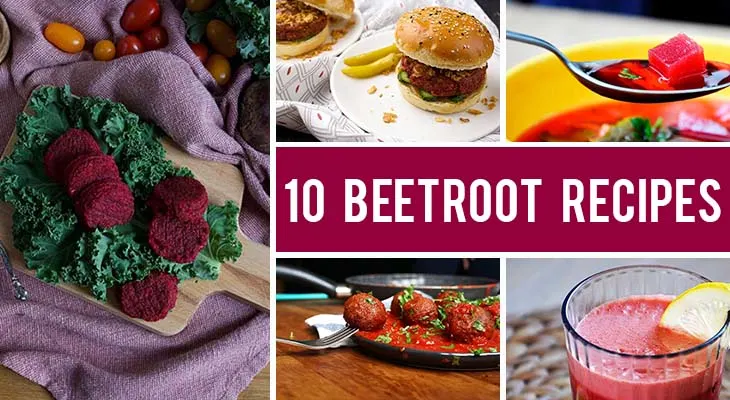 Are you looking for some recipe inspiration? In this list, you will learn how to cook beetroot and you'll also get 10 beetroot recipes that taste amazing. Give them a try!
I recently realized that most people either love or hate beets. And, if I think about it, I strongly believe that most people that dislike beetroot are those that don't know how to cook it properly. Or people that didn't really taste a really good recipe with beets. But if you opened this article, that's about to change! If you're a beetroot lover, you're very much welcome here as well, as I'll show you some (very) different ways of cooking beets that will help you achieve different results.
Beets have a unique flavor. They're sweet and earthy and they're a great addition to several recipes, from veggie patties to hummus or even soups. The most common types of beets found in farmer's markets and supermarkets are red beets and yellow beets. I personally prefer the red ones, but you can experiment with both and see for yourself!
If you want to completely change your mind and start loving beets, you just need a couple of fresh beetroots and some patience to read all my advice below. You'll learn all about how to cook beetroot!
First of all, let's talk about preparing the beetroot first. Wash them, keep the skin on, cut the stems and leaves (don't throw the leaves away – I will explain why below). That's about it. Optional – if your beets are huge, you can cut them in half, but I recommend keeping them hole if you want to boil them or whole-roast them. Now let's find out about the cooking process. Are you ready?
How to cook beetroot
Beetroot can be cooked and consumed in different ways – it all depends on your preferences and the recipe you're planning to make. Here are my favorites below:
First of all, you can boil them. I recommend keeping the peel on when boiling and adding a bit of vinegar in the water if you want to minimize the color leaking. You might already know that red beetroot is FULL of color. It's extremely beautiful, but maybe you don't want the water to become magenta – in this case, vinegar is the answer! 30 minutes should be enough for a medium-size beetroot to boil completely and become tender.
Alternatively, you can roast beetroot. This is one of my favorite methods because it truly enhances the flavors and the resulting texture is simply amazing! There are two different methods here – roasting the whole beetroot or cutting into slices or cubes and roasting it like this. If you want to roast the entire beetroot, make sure you keep the peel on and you drizzle enough olive oil on top of the vegetable. Add some salt and pepper too, then wrap the beetroot in aluminum foil and that should do the trick. Roasting the whole beetroot takes from 40 minutes to an entire hour, depending on the size. Roasting the cut and peeled beetroot is quicker – it only takes around half an hour. Apply the same technique of drizzling olive oil and adding spices.
Then, there's steaming. This is probably the healthiest cooking method for beetroot because it preserves all the nutrients inside. No vitamins leaked! You just need to boil some water in a pot, then place a strainer or a steamer basket on top of it with the beets inside. Make sure the water doesn't reach the beetroot, though! It will take around half an hour for a medium beetroot to become tender while steaming. Also, make sure to leave the peel on – it will go off easily after the beetroot is cooked!
Let me mention pickled beetroot as well. For this method, you need to boil the beetroot as I explain below, wait for it to cool, and take off its skin. Then you can prepare the pickling liquid – a mix of vinegar, sugar, salt, and spices such as mustard and coriander seeds and black peppercorn. Then all you need to do is to fill some jars with the sliced beetroot and the boiled vinegar mixture, sterilize them and you're ready to go! I really love this method – it's good for salads or for eating as it is and it beautifully preserves the beetroots for a long time.
Last but not least, beets can also be consumed fresh. Yep, it's true, although it's not super common. You just need to peel off their skin, then you can finely grate them for salads or side dishes or use a potato peeler to make some colorful beetroot ribbons. These are great in salads as well and in Buddha bowls. Yum!
Oh, and did you know that the green leaves of the beets can be consumed too? I totally encourage it! The leaves are high in lots of vitamins, as well as iron and calcium. So don't even think of throwing them away! They taste similar to kale, meaning they're just a tiny bit bitter and they're very good sauteed with some olive oil, salt, and pepper. A side dish ready in no time!
This being said, I invite you to click on the buttons in order to access these delicious beetroot recipes. You will find here many unique and delicious recipes that I totally recommend you try – from pink beetroot falafel to beet burgers, a delicious salad with grilled zucchini, and roasted beetroot, and more! All these recipes are vegan, healthy, and super easy to make.
Here we go:
How to Cook Beetroot - 10 Beetroot Recipes That Taste Amazing
Are you looking for some recipe inspiration? In this list, you will learn how to cook beetroot and you'll also get 10 beetroot recipes that taste amazing. Give them a try!