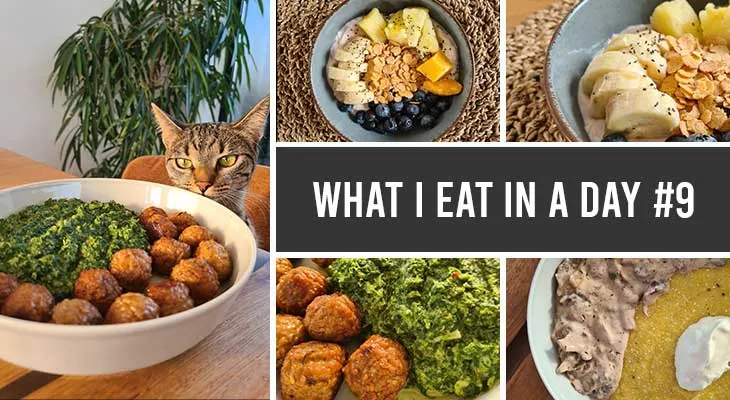 Discover the entire series of posts "What I eat in a day" here .
Breakfast
This morning started slowly, with a classic breakfast combo: yogurt with fruits and a little bit of crunch! I usually prefer savory breakfasts, but today I craved something sweet and comforting.
So I put together something simple and delicious: a bowl of Greek yogurt with fresh fruit and some crunchy soy flakes. It was exactly what I needed! Putting this breakfast together is easy-peasy, but here's the detailed ingredients and step-by-step recipe below in case you want to prepare it the exact way that I did:
5-6 Tbsp Greek yogurt, mixed with 1 Tbsp red peach jam that I made last summer
1 Tbsp chia seeds
a few pieces of pineapple and mango – I usually buy the frozen bags from Carrefour (their own brand) as I find them to be the most economical and they also taste super good
1/2 banana
o handful of fresh blueberries
2 Tbsp crunchy soy flakes
I added the Greek yogurt with jam as the base in my bowl, then I topped it with everything else. I then sprinkled the chia seeds on top of my fruit and crunchy flakes and that was it!
Simple, nourishing, and super delicious!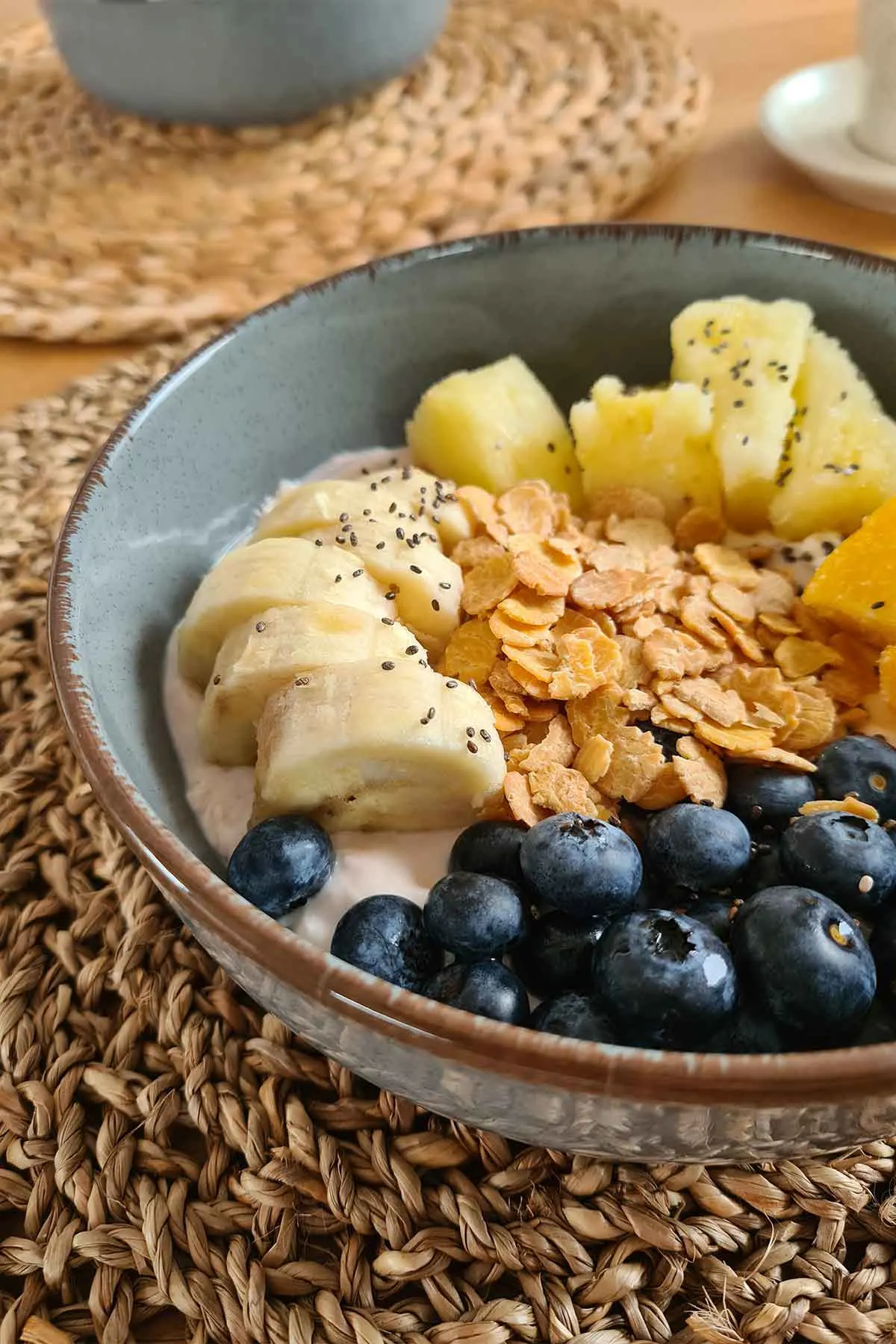 I chose to eat crunchy soy flakes today as my crunchy addition to this rather creamy breakfast. Some other good alternatives are muesli, crunchy oatmeal, or corn flakes, but I went with the crunchy soy because of its nutritional values. They're super rich in protein, which is always welcomed, especially if you're a fitness lover or if you have lots of chores to do in the garden – like me!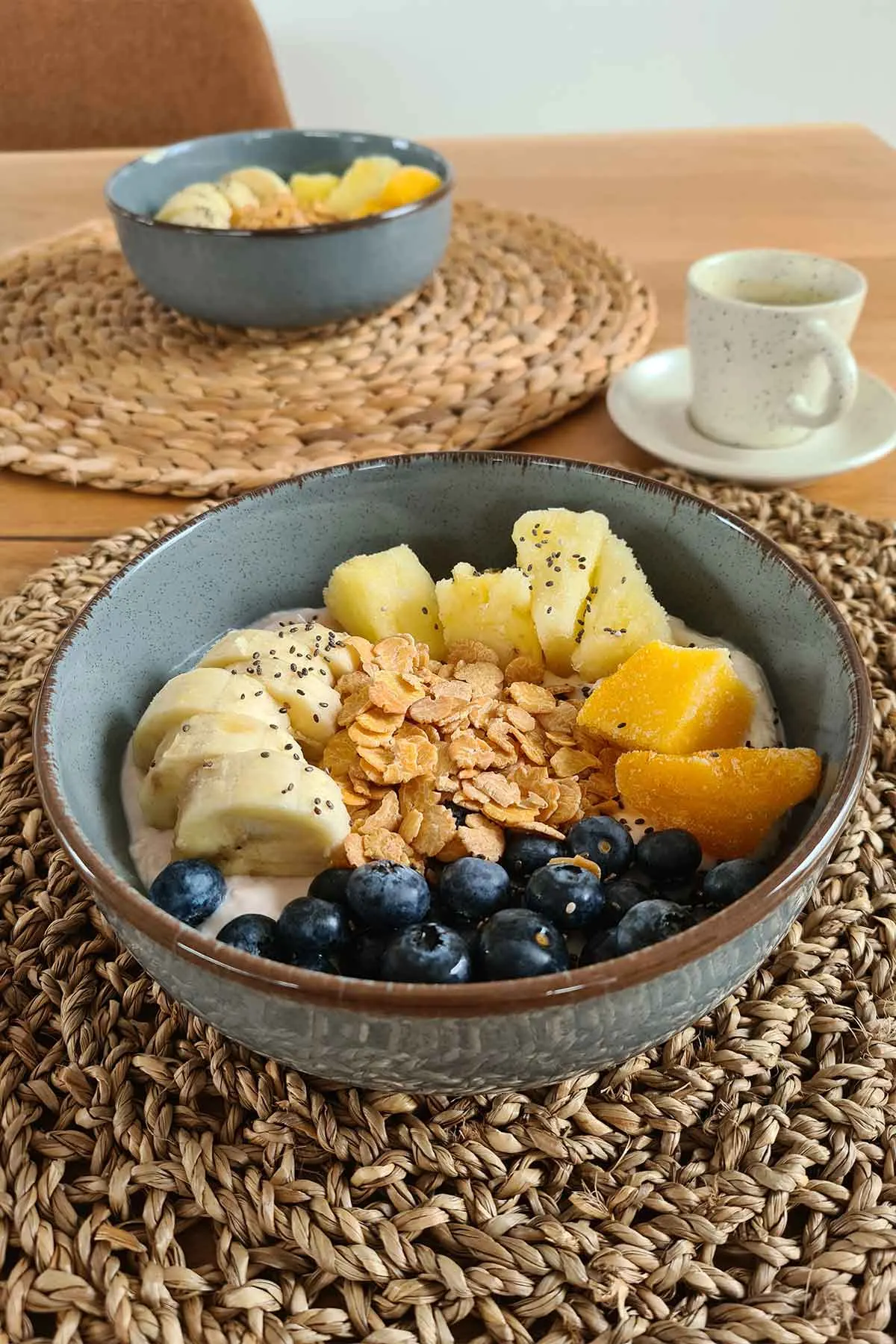 And if you love a yummy sweet breakfast bowl as much as I do, here are some alternative recipes to try from my blog: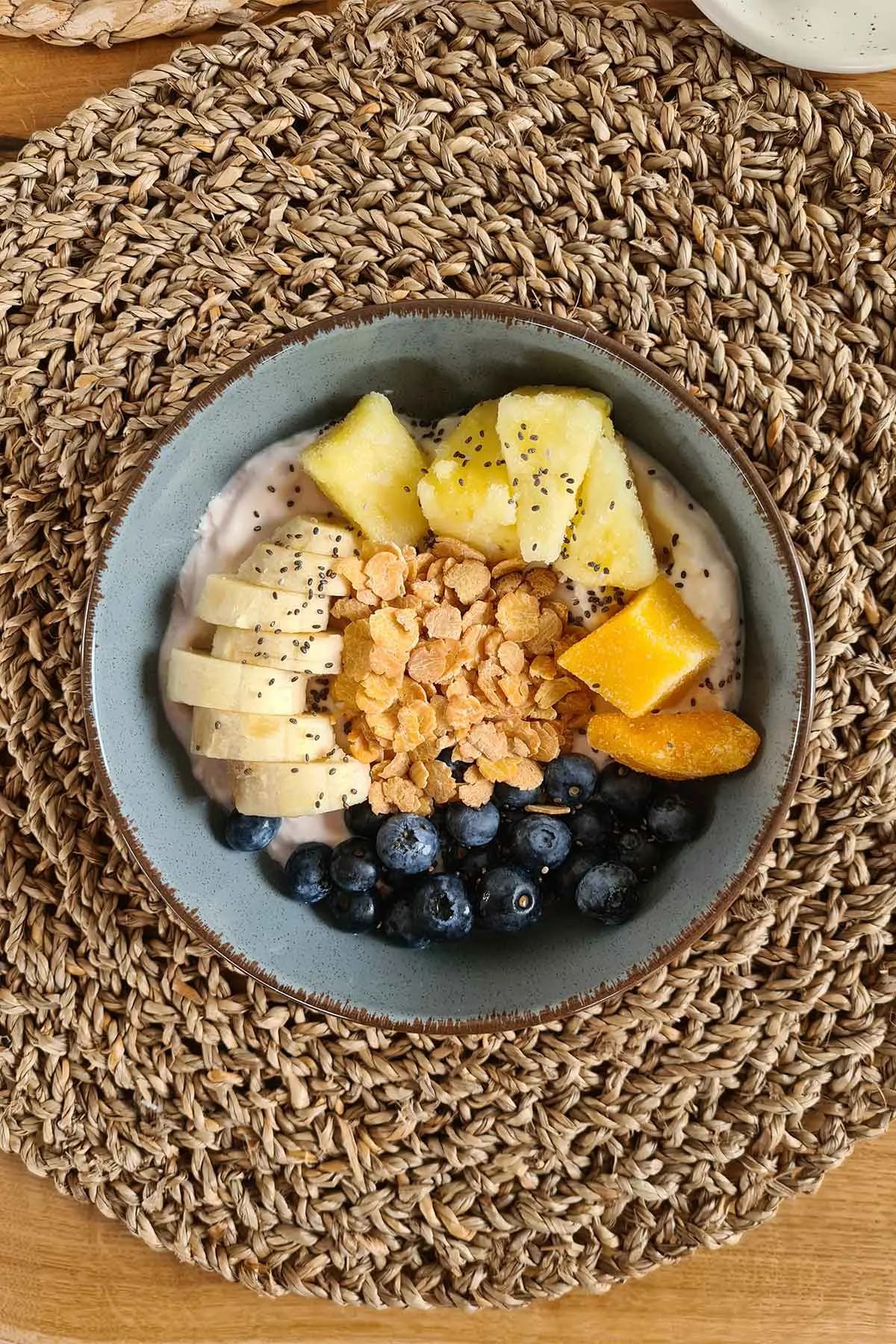 Lunch
You may already know how much I LOVE veggie balls and you've seen the ones from Naturli in several of my other lunch and/or dinner recipes from this series. Well, news flash: they're making a new appearance for today's lunch as well!
For today's lunch, I made a protein-rich combo again: creamy spinach with yummy veggie balls. Here's the recipe for 2 portions:
Ingredients:
500g (17.6 oz) frozen spinach, chopped
6 garlic cloves, crushed
1 onion, diced
1 Tbsp butter (you can also use olive oil for the vegan version)
100ml (3.3 oz) Alpro Soya cooking cream
salt and pepper
a bag of Naturli veggie balls (300g / 10.5 oz)
The cooking process is super simple: I sauteed all the ingredients in a pan for 30 minutes. That's everything you need to do for the creamy spinach! Meanwhile, for the veggies, I roasted them in the oven at 200C until they browned.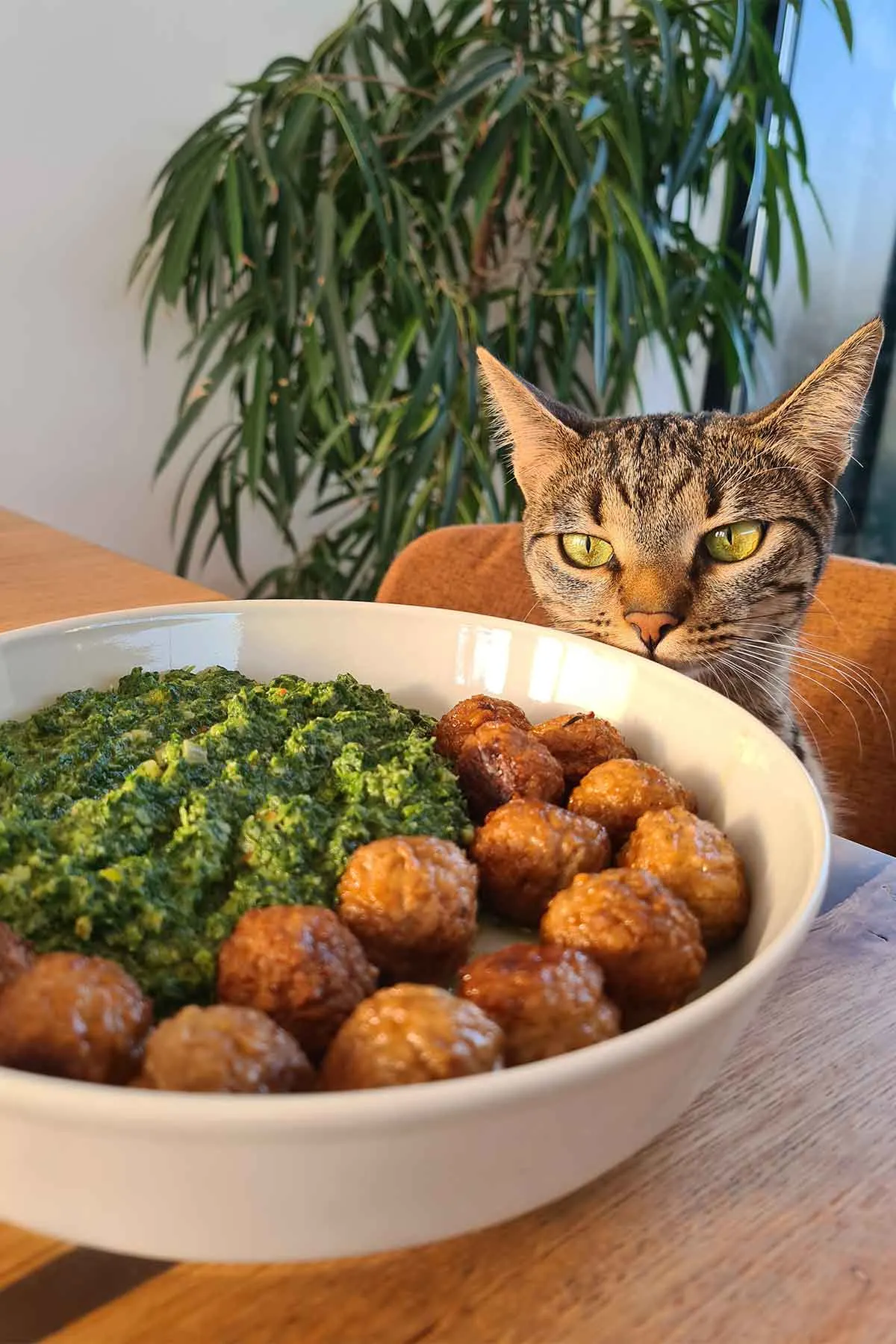 In case you're a fan of spinach (and you should be, it's so delicious and full of protein!), here are some other spinach recipes you can try: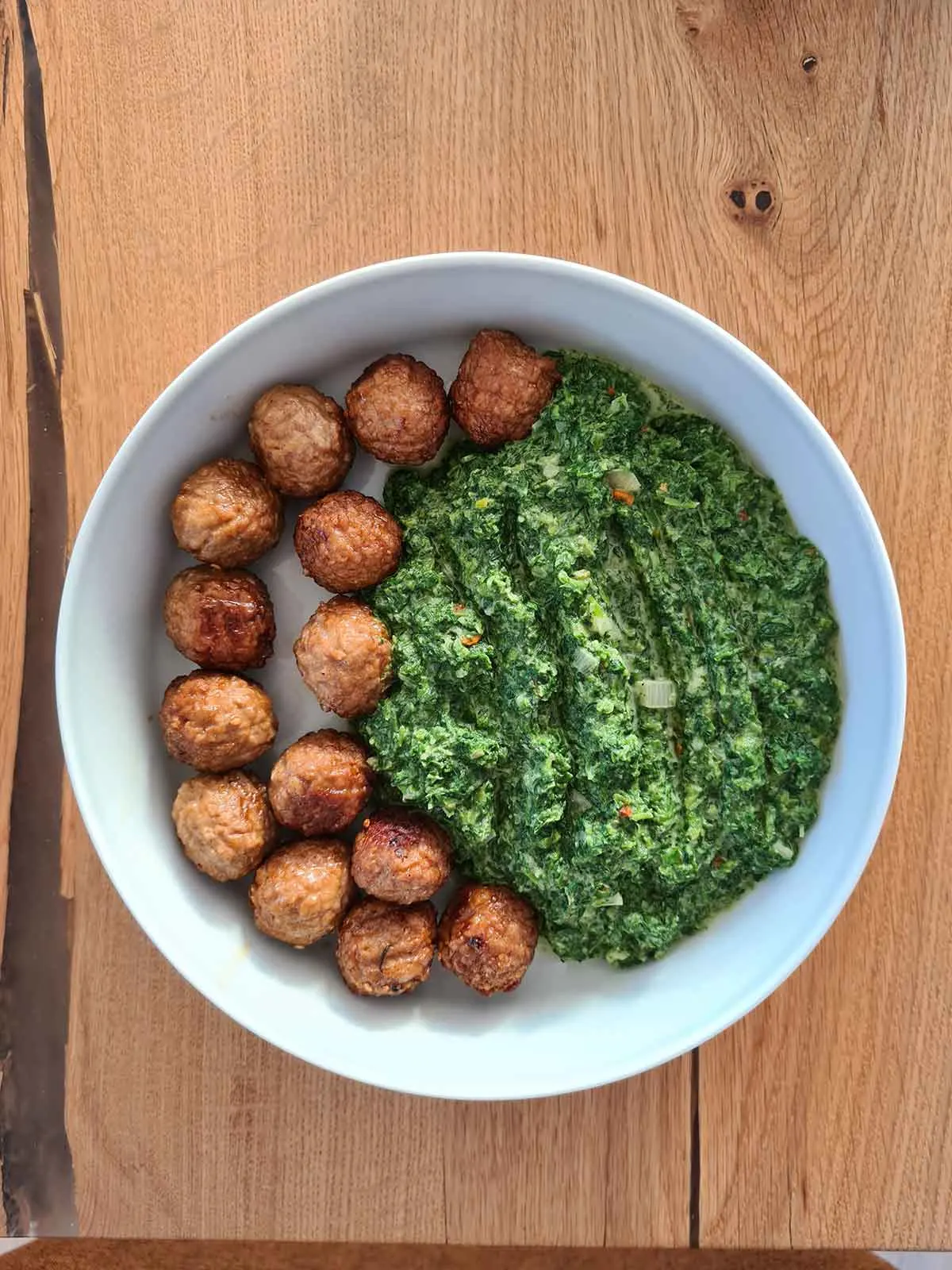 And if you'd prefer making your own veggie balls at home, I'll leave some awesome recipes below. By the way, I totally recommend making your own balls or patties at home if you have the time, I was in a rush today so I chose to skip it, especially now that I have this amazing Naturli alternative. Anyways, here you go: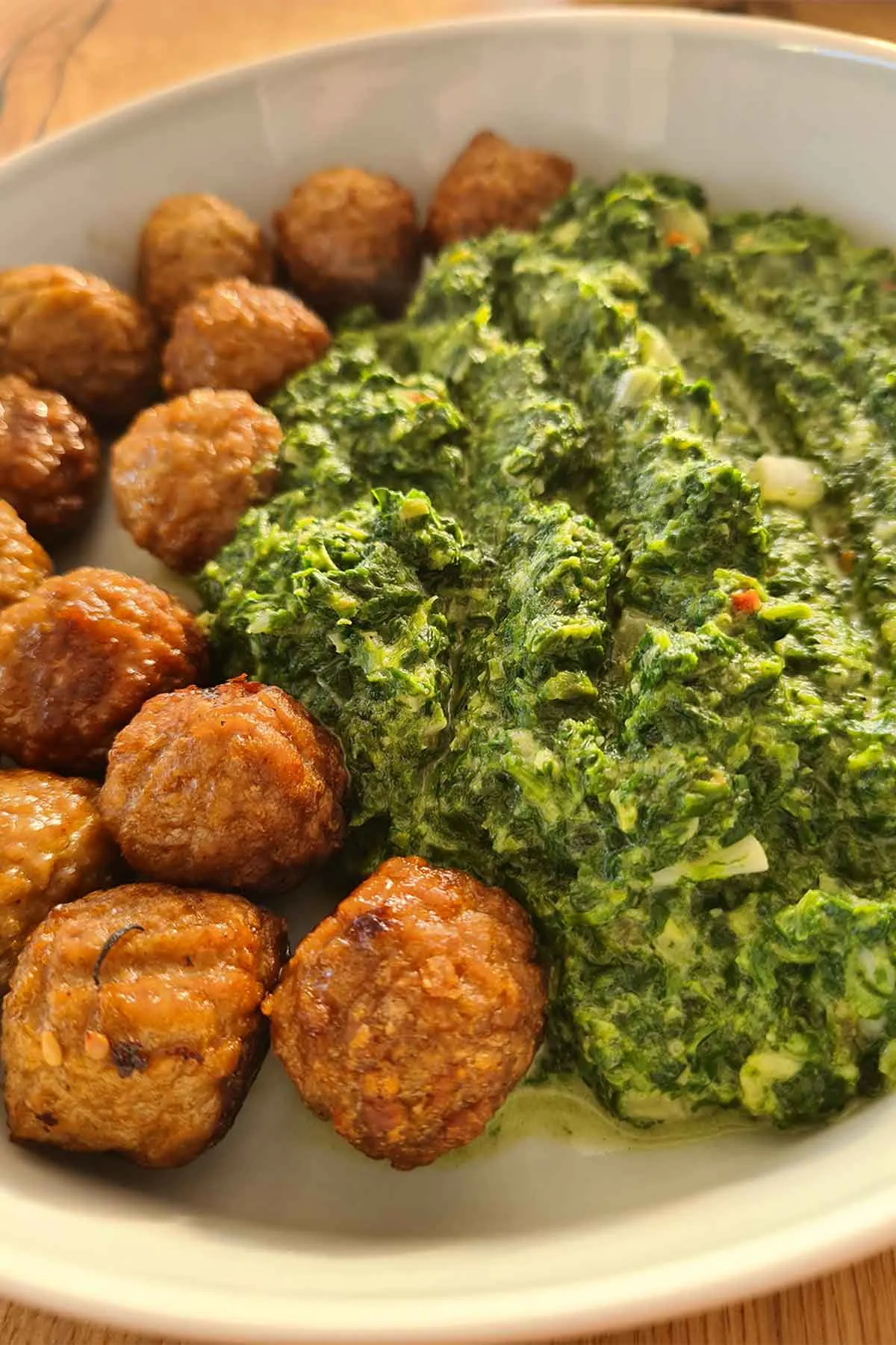 Dinner
Dinner time asked for something hot, comforting, and super creamy. So I decided to make some creamy polenta with mushrooms in white sauce.
Polenta is a very famous food here in my country and I can understand why: it's easy to make, it's super comforting and it also has an amazing taste. You can even upgrade it with different ingredients to make it even more interesting and richer.
But most of the time I prefer a simple creamy polenta which I always make using this recipe here: Creamy Polenta | The Best Creamy Polenta Recipe Ever!. And because I like my polenta super creamy, I usually add a bit of coconut cream as well. This adds a super interesting flavor and the fat from the cream makes the texture 10 times better. Try it and let me know if you agree!
As for the mushrooms in white sauce, here's how to make it:
Ingredients:
500g (17.5 oz) white button mushrooms, sliced
1 onion, diced
6 garlic cloves, crushed
1 Tbsp butter or olive oil
250ml (8.5 oz) Alpro Soya cooking cream – you can, of course, use 'classic' (dairy-based) cooking cream, but I rarely do
250ml (8.5 oz) water or milk – if you're using vegan milk, make sure it's unsweetened
1/2 Tbsp corn starch
a few pinches of ground nutmeg
thyme
optional: a few Tbsp white wine – I usually only add it when I have an already opened bottle of wine in my fridge. This doesn't happen very often, as I don't drink wine, but the white wine + mushroom combo = amazing flavor
salt and pepper, to taste
Instructions:
Sautee the onion, garlic, and mushrooms in melted butter. Add salt and pepper and put the lid on the pan, so that everything cooks while steaming. If needed, add a little bit of water or wine. I saute the mushrooms until they become a bit crispy.
Then add the cooking cream and the rest of the spices.
In a glass, mix the corn starch with water. Add the mixture into the pan with the mushrooms.
Cook a bit more until everything thickens.
Aaand that's it! This is how to make the most delicious creamy polenta with creamy mushrooms in white sauce. This is a super comforting dish that reminds me of my childhood and I find it to be absolutely perfect at the end of a cold day.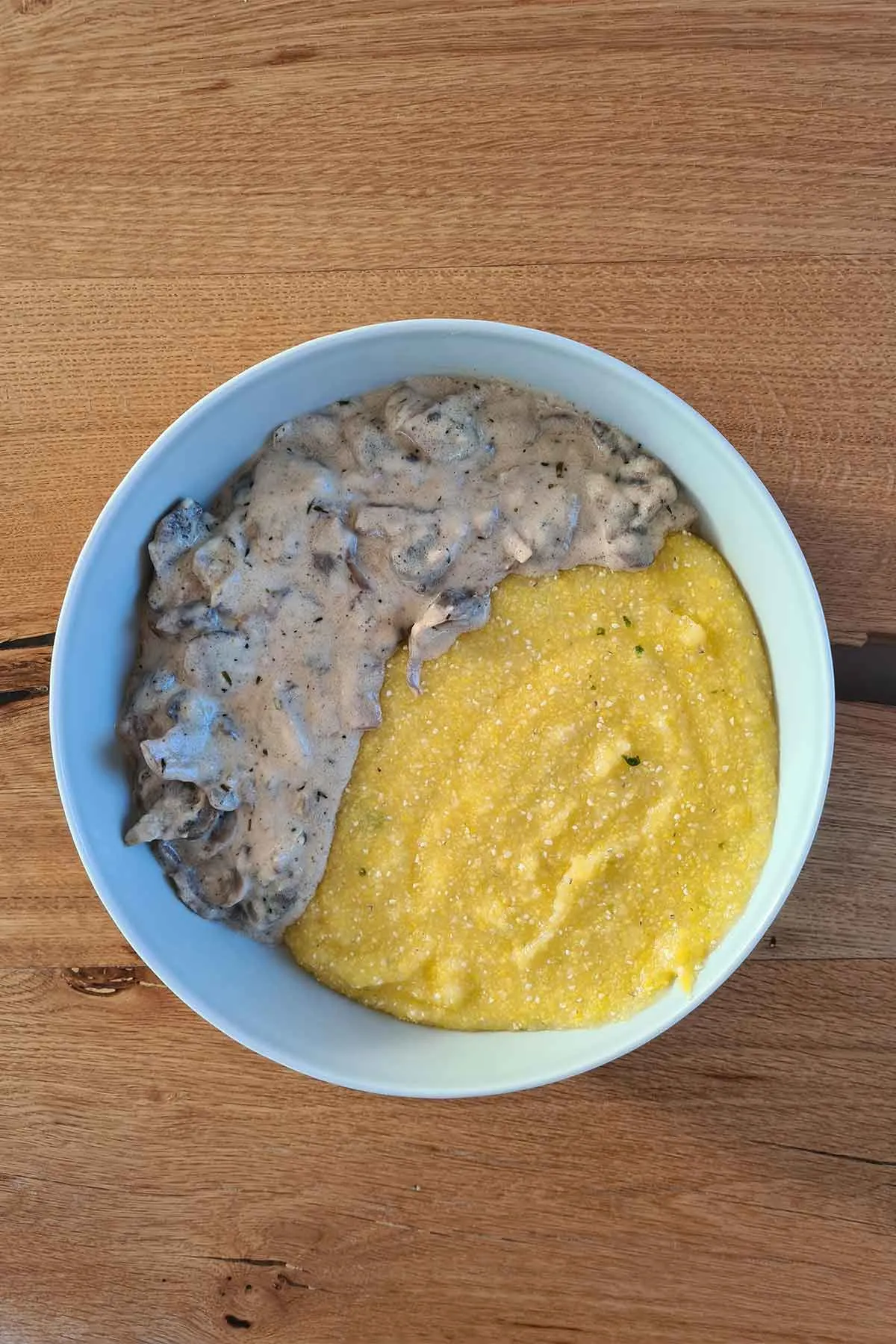 In case you need some more inspiration for recipes that are made with cornmeal (the base ingredient for polenta), here's what I recommend:
And here are my favorite recipes with mushrooms that I made over the years and that I keep coming back to: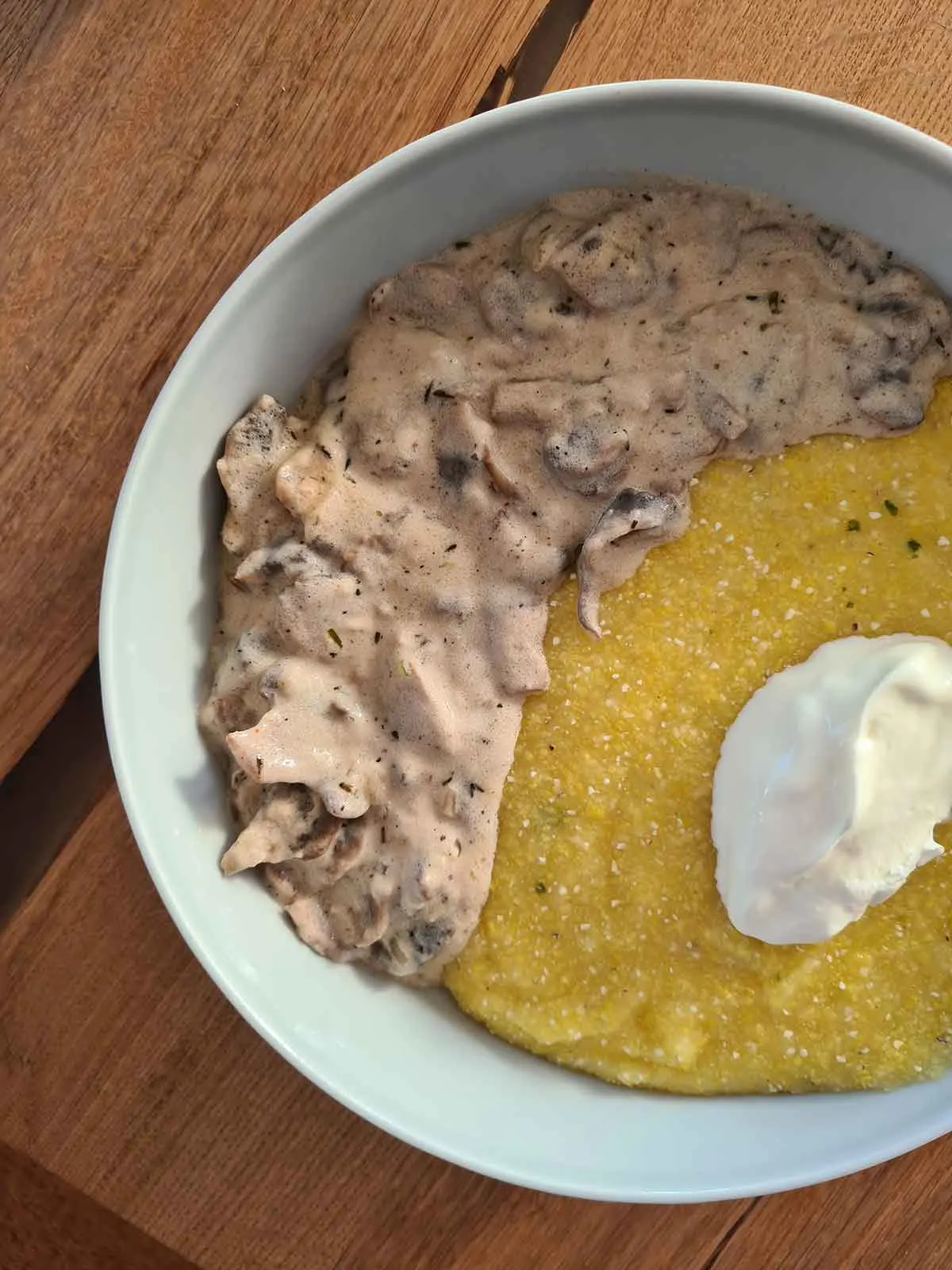 I hope you got some inspiration from today's menu! 🙂