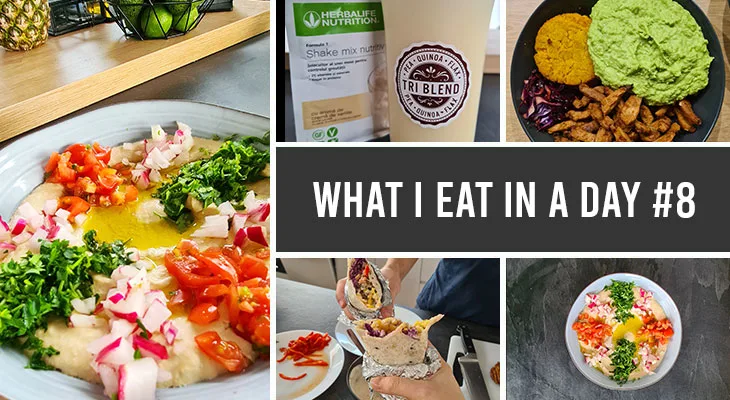 Discover the entire series of posts "What I eat in a day" here .
Breakfast
Today was all about sport and lots of work so, unfortunately, we didn't get to enjoy a generous breakfast like we usually do. You probably know by now that I'm a big fan of breakfast, but some days come with different priorities. So we woke up, did 20 minutes of cardio, then we started working right away.
And because I needed something to take my morning energy from, I replaced my breakfast with a proteic vanilla shake, which was really delicious! I received a really nice package from Herbalife for the holidays but, unfortunately, I didn't have time to test the products until now. I'm really pleased with the Formula 1 nutritious shake mix with vanilla flavor. It's rich in vitamins and proteins and the taste is surprisingly good for a protein shake. It feels like drinking a milkshake, very similar to a dessert!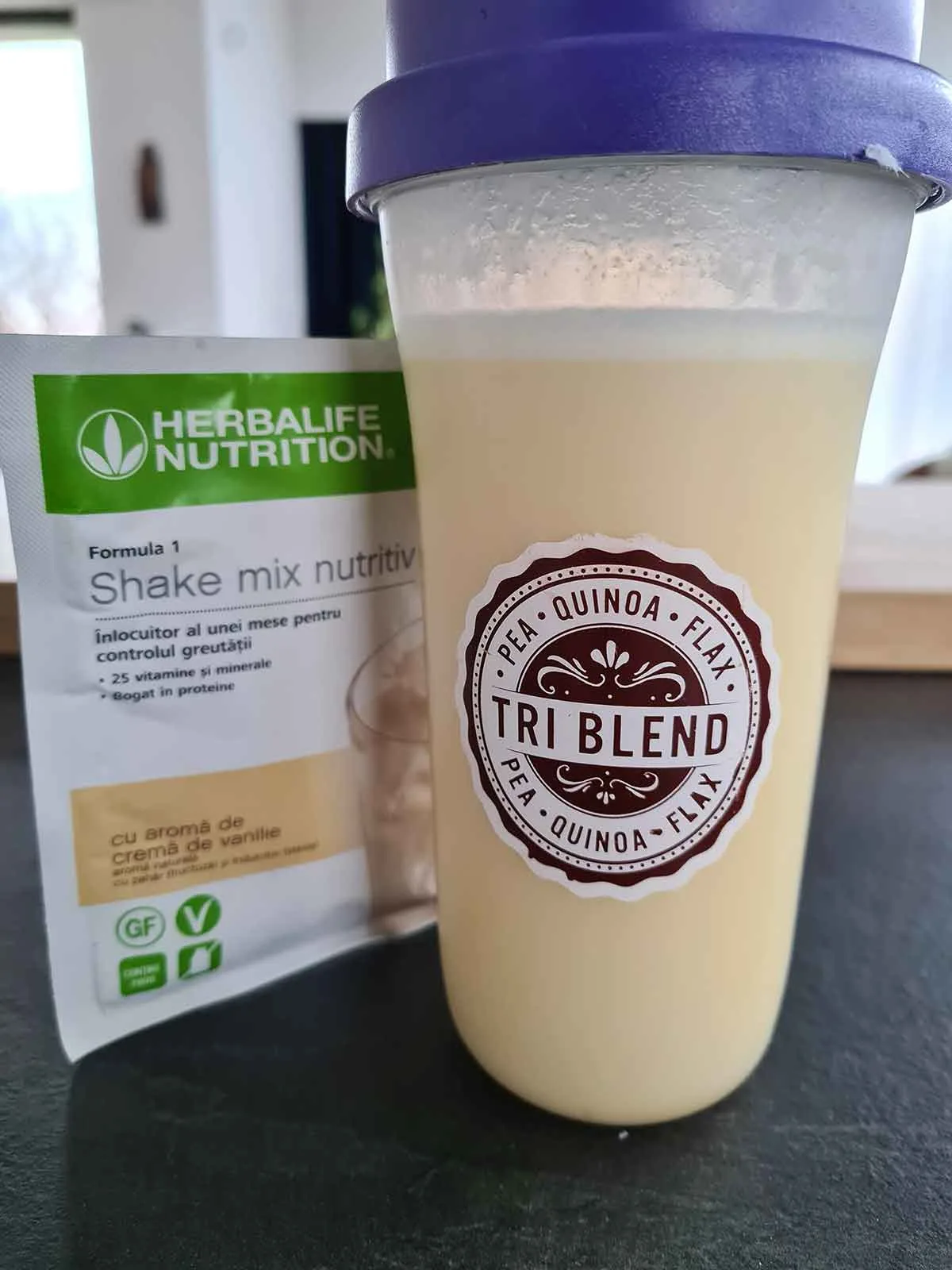 Also, it's super quick and easy to prepare. I simply poured the shake bag into the shaker, added 250ml of vegan milk, and mixed well. The best part is that it's also nourishing, even though you wouldn't think it will cure your hunger at first, as it's a liquid meal, after all. But it kept me full until lunchtime!
I can't wait to test the other products as well. The crunchy soy came right on time – it's the ideal protein snack for people who do sports or people who are on a diet, so it's very good for me during this period of my life.
Lunch
Today's lunch was real teamwork. 🙂 I was craving some shawarma and this is exactly what we prepared – but a healthy, diet-friendly version! Of course, I hope you didn't expect anything less from me. Instead of the meat, we used 2 burger patties from Naturli, which we roasted and then cut into thin strips.
We also added pickles, chopped red cabbage, corn, and bell pepper into our shawarma and, instead of sauce, I made a mix of Greek yogurt with a little bit of garlic and ketchup. We added everything into a big multigrain tortilla.
Costin ate 2 wraps (which can only mean they were absolutely delicious, right?) but for me, one was enough, as I found it to be super filling.
Wrap lunches like shawarma are an excellent idea when you need a quick fix for lunch, but you have no clear idea in mind. This way, you can fill a tortilla with everything you're craving or the ingredients you have on hand, in your fridge or pantry. Here are some of my delicious wrap recipes for a little bit of inspiration: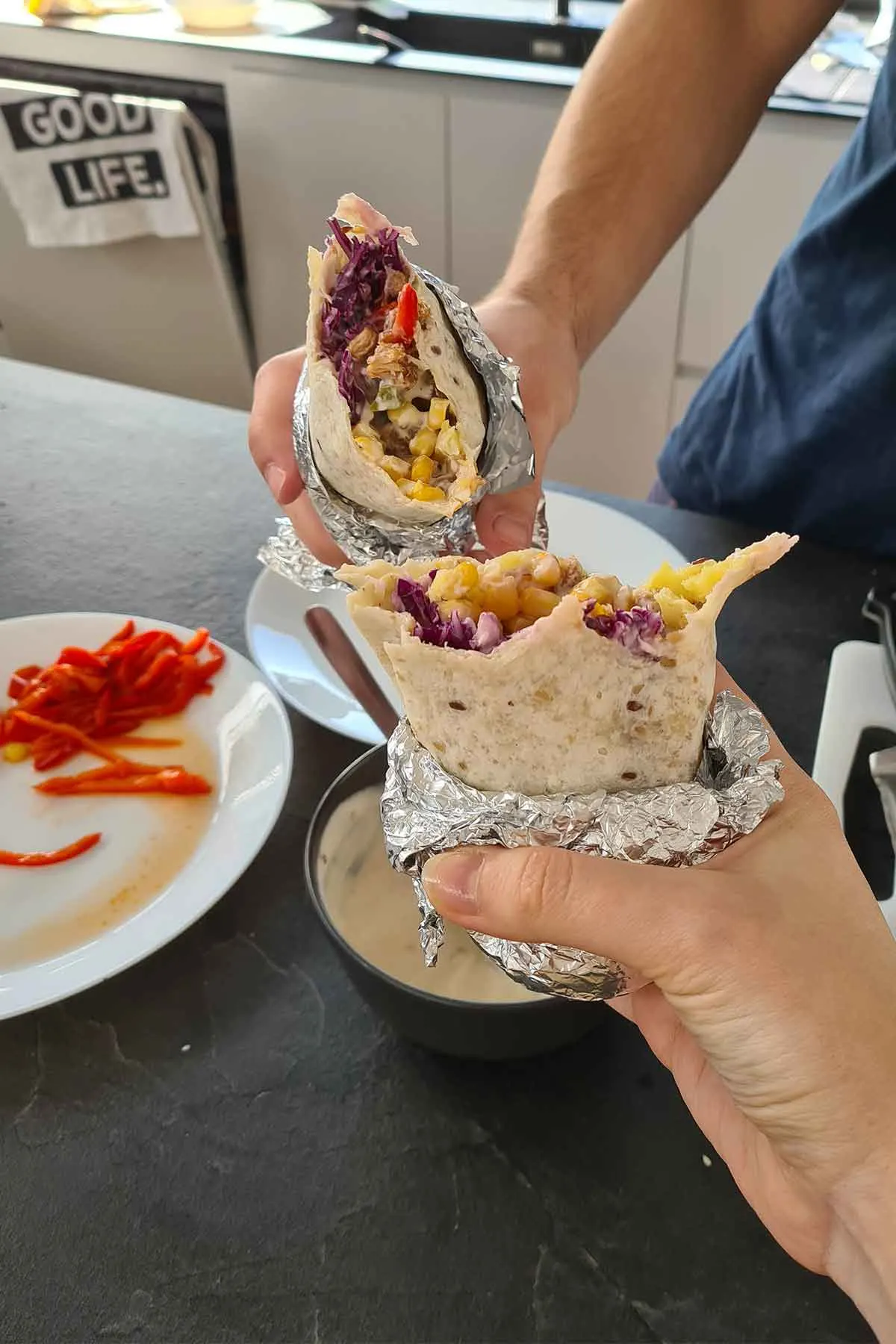 And because our lunch was Middle-Eastern-themed, we completed everything with a quick hummus, which works great in this combo. I made it with canned chickpeas, following my classic recipe: Best Hummus Recipe.
Today I decided to add some yummy toppings on top (which you can see pictured below) to make it even more appetizing: tomatoes, pink radish, and parsley. We couldn't finish all the hummus in one sitting, so we'll probably have enough for tomorrow as well.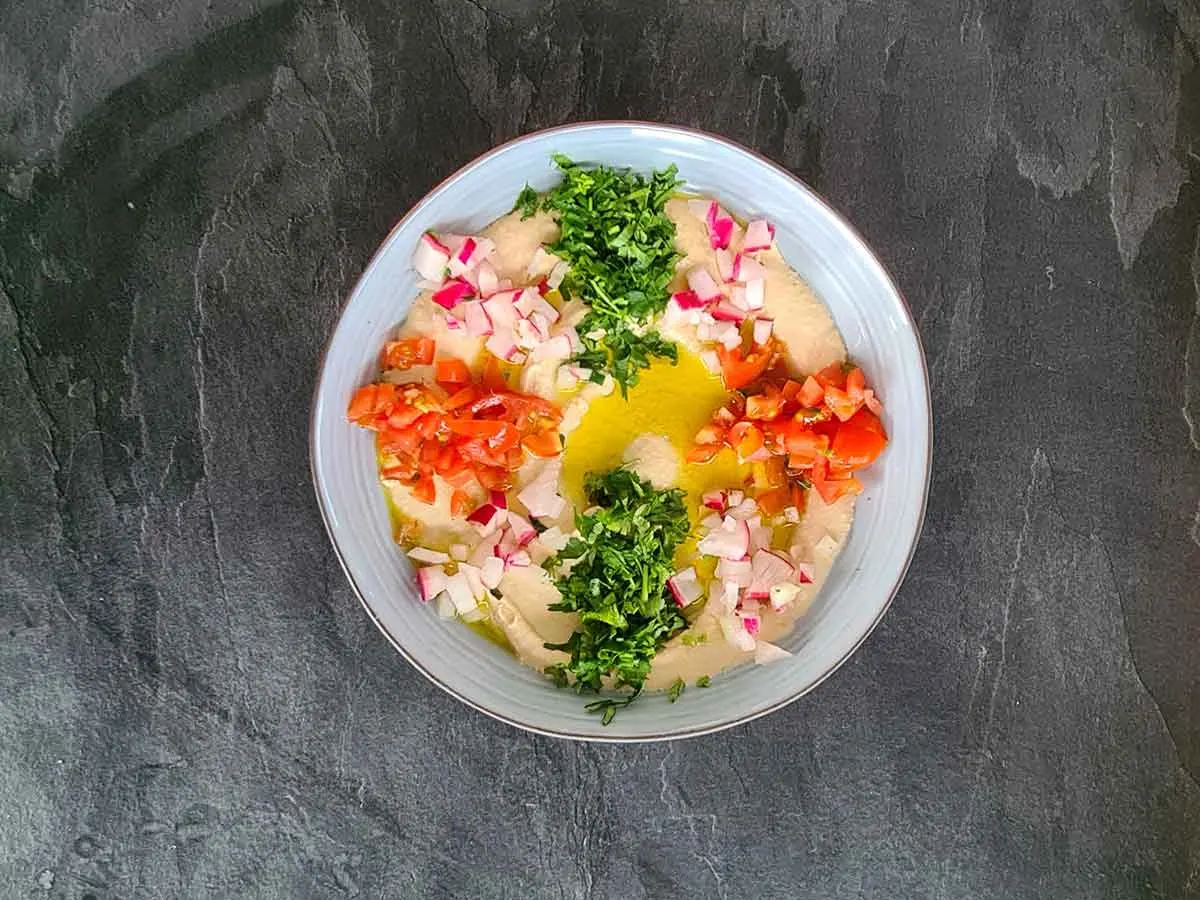 In case you're bored with the classic version and you're looking for some interesting hummus recipes instead, here are some of my favorites, for inspiration:
Do I still need to add that I'm a big hummus fan? Just look at all the recipes I made over time and you'll understand! 🙂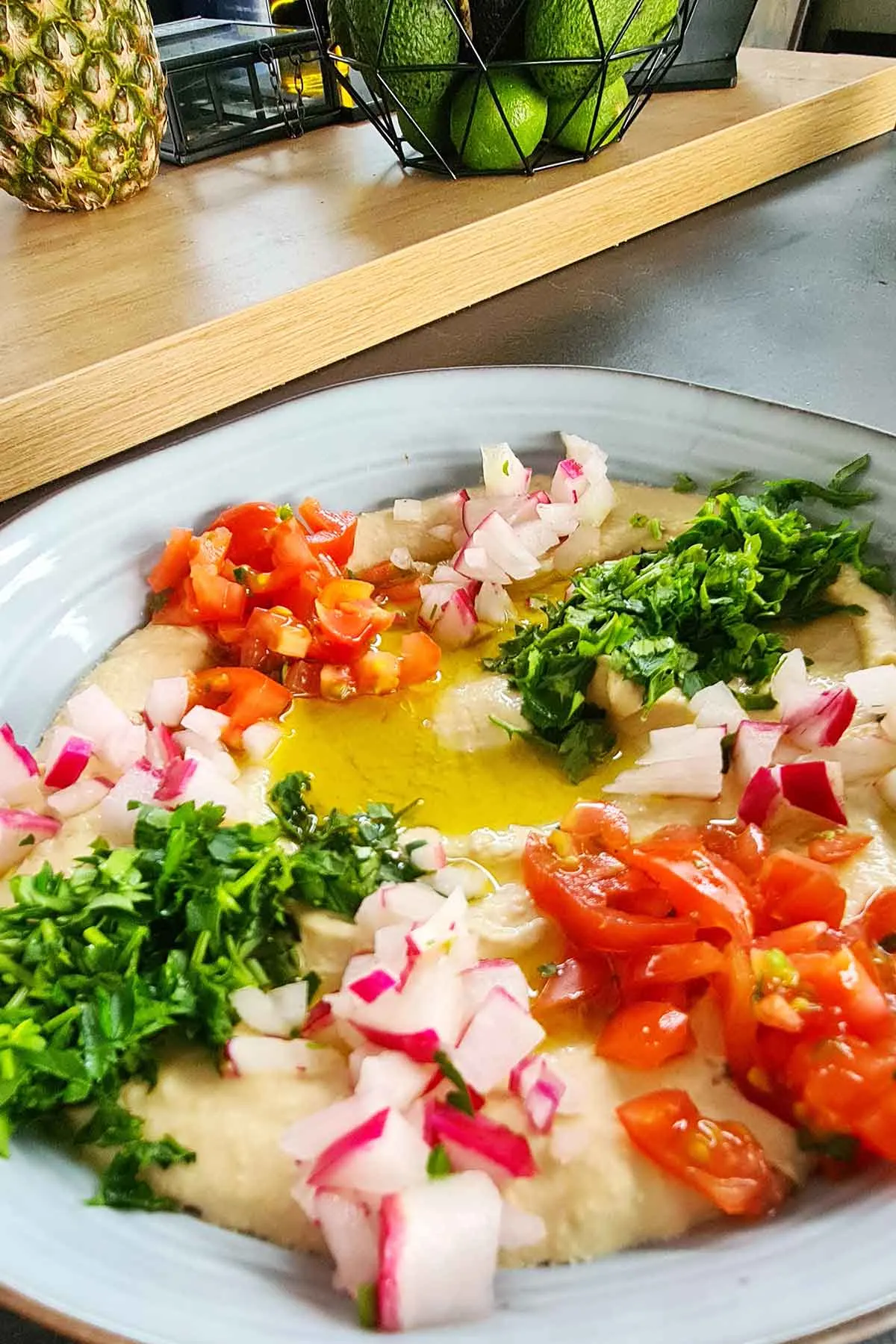 Dinner
For dinner, we were in the mood for something hot and comforting, so I prepared a green pea puree with some baked soy and sweet potato patties.
I have a really simple recipe for the green peas puree. I used frozen, extra-fine green peas. I boil them in water with a little bit of salt until tender. Then I add it into a blender with 1 garlic clove per 500g peas, around 20g goat butter, and a few tablespoons of buffalo ayran. Then I mix everything for 3-4 minutes. This way, mashed green peas puree will end up super creamy and flavorful every time!
To make the baked soy, I used textured soy protein, which I boiled in water for 20 minutes with a spice mix; then I drained it well and added it to the oven with some smoked paprika on top. It's delicious this way! I bake it for around 15 minutes then, in the end, I bake it for 5 more minutes with the top grill turned on. This way, the TSP is super yummy and with a nice texture; it can be served as it is (like I did today) or you can add it in wraps or sandwiches.
And if you're looking for some yummy patty recipes, I recommend trying my favorites below: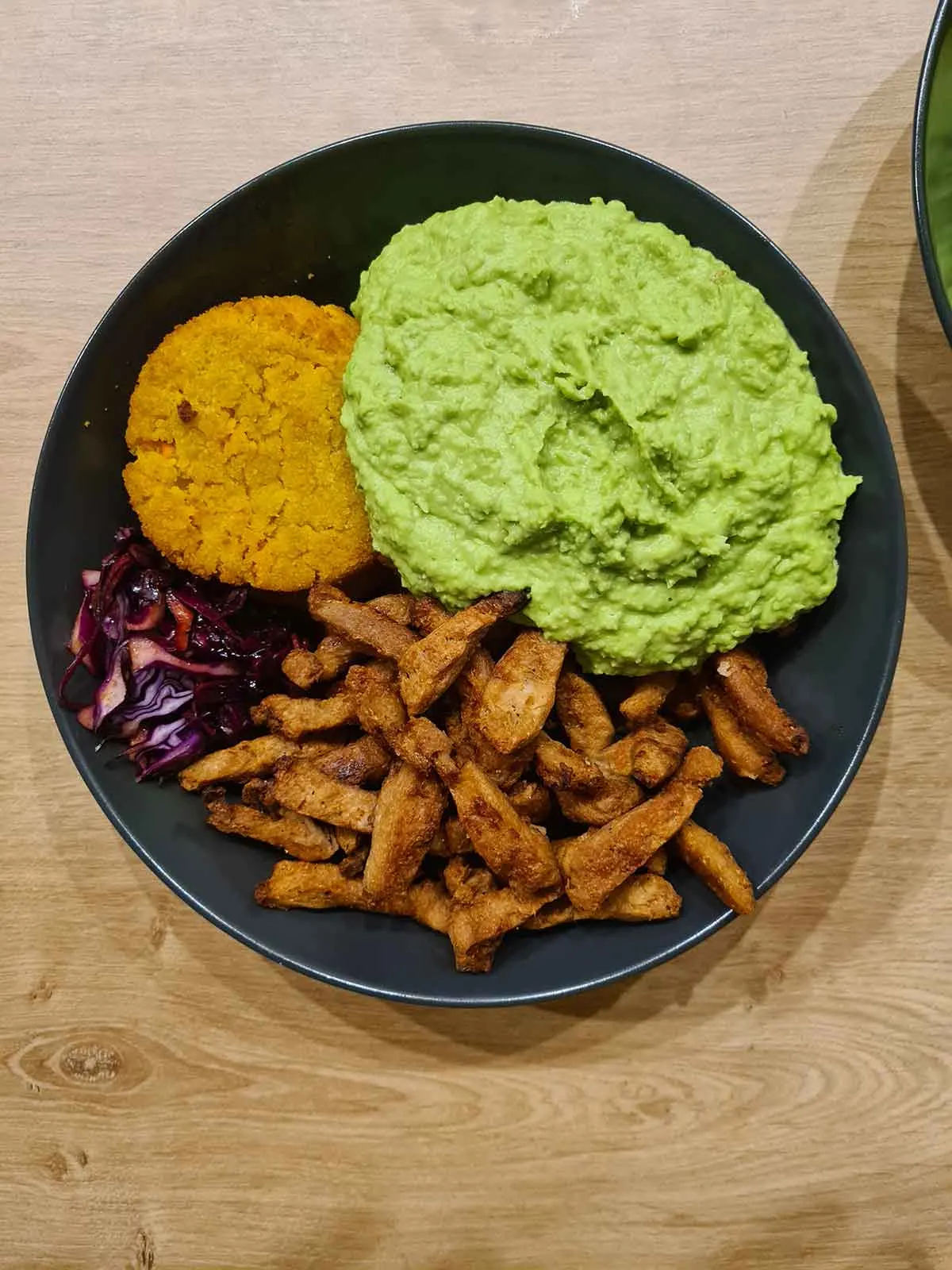 I hope you got some inspiration from today's menu! 🙂