Make these easy eggplant patties with olives and herbs and enjoy a delicious, comfort recipe that's also secretly healthy and high in proteins! 
A few weeks ago, I saw a great eggplant patties recipe on a vegetarian TV cooking show. I love eggplants (especially the Eggplant Caviar and Eggplant Spread) so I decided to give it a try. Of course, I forgot to write down the recipe, so I made my own version. The original recipe had eggplants as the main ingredient. In this case, I added lentils too, plus other extra ingredients, like olives and herbs.
They turned out great! I love how the eggplants changed the texture and taste of these patties. My parents said these are the best veggie patties I made! I wouldn't say they are the best, but they definitely have a special place on my favorite veggie patties recipes list.
In another train of thoughts, I'm planning on developing a new project on Gourmandelle. I want to create cooking videos for my best recipes. I am so excited about this!! I will have to learn a lot about video making with DSLRs, I will also have to invest in some props like microphones, lighting gear etc. and oh… I'll have to learn  Adobe After Effects, Premiere, and some other video editing software. Yep! So much work to do, but it's wonderful when you do it all will passion!
---
It's time to stop worrying about what you're going to eat! I created the meal planner app to help you! Get your personalized meal plan with delicious, healthy, and budget-friendly recipes! GET YOUR MEAL PLAN!
---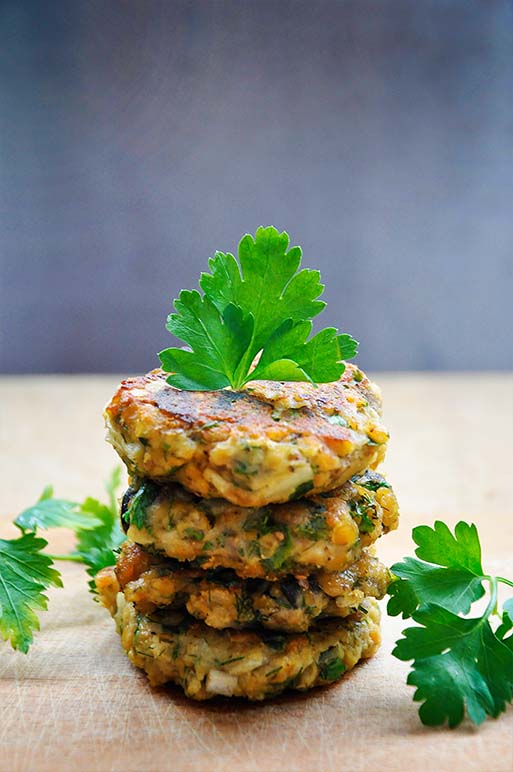 Eggplant Patties with Olives and Herbs
Make these easy eggplant patties with olives and herbs and enjoy a delicious, comfort recipe that's also secretly healthy and high in proteins!
Serves:
20 eggplant patties
Ingredients
1 cup red lentils
1 medium eggplant
1 bunch parsley, chopped
1 medium onion, diced
2 Tbsps psyllium husks (or one large egg)
4 Tbsps nutritional yeast
4 Tbsps sliced black olives
3 garlic cloves, mashed
breadcrumbs – about ⅓ cup, more or less
sea salt and ground pepper, to taste
oil, for frying
Instructions
Add lentils in a pot and cover them with water. From the moment they start boiling, let them boil for about 15 minutes and then remove from heat.
Strain the lentils very well and put them in a large bowl.
Cut the eggplant in half and scoop out the pulp. Chop it and put it in the bowl.
Add the rest of the ingredients, except oil.
Using a fork, or your hands, start mixing the composition. It has to be sticky and easy to shape. If it's not it means that you didn't strain the lentils very good and the composition is too wet. No problem, just add more breadcrumbs until it has a dough-like consistency.
Cook the patties – bake or light fry.
Light fry: Spray a non-stick pan with some oil. Put each patty on the frying pan and let it fry about 2 minutes on each side.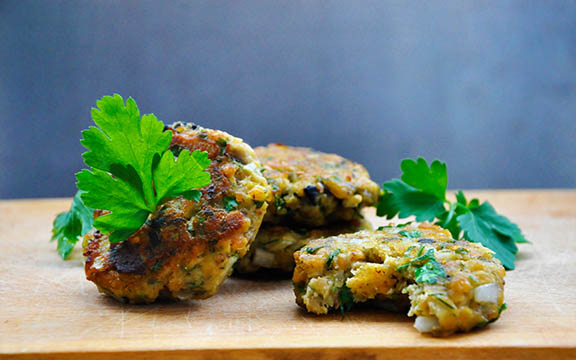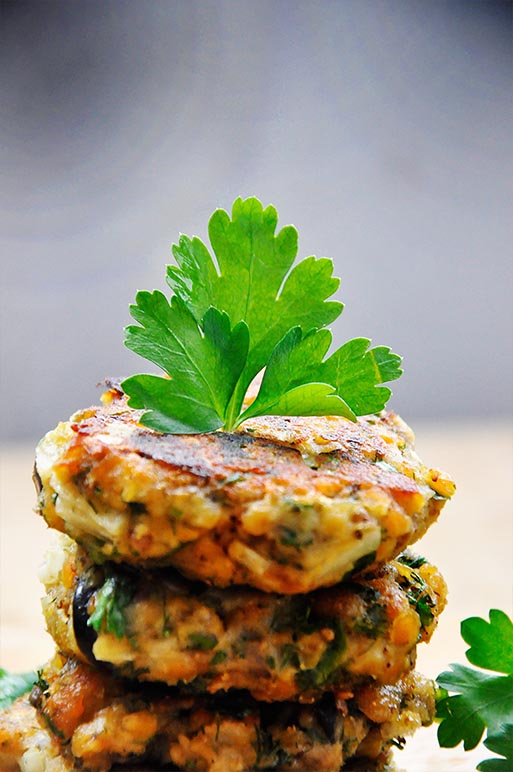 Lentils fan? Check out these delicious red lentil recipes: Lentils, Veggies and Mushroom Bake, Red Lentil Creamy Pâté, Red Lentil Veggie Burger Patties with Greens and Creamy Red Lentil Soup .