Seriously now… who doesn't LOVE brownies?! If you're a brownie fan just like me, then you'll definitely adore this recipe for vegan Nutella brownies – 100% healthy and homemade!
Do you remember my vegan healthy Nutella recipe from a few weeks ago? It was amazing, right? Now, let's see – did you loved it so much that you literally ate it on everything? And now you're just kind of wondering what other options are there so you can enjoy this amazing hazelnut cream?
Luckily for you, your search is over! Because today we are going to make healthy Nutella brownies! 🙂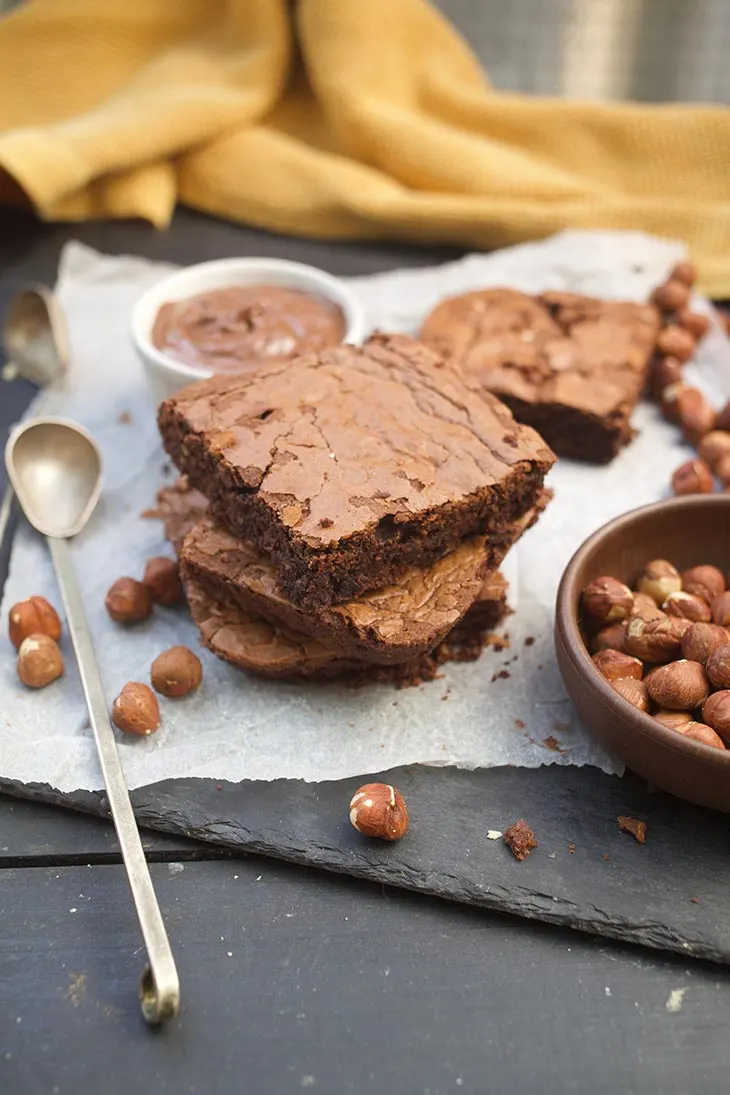 I think we all know how annoying having a sweet tooth can be! You are constantly craving some sweet goodies, while you also know that most of the store-bought sweets are really unhealthy.
So you stay away from them, maybe sometimes failing to resist the temptation and, oh, the guilt… Well, what if I told you that you can enjoy the most amazingly delicious Nutella brownies… completely guilt-free?
Get ready, the recipe I am going to share with you contains only super healthy, high-quality ingredients. It will satisfy your desire for a sweet dessert while remaining perfectly healthy and super delicious as well!
How is that possible, you might be asking? It's all thanks to my homemade Nutella recipe! In case you haven't been following with all my last recipes, I'm talking about my really great cocoa hazelnut cream recipe. It's a really fast Nutella recipe – all you need is 5 minutes! Trust me!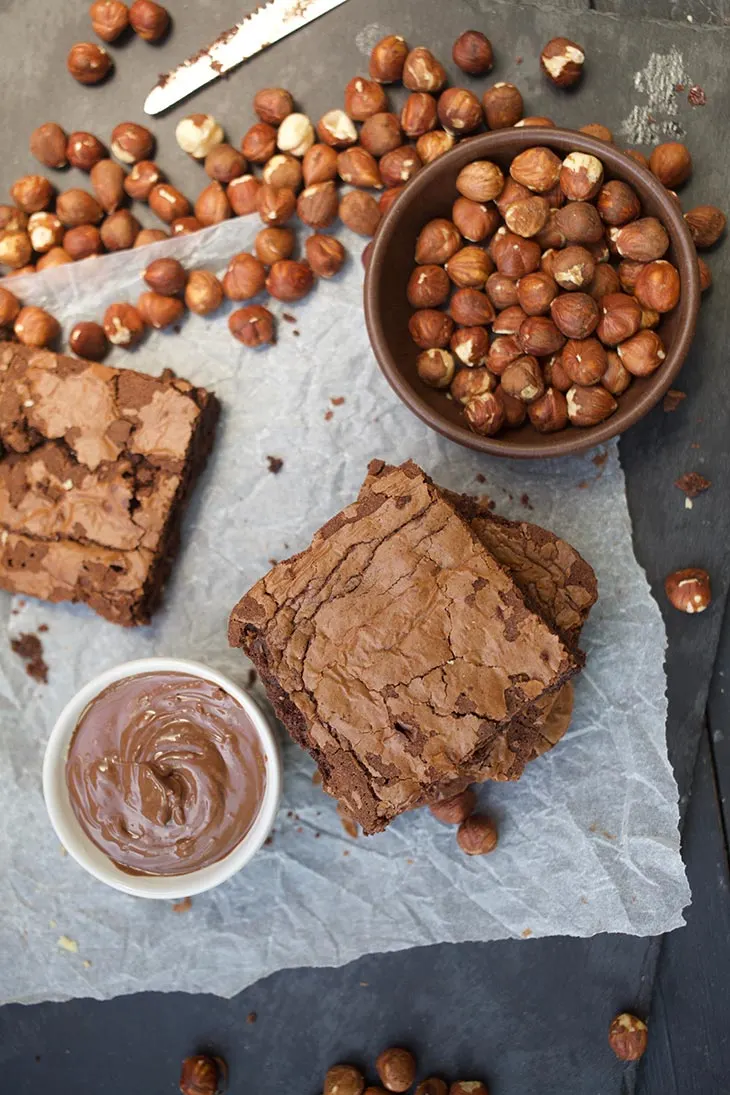 And all the ingredients are 100% natural. My chosen sweetener is maple syrup to ensure maximum healthiness, but you can switch it to something else if you prefer, of course. Anyway, if you decide to try it, I am sure you will fall in love with it! 🙂
And now back to our brownies. All over the world, brownies are becoming more and more popular. A real cult favorite. The only problem? They are usually full of fats, sugars, and highly processed ingredients. Which, as you assumed, is not that healthy 🙁 And even if you manage to find some healthy vegan brownies in the supermarket, they will probably cost you a lot.
But this recipe solves all these problems. These vegan brownies are really easy to make and they won't take you the whole day. Plus, you can actually be in control of the quality of the ingredients and make sure that you only use what's best. And I can bet that these brownies taste better than any kind of store-bought cakes!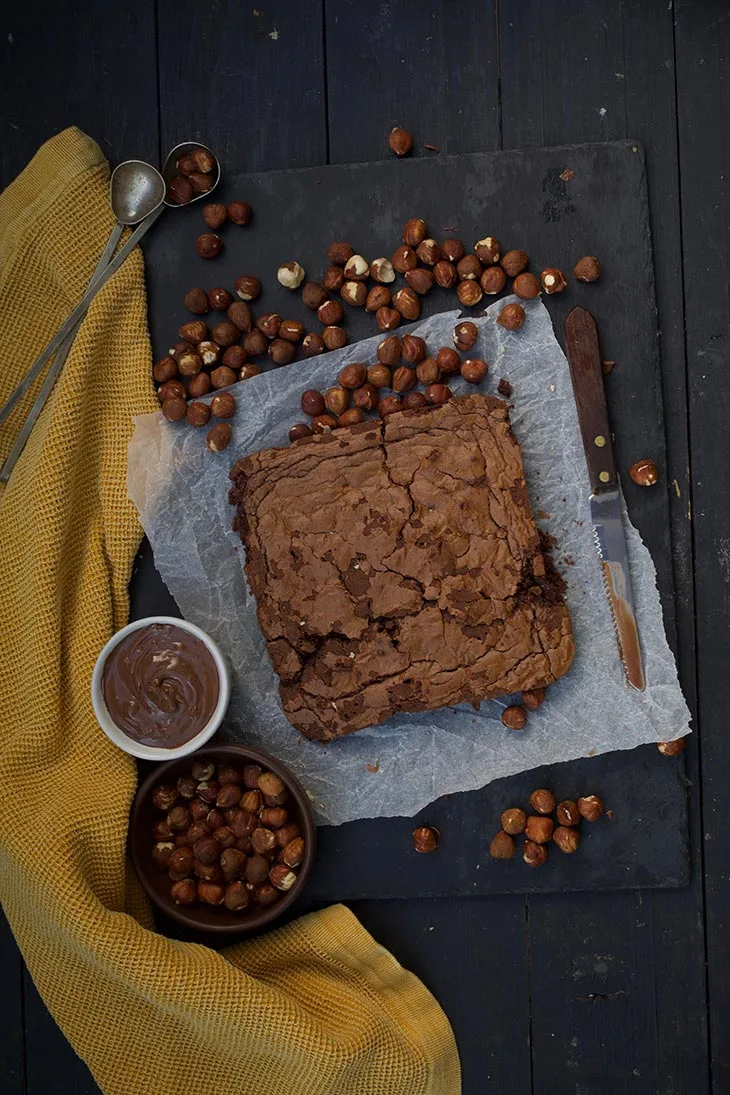 Nutella and brownies… this may be a match made in heaven. They're creamy, chocolatey, fudgy and nutty.., it's a true feast for your taste buds! I usually recommend sharing the deliciousness of my recipes with all your friends, but really, these brownies are truly something special, so I won't be surprised if you decide to keep them all to yourself.
Of course, I am just kidding. With these brownies, you will become the star of any party. And unlike other cakes, brownies are really easy to carry around, which takes me to another bonus about this recipe – they're perfect as a take-to-work dessert. Or to school, when you're visiting your friends, or wherever you may feel that brownies are needed (you'll see that these occasions happen very often!).
What's really great is that this recipe can be prepared really easily. You don't need too much kitchen training in order for your brownies to turn out perfect and I'm sure that even beginners can try it and succeed!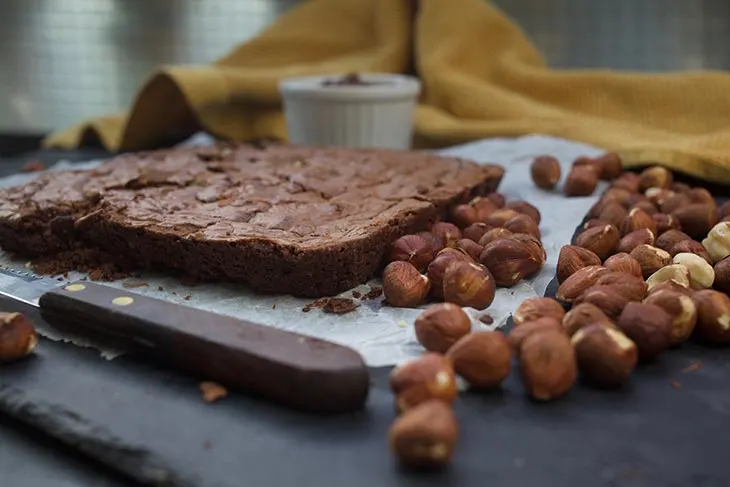 So let's not waste any more time, gather your ingredients and let's start right now! You will want to prepare the Nutella in advance, so don't forget to check out my other recipe first. Luckily, the Nutella is done in only five minutes!
I really hope you will enjoy these brownies as much as I did. Don't forget to comment and tell me what you think about this recipe, I am always interested to know how it turned out for you!
Yield: 9 brownies
Healthy Nutella Brownies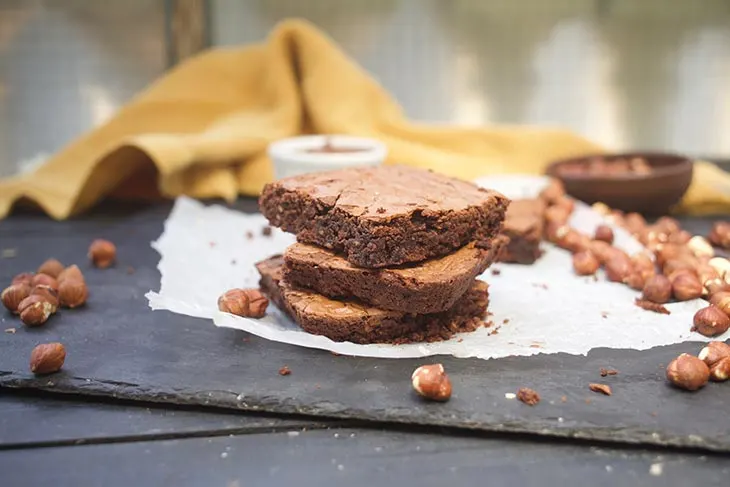 Seriously now... who doesn't LOVE brownies?! If you're a brownie fan just like me, then you'll definitely adore this recipe for vegan Nutella brownies - 100% healthy and homemade!
Ingredients
Wet ingredients:
4 flax eggs - 40g (¼ cup) ground flaxseed + 180ml (¾ cup) water, soaked for 10 minutes
1 tsp vanilla extract
60g (¼ cup) almond butter
100g (⅓ cup) homemade Nutella
Dry ingredients:
120g (1 cup) blanched almond flour
75g (¾ cup) cocoa powder
100g (½ cup) brown sugar
1 tsp baking powder
Instructions
Preheat the oven to 180 C.
Line a baking pan with parchment paper and set aside.
In a large mixing bowl, combine the dry ingredients and mix well.
In a separate bowl, combine your flax egg, vanilla extract, almond butter and 1/3 cup of the homemade Nutella - recipe here.
Combine your wet and dry ingredients and mix well until combined and incorporated.
Transfer the brownie batter to the lined pan and spread out in an even layer. Bake the brownies for 35-40 minutes, until the edges start to crisp and the skewer comes out clean.
Let chill. Serve and enjoy!
Nutrition Information
Yield
9
Amount Per Serving
Calories

351
Total Fat

21g
Carbohydrates

40g
Fiber

6g
Sugar

29g