These vegan crepes are the easiest crepes recipe you can try! Only 4 ingredients for the basic vegan crepes recipe and you can serve them with your favorite toppings!
The French cuisine month has begun! Stay tuned for dozens of amazing French recipes turned vegan! I will post both popular French desserts and savory dishes and even attempt to veganize difficult meat recipes like scallops or Bourguignon!
I decided to start with something relatively simple – crepes. This was the first time I made vegan crepes, as I usually added eggs to the composition. I was amazed by how easy it is to make them vegan! Psyllium husks are amazing!!!
If you've tried some of my recipes you should know by now what are psyllium husks, if not, here's a bit about them and why you MUST have these in your vegan pantry.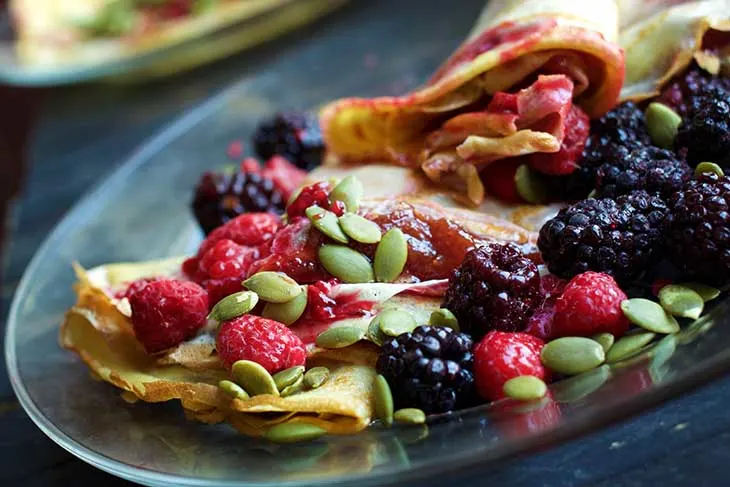 Psyllium husks are the BEST VEGAN EGG REPLACEMENT! I used them in patties and they hold every time, in 'cheesecakes', crustless vegan quiches and even for vegan tempura batter! They're like the popular flax meal but 10 times better.
Psyllium husks are actually a form of fiber from the seeds of the Plantago Ovata plant. It's used as a laxative most of the time and perfect if you suffer from constipation. It will clean your bowels in no time but this isn't a detail you'll want to hear in a recipe post… :))
Anyway, in small quantities, like you use in recipes you won't feel any strong laxative effects. They'll simply add some extra fiber to your diet. Psyllium is also a great prebiotic, meaning it will "feed" your good bacteria colonies in your gut.
I could write a whole post just about the amazing health benefits of psyllium but what you should know is that it's simply incredibly healthy and also a perfect egg substitute in vegan recipes. It's also quite cheap! You can get it from Amazon or from a local store. Here in Romania is found almost in any supermarket.
IMPORTANT! Use psyllium husks, not psyllium seeds. Psyllium husks will transform into a transparent sticky gel when combined with liquids.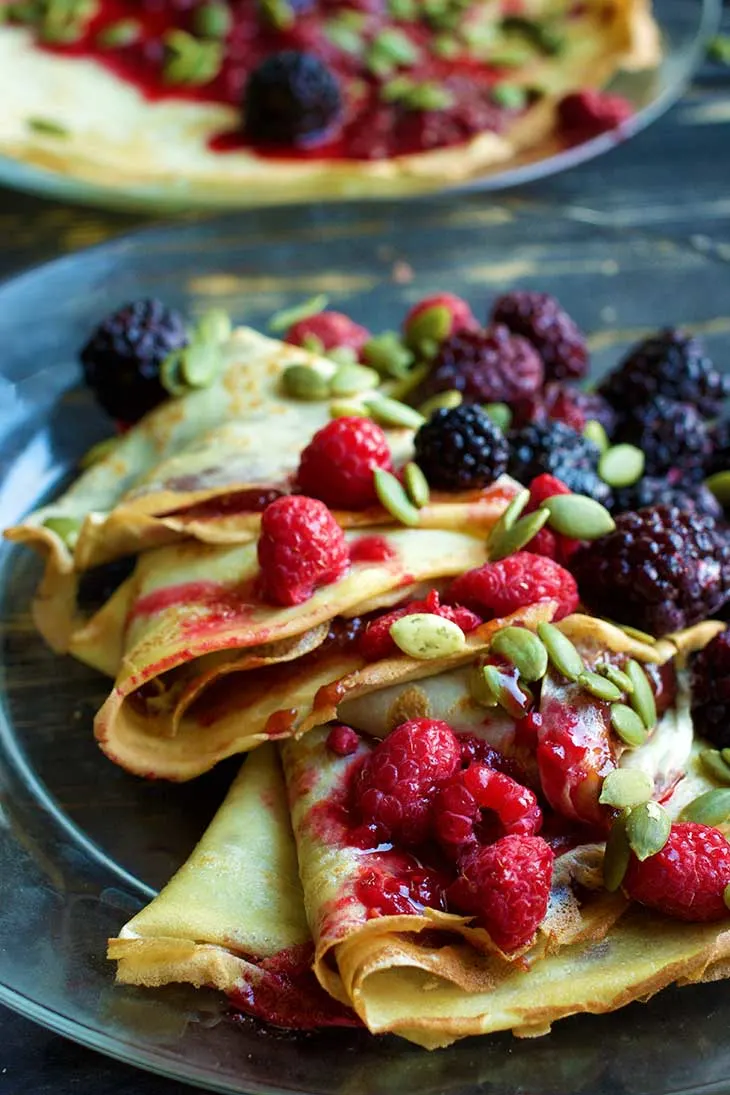 I decided to serve these delicious vegan crepes with a sweet berry sauce, but you can use any toppings you want. Hope you'll like this simple French crepes recipe turned vegan. 🙂 Drop a comment below and tell me how it turned out for you.
Yield: 2
Vegan Crepes with Berries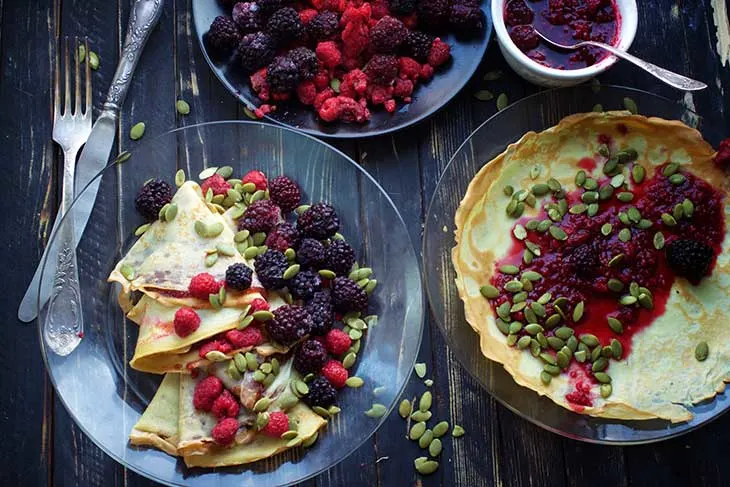 These vegan crepes are the easiest crepes recipe you can try! Only 4 ingredients for the basic vegan crepes recipe and you can serve them with your favorite toppings!
Ingredients
For the vegan crepes:
~240ml (about 1 cup) soy milk (or any other vegan milk of choice)
2 Tbsp sparkling mineral water
130g (about 1 cup) all-purpose flour
1 Tbsp psyllium husks
a pinch of salt
2 tbsp coconut oil, for frying
For the berry sauce:
250g (1 cup) frozen raspberries
250g (1 cup) frozen blackberries
sugar, to taste
2 Tbsp lemon juice
1 Tbsp water
Instructions
First, prepare the berry sauce.
In a saucepan, on medium heat, add the berries, sugar, lemon juice and water.
Heat stirring gently, until the mixture boils and the sugar is dissolved - 5-7 minutes. Remove from heat, allow to cool.
Prepare the vegan crepes,
In a large bowl, mix together the flour, sparkling mineral water and soy milk until smooth. Add salt and psyllium husks.
Place the batter in the fridge for 10 minutes
Put your frying pan on a medium heat.
Put the melted coconut oil in a cup.
Pour 1 Tbsp of oil into the heated pan. Grease it evenly then pour the excess oil back into a cup.
When the pan and oil are hot, pour enough crepes batter to cover the bottom of the pan once you swirl it around - about one ladle for me, but it depends on the size of your pan and ladle.
Put the pan back onto the heat, slightly shaking it back and forth constantly, and flip when it moves around freely and bubbles are forming.
Cook for about the same amount of time both sides.
Continue until the batter is done and make sure you grease the pan again after each crepe.
Serve these vegan crepes with berry sauce or your favorite toppings.
Nutrition Information
Yield
2
Amount Per Serving
Calories

480
Total Fat

19.3g
Carbohydrates

68g
Protein

8.4g