What can be more comforting than a delicious sweet potato casserole served as a dessert? Try this recipe for vegan sweet potato casserole today and everybody will want a second piece!
Let's talk a bit about sweet potatoes.
The sweet potato (Ipomoea batatas), sometimes called a yam, is a super-vegetable; a good source of beta-carotene, vitamin C, potassium, plus a ton of fibers, it can be considered a nutritional powerhouse, and a delicious one as well. It's only distantly related to the usual potato though, so don't expect the same taste.
The sweet potato has a starchy texture and it has been around for at least 5.000 years, occurring in either Central or South America. Its taste is sweet, resembling a bit of both carrots and pumpkins, with an undescribable twist. You can boil it, bake it, fry it, and there are lots of amazing recipes in which the sweet potato is the main star, both on the savory and on the sweet side.
The recipe I am about to share with you is a bit more on the sweeter side, it's easy to make and it's perfect for any special occasion such as Thanksgiving or Christmas. It can be served both as a side dish and as a dessert. This simple casserole consists of sweet potatoes, brown sugar, and butter with cinnamon. It also involves soft marshmallows and toasted pecans or almonds as a topping, which will result in an amazing experience texture-wise – you'd better believe me.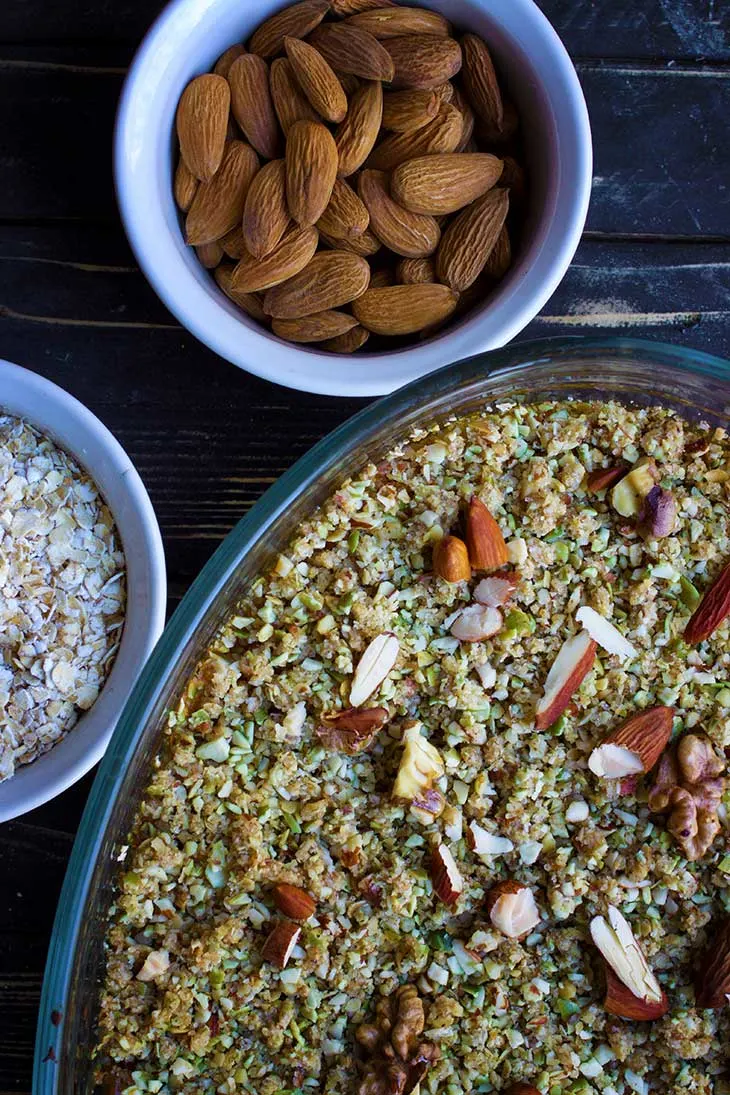 It's comforting, it's filling, it's got a festive vibe to it, so let's get straight to the recipe!
For starters, you will need some sweet potatoes, which you are going to peel and cube. This will shorten their cooking time when they're starting to boil. You can boil them whole as well, but their cooking time will be longer (20-25 minutes) and you'll need to peel them after the cooking is done. After the potatoes are boiled, you need to mash them. You can do this either with a potato masher by hand if you prefer a bit of texture, or you can use a mixer if you like them fluffy and perfectly smooth.
You will then place the mashed potatoes in a large bowl and mix them together with the other magical ingredients. Spread the mixture evenly in a baking dish, top with almonds or pecan nuts (which you can candy if you fancy!) and pop everything into the oven at 350 degrees F for 30 minutes or until golden. Remove the casserole from the oven and top with the marshmallows; bake for another 5 to 10 minutes – the closer to ten minutes, the gooier the marshmallows are going to get. Broil until the marshmallows get golden brown, but be careful so they don't burn.
That's it!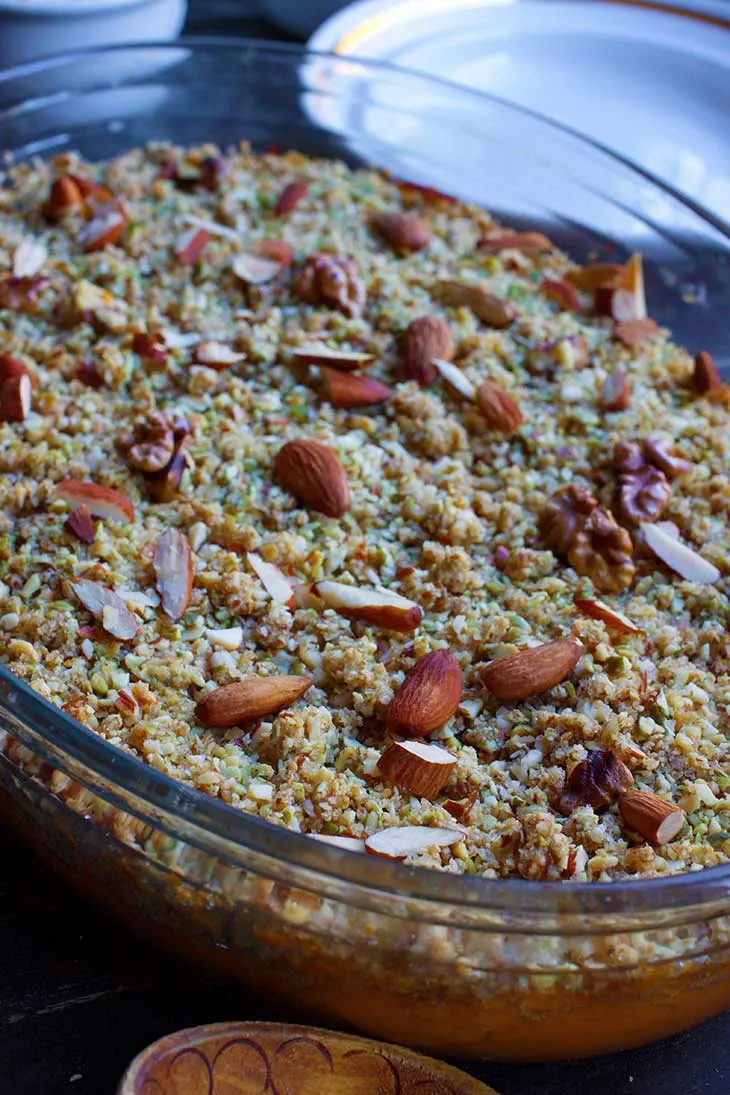 There's a make-ahead version as well, in case you don't have the time to cook. You will simply need to cook your sweet potatoes and store them in the refrigerator for maximum three days. When ready to bake, get the potatoes out and bake them at 350 F for 20 minutes. Add the nuts and cook for another 30 minutes, then the last step would be to add the marshmallows and bake for 5-10 minutes. Pretty simple, right?
There are also some delicious variations to this recipe, such as using only marshmallows for the topping or adding some other ingredients you love, such as nutmeg, vanilla, bourbon or coconut.
This vegan sweet potato casserole is the perfect recipe for Thanksgiving, Easter, Christmas, and even a close family gathering which will surely show you how amazing this casserole dish really is when every member of your family will go for second portions. Feel free to double or triple the ingredients if you know you'll have many guests (or hey, half them and enjoy this delicious meal on your own!). After all, a boring Sunday afternoon can feel as cozy as Christmas if your house smells like sweet potatoes and marshmallows. 🙂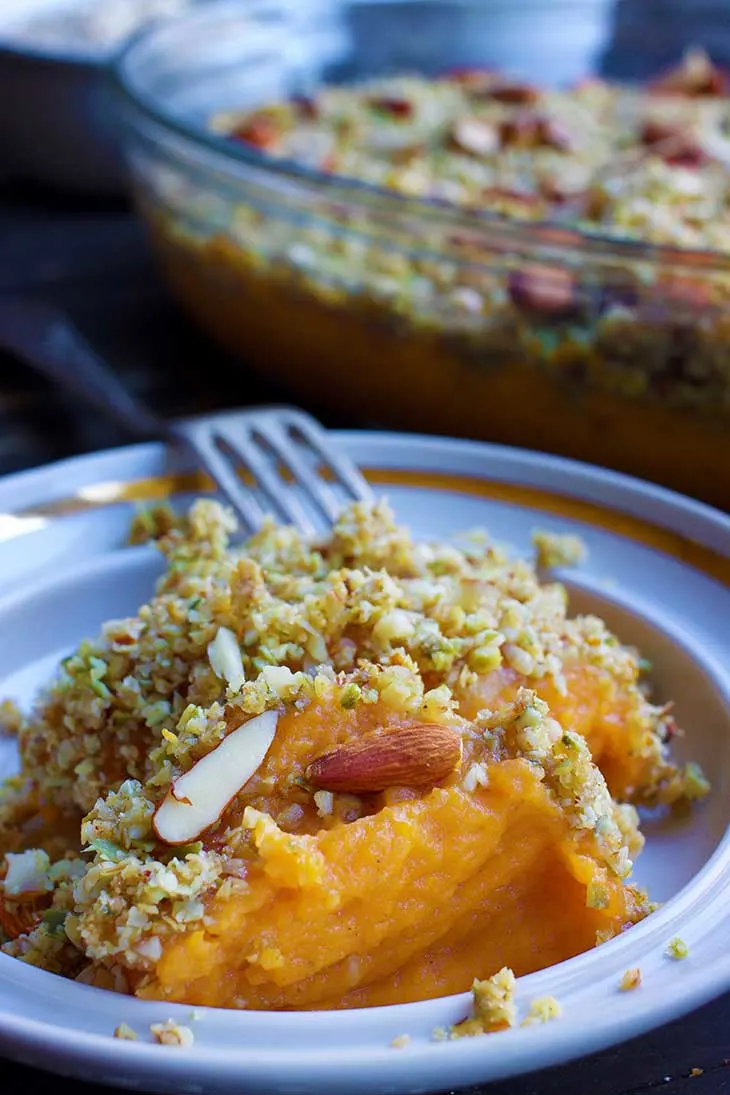 Yield: 6-8
Vegan Sweet Potato Casserole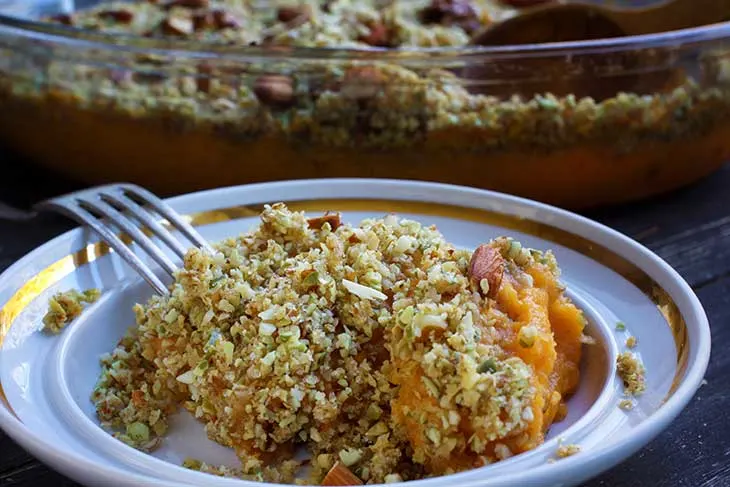 What can be more comforting than a delicious sweet potato casserole served as a dessert? Try this recipe for vegan sweet potato casserole today and everybody will want a second piece!
Ingredients
900g (6 cups) cubed sweet potatoes
120ml (½ cup) almond milk
2 Tbsp maple syrup
2 Tbsp vegan butter
1 tsp vanilla extract
1 tsp cinnamon
¼ tsp nutmeg
½ tsp cardamon
¼ tsp cloves powder
1 tsp vanilla extract
½ tsp salt
For the topping:
60g (½ cup) almonds
60g (½ cup) walnuts
110g (¾ cup) pistachios
40g (½ cup) oats
50g (¼ cup) brown sugar
½ tsp cinnamon
½ tsp ginger powder
¼ tsp salt
2 Tbsp vegan butter
Instructions
Preheat the oven to 200C
In a large pot, add 8 cups water.
Bring to a boil.
Add the cubed sweet potatoes. Cook for about 10 minutes.
Meanwhile, place all the topping ingredients except the butter in a food processor and blend into small pieces, for about 20 seconds. Once all the ingredients are crumbled, add the butter and pulse a few more times until the crust is well-combined.
Drain the water from the cooked sweet potatoes and let them cool.
Mash the potatoes to achieve a smooth puree.
Add the remaining sweet potato casserole ingredients and blend together in a food processor.
Transfer to a casserole dish, top with the nutty crust and bake for about 25 minutes until the topping is golden brown.
Remove from heat and let it cool for 10 minutes before serving.
Nutrition Information
Yield
8
Amount Per Serving
Calories

400
Total Fat

17.5g
Carbohydrates

52.5g
Protein

8g